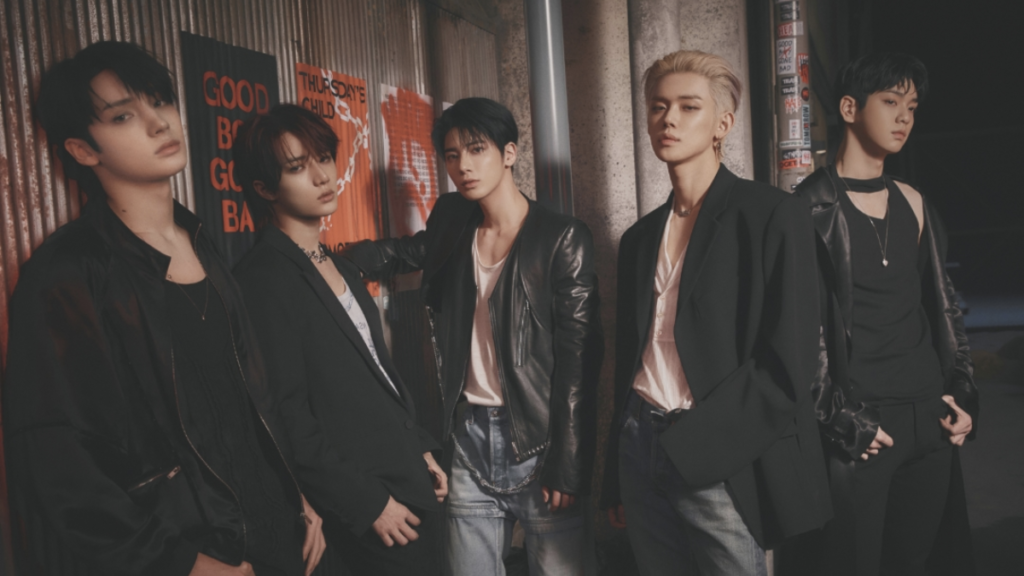 K-pop boy group TOMORROW X TOGETHER (TXT)—consisting of members YEONJUN, SOOBIN, BEOMGYU, TAEHYUN, and HUENINGKAI—debuted on March 4, 2019. After winning numerous rookie of the year awards and achieving the most debut music video views within 24 hours at the time of their debut, the group quickly earned the reputation of "monster rookies." Three years later, TXT's success shows no signs of slowing down as TXT continue to run on their own path. They now boast multiple achievements such as sold-out tour stops, charting on Billboard, and becoming ambassadors for various brands. Recognizing these successes, EnVi has rounded up some of the group's greatest achievements for 2022, which has undoubtedly been their biggest year yet.
Lollapalooza
On July 24, TXT successfully wrapped up the American leg of their first world tour, ACT: LOVE SICK, which saw them performing to sold-out audiences across seven cities. However, their biggest crowd to date was at the Solana x Perry stage at Lollapalooza. The group made history as the first-ever K-pop group to perform at the Chicago-based festival. This, of course, held a lot of pressure, but the group's fans, MOAs, were in the audience to support the group by waving lightsticks and cheering loudly. Also amongst the audience were HYBE's founder Bang Si-Hyuk, HYBE producer Slow Rabbit, and BTS members Jimin and j-hope. On Weverse, 1.3 million viewers across the globe tuned in as the set was streamed.
With genres from pop-rock to hip-hop, the eight-song setlist perfectly highlighted TXT's diverse catalog. The group was accompanied by a live band as they opened the set with their latest title track, "Good Boy Gone Bad." They immediately presented themselves as born performers with dynamic choreography and fierce attitudes. Later, they playfully performed their first English-language song, "Magic." TXT ended their set with the pop-rock single, "0X1=LOVESONG (I Know I Love You)."
Being the third most mentioned artist on social media around Lollapalooza is a huge achievement for TXT. Notably, member TAEHYUN stated that it was the best day of his life.
Breaking Records
When the official logo was released for TXT's latest mini-album, minisode 2: Thursday's Child, fans were delighted to see the return of the group. Matching this excitement, the EP surpassed 1,447,000 stock pre-orders in 15 days—the group's highest ever number of stock pre-orders for an album. Though, since the release of the album, it hasn't just been their own records they are breaking. minisode 2: Thursday's Child debuted at number four on the Billboard 200 Album Chart. 12 weeks later, it placed at No. 157, meaning that it is currently the longest-charting 2022 album by a Korean act on the Billboard 200.
The title track of the album, "Good Boy Gone Bad," highlighted TXT's experimental nature. Showcasing a more rebellious side as they sing of denial, anger, and dejection, it contrasts sonically with their upbeat dance track, "Blue Hour" and bright debut single, "CROWN." The group's new style was welcomed by listeners as the track achieved 12,610 points on the Korean music show, Music Bank. They earned the highest number of points on the show ever for a fourth-generation group and, currently, the second highest score of 2022.
In High Demand
American singer-songwriter, salem ilese was involved in writing TXT's viral 2021 B-side track, "Anti-Romantic." On February 23, 2022, they worked together again as YEONJUN and TAEHYUN lent their vocals to salem's song, "PS5." Their feature was the perfect addition to Salem's PS5 (Super Pack) album as the artists sing of opposing opinions in an argument about love. YEONJUN created the PS5 TikTok dance challenge, in which many users participated. During TXT's LA concert on July 23, salem joined all the members on stage for a live performance of the track.
The American rapper and singer-songwriter iann dior was also interested in working with TXT and teamed up with the group for the indie alternative track, "Valley of Lies. MOAs admire the relatable nature of TXT's music, which often focuses on the hardships faced by Gen Z. True to this, the collab sees the artists singing about the loneliness of the end of a relationship. Despite the melancholic lyrics that iann and YEONJUN wrote, the song has a brighter melody, perfect for the summertime. The song has been a huge achievement for both artists as it topped the iTunes charts in various countries. iann also joined TXT on the stage at Lollapalooza and at TXT's LA concert to perform "Valley of Lies." He had nothing but respect for MOAs in the audience, describing them as "the most respectful fans."
More Than Music
Eldest member YEONJUN is known amongst fans as a fashion icon and stated himself that one of his 2022 goals was to be a fashion brand ambassador. In July, he achieved this goal, becoming the fashion ambassador and guest brand creative for Privé Alliance. He launched his first collection for the brand on August 12.
As a group, TXT have solidified themselves as global stars, so it is no surprise that brands across the globe are interested in working with them. In May, they became the ambassador for the Japanese beauty brand, Manyo Factory. It was also announced in April that the group will continue to be ambassadors for the Korean beauty brand, 4OIN FOREUL. TXT was originally selected in 2021 due to "their colorful charms" and "positive energy."
For the March issue, TXT became ELLE Korea's "first-ever ELLE MAN." On top of the group cover version, all five members got their own solo covers, allowing them to showcase both their individual styles and harmony as a group. The issue includes TXT's reflections on their career, making its release a fit for the group's debut anniversary month.
All for MOA
In March, TXT became the first ever Korean act to win NME's "Hero of the Year" award, previously awarded to notable figures like Barack Obama and Beyoncé. In an interview about the award, the youngest member HUENINGKAI stated, "MOA are our heroes," owing the group's achievements to their fans. Their appreciation and ability to remain humble following months of success are admirable.
To truly show their appreciation for MOA, TXT have dedicated a song titled, "Ring" to their fanbase. It will be included in their upcoming Japanese single album, Good Boy Gone Bad, which is set to be released on August 31.
Likewise, to share their appreciation for TXT, MOAs consistently take to social media and express their pride for the group.
The Only Way is Up
TXT set a high standard for themselves when they debuted, but they have continued to elevate as a group after exploring various concepts and breaking into other industries. The five members have truly proven themselves as a force to be reckoned with in the industry.
Fans can expect 2022 to continue to be a busy year for TXT, who are set to complete their first world tour across Asia, beginning in Osaka on September 3. Members TAEHYUN and HUENINGKAI have also both teased that they are currently working on music.
Make sure to follow TXT on Instagram, Twitter, and Youtube to keep updated with their future activities.
Want to read more on TXT? Check out our review of minisode 2: Thursday's Child here.