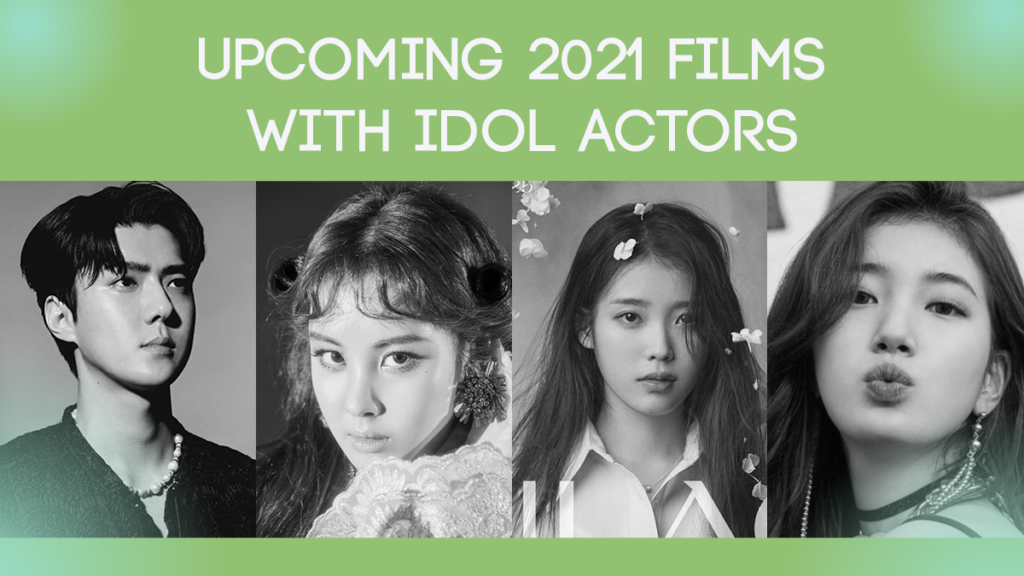 South Korean pop culture has recently achieved new heights of becoming a global phenomenon. While this globalization had started its course in the early 2000s, there's no denying the dramatic rise in popularity in the last couple of years. This spread of Korean pop culture is not only limited to K-pop and K-dramas but also K-movies. K-movies grew even more so after director Bong Joon Ho's Parasite won the Academy Award for Best Picture and was the first non-English movie to achieve this.
Movies set to release in the second half of 2021 are in the process of wrapping up production, and to no one's surprise, the casts include a fair share of K-pop idols. As more and more idols venture into different fields, the list of idols-turned-actors keeps increasing with time– especially during the pandemic when they are unable to promote and hold concerts regularly.
Succeeding our list of K-dramas with idol actors, here is a list of upcoming 2021 films starring idol actors!
Disclaimer: the films listed are forecasted to release in the latter half of 2021. However, it is important to note that the airing schedule or final casting could still change due to unforeseen circumstances.
Dream (Provisional title)
Dream, a comedy-drama film written and directed by director Lee Byung Hun, features Park Seo Joon and IU. It tells the story of a soccer player who, due to some unexpected circumstances, is tasked to coach a crew of inexperienced players to compete in the Homeless World Cup. Dream marks IU's debut in a feature film.
Genre: Comedy, Drama, Sports

Main cast:

Park Seo-Joon as Yoon Hong-dae

Lee Ji-Eun (IU) as Lee So-min

Supporting cast:

Lee Hyun-Woo as Kim In-Sun

Kim Jong-Soo as Kim Hwan Dong

Ko Chang Seok as Jeon Hyo-Bong

Jung Seung Gil as Son Beom Soo

Yang Hyun Min as Jeon Moon Soo

Hong Ahn Pyo as Young Jin

Lee Ha Nee as Byeong-sam

Baek Ji Won as Sun-ja

Release Date: To be announced
Holy Night: Demon Hunters (거룩한 밤: 데몬 헌터스)
Holy Night: Demon Hunters is a supernatural action film featuring SNSD's Seohyun and Ma Dong Seok, who co-produced the film. Written and directed by Im Dae Hee, the film portrays the story of a peculiar group known as the "holy night team," a group that hunts demons and fights against social groups that worship evil.
Genre: Action, Fantasy, Horror, Supernatural

Main cast:

Ma Dong Seok as Ba Woo

Seo Hyun as Sharon

Lee David as Kim Gun

Kyung Soo Jin as Jung Won

Jung Ji So as Eun Seo

Release Date: To be announced
The Pirates: Goblin Flag (해적:도깨비 깃발)
The Pirates: Goblin Flag is an action-adventure film featuring Kang Ha Neul, Han Hyo Joo, EXO's Oh Sehun, and Lee Kwang Soo. Written by Chung Sung Il and directed by Kim Jeong-hoon, the film is a sequel to the 2014 release–The Pirates. It depicts the story of a sea battle between pirates, bandits, and pioneers before the founding of the Joseon Dynasty.
Genre: Action, Adventure, Comedy, Historical

Main cast:

Kang Ha Neul as Woo Cha Mi

Han Hyo Joo as Hae Rang

Lee Kwang Soo as Mak Yi

Kwon Sang Woo as Bu Heing Soo

Chae Soo Bin as So Nyeo

Oh Se Hun as Han Goong

Supporting cast:

Kim Sung Oh as Kang Seob

Park Ji Hwan as Akwi

Release Date: To be announced
Wonderland
Wonderland is an upcoming Sci-Fi Fantasy film, written and directed by Kim Taeyong. The film, starring Bae Suzy, Park Bo Gum, and Gong Yoo, follows the stories of several different characters. Wonderland depicts a simulated universe called "Wonderland," where people can reunite with loved ones whom they can no longer interact with in reality.
Genre: Drama, Sci-Fi

Main cast:

Bae Suzy

Park Bo Gum

Gong Yoo

Choi Woo Shik

Jung Yu Mi

Tang Wei (Rebecca Tang)

Supporting/Guest cast:

Release Date: To be announced
Eager for more? Check out our piece on the gateway between K-pop and K-dramas.