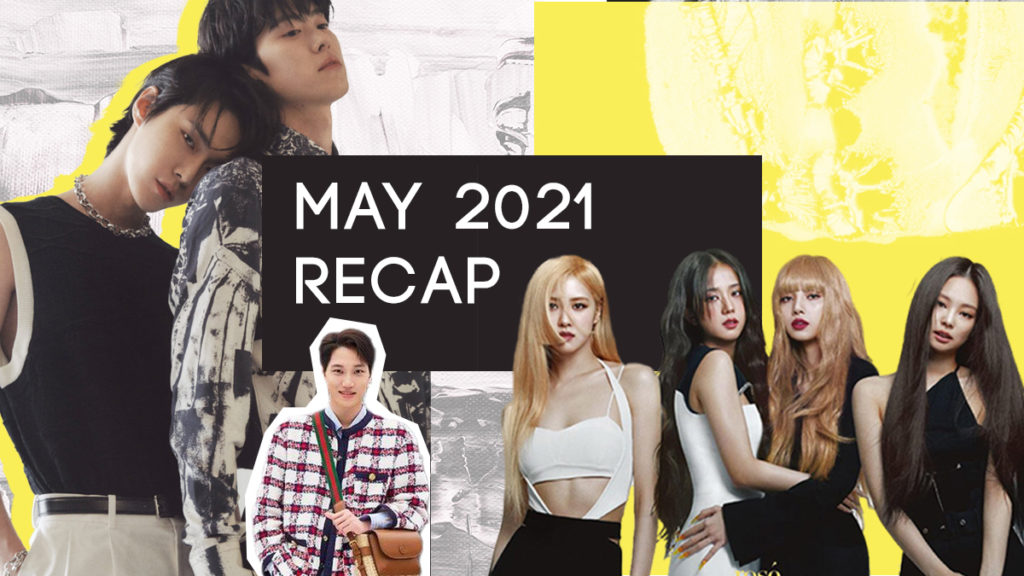 With their strong social media presence and brand partnerships, K-pop idols have cemented their global influence in fashion. Recently, several stars have graced the covers of fashion magazines and brought debate about their marketing allure. As May 2021 comes to an end, we look back at some of the most iconic magazine covers, fashion editorials, and campaigns featuring K-pop stars of the month.
Sehun Modeled Dior's Fall 2021 Collection for GQ Korea
Last year, Sehun was appointed as the Official Ambassador of Dior Men in Korea. This year, the luxury brand has launched pop-up stores across the world to promote the collaboration between Kim Jones and the legendary painter and street artist, Kenny Scharf. To commemorate the occasion, GQ Korea unveiled a photoshoot of Sehun wearing representative looks from the Fall 2021 Men's Collection. Adapting perfectly to the brightly colored designs and imagery signature of Scharf, Sehun embodied the modern haute couture image Kim Jones has been pushing to modernize the French fashion house.
Joy Starred in Tod's 'In Our Shoes–Seoul'
Back in March 2021, Red Velvet's Joy already modeled Tod's bag collection for the April issue of W Magazine. A few months later, Tod's partnered with the singer and actress again for the second chapter of "Tod's Global Project." The campaign, "In Our Shoes–Seoul," featured Joy and two professional dancers, Young Deuk Kwon and Hyun Ik Lee. In a video that showed images of Seoul's skyline, the trio performed a dance routine that conveyed the "vibrant energy" of the city and the power of dance while highlighting the sporty yet sophisticated design of Tod's Tabs sneakers.
Sunmi Transformed Into Cruella de Vil for Allure Korea
The live-action film "Cruella" premiered on May 28. A few days prior, Allure Magazine Korea released a series of stills featuring singer Sunmi, in collaboration with Disney. In this fashion photoshoot, the former member of the Wonder Girls channeled the fictional villainess's signature hairstyle and glamorous, statement fashion. Among others, Sunmi wore a black latex dress with feather sleeves designed by MISS SOHEE and Christian Cowan, a neon green dress from the Windowsen S/S 2019 collection, and a bodysuit combined with a cropped jacket by Isabel Marant.
Jackson Is the Face of New Fendi Campaign
The partnership between GOT7 member Jackson Wang and Fendi dates back to 2018 and seems to grow stronger over time. On May 20, the fashion brand unveiled their latest Capsule Collection, Vertigo, in collaboration with Sarah Coleman. Lensed by Oliverjune, Jackson showcased retro-chic designs and a psychedelic reinterpretation of the FF logo. The rapper starred in the campaign alongside the Chinese singer Jike Junyi, who recently modeled at the Fendi Couture show in Shanghai.
MINO Landed on the Cover of DAZED Korea
Song Mino teamed up with the French luxury house, Louis Vuitton, and became the cover star of DAZED Korea's June issue. The rapper, variety show star, and model was photographed by Kim Tae Kyun for a cover that was described as a portrayal of "Fashion, Music, Art, Sports." According to DAZED, this photoshoot was a reflection of Mino's persona and individual style, which they dubbed "MINOMALISM."
Rosé's New "Chapter" on Elle Magazine
Following her appointment as Tiffany & Co.'s Global Ambassador, Rosé stunned on the cover of Elle Korea. The singer posed for the June issue wearing a variety of outfits including Khaite, LaCage, Alaïa, and Dsquared2 pieces, complemented with jewelry from Tiffany's HardWear collection. During the interview, Rosé spoke about her solo promotions and what success meant to her. "I think that if the result is satisfactory for myself, it is a success," she shared.
Jennie Became the Face of Calvin Klein
Continuously proving her fashion prowess, BLACKPINK's Jennie added a new achievement to her list of fashion conquests. Earlier this month it was revealed that the American brand Clavin Klein had teamed up with the designer Heron Preston for a special collaboration. On May 16, the brand released the capsule collection Drop 02, with Jennie leading the global campaign. The collection featured staple pieces like undergarments, sweatshirts, denim jackets, and jeans with subtle details and hints to Heron Preston's signature color.
Doyoung and Gong Myung Teamed Up for W Magazine Pictorial
NCT's power vocalist, Doyoung, and his brother Gong Myung joined forces for a fashion editorial published in the May issue of W Magazine. Dressed in Bottega Veneta, Rick Owens, and Alexander McQueen, the brothers posed for a relaxed but fashion-savvy pictorial that demonstrated their good chemistry and close bond. The two artists also sat for an interview where they discussed their family life and reflected on how it played a role in achieving their dreams. You can watch behind-the-scenes footage of this photoshoot here.
ENHYPEN Wore Dior for DAZED Magazine
Last month, ENHYPEN released the song "Drunk and Dazed", earning attention from major publications like Vogue. The group was also featured in the June issue of DAZED Korea and modeled full looks from Dior Men's Fall 2021. Styled in prints, striking colors, and unique accessories, the group "fell in the beautiful and dreamy world" DAZED created for the pictorial. In the interview, the septet spoke about their most recent comeback and working to show a cooler and more authentic side to fans.
The Lineup of KINGDOM on 1st Look Magazine
Five of the teams competing on MNET's television program, Kingdom: Legendary War, participated in a special edition of 1st Look Magazine. ATEEZ, BTOB, SF9, THE BOYZ, and Stray Kids graced the cover of the fashion magazine in group shots where they channeled the same charisma and energy they've demonstrated throughout the popular show. Each team boasted their own charms and opened up about their experience in MNET's reality show, which is set to air its final episode on June 3.
BLACKPINK Illuminated the Cover of Vogue Korea
On May 14, Vogue Korea revealed five collectible covers for the June issue, starring none other than BLACKPINK. After becoming the first girl group to be featured on Vogue Korea's cover back in 2020, Lisa, Rosé, Jisoo, and Jennie posed for individual and group shots in coordinated black and white outfits. Dressed in looks from Mônot, David Koma, Lehho, Deveaux New York, and Rokh, the quartet was photographed by Kim Hee June for a pictorial inspired by the Pantone Color of the Year 2021, Ultimate Gray.
Kai, Sunmi, and Others Promoted GUCCI's New Flagship Store
A few days ago GUCCI announced the opening of their second flagship store in the heart of the Itaewon district. On May 28, to offer a first look at GUCCI GAOK—traditional home, in Korean,— the Italian brand offered a virtual tour and enlisted the help of Korean stars like Han Jimin, Cha Seung-Won, Sunmi, and Jay Park. As the official ambassador of the brand, Kai was also featured in the special video where he welcomed viewers to the space designed by the artist and sculptor, Park Seung-Mo. As stated by GUCCI, their new store reflects the "creative, hectic and innovative spirit" of Itaewon through the interplay between light and shadow, as well as other eclectic design elements like wire netting layers.
You can read more on How K-pop Is Taking the Fashion World by Storm here!
Thumbnail by @_emptydisco