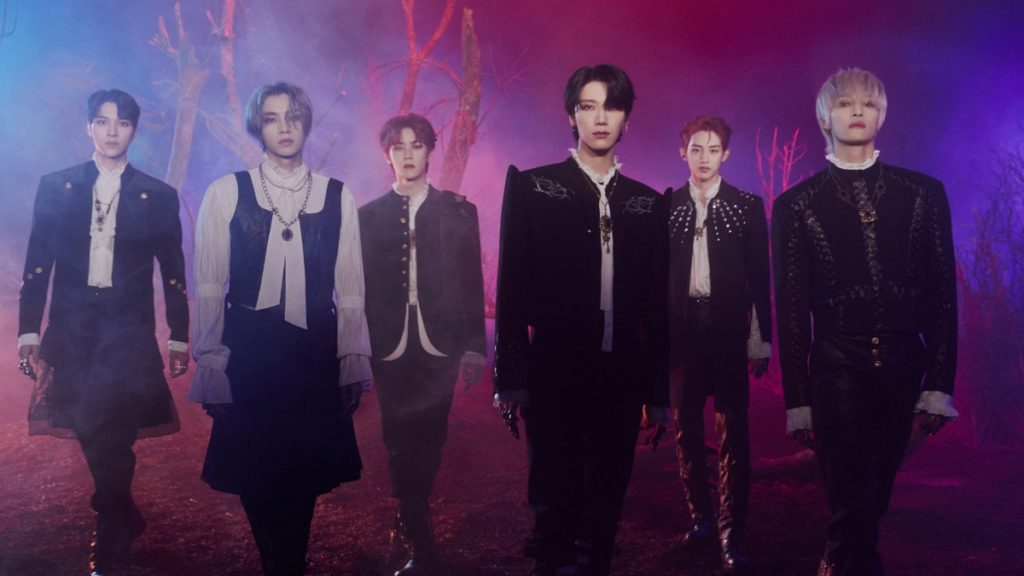 After months of anticipation, WayV are finally back with their fourth mini album, Phantom, on December 28, 2022. With the mindset of a new and upgraded sound, Phantom features six new songs and two previously released subunit tracks. The comeback teasers also showcased the members in a dark and striking concept, paying homage to Andrew Lloyd Webber's The Phantom of the Opera. To celebrate the release of Phantom, EnVi spoke with some of the producers and songwriters on the album, including Mike Daley, ROKMAN, and Adrian McKinnon.
Phantom
The mini album's title track is "Phantom," a trap and hip-hop dance song that contains "…a strong will to overcome adversity and hardship." Some of the lyrics include "Footsteps of a masked existence / On a journey of self discovery / Because truth does exist," giving credit towards the hardships that life brings.
Adrian McKinnon, a composer on the song, talked about the making of the song through email. "To me, this song has a lot of pleasant departures from singles they've released in the past. In this respect, I hope that people can see how versatile WayV can be. I hope that it keeps people interested to hear more from them… because I like writing for them." When asked about stand out moments when creating the track, he replied: "I was searching melodically for something that felt related to the first half but also needed to raise it up another degree as intended. I was pretty happy with it. He also appreciated how the members stylize moments of the song in their own way.
ROKMAN, who worked on the English version of "Phantom," also talked through email about the writing process for it. "The lyrics can't be exact because, when translated, it has to still match the song melody. It is a challenge to find lyrics that mean the same thing or that are similar to the meaning and still keep the melody."
Diamonds Only
The second track of the album is "Diamonds Only," an R&B hip-hop song with a message that "…dreams and love have been cherished for a long time, like diamonds." With lyrics such as "The moment it encounters flame, ice has found its boiling point / Your blazing eyes depict dreams as beliefs of faith, fire," the intense and energetic instrumentals carry this message as they profess an undying commitment to their lover.
During a virtual song camp by the end of 2020, producers Mike Daley, TC, and DEEZ collaborated over Zoom to complete the song. "We made multiple edits to the original demo over the course of a couple months and finally finished it in August of 2021," said Daley. Though the song had many technical edits on the production side, there were not any major differences between the initial demo and final.
In comparison to "Try My Luck," Daley was not aware that "Diamonds Only" would go towards WayV's album. Upon release, he said, "I love WayV, they crushed it! I've been waiting for their new music so I was very happy. It was a lot of fun to see the 'Diamonds Only' track video too." Daley also kept live performances in mind throughout the production process. "I really hope some fans get to see WayV perform these live. Seeing songs that I've been a part of live is one of my favorite parts of being a music producer," he said.
Good Life
The third song off of the mini album, "Good Life," is one of the more wholesome songs on the album. Much true to the title, the song is a medium-tempo R&B song that "…combines light rap and singing to depict the story of moving toward a beautiful life." WayV construct their ideas of what a "Good Life" would be like and hope that they will come true. The composers of the song include Connor, Riley, and Toby McDonough, and the lyricist is Zhou Weijie. The song was the first of the B-sides to have a track video, which was released on January 8.
Singing "I wanna know what that's like / No problems / Good life," the upbeat elements to the beat give room for a positive outlook to this hope. While this wish for a perfect life can be unrealistic, manifesting it to happen is always helpful.
Broken Love
After three energetic songs, WayV slowed down in "Broken Love." The pop ballad track is composed of "impressive lyrics comparing the time you were in love to a puzzle that cannot be matched." With a live clip on their official YouTube channel, fans were touched by WayV's sincerity throughout the song. The group sings, "Broken love / A heartbeat of confusion / Can't let go of the beauty of regret / Just want to finish the last second."
Songwriters MinGtion and ALYSA, who participated in producing the track, took their successes to Instagram. MinGtion wrote, "The melody is warm and the lyrics are lonely. Please listen to it a lot!" ALYSA, a producer and composer, showcased her last release of 2022 in an Instagram post. "WayV the 4th mini album Phantom was just released, 'Broken Love' is written by me, David Simon, ron and YTP! Thank you so much everyone involved and hopefully all fans of WayV are enjoying the album."
Bounce Back 
"Bounce Back" is a "dance-pop song that follows the sad love story of WayV's previous songs: "Say It," "Come Back," and "Unbreakable." Bringing stories in their discography together, this track embodies longing for the past. The lyrics describe the will to recover from the weariness of love. "Hurt me bad, I won't stay, I will bounce back / Feel so right, I won't cry, I will bounce back."
With orchestral elements remaining consistent all throughout the album, "Bounce Back" draws out the string, percussion, and vocal layers. The song showcases the vocal virtuosity of WayV with the ad-libs and runs throughout the song. Grooving throughout the track, the members effortlessly deliver the message of the song to persevere through love. Producers LDN Noise and Adrian McKinnon have assisted in creating the group's timeless sound in "Bounce Back." Reminiscent of an early 2000s boy band sound, this track utilizes WayV's strengths by creating killer rap and vocal parts.
Try My Luck
The sixth song off Phantom, "Try My Luck," is a dance song with grand orchestral elements that "…reveals the determination to always rise to the top as a winner." It is one of their more hard-hitting songs on the album, as they confidently talk about being victorious in their life.
Mike Daley, who worked on many songs on the album including "Try My Luck," talked about the stand out moments for the song. It started all the way back in 2019 with Mike Jay. "Being able to incorporate some classical music interpolations into the song was a lot of fun for Mitch [Owens] and I. Mitch is a classically-trained composer so I feel that that introduction was right in our wheelhouse." Although the original version of the song was different from the final version, he was satisfied with the outcome. He stated that the song was "…done with live performances in mind so I really hope some fans get to see WayV perform [the songs] live. Seeing songs that I've been a part of live is one of my favorite parts of being a music producer."
The mini album also featured two subunit songs that were previously released in 2021. Check out our coverage of "Back To You" by Kun and Xiaojun, and "Low Low" by Ten and Yangyang.
Be sure to follow WayV's Instagram, Weibo, Twitter, TikTok, and YouTube to keep up with future group activities!
Want to know more about WayV's discography? Explore WayV's subunits here.