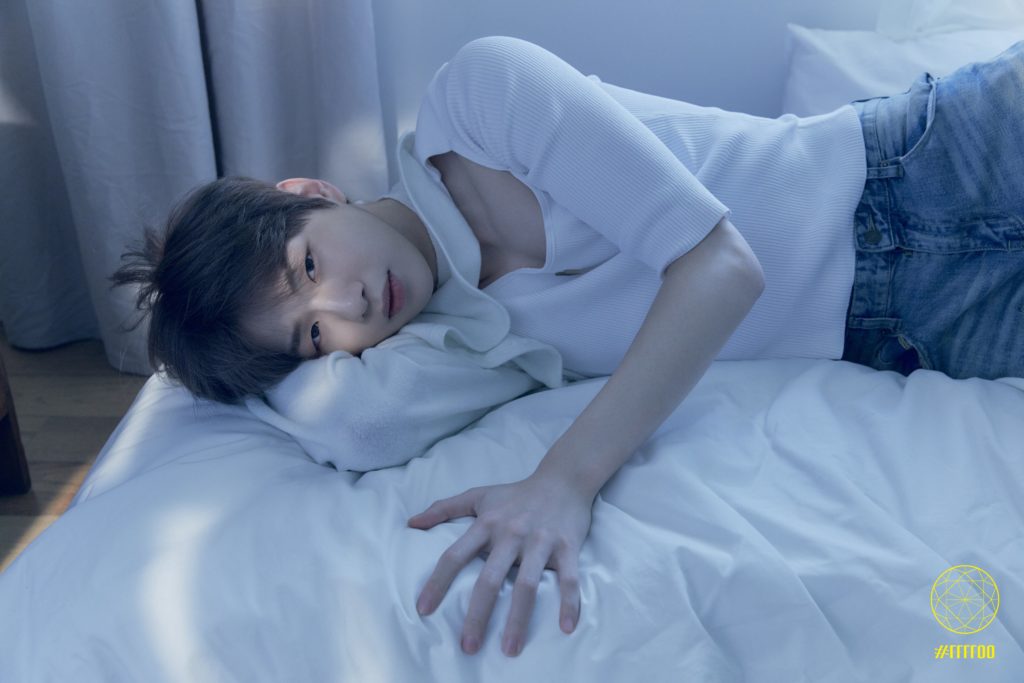 Kang Daniel released his 3rd mini-album on April 13, 6PM KST. Titled YELLOW, this is the third album of the COLOR series, following CYAN and MAGENTA. The mini-album features the title track "Antidote,"pre-released single "Paranoia," and three other new songs — "Digital, "Misunderstood," and "Save U." The last two tracks include features with Omega Sapien and Wonstein, respectively. 
Vibrant Anticipation for the Album 
Even before its release, anticipation for this album had fans of Daniel excited as the mini-album surpassed 100,000 pre-release sales. Kang himself is lyrically credited in every song on the album. 
Producers on this album also had much to say about YELLOW. Anthony Russo, a singer-songwriter credited on three tracks for YELLOW, spoke excitedly in an interview about the song "Digital," saying "That song actually has little elements of [rock] in it, and I really, really think that [Kang Daniel] did so well on it. It's like the most hype song, like, ever. It's so high energy and insane." 
Paul Thompson, another producer for the album, shared similar sentiments about the track "Antidote" in an Instagram Live, saying "That song is one of my favorite demos of all time. That's not an exaggeration. I'm so excited for this song to come out. Usually the title is not my favorite song off the album that we do, but in this case it is." He also shared insight into Daniel's efforts in the album, saying, "[Kang Daniel] worked really hard. His album is about … he wrote all the lyrics to every song. It's about his life, his story. It's really meaningful to him." 
A Diverse Palette of Songs
The album opens with "Digital," an upbeat song that tackles the subject of hiding oneself and one's truths from those with malice. Speaking on the proliferation of lies and the noisiness of the world for celebrities, the song encourages one to let go of their feelings. It takes a more resolute stance after the bridge, the singer laughing and saying despite others' ill intentions toward him, they will not be able to take him down. 
"Paranoia," released on February 16, 2021, has an eerie thrill to it and portrays the image of living with one's inner demons. Coupled with a strong bass and resonating lyrics, the song emphasizes the fear and paranoia one may feel with their  inner demons. 
The next track, "Misunderstood," featuring Omega Sapien, takes a slower, dark turn. True to the title, the song speaks on the sensation of being misunderstood and feeling alone. A relatable anthem for listeners of the song, "Misunderstood" is a self-reflection recounting one's own darkness. 
Next up is the album's title track, "Antidote." The song begins with a strong beat, and Daniel exudes strength and emotion with his sharp dance moves and high notes. This song perfectly complements the latter three, now speaking on the artist's quest to find an antidote to protect him from the darkness. As his desperation increases and wounds deepen, he begs for a clean erasure of his problems with a remedy. 
A song of hope, "Save U" is the perfect conclusion to the mini-album. With a sweet melody and even sweeter lyrics, the song encourages listeners to share their pain and not fake a smile. A stark contrast to the former songs, "Save U" promises hope for an end to the darkness, with lyrics saying, "When the cold lonely darkness traps you, I'll be there to save you." The song reminds listeners that darkness does not last forever, and there is solace to be found in others. 
Although the album touches serious concepts such as mental health, loneliness, and the downplay of one's own emotions, Daniel has stated, "Please don't feel that this album is too dark; just like when we watch sad movies when we are sad, I hope that people who are exhausted and going through tough times can listen to the songs and gain strength from it." 
An Eye-Catching Response 
Response among listeners of the album has been great as well. Sixteen minutes after the release of his mini-album, Kang Daniel was #1 on Melon real-time search. He was also #1 on Genie real-time search. 
Accruing 4 million views for the music video "Antidote" within five hours of its release, Daniel has even broken his previous record for music video views! 
Daniel has kept busy in his activities, most recently participating in KCON:TACT3, in which he performed "Paranoia" and other songs. Talking about what's coming next, Daniel has said, "But in the future I want to make music honestly. Although this wraps up the COLOR series, it doesn't mean the color of my music stops here." As Kang Daniel expands on his musical color while sharing heartfelt messages true to him, he is sure to bring more great music for all to enjoy! 
Listen to YELLOW on Spotify and Apple Music!
Thumbnail courtesy of KONNECT Entertainment.
Looking for something else to listen to after YELLOW? Check out our review of  "The Moon" by Moon Sujin and NCT's Taeil!