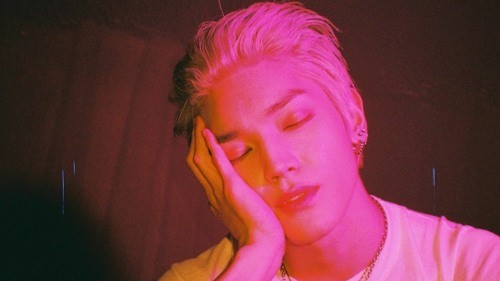 This week, we celebrate the one-year anniversary of NCT and SuperM Taeyong's SoundCloud. On March 14, 2021, he initiated the beginning of his journey with the song "Dark Clouds." Now, a year later, Taeyong has eight tracks uploaded onto his SoundCloud profile and boasts over 427.3 thousand followers. As we honor his milestone, let's take a look back at his projects through each of his captivating SoundCloud releases.
The Start of Something Big
The buzz over "Dark Clouds" first began in the summer of 2019 when Taeyong sang a verse during a Vlive. Ever since then, fans longed to hear more. On March 14, 2021 at 6 PM KST, he took to Instagram and posted two teaser images with the caption, "Check out my Instagram at midnight(KST)! Something fun is about to happen." Immediately, fans noticed that the photos he posted were actually first uploaded onto NCT 127's Instagram account back in 2017.

Just as his caption promised, at 12 AM KST, Taeyong released "Dark Clouds" along with a remix version, both he worked on with Royal Dive. In the past, they partnered up for his beloved SM STATION song "Long Flight." Fans quickly noticed some connections between both tracks saying that the lyrics and visuals were similar.
Both songs have a fun and unique sound ranging from fresh R&B and Pop beats to lustrous vocals. Taeyong wrote the lyrics himself and explained that the sharks he sang about in "Long Flight" symbolize negative feelings which made him feel like he was being chased by sharks in his heart. However, his perspective changed during the production of "Dark Clouds" and now he envisions big whales that support and protect him.
Within the first 24 hours, "Dark Clouds" received 1.07 million listens while the remix acquired 801 thousand. On March 16, just two days after its release, both songs charted at #1 and #2 on SoundCloud's official New & Hot Charts. At the end of the month, it charted #2 on Genius Korea's K-R&B Chart. Now, both tracks have over 9.5 million listens combined.
This song will forever hold a special place in Tyongf's hearts as it marks the start of his SoundCloud career and is an authentic project.
Grand Trouble Artist
During SuperM's first tour in 2019, fans were astonished to see Taeyong perform an unreleased song titled "GTA." Although he had teased part of the song during a past Vlive, his mesmerizing live performances left fans craving to hear the studio version. Its clever lyrics combined with its hypnotic sound and choreography all made for the perfect live performance recipe.
"GTA" originally stands for "Grand Theft Auto," the popular action-filled video game. However, Taeyong played around with the acronym and went with "Grand Trouble Artist" instead. He gave it his own meaning, which is to cause "trouble" through performances. In terms of the live performance itself, he explained that he was going for a troublemaker being chased by police. Because the song was connected to "Super Car" during SuperM's tour setlist, Taeyong wanted to arrange the performance in a way that would make both songs flow together.
On April 5, 2021 at 12 AM KST, Taeyong officially dropped the studio version of "GTA" along with "GTA 2," the second version of the original. Composed and arranged by Taeyong and Royal Dive, these collaborations proved yet again how well they work together.
These two tracks entered SoundCloud's New & Hot Chart and Top 50: All music genres playlist. Then at the end of 2021, both songs made it to Genius Korea's Top K-Hip-Hop Songs Chart. They have now accumulated over 4.6 million streams combined.
Both versions of GTA show just how creative and polished Taeyong's visionary skills are. His genius continues to shine the more he presents us with one-of-a-kind concepts and storylines.
Dive into the Blue
Taeyong first shared "BLUE" with fans during a Vlive in May of 2020. He mentioned that in April of the same year, he wrote it during a time when he was feeling emotional. In the end, the song was able to bring him comfort and eventually became one of his favorite songs. Even before its release, "BLUE" was a fan favorite and Tyongf's looked forward to hearing it in its entirety.
On April 19, 2021 at 12 AM KST, Taeyong released the track on SoundCloud. He captured the hearts of his fans with its nostalgic and alluring melody. Within just 24 hours, the track received 466 thousand streams and even entered Twitter's top 5 Worldwide Trends. At the end of the year, it entered Genius Korea's Year-End Top K-Rock Songs Chart and now garners 4.8 million streams.
Zayson and SQUAR both worked on the song along with him. Kim J.E collaborated with Taeyong for the beautiful teaser images he posted on Instagram before the release of the track.
As fans read the lyrics to the woeful track, they instantly noticed the similarities between the song and his "Understand" tattoo that he got in 2019. The tattoo was inspired by the talented Korean artist, Novo.
"BLUE" brings both melancholic and heartfelt feelings to listeners. Taeyong views the song as a light blue color rather than a dark one. It tells the story of what going through hardships feels like and gives insight as to how Taeyong perceives life's battles. He expressed how happy he is that the song allowed fans to find comfort as well, and for the first time, this made him feel like a true artist.
Taeyong x Baekhyun
Baekhyun of EXO accompanied Taeyong on the charming and dreamy "Monroe," which pays homage to the iconic actress, model, and singer Marilyn Monroe. Fans were delighted to find out that Baekhyun was officially the first artist to collaborate with Taeyong on SoundCloud. It came as a huge surprise because it wasn't mentioned prior to the song being published.
The track was first teased on Taeyong's Instagram story just two days before its release. He showed a painting made by him that was inspired by Marilyn and her signature red lips.
On May 2, he dropped two teasers on his Instagram feed, one of which shows the process of painting his illustration. The second revealed a different portrait inspired by Marilyn. Immediately, the colorful art pieces caught the attention of fans, which built excitement for the song's release.
On May 3, Taeyong released the stunning and old-school sounding "Monroe" on SoundCloud at 12 AM KST. The song's fan-made hashtags trended in South Korea on Twitter and it also made it to SoundCloud's Global Charts. In less than three days, "Monroe" hit 1 million streams, and now has accumulated over 4.4 million plays.
Its romantic and lovey-dovey lyrics explore the feelings of falling in love and compare those emotions to the beautiful blonde actress. The song exemplifies Taeyong's innovative artistry and talent for music. Fans also seemed to love the blend of vocals.
Jumping Through the Rose
Red Velvet's Seulgi was invited to collaborate with Taeyong for the bubbly and sentimental "Rose." Its lyrics encapsulate the narrative of two lovers. One is afraid of getting hurt while the other tries their best to reassure them. The rose in this song symbolizes their dynamic. The thorns stand for the worries and hesitation in the relationship.
Days before the duo dropped the track, fans already speculated whether or not Taeyong would release a new song. He teased the release by posting photos of himself in front of a rose garden onto his Instagram profile.
On June 7, 2021, at 12 AM KST, Taeyong dropped "Rose." In just a little under 48 hours, the song reached 1 million streams making it his second SoundCloud release to reach the milestone after "Dark Clouds." A year later, this song has now gathered 3.8 million listens.
A week after its release, NCT's official YouTube channel uploaded a Tyong-Time vlog where he took viewers through the process of coming up with his concepts and teaser image ideas.
"Rose" was Seulgi's first self-written release. Fans were happy to see her take this step in her career and were proud of her expertise.
Go into the Pool
The preceding teaser images leading up to the release of "Swimming Pool" compelled fans as he was seen posing at the abandoned Yongma theme park as well as another abandoned site. In addition, he uploaded a 30-second clip of him freestyling to the song.
On June 28, 2021 at 12 AM KST, the eighth visionary track was finally released. It entered Twitter's Worldwide Trends and charted at #27 on Genius Korea's 2021 Year-End Top K-Rock Chart. Currently, it has over 2.3 million streams.
Taeyong explained that "Swimming Pool" is kind of an extension of "BLUE." It dives into the same notion of struggling with emotions. He described it as going inside a deep pool where there's no one around and you're alone in it. Taeyong expresses falling into his own little world in the song.
From SoundCloud to YouTube
In honor of his one-year SoundCloud anniversary, Taeyong announced the commencement of his very own YouTube channel. He plans to post original content like special performance videos and vlogs where he takes fans through his day to day life.
It's evident that Taeyong puts his all into each and every song he comes out with. Fans have been able to witness a phenomenal experience as they watch his art come to life this past year. With his YouTube, Taeyong will certainly continue to spoil fans with new content.
Don't forget to follow Taeyong on SoundCloud and Instagram to keep up with his self-made music!
Want more on Taeyong? Read up on his latest song here.