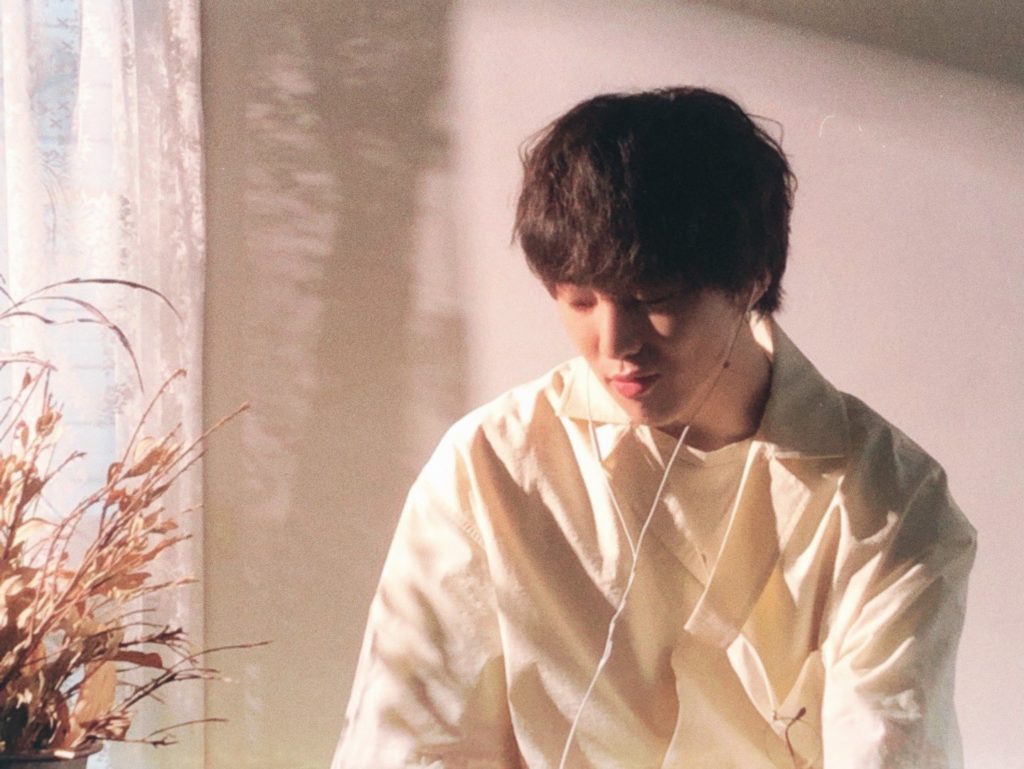 By Valerie Lopez | @valschwarie
Superstar K2 contestant turned WINNER main vocalist Kang Seung Yoon returned to his musical roots with his first full length solo album, PAGE. Released on March 29, 2021, PAGE draws on his sentimental lyricism and background in rock music, as well as his newer pop sound as a part of WINNER. Seung Yoon referred to this album as a memoir of his music career. He participated in the composition, songwriting and arrangement in PAGE.
[?KANG SEUNG YOON?] TITLE POSTER '아이야 (IYAH)'#KANGSEUNGYOON #강승윤 #WINNER #위너 #1stFULLALBUM #PAGE #TITLE #아이야 #IYAH #20210329_6PM #YG pic.twitter.com/0FR1fWpQqx

— WINNERCITY (@yg_winnercity) March 19, 2021
A Strong Opener
The first song and title track of the album is "IYAH," co-written with AiRPLAY. The album opener sets the nostalgic mood of the album, both in lyrics and music. The slower rock track builds up as Seung Yoon sings about the passage of time and his current whereabouts in life. One of the most resonating lines is "It's okay to make mistakes/I'm still an IYAH." The Korean word "IYAH" translates to "child" as well as a way to express exasperation. This double meaning captures the song's message about personal growth. Even though one grows up, they may still feel as though they are insufficient. In this way, Seung Yoon comforts listeners by expressing his own troubles. To add onto the meaningful lyrics, his singing is just as powerful and emotive. No Seung Yoon song is complete without him flaunting his powerhouse vocals, featured at the track's climax.
The "IYAH" music video is just as emotional, almost enough to pull some tears. The music video appears as a movie of Seung Yoon's life. In the video, he reminisces about his memories from childhood to WINNER, and beyond. His groupmate Mino handed him his mic, and Seung Yoon entered the stage at the climax of the track, the audience filled with just a few people encouraging him, perhaps a nod to his parent's support. The video featured older photos and videos of Seung Yoon, ending with his audition to Superstar K2, marking the start of his journey with music.
An Emotional Rollercoaster
The mood becomes more lighthearted with the second song "WE NEED LOVE," co-written with Diggy and Kang Uk Jin. "WE NEED LOVE" is an upbeat rock track about forgetting one's worries and simply jamming to a love song, after all, "we need love." This contrast in mood makes for a well-engaged listen. 
Seung Yoon opens up about anxiety with his next track. "BRUISE," also co-written with Diggy and Kang Uk Jin. Just as the name would suggest, the song discusses the pain one feels even though one may outwardly seem okay. Swapping out the guitar for a piano, Seung Yoon captures the feeling of being bruised and hurt through this slow track.
Seung Yoon switches up the mood yet again with the next track,  "SKIP," featuring Wonstein. This pop song is co-written with Wonstein, HOYAS, Diggy and Kang Uk Jin. The song conveys the story of a lover who is so preoccupied with their troubles that they need to "skip" their worries and focus on living in the moment. One of the most interesting lines is "You keep doing well and then you disconnect from your Mac/You're like a YouTube advertisement." On the surface, it seems like a funny line comparing a lover to technology. However, the analogy compared a lover to an advertisement because they skipped the small moments, when they should pay attention to those as much as they do their work. Instead, they should be skipping the problems. 
The following song is "OBVIOUS" featuring the rapper Simon Dominic, co-written with Simon Dominic and R.Tee. "OBVIOUS" is a funky R&B track. To go with Simon Dominic's fresh rapping, Seung Yoon's included some of his own bars. Even though the song is upbeat, the lyrics tell the story of someone who was too deeply in love that they missed the bad signs in a relationship. The signs were so obvious that it is almost foolish. The fun sounding music with the lyrics about a person playing with one's heart is incredibly fitting and a clever use of juxtaposition.
"BETTER," featuring WINNER bandmate Mino, and co-written with AiRPLAY is the next track. "BETTER" is a bittersweet pop song about how a former lover is doing better now that they are no longer yours. Its lyrics expressed a lot of regret for how one treated their partner. 
"CAPTAIN" marks the halfway point of the album. It is a pop song co-written with AiRPLAY. It has a suspenseful build up that highlights his vocals and the lyrics of the chorus. Seung Yoon opened the song by describing how lonely it was until he encountered someone's "sailboat" at sea. The lyrics made use of imagery associated with the water and the sea. At the chorus, it almost sounds as if there is an entire crew and band performing with trumpets, drums, and other instruments. The lyrics even call that special someone "my boss, my leader, my hero, my captain." It is a very confident song about how happy someone makes you feel.
Next up, "WERE WE?" This song was co-written with Kang Uk Jin and Diggy. It is an acoustic sad song questioning the feelings of a former partner.  The lyrics told the story of insecurity and doubt after a break up. The singing starts off on the softer side, building up to the final chorus, where Seung Yoon's singing became more powerful. His sorrow in the song is very clear just by hearing him sing. 
"365," a song co-written with Diggy and Kang Uk Jin, follows "WERE WE?" It is a slow song about missing someone. Although it has the same sorrowful mood as the previous track, it also feels a lot more hopeful, as if this song is a way to express grief. The lyrics make reference to time by using imagery related to the seasons. 
"TREAD ON ME" continues the sad atmosphere. Another breakup track, "TREAD ON ME" was co-written with Diggy and Kang Uk Jin. The acoustic song tells the story of someone who wants to get over a previous lover. Throughout the song, the lyrics convey the desire to be hurt so much that there is no regret about ending the relationship. While the vocals were not as flashy as previous tracks, it is just as good of a song. 
The penultimate song is "HEY RAIN," co-written with AiRPLAY. "HEY RAIN" is an acoustic pop song about one's negative feelings. Using the rain as a metaphor for tears and sorrow, Seung Yoon expresses the need for the rain to stop. The song ends with Seungyoon saying, "hey rain, take fine dust on the way." This impactful line expresses the hope and troubles people experience. In an ideal world, people would be able to feel better after a good cry; however, that is not always the reality. "HEY RAIN" conveys the bittersweet feeling associated with crying. 
The final track is "IYAH," featuring Yoon Jong Shin, Seung Yoon's mentor and the original singer of "Instinctively", the song Seung Yoon covered on Superstar K2. It is the perfect finale, ending how PAGE started, similar to how Seung Yoon started as an individual artist and has returned to the solo scene again. This version of the song is touching, giving a glimpse of how Seung Yoon has grown and developed as an individual, while paying homage to his beginnings.
A Chart Topping Album
As a testament to PAGE's quality, the album sold over 100,000 copies in its first week, earning a third place spot on Hanteo's Weekly Physical Album Chart. On the Gaon chart, PAGE was in the top three albums on the weekly chart and in the top six albums on the daily chart for most April 4 through April 10.
The album was received well outside of Korea as well. On the Chinese platform QQ Music, the album sold over 39,000 copies, making it a three-time gold certified album. It also topped the iTunes Chart in 18 countries and debuted at number four on the iTunes World Albums Chart. 
Final Thoughts

While PAGE is reminiscent of Seung Yoon's previous work, each track gives the listener something new, as if flipping through the pages of a well-written book. With top tier vocals, impeccable music, and evocative storytelling, Kang Seung Yoon perfectly weaves together the pages of his music into an album that anyone can listen to, and relate to. PAGE is a welcome reminder that even celebrities like Kang Seung Yoon struggle, but more importantly, it is a reminder that we all have room to grow on our own journeys. Overall, this album delivered exactly what one would expect from a distinguished artist and member of WINNER.
Want to learn more about other recent releases? Check out our review of Kang Daniel's most recent mini album here!
Thumbail Courtesy of WINNER