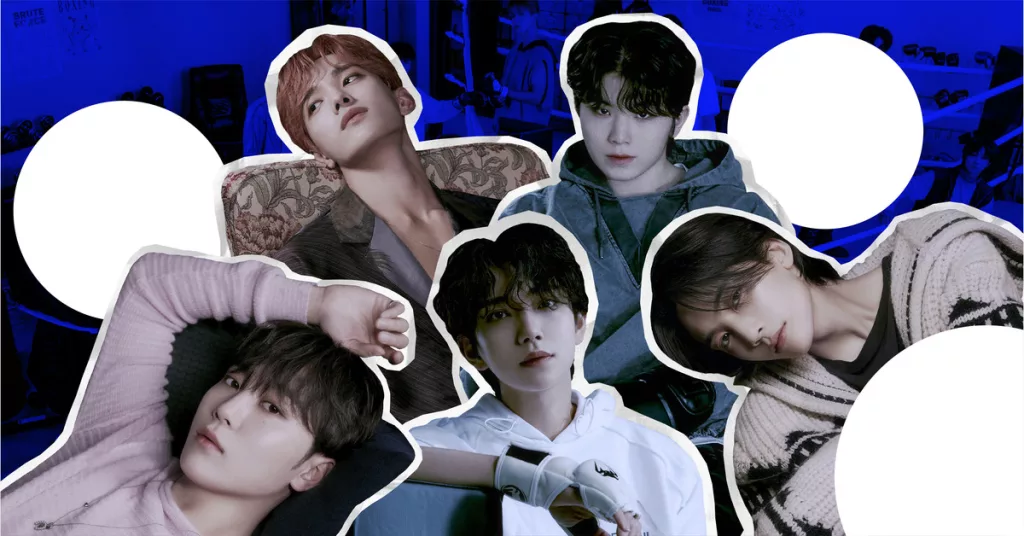 For many fans looking to get into K-pop boy group SEVENTEEN, the sheer number of members in the group (13, to be exact) is understandably intimidating. Thankfully, the group's built-in unit system makes it slightly easier to categorize and get to know the members. Ask any of SEVENTEEN's fans, Carats, why the 13-member group is called SEVENTEEN, and you'll likely get an earful about the group's three units—vocal, performance, and hip hop.
With SEVENTEEN's 10th mini album FML out now, it is the perfect time for any aspiring CARATs to get into the group. To get you started, here are seven things to know about SEVENTEEN's Vocal Team!
Unveiling the First Unit Track, "20"
The five members of the Vocal Team — Woozi, Jeonghan, Joshua, DK, and Seungkwan — often performed as an informal unit before debuting, such as in SEVENTEEN's predebut reality show SEVENTEEN Project. However, the Vocal Team only revealed their first official track, "20," at SEVENTEEN's live debut showcase on May 26, 2015. The song's digital release followed a few days later as the fifth track on SEVENTEEN's debut mini album, 17 Carat. As with several other tracks on the mini album, Vocal Team member Woozi participated in lyric and musical composition for "20," an early testament to SEVENTEEN's title as "self-producing idols."
"20," a teen pop song with a bright tempo, "encapsulates the feelings of young love experienced by people in their 20s." Member Woozi also described the song as one about "being 20 years old, which is the most beautiful time of your life." He shared his hopes for the refreshing track to "tell stories that teenagers can look forward to, and bring back beautiful memories for people in their 20s and 30s."
Producer Extraordinaire: Woozi
Woozi is quite the music aficionado. Beyond his versatile vocal range, the Vocal Team's leader also showcases his talent as SEVENTEEN's producer. With the ability to play a variety of instruments—including the clarinet, guitar, and piano—he utilizes his musical knowledge to create tracks for the 13-member group, as well as other artists such as fromis_9 and tobi lou. His level of composition and production almost seems innate from the content he has shared while working in the studio. With an impressive total of 147 tracks copyrighted under his name as part of the Korean Music Copyright Association (KOMCA), it is no wonder why he is praised by Carats for his work as a producer.
Woozi takes his nurturing demeanor as a leader, and it translates throughout his production for SEVENTEEN, as he ensures the group will always enjoy the final project. In a video interview for Rolling Stone's "The Breakdown" series, Woozi said, "A song is fully completed by my standards, not just when the track itself is finished, but when I can envision our members. And the grand performance that goes along with it." His fellow members greatly appreciate his compassion during the production process, too. Fellow Vocal Team member Seungkwan confessed in another video interview for Billboard: "…I feel lucky to have Woozi as our producer. We're very lucky to have him." A leader, vocalist, and producer extraordinaire, Woozi is a multi-faceted artist deserving of recognition.
Carat's Angel, Jeonghan
Fans of SEVENTEEN's variety show GOING SEVENTEEN will know Jeonghan as the chaos master of the group. He gleefully cheats his way through games, often to the fond exasperation of his fellow members.
But Jeonghan is known for more than just bringing a healthy amount of mayhem to every game. Amongst fans, he's known for having a very soothing voice. Amongst members, he's known for being the most caring, looking after younger members. Fellow members have even referred to him as the parent of the group, with Joshua praising him for always being there to listen to the members who are having a hard time. Hoshi also said that Jeonghan's presence makes their whole group warmer.
Jeonghan fully embraces this reputation, hosting a live radio series he calls "A Warm Glass of Milk" for fans. Starting in 2017, he named the series "A Warm Glass of Milk" because he thought people listening might be getting ready to go to sleep or want to take a nap. Like a warm glass of milk, he wanted to help them relax and fall asleep. The series even has its own theme song, with Jeonghan singing "A warm cup of milk / to make Carats happy."
Joshua's International Journey to SEVENTEEN
Joshua, as his name may suggest, is one of the American-born and English-speaking members of the group. Also often referred to by his Korean name, Hong Jisoo, the '95-liner was born and raised in Los Angeles, California. There, he attended church and also sang on his church's musical worship team, where his love for music first began. In 2013, after performing at the Los Angeles Korean Festival, Joshua was street-casted by a PLEDIS Entertainment representative. The company flew him to Korea for an audition, and soon after, Joshua officially joined PLEDIS Entertainment as a trainee and as part of the predebut lineup of SEVENTEEN.
Having abruptly left his family and high school career behind at just 18 years old, Joshua's journey to debut as a member of SEVENTEEN definitely wasn't an easy one. Although he spoke some Korean with his parents at home, he couldn't read or write the language when he first started training. But his skills improved rapidly, so much that he often served as an interpreter for the group before debuting. He continues to carry this responsibility as SEVENTEEN's unofficial interpreter and representative English speaker, alongside New York-born member Vernon.
DK: From Fan to Stage
As SEVENTEEN's main vocalist, DK's love of music is no secret. He cites Yoon Do Hyun, frontman and founder of Yoon Do Hyun Band (YB), as his inspiration for becoming a singer and for his passion onstage. DK was impressed after watching Yoon perform, seeing how he was able to impart a happy and joyful energy onto fans. DK even admitted to wanting to be a rocker like Yoon.
While DK may have admired Yoon, he had an array of other musical interests. He was in a rock band in middle school, was known amongst his friends for his karaoke talents, and had a love for musicals. As proof of the latter, he even auditioned for PLEDIS Entertainment with the song "This Is The Moment" from the musical Jekyll & Hyde. As a member of SEVENTEEN, he's written and composed for many different songs, like SEVENTEEN's title "CLAP," BSS title "Fighting," and his own non-promotional holiday release "You're My Christmas."
In recent years, DK has seen himself in the very positions he used to admire. In 2019, he took to the stage in his first musical as the lead role of King Arthur in Xcalibur. He even reprised this role again in 2021. In 2020, he virtually joined Yoon Do Hyun at his Acoustic Forest concert, joining Yoon and a dozen other artists to sing "Another In The Fire."
SEVENTEEN's Variety King Seungkwan
Even if you're not too familiar with SEVENTEEN, there's a good chance you're at least a little familiar with the name Boo Seungkwan. Aside from being SEVENTEEN's powerful main vocalist and K-pop expert, Seungkwan is also the group's variety king, well-known for his variety show appearances and hilarious on air personality.
Prior to debuting, Seungkwan was already known among predebut fans of SEVENTEEN for his witty, sassy personality and MC skills, and even had the official nickname "Mr. Mic" for his MC-ing expertise. After SEVENTEEN's debut, Seungkwan quickly gained recognition for his variety skills by guesting on variety shows like Radio Star (you may know his iconic "Wi-Fi" cover from Radio Star), Amazing Saturday, and Happy Together. The SEVENTEEN vocalist has also been a fixed cast member on several variety shows, most notably on tvN series Idol Dictation Contest and Prison Life of Fools. Thanks to his stellar performance on variety shows, Seungkwan won the Rookie Award at the 2018 MBC Entertainment Awards and most recently won the Male Idol Entertainer Award at the 2022 Korea First Brand Awards.
Unexpected Moodmakers of SEVENTEEN
Although the Vocal Team often showcases a serious, mellow image on stage and in their discography, the unit exhibits a surprising duality offstage. Unexpectedly, the Vocal Team members are some of the biggest (and loudest) moodmakers in the group. In fact, this team has described themselves as the most talkative and cheery of the three SEVENTEEN units.
Even en route to early morning schedules, while other units prefer to sleep or listen to ballads, the Vocal Unit van is lively and full of playful jokes. The group's chaotic personas also shine through in their unit reverse performances at SEVENTEEN's annual fanmeeting "CARATLAND," where the group's three units switch and perform each other's songs. From having a mid-performance picnic with bread and jam in their 2017 cover of Performance Unit track "Jam Jam" to member Jeonghan dressing up as a chicken in their 2021 cover of Hip Hop Unit track "Check In" (get it?), the Vocal Unit's unexpectedly hilarious charms are something that SEVENTEEN fans know and love.
Want to learn more about SEVENTEEN's units? Read our article about the Performance Team, and make sure to check out SEVENTEEN's latest comeback with FML!