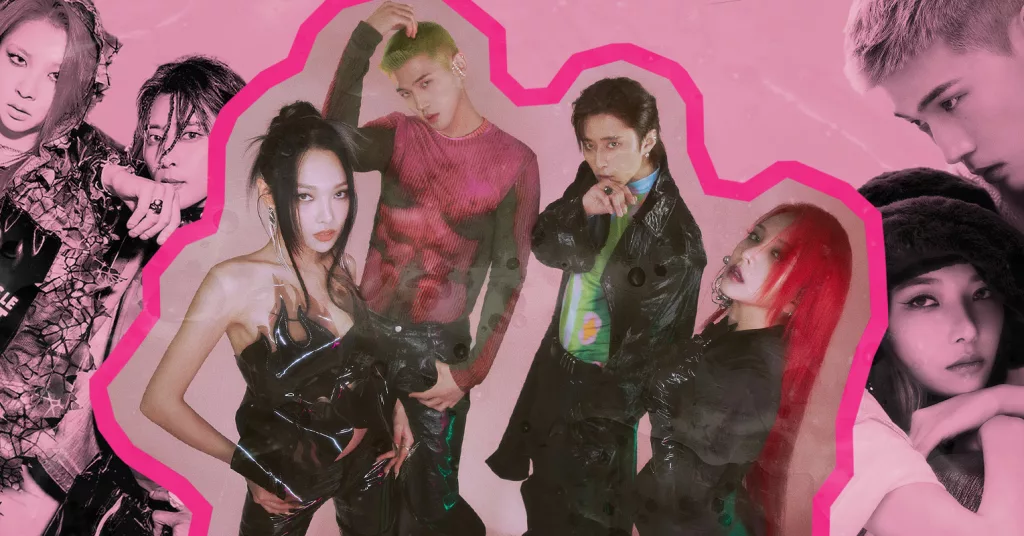 Since their introduction to the world in late 2017, KARD have been a bit of an anomaly within the K-pop industry. In a sea of artists divided into categories of boy groups, girl groups, and soloists, KARD have both the honor and the burden of being one of the few mixed-gender groups to exist within the "idol" space. And while the co-ed concept is celebrated among the group's international fanbase, Korean audiences haven't been as open to it, even before KARD.
However, with the release of their latest EP, ICKY, members BM, J.Seph, Somin, and Jiwoo are far from backing down and accepting defeat. Instead, they're pushing the envelope even further by reinforcing that being co-ed shouldn't be seen as a hindrance, but rather a strength. In an interview via email, KARD spoke with EnVi on the making of ICKY and why they wanted to shake the table this time around.
Same KARD, Spicier Image
Dating back to their pre-debut release, KARD's sound has been rooted in Latin influences, from dancehall to moombahton and reggaeton. It's become their signature style and one that's easily recognizable. But they've also managed to excel in an array of other genres: hip-hop for rappers BM and J.Seph, EDM, tropical and contemporary house, and even alternative R&B. For ICKY, however, the members wanted to not only showcase their existing sound that fans have come to love but also a sexier side of themselves that many weren't expecting.
"We focused this time around on bringing back high energy, and charisma, with the addition of spicier lyrics through a number of hidden innuendos," BM told EnVi. "We wanted to be bold with our expressions this time around to give listeners a sense of excitement while inspiring them to comfortably feel sexy themselves." Both the album and its eponymous lead single are riddled with the idea of sexuality and openly expressing those desires without shame—a bold choice in an industry that skirts around the way idols are expected to behave. But even more so, it's a conversation that's recently picked up traction among adult K-pop fans, mostly regarding the lack of mature concepts and songs due to many companies debuting artists at ages as young as 15.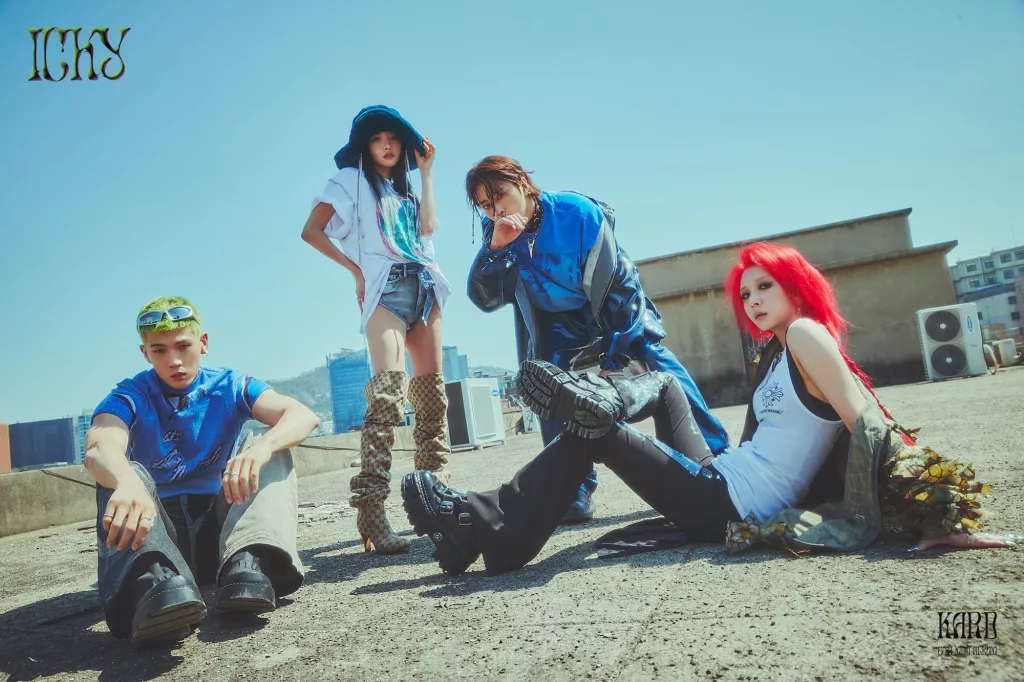 KARD, on the other hand, with members aged 26 and 30, are more than happy to fill whatever void there is in the adult-oriented part of the K-pop industry. BM continued on why the group took a chance and pushed the envelope into a more sensual territory: "As adults, we felt it would be fun to push the boundaries of what a K-pop artist should and shouldn't say. We certainly stirred up a lot of noise with our lyrics, especially my verse creating such an entertaining response."
The verse in question, found in the single "ICKY," has been making the rounds on social media, with fans' reactions ranging from shock to excitement. Others are hilariously appalled at how raunchy the rapper's innuendos can get. But in all fairness, BM himself hasn't exactly been shy about the album's lyrical content. In fact, he's been the main one hyping it up and stirring the pot. Not that anyone minds, of course.
Dive Into KARD's Innuendos: Can You Catch Them All?
Fortunately, "ICKY" isn't the only song to get down and dirty on this new album; there are plenty of innuendos and sexy lyrics from all four members. Most notably, in the relentlessly frisky B-side, "Cake," and the breezy Latin pop track, "Fxxk You," sung by Somin and Jiwoo. When asked what the group's favorite innuendos are, the answers varied from self-explanatory to hidden meanings that really make you think. 
"I really like the part in J.seph's verse [in 'ICKY'] where I sing, 'Do you wanna read between the lines?'" Somin noted. "I discovered the hidden meaning behind the part, and it's really impactful and provocative, which I loved! It's a part where I instinctively turn my body towards J.Seph while making a hand gesture, and there's a precise transition that captures my attention…I really like this part," she further explained. Similarly, J.Seph revealed his favorite innuendo lies within that same verse. "I like the lyrics, 'Your value is Buffett's pick,' it means that the attractiveness of the person who receives Warren Buffett's pick is the greatest," he added.
Meanwhile, BM and Jiwoo's favorites are a little more on the nose without needing to get too explicit. "The phrase 'Right under the sheets' in English implies something happening in a hidden or secretive manner underneath the bed covers,' Jiwoo stated. "While it may not be a direct metaphor, it can spark imaginative interpretations and create scenarios."
Many things can happen under the sheets, right? Right. As for BM, he really enjoyed one of Somin's lines that, when directly translated into English, doesn't hit nearly as hard as its actual meaning. "Somin's Korean part in the hook can be interpreted in many different ways, but what we aimed for was, 'I'm going crazier as I'm getting closer,'" he revealed. "I don't think I need to explain much more after this!"
The folks who get it, get it. And the ones who don't, well, give it some years and you'll catch up! With that being said, being co-ed allows KARD to have ample freedom when expressing themselves and interacting with each other. As one may expect, they can do so in ways that are different from groups composed of all men or all women. The album's playful and flirtatious nature is a great example of balancing more mature messages while still delivering rhythmically enthralling beats for everyone to enjoy.
Persistence is Key, and Compromise is Crucial
But as catchy as "ICKY" is, it wasn't always in the running to be a track on the album, let alone be the lead single. However, KARD believed in the song so much that they were determined to persuade their company, DSP Media, to understand the group's perspective and include "ICKY" in the final cut.
"'ICKY' was the biggest struggle," BM explained. "The rest of the songs were added naturally because they complement the title song—'Cake' being moombahton, 'Been That Boy' has Afropop influence, and 'Fxxk You' has its Latin pop vibe, so we felt the combinations of these songs with 'ICKY' would really reintroduce the KARD sound that our fans love." And they weren't wrong—each song feels like an extension of KARD's identity, making it one of their most cohesive albums to date. The members' persistence also showed their willingness to fight for something they believe in when it comes to furthering the group's sound or image.
"Instead of giving up when something doesn't work, I believe in persistently trying and leading the conversation toward what we want if we have a strong conviction and confidence in it," Somin stated. It's one of the reasons why KARD revealed they are very happy and satisfied with renewing their contracts with their company. They've not only learned to be tenacious but also to know the value of compromising so all parties are content with certain decisions. "We aim to find a balance between the goals pursued by the company and the individual desires of the members," J.Seph revealed. "We strive to reach points of compromise where we can let go of stubbornness and negotiate with each other."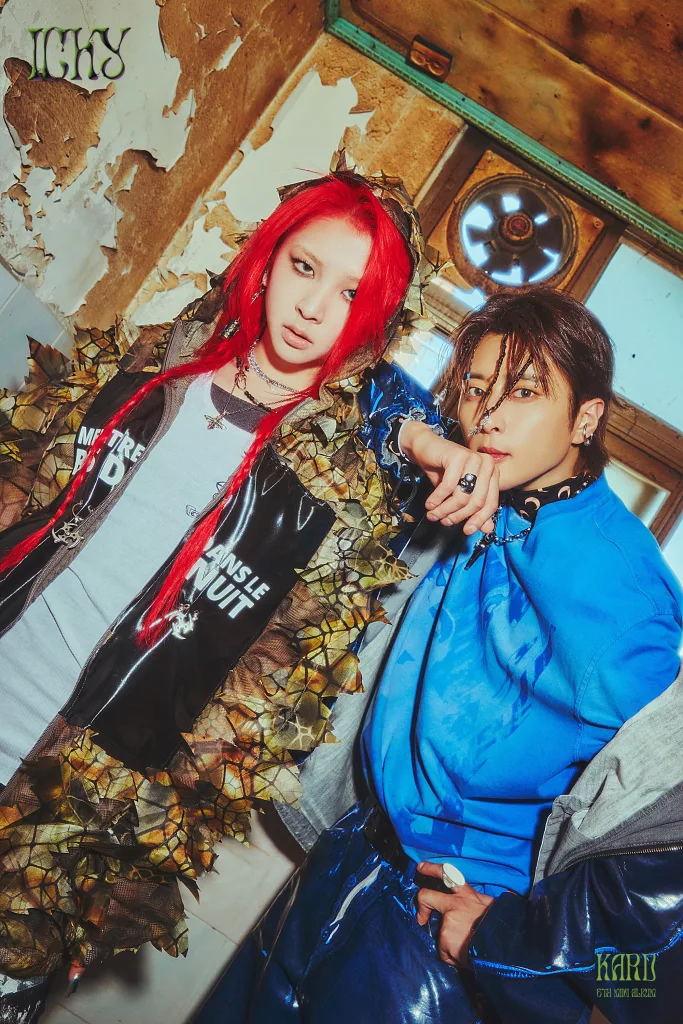 When comparing KARD in their pre-debut and rookies days to KARD today, there's a newly lit fire in their eyes—one that burns with self-awareness, confidence, and a new sense of direction that has grown tenfold over the years. "At that time, we were truly rookies who had just debuted," Jiwoo said. "Over time and through various experiences, I believe our ways of expressing music have become more seasoned than before."
As for the group's most significant learning curves, J.Seph responded, "We still have ongoing tasks and are in the process of progress, but I would like to answer that it's about managing the balance of power. We're always striving to find ways to release tensions and exert effort."
Touring with KARD and Fave Moments When Creating "ICKY"
The road to fame and navigating the industry hasn't always been the easiest, but KARD are taking it one step at a time and having fun along the way. Coming this July, the group will be continuing the fun party into their fourth world tour, "PLAYGROUND."
Starting on July 6, KARD will kick off their "PLAYGROUND" world tour in Mexico before making their way across the U.S. and Europe up until September. If you've been fortunate enough to experience a live KARD show, you already know how wild and vibrant the atmosphere can get in person. But in case you haven't, Somin and J.Seph provide a little insight into what fans can expect with this new and improved tour.
"We always put a lot of thought into presenting new stages for the tour," Somin said. "However, there are times when it may not be possible due to the condition of the venue. So, we try to include as many elements as possible that everyone can see and enjoy. This includes elements like videos and choreography for songs, aiming to create an experience that everyone can appreciate."
As KARD's global popularity continues to grow and flourish, so do the venues and overall scope of the performances. But with the inclusion of the group's latest songs, which feature different team-ups, the tour also provides fans with a chance to experience new unit stages that they may not have seen before. "In the previous tour, there was a unit stage featuring me and Somin, but this time you will be able to see unit stages with the male members and the female members," J.Seph told EnVi. "We're preparing a performance that will be especially welcomed by fans who enjoy BM and J.Seph's hip-hop songs."
With a new album out and a tour on the horizon, it looks like an electrifying year for KARD, to say the least. The members are endlessly grateful for the fans who have stuck around since the beginning, as well as the newcomers who are learning about KARD for the first time. In addition, they're excited to share this new album and career chapter with their audience and each other.
"It was great that the members' opinions aligned so well, and we were able to communicate effectively with the company, which helped in appealing to our ideas," Somin said. "In that sense, it took some time, but it had a great start. All aspects such as choreography and music videos were fresh and showcased a different side, while still capturing the essence of our unique identity. It made me incredibly happy. We worked hard on preparing this album, so please show it lots of love!"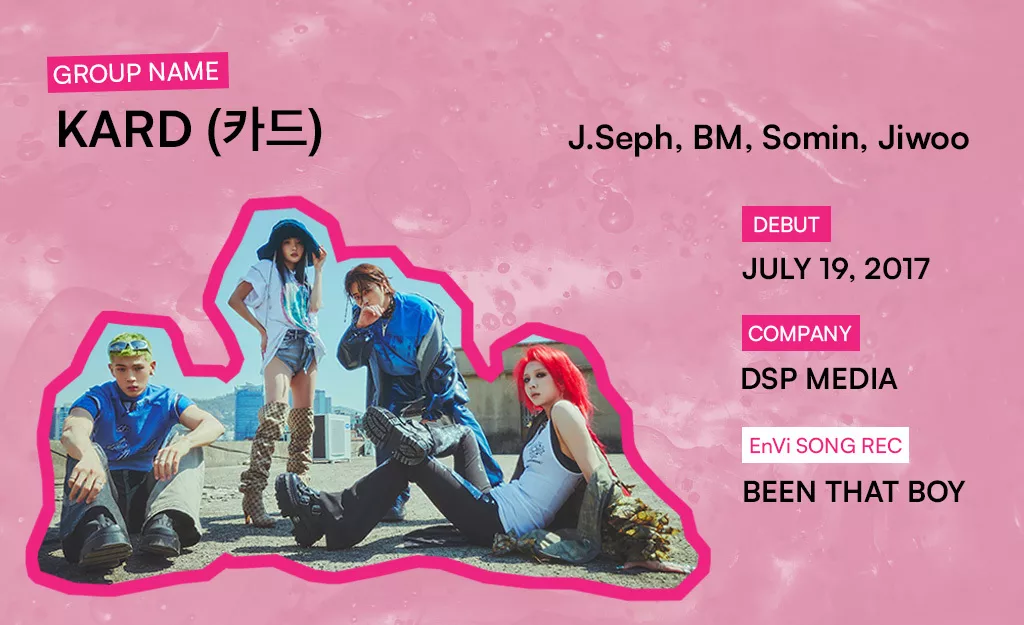 KARD's sixth EP, ICKY, is available now on Spotify and Apple Music, and don't forget to follow them on Twitter and Instagram for all the latest info!
For more KARD-related content, check out our 2021 interview with BM on his solo works here!