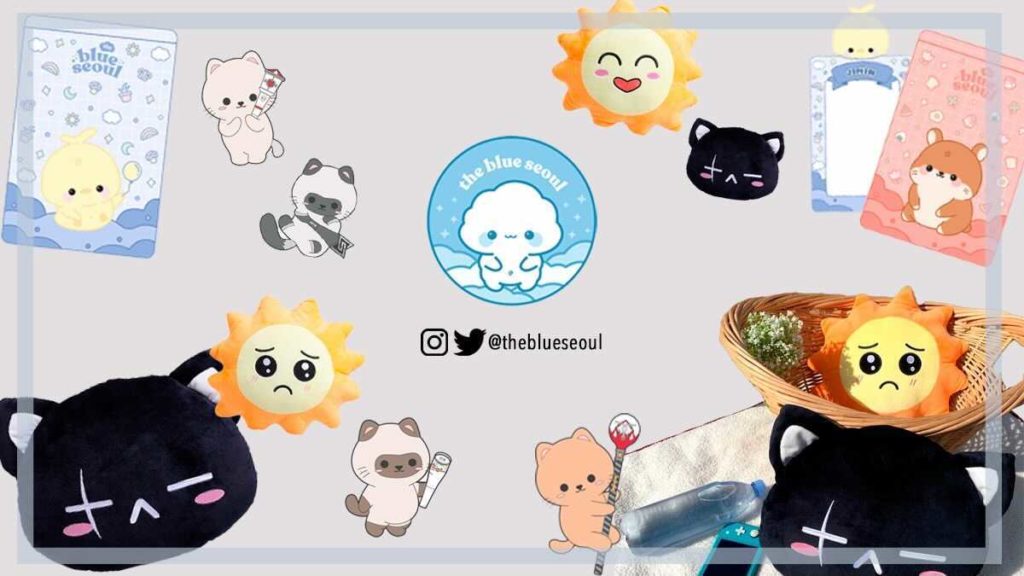 Continuing with EnVi's K-pop small business spotlight, we spoke to K-pop fans-turned-business owners Emmy & Natili of The Blue Seoul to learn about their current products, the inspirations behind their item designs, and how they operate and manage their online shop.
Creator: Emmy & Natili
Twitter: @theblueseoul
Instagram: @theblueseoul
Based in: USA 
With its slogan, "Created by fans, for fans," The Blue Seoul sells a variety of K-pop inspired products which are mainly BTS inspired. They are best known for their cute plushies, pillows, and enamel pins collection called "Fandom Kitties," kittens holding different K-pop group lightsticks – as of now, there are Fandom Kitties for 25 K-pop groups. With over 11.9K followers on Twitter and a whopping 30.9K followers on their Instagram account, let's get to know more about how they grew their business.
Featured Products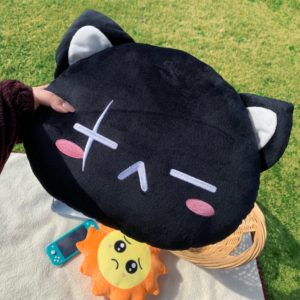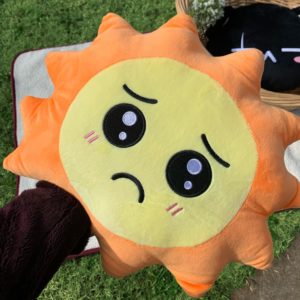 How do you design and create the plushies? 
An ultimate goal of mine was to create some sort of plush product for my store, and one night, I had gotten the idea for "Daechwita Kitty" not long after the "Daechwita" music video came out. At first, I only had the idea for a pin, which is how we created our "Daechwita Kitty" pin, but then I thought it'd look really cute as a plush pillow! I went through many design possibilities, and settled on our final design, which is the one we currently sell. I also wanted to do pillows for the other members, and quickly got the inspiration for J-Hope from BTS and his nickname, "sunshine." Most people associated him with flowers, and more specifically, the Murakami flower. I wanted to do something different that would stand out in such a saturated market. After much thought, we settled on a double-sided J-Hope's Sun pillow.
What are the inspirations for your item designs?
Plushies are often comfort items, and I felt capturing idols that people look up to and find comfort in a plush would be endearing, also giving people a little extra comfort in something to hold or cuddle with. BTS inspires me not only in work, art and design, but also in my day to day life as well! I'm also inspired by TXT, Seventeen, NCT, and other artists, groups and fan artists! It's hard to stay positive in such a saturated market, but having great influences like BTS and friends who do the same, allows me to continue to find passion and excitement in creating content and merchandise like this. It's also difficult to stick out in a saturated market or industry, and a lot of my inspiration comes from the different concepts and such, we spend hours thinking of individual projects and designs!
Why focus on the plushies?
Actually, it was difficult to find a good manufacturer, but after many hours of searching, we found one that suited our needs! Besides quality, something that's very important to us is making sure that the factories or manufacturers that we use are ethical with their business. We always check their certificates and audits before doing business with them, which can be quite a lengthy process. At first, we were worried about the Minimum Order Quantity (MOQ) of doing such a large project. We only did samples with the idea of possibly creating them in bulk, but we weren't sure if it was possible. I made one sample of each for myself, and I told myself that if it's a popular project, we can do it. If it's not, it's fine, I have two for myself! Surprisingly, when we introduced the plushies on our social media, people fell in love and they were quickly funded. We're so grateful to do such large, intricate projects and have such a lovely support system, and following, that trusts us and allows us to create things we once thought we're out of reach. I really wanted to branch out and do something besides pins and keychains since they're such common products. So, I took a risk by doing something that I hadn't seen much of at the time! We're so lucky to have created something people love enough to fund.
How do you market and advertise your items?
With a saturated market, it's difficult to promote products. It's difficult to stand out as the list of fan shops grows, but it's possible if you try hard enough! One of our biggest marketing or advertising outlets is TikTok! Promoting products by creating short videos has been a great way to reach a new audience by engaging with our followers and taking creative photos to interest people as they're scrolling by! Finding a place to fit in each social media's algorithm, like posting on Twitter, sending people's products, reviewing your engagement and analytics, and using hashtags, are all great resources to market and advertise our products. Most of the time, the way we choose to market and advertise ourselves is completely free! We've found something that works for us and our business, and we try very hard to work out a set schedule and theme so it's consistent for best results. Also, keeping people interested by teasing new products and designs have worked great for us as well! We strive to keep our followers active, interested and engaged. We also try our best to be relatable, affordable and fun.
Have you encountered issues throughout the process of production?
Our production manager for our manufacturing process wasn't very communicative and kept leaving us in the dark with the estimated completion date, and it even got pushed back a few times, which is always upsetting for both us and our customers. We went from doing 13-inch to 15-inch pillows, which wasn't necessarily an issue, but we did have to wait for new samples, which can be a long process as well. Our customers have been pretty understanding but sometimes we get one or two who don't understand the production, waiting or shipping times. When our plushies did finally finish production for the first time, I was doing those orders by myself, so I needed extra time to get everything done, because packing pillows can be pretty labor intensive. Some customers didn't understand the wait time needed for me to pack – some packages were delayed due to the holidays, and some were even lost! But it was mostly a smooth process other than a few bumps in the road, which is expected when you're manufacturing something new for the first time!
What are your favorite products?
As of right now, my favorite products are our blue side crewneck and our BTS inspired ita bags. The ita bags went viral on Twitter and collected over 2 million Twitter engagements! The pre-sale day was very memorable, and this product opened a lot of doors for us as a business. Also, the blue side crewneck was inspired by my favorite song, "Blue Side" by J-Hope, and I think that I did really well on the design. I also really like our Fandom Kitties collection. As a multi fan myself, I think it's a very cute, and simple way to show support for your favorite groups without screaming K-pop! If you don't know about K-pop, you'd just think that it was just a cute pin!
What are The Blue Seoul's best-sellers?
Our best selling products are our BTS inspired ita bags, Suga and J-Hope inspired plushies, "Friends" inspired BFF keychain, and our Fandom Kitties collection! I think people were interested in our ita bags because they captured the aesthetics of the BTS members, but they also could be used for people who don't necessarily like K-pop, or other idols with similar aesthetics! We made them very simple, and didn't use members' names on it so they could be used by everyone! The Suga and J-Hope inspired plushies are quite popular considering pillows aren't as common of a product as pins or keychains are, so it's kind of a unique product! For our BFF keychain, they're popular because they can be shared with long-distance friends or just with a friend who likes K-pop as well. Lastly, our Fandom Kitties collection is the part of the best selling products because we try to include groups who often get left out of fan merchandise. A lot of our products do well or gain a lot of interest because we strive to be unique and stand out. 
Loving this feature? Check out our first K-pop small business spotlight here.
Thumbnail created by @clau_klau_