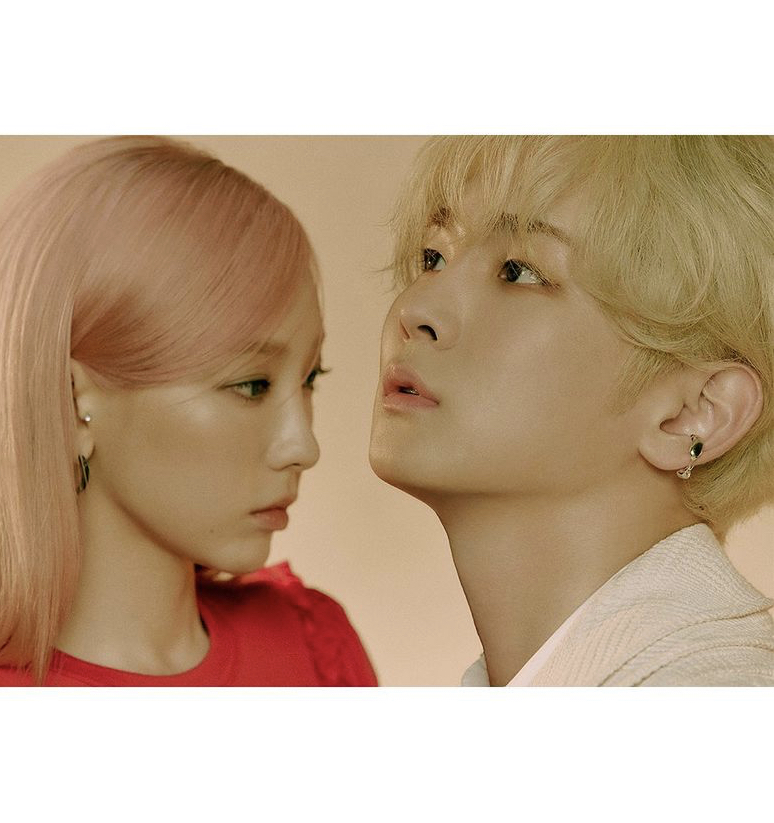 By: Mafe Ramos | @maaferpaulo
On August 30 at 6 PM KST, SHINee's KEY released "Hate That…" in collaboration with soloist and Girls Generation member Taeyeon. The track is a sneak peek from KEY's upcoming solo album scheduled for late September. A teaser for the single first dropped August 24 on SHINee's social media and fans have been eagerly awaiting the release ever since.
KEY 키 Pre-release Single 'Hate that…'

➫ 2021.08.30 6PM (KST)#KEY #키#SHINee #샤이니#KEY_HateThat #HateThat pic.twitter.com/H4vu0sK0m4

— SHINee (@SHINee) August 24, 2021
The single's drop was preceded by an hour-long V live where KEY and Taeyeon talked about working together on music, the September album, upcoming activities, and, of course, shared some fun stories. While waiting together with the idols, fans were able to show their support for the collaboration in the comments.
A Heartbreaking Single
Written by Hwang Yubin and composed by Stephen Puth and Lauren Mendel "Hate That…" is an R&B track with a tender guitar melody and a contrasting upbeat rhythm. The clashing sounds create a sentimental feeling of a bittersweet breakup- painful, yet freeing. The lyrics convey the feelings of going through a complicated breakup, not being able to move on, and feeling crushed now that your ex is happy without you.KEY and Taeyeon Sing "Hate that I hate that/You're happy without me/And I pray and I pray/I want you to come back baby."
Matching the song's bittersweet vibe, the music video delivers a dramatic cinematic feeling. The video opens up with KEY alone in a spaceship as he makes his way to Earth, he wonders the ship disheartened as he looks onto earth at Taeyeon. Taeyeon sits alone on earth, just as lonely as KEY she looks up towards him. When KEY sees this, the ship starts malfunctioning. As their voices join in the song, KEY and Taeyeon finally meet together on the rock, as the beat builds, the rain falls dramatically bringing us into a final chorus enveloped by haunting vocalizations.
KEY & Taeyeon Join Forces
With KEY and Taeyeon's long-time friendship and the two recently becoming the newest faces of Olive Young, it doesn't come as a surprise to see this duo together. Surprisingly, however, this is the first time they have collaborated on an original track and expectantly the two showed a perfect synergy. Although we cannot predict when the next collaboration will take place, fans can only hope for these two to take on more projects together.
View this post on Instagram
Fans Reactions
Fans couldn't hold their excitement with the new single and took Twitter to show their support and love for the collaboration.
his visuals are on another level#KEY #키 #SHINee #샤이니#TAEYEON #태연 #KEY_HateThat #HateThat #Keyisback pic.twitter.com/9CNJlRJtcB

— mimi? (@ODOROBOL6V6) August 30, 2021
THIS MASTERPIECE RIGHT HERE is my favorite part.

Like come on their voices blends so well together and the visual????? COME ON PEOPLE THIS IS TALENT MANIFESTATION ????#KEY #키 #SHINee #샤이니#TAEYEON #태연 #KEY_HateThat #HateThat pic.twitter.com/czUmmBzd4v

— jam | HATE THAT ? (@taengmother) August 30, 2021
their voices blend so well for a heartbreaking song..not to mention how these lyrics feel like a deep painful cut to my chest #KEY_HateThat #HateThat pic.twitter.com/nnJyr18gur

— 지윤 ☁️ (@taevenger) August 30, 2021
absolutely obsessed with taengkey's voices together in the chorus, kibum could never release a bad song i fear#Key_HateThat pic.twitter.com/X2vdS2mmUd

— hate that ً☆ (@lovebyshinee) August 30, 2021
WOMAN RESCUED ATER BEYOND LIVE NEWS DROPPED. It was too much for her poor little heart.

I am woman. She is me.#Key #Key_HateThat pic.twitter.com/Aq10BbCTFZ

— Cha 茶 (@Cha080525) August 30, 2021
as expected 'hate that…' is absolutely amazing, taeyeon and kibum both did so well and I'm so proud! don't forget to like and leave nice comments on the mv as well ?? #KEY_HateThat #HateThathttps://t.co/XMHIyDxu8T pic.twitter.com/1bTKhqGNOd

— hourly kim kibum `ㅂ´ (@hourlykibum) August 30, 2021
What's Next?
"Hate That…" It's KEY's first solo release after two and half years since his album I Wanna Be in March 2019. Even so, KEY has continued to show versatility with the release of SHINee's seventh studio album Don't Call me which debuted at No1 on The Gaon South Korean Albums Chart and charted on Billboard's World Album Chart. KEY has proven himself as a strong artist not only as a member of SHINee but as a soloist, and "Hate That.." only reinforces this. With a new album around the corner, fans can only imagine what the future holds for the artist.
Want to read more about the latest releases? Check out our coverage on BTS collaboration with Meghan Thee Stallion here!
Photo Courtesy of SM Entertainment.