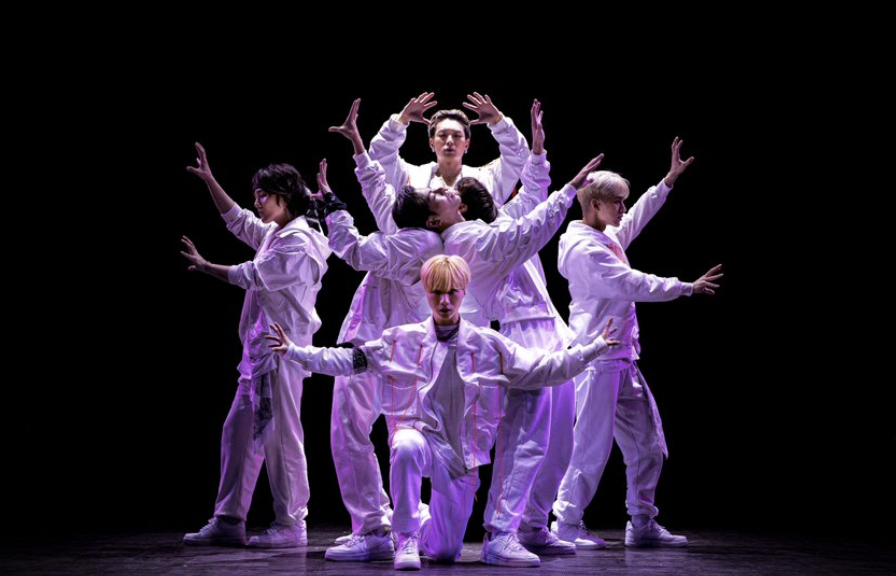 By Arushi Tandon | @arushiwrites
MNET's Kingdom is easily one of the most awaited Korean entertainment reality shows this year. The third season in its installment, following 2019's Queendom and 2020's Road to Kingdom. Participating in Kingdom this year are BTOB, iKON, SF9, The Boyz, Stray Kids, and Ateez. As if the line-up wasn't exciting enough as it is, the build-up to the show has also been nothing short of compelling.
Following the intro stages in late February, one representative from each of the participating groups performed at M Countdown on March 18. The 'Performance Film' was intended to give a glimpse of what you can expect from the show next month, and it did exactly that.
The stage began with the Latin phrase, "Qui fert pondus coronae velit," flashing on-screen which translates to "the one who wants to wear the crown should bear its weight." This correlates directly to the running theme of Kingdom since last year's Road to Kingdom around the winner being 'the ruler of the kingdom'. 
Kicking off the performance was The Boyz' Juyeon. He performed a rendition of his MAMA 2020's Triangular Fight intro to Tchaikovsky's leitmotif "Song of the Swans" featured in Swan Lake. His contemporary piece had strong influences of modern ballet coupled with soft aggression cognizant of the build-up to a climax in a ballet piece. It was fitting considering The Boyz' journey of being the winners of Road to Kingdom to competing with some of their seniors in Kingdom itself.
here's knetz comments under kingdom special stage on naver. knetz really praised juyeon and they're cheering for the boyz on kingdom! let's work hard for the boyz to repay all of their hard work! ♥#더보이즈 #THEBOYZ pic.twitter.com/EomA5lbwhQ

— ً (@theboyzjournal) March 18, 2021
Following Juyeon was Stray Kids' Lee Know. His performance began with him blindfolded with a wolf's howl in a jungle-like setup to couple the jungle music that followed. Combining elements of krumping and contemporary jazz, Lee Know exhibited a smoothly executed impactful solo. It ended with a visual of one of his hands on his face, painted with wolf-like features covering half of his face representing the inner beast being unleashed.
DANCERACHA'S LEADER STRAY KIDS' PERFORMANCE KING LEE KNOW EVERBODY pic.twitter.com/H3lqA5Tfkh

— 현이 생일 ?❣️ (@unhwnged) March 18, 2021
After Lee Know, Ateez's San took the stage. San's performance began with lightning and a crow heard cawing in the background. Theatrical jazz met popping and locking in his piece, and the bandages on his hands and torso added to the maniacal depiction of it all. The music for San's piece was reminiscent of a thrilling musical climax too.
Representing BTOB was Minhyuk next on a star-studded stage on a purple backdrop. He slowed the pace with a lyrical piece that had a blend of jazz and contemporary styles in it. It seemed to be a great symbolic representation of BTOB being the oldest industry veterans of the lot on Kingdom and gave the performance a nuance of its own.
the coolest thing is that minhyuk harmonized and belted high notes in btob's intro perf in kingdom, did a solo dance performance in kingdom special stage in mcd. AND HE IS A RAPPER. Watch him do those 3 all at once in the next rounds. We stan an all-rounder

— cιαя⁷ (@7tobslove) March 18, 2021
 SF9's Yoo Taeyang then took the stage to represent his group with a contemporary piece that highlighted his sharp lines coupled with a house music track that had a strong Eastern influence. This provided the perfect paradox to his well-timed contractions and releases during the piece. The backdrop of his piece was a calming white and blue setup, which added to the overall soothing yet intense theme of his stage.
yoo taeyang in crop top is a legend pic.twitter.com/0SnQA5cIrI

— 자닛•DIVE INTO YOUR HEART❤️•SF9 ON KINGDOM? (@INDABIN) March 18, 2021
YOO TAEYANG FROM SF9 WITH THE STAGE MUSIC PRODUCED BY ZUHO FROM SF9???pic.twitter.com/JYd411m4c6

— ᴊᴇɴᴡᴇᴇ ❄️ (@kangjenhee) March 18, 2021
Concluding the 'Performance Film' was iKon's DK who came onto a neon studded set which also had strong influences of his culture, right down to the outfit he wore for the stage. The music choice was that of a rock-influenced dubstep track to which DK performed an impactful theatrical jazz piece.
Not at Kingdom's intro question "who is the KING?" And here comes DK of iKON w/ the seemingly traditional king's robes, dancing to the majestic flute and drum beats just like in the joseon dynasty. If that's not screaming KING, I dont know what is? ? #iKONKINGdom_SpecialStage

— ??? (@http_oli) March 18, 2021
The performance film has provided for a great build-up to the highly anticipated premiere of Kingdom next month.
You can check out our rundown of Kingdom's intro stages here!
Thumbnail Courtesy of MNET