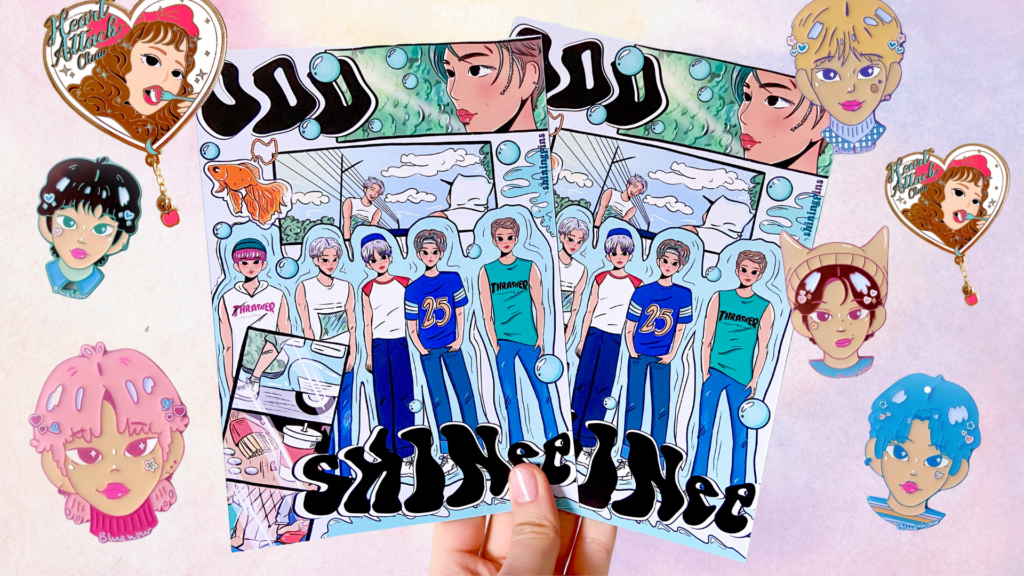 EnVi is back with another K-pop small business spotlight. This time we spoke to the owner of Shining Pins, Shakiba, who goes by Ki for short. The UK-based store specializes in enamel pins, stickers, photocards, keychains, and art prints, all of which feature Ki's illustrations. The Iranian-British store owner chatted with EnVi about illustrating, finding inspiration, and their favorite Shining Pins products.
From Shining Five to Shining Pins
Shining Pins first launched in October 2021, five years after Ki got into K-pop. "I've always been active on Twitter fan spaces," Ki revealed. "A lot of my online friends had gotten into K-pop, and I became really intrigued." After messaging friends for recommendations, Ki fell in love with EXO, BTS, and SHINee. These days, Ki is also a fan of NCT, Red Velvet, aespa, and TXT.
The store's name was chosen to reflect two main themes: SHINee and pins. "My main focus is enamel pins, and SHINee is my favorite K-pop group and the artist I wanted to base my shop on the most," explained the 23-year old.
Before K-pop, drawing has been a long-term hobby for the Shining Pins founder. "I've been drawing for as long as I can remember," Ki shared. Now an illustration graduate, Ki initially focused on more traditional styles during high school. This changed at 16. "I realized that there was something missing," Ki described, "so I wanted to change up my medium." The transition to digital illustration and drawing tablets was not easy, but perseverance paid off. "I'm the type of person that gets impatient if I'm not good at something quickly," the owner told EnVi, "but with illustration, I learned it's all about practice, practice, practice!"
For Ki, it was important to develop a unique style. "I wanted something distinct that people could easily connect to me." Speaking more about illustration style, Ki expanded: "I would describe my illustration style as completely reflective of my own aesthetic: it's colorful, feminine, and cute!" A signature part of this is the eyes. "I always make them super big and round, with just a black circle for the iris," the illustrator elaborated.
The planning for Shining Pins began in January 2021, during Ki's final year of university. "At the time I was really into other shops that sold K-pop fan merch," Ki recalled, "and thought maybe I could try this myself once I've graduated."
From Pinterest to Enamel Pins
Digital pinboards on the photo-sharing app, Pinterest, are a key part of the creative process behind Shining Pins. "I like making different boards to get my creative ideas flowing," Ki told EnVi. The creator is also a fan of lists. "I tend to make a few notes of things I'd like to include in the design." However, the goal is to get drawing as soon as possible. "I visualize it in my head a lot of the time," the illustrator continued, "the notes help me remember, but a lot of it just goes from my head to my pen!"
It was difficult for Shining Pins to narrow down their top three items, however, some of their favorites are the 'LOONA Chuu – Heart Attack' Enamel Pin, the 'SHINee – ODD' A5 Print, and the 'TXT – Blue Hour' Enamel Pin set. The recreation of the Chuu single album artwork was chosen for its "apple charm detail and the retro theme of the design." The next selection was the ODD A5 Print, depicting the "View" music video from Odd, which is Ki's favorite SHINee era. For this product, Ki was proud of the comic book and movie poster style of the design. "I think the poster theme of this really makes the print look special," they said. Shining Pin's 'Blue Hour' pin set, inspired by the quintet's colorful retro-style track, was also selected as a product highlight. "Each member has a different plating color with their own individual details," shared Ki.
Confidence and Community
Self-doubt and building confidence is something Ki has struggled with both before and after starting the small business. "Getting out of my head and taking a risk of putting my art out there was a really big step for me," the illustrator revealed.
One source of support has been Ki's sister, who gave "the push and encouragement" to start Shining Pins. She continues to provide helpful second opinions for product designs and posting content. Ki said: "I always ask my sister about what she thinks of things before I go through with posting or finalizing a design, it really helps!"
Shining Pins is also now part of a community of small shop owners, which has been one of the highlights of the business' journey so far, along with developing a community of supporters. "This is honestly something I didn't think I could do before," Ki admitted, "but when I see people truly enjoying my products and art, it makes everything worth it."
In terms of advice for other small business owners, understanding your audience is key, according to the Shining Pins founder. Ki advised: "really learn about who you want your audience to be and study other stores before you start." Next would be to find your own niche. "I really wasn't seeing merch I really loved for some of my favorite groups – SHINee and Red Velvet," Ki confessed, "I wanted to be the one to try to fill that gap in the market."
Future goals for Shining Pins are expanding the product line to include designs like anime and cute animals and growing a strong community. "I want them to be involved along the way, and to build a shop we both enjoy and are proud of," Ki told EnVi.
We hope you enjoyed EnVi's latest small business spotlight. You can reach Shining Pins on their website and across Twitter, Instagram, and TikTok.
Want more? You can check out more of our Small Business Spotlights here.