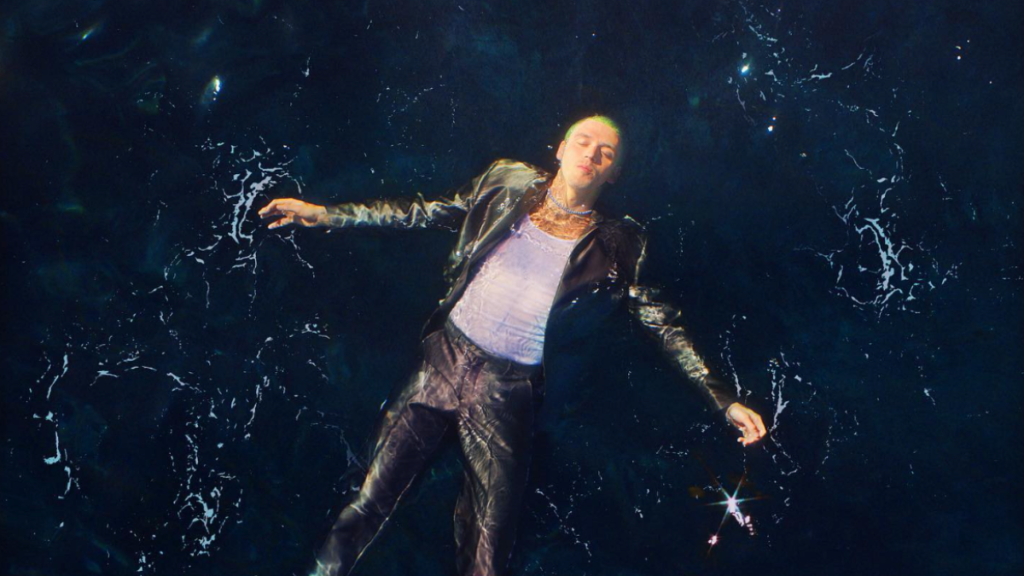 When the media joined the All 4 Nothing press conference call, Lauv, the artist moniker of Ari Staprans Leff, was there to welcome us. Much can be said about the multi-Platinum and chart-topping singer-songwriter and his accomplishments over the past four years, starting with his debut project, I met you when I was 18. "I Like Me Better," from the same 2018 album, blew up, amassing more than a billion streams on Spotify alone. Lauv built on his instant success with his sophomore album, the 2020 ~how i'm feeling~, where he collaborated with some of the biggest names in music, including Troye Sivan, LANY, Anne-Marie, and the vocalists of BTS. Yet, as we spilled into the Zoom, the 27-year-old had an immediately familiar vibe about him as he chilled in a sun-filled room wearing a white tank top with wire rimmed glasses perched on top of his head.
Held a week and a half ahead of the release of Lauv's new album, All 4 Nothing, on August 5, the press conference was filled with energy and laughter from the get-go. The singer-songwriter is truly the number one fan of his music, as he danced in his seat while he played sneak peeks from All 4 Nothing. A similar personable feeling bled into the press Q&A portion of the conference, in which Lauv answered each question with thoughtfulness and his signature openness.
Anticipating All 4 Nothing
Lauv had surprises waiting for the media from the very beginning. Playing "Summer Nights," a track from All 4 Nothing, brought the excited energy to new heights, and the chat reached 99 plus messages in the span of a few seconds. As a song that bursts into its drop, Lauv and the press agreed that "Summer Nights" is a verified summer bop. The track was brought up again later during the conference, when the artist cited this one as the song he would want placed in a TV show, preferably in Nathan Fielder's The Rehearsal.
But the sneak peeks were not done yet. Why choose between dancing or crying when you can do both? Lauv proved this in his next album tease when he showed off one of the ballads from his upcoming project called "First Grade." (Another track called "Hey Ari" was also in the running.) A lone piano note resonates through its opening, and Lauv exercises his lower register in this song that leans into the rougher edges of the artist.
Although All 4 Nothing is scheduled to come out on August 5, three tracks have been officially released as singles over the past six months. "26" ushered in the new All 4 Nothing era with a rapid, gurgling hook that flows underneath a light plucking motif. Lyrics such as "26 and rich / How the hell did it get to this" forms the foundation of Lauv's latest project, which focuses on reconnecting with his inner child and recentering himself after his explosion of fame. In the artist's own words, All 4 Nothing is his journey to "finding [his] own inner light again."
"All 4 Nothing (I'm So in Love)" and its cinematic music video followed "26" and its official audio video, while "Kids Are Born Stars" dropped on June 28. In its accompanying music video, 27-year-old Ari meets young Ari, literally accomplishing his "inner child work" by rediscovering his kid self in the flesh. The narrative of "Kids Are Born Stars" led to a question asked at the press conference: Which childhood memory brings Lauv back to his inner child? The artist wasted no time answering, as he immediately responded that his younger self's best friend's backyard does this. Lauv continued to build a bright scene of jumping on a trampoline and playing video games and running around with his friend's dogs, bringing everyone into the memory with him.
The singer-songwriter also made it no secret that he tells vulnerable stories in All 4 Nothing. The hardest—as well as most gratifying—part about opening up like this was how everything is out there for everyone to see; there was nothing to hide. "I felt like I really, really didn't filter myself" while creating this new album, he emphasized to the press.
Finding Ari Again
Lauv took a more "zoomed out" approach in his third full-length album dedicated to vulnerability. As a result, he noted this was how he was able to stay true to the "Lauv" sound curated since 2018 while staying true to himself and his growth. In the past, the singer-songwriter often had his hands on every part of the creation process. This time around, however, he focused on songwriting and left the producing to others, which brought in fresh ideas. Lauv was no longer getting "lost in the sauce," as he put it.
Part of the journey of not getting "lost in the sauce" was the artist's recent shift to a more free-creating process. "I trust myself a lot more," Lauv admitted. Both good and bad ideas come out of his casual freestyling sessions, like turning on some beats in the car and just singing, but it has been a fun change. It has been one of just seeing what happens.
All 4 Nothing balances light and dark, another question pointed out. Lauv's response was one of honesty: this balance "reflects my life so much." According to him, the new album can be broken down into 50% healing and 50% party tracks. (The media got a taste of this duality with "Summer Nights" and "Bad Trip.") "You feel ashamed of the darker sides, sometimes," Lauv continued, but they are a part of life, too. By sitting with the stillness, he realized, his authentic self can come out, like in "Molly in Mexico" and "Bad Trip," both which were teased during the conference. The artist also revealed that "Bad Trip" is his personal favorite from All 4 Nothing and the song he is most excited to perform for fans.
These two tracks emerged from a "side that's a little less polished and pretty lyrically," but they are still part of the story of Lauv. As Lauv himself noted, he recounted whatever was going on in his life at the time; the songs are whatever he wanted to say at that particular moment. Creating All 4 Nothing has been a "confidence-building journey," the artist said. Notably, it was a journey to "find confidence inside of [him]" along with peace and gratitude. He firmly concluded, "I'm okay with myself."
A Journey of Awareness and Healing
As a known advocate of mental health and a proponent of meditation, Lauv opened up about his personal journey during the press conference. When he hit his deepest low, the artist revealed he realized there was "more that needs to happen." For the singer-songwriter, this meant seeing a psychiatrist alongside his therapist and taking medication. Over time, he obtained a language for what he was experiencing and what "bipolar," "anxiety," and "depression" meant in the context of his life. From there, Lauv naturally wanted to talk about mental health in general and be transparent about his own journey.
Another part of this journey was—and is—meditation. While Lauv was working on All 4 Nothing, he was "going through a big existential crisis, questioning everything I had and why I had it," he wrote on Twitter. He turned to inner child meditation, "one of the most powerful things [he] found," where he would have conversations with his younger self at different ages. Lauv also noted that this kind of meditation "helped [him] find [his] north star." His north star is "being fully here" and "just being in the moment and expressing myself," the artist shared at the conference.
The conversation of meditation and connecting to his younger self transitioned into how Lauv would like to connect with his fans. The bottom line? More interactions wherever possible. Whether it is live guided meditations, hanging out over Instagram Live and Twitter Spaces, or podcasting, Lauv just wants to talk and connect with his fans.
What's Next?
All 4 Nothing is the result of Lauv emerging from the prominent loneliness found in ~how i'm feeling~. As the artist stated, he is "out of the woods" in this new project. "[I] define what happiness is for me," he added, and the singer-songwriter also finds this happiness in All 4 Nothing. Since Lauv's past album focused on colors, he declared that All 4 Nothing essentially mixes all of the colors together. Thus, it would be best described as brown, similar to the color of his own shorn hair.
Just as the Zoom opened, Lauv closed it with a tease of another track called "Time After Time." The energy in the call (and the chat) never wavered, instead spiking even higher when Lauv agreed to also show the still-in-progress version of the upcoming music video. To put it lightly, the world is not ready.
After All 4 Nothing drops officially on August 5—the perfect setting to listen to this album is being surrounded by a combination of mountains, grass, and the beach, according to Lauv—the singer-songwriter kicks off his All 4 Nothing Tour on August 11. Starting in Minneapolis and looping throughout the United States and Canada with special guests Hayley Kiyoko, Aidan Bissett, David Kushner, and Payday, Lauv will then make his way over to Asia for Slow Life Slow Live 2022 in Seoul, South Korea and the VERY Festival in Pakkret, Thailand. But more dates are coming, Lauv excitedly assured during the press conference, bouncing a little bit in his seat.
A few times throughout the hour-long video call, Lauv could not hold back his excitement. "There is so much love in here," he said at one point. Later, he burst out, "I'm genuinely so happy," a bright smile spreading across his face.
Stay tuned for Lauv's new album, All 4 Nothing, on Spotify, Apple Music, Amazon Music, and YouTube Music. Plus, connect with Lauv on Instagram, Twitter, YouTube, and Facebook, and keep an eye out for more tour details on his website.
Want more new music? Read EnVi's coverage of YOUNITE's latest album YOUNI-Q here!