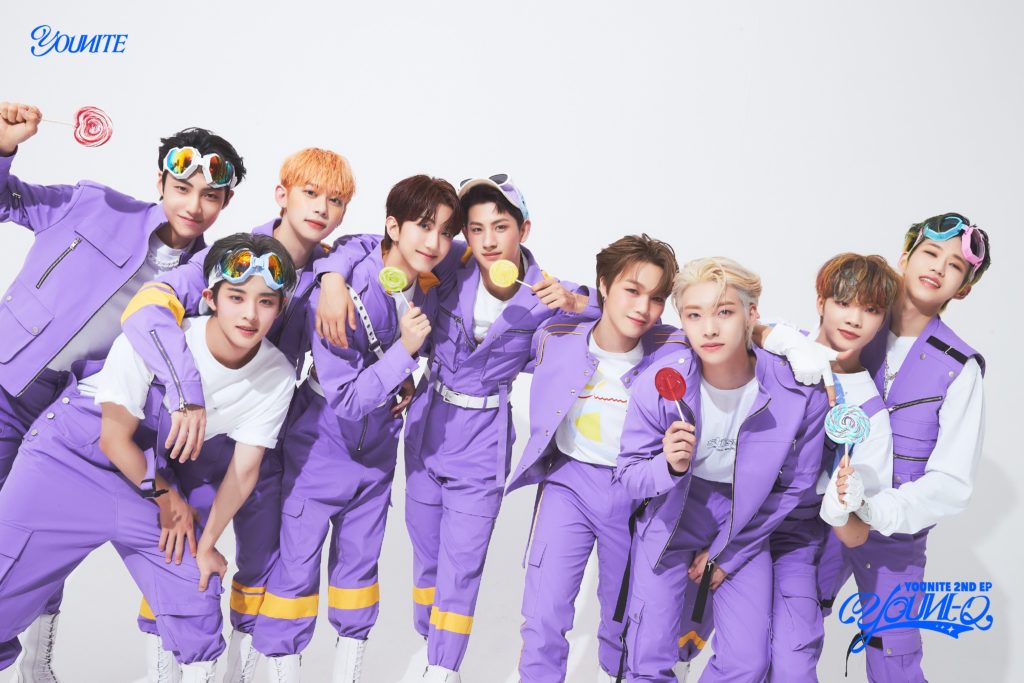 YOUNITE are back! The group, consisting of members EUNHO, STEVE, HYUNSEUNG, EUNSANG, HYUNGSEOK, WOONO, DEY, KYUNGMUN, and SION, dropped their second mini-album, YOUNI-Q, on July 25. The five-track EP with the title track "AVIATOR" marks the group's first comeback, three months after their debut with YOUNI-BIRTH. YOUNITE opted for a sci-fi concept for the music video of "AVIATOR," as the members find themselves in a spacecraft flying to victory. The video also shows off the group's energetic choreography and ends with a teaser bearing the message, "YOUNI-Q is not YOUNITE's final destination." 
On July 4, YOUNITE announced their comeback with a trailer video, posted across social media, captioned "DO YOU HAVE A Q?" The nine-member group appeared stylishly in the video with colorful outfits, waving flags, and holding loudspeakers towards the end.
DO YOU HAVE A Q?
Showing off their charms, YOUNITE made their debut on April 20 with a universe-themed storyline and a desire for oneness with its fans. After three months, the group seeks to show a new side to fans with their second mini-album, YOUNI-Q. Introducing the slogan, "DO YOU HAVE A Q?" YOUNITE is on a quest to find answers to questions, inviting fans to partake in their challenge. With questions like "What is your own Q?" and phrases like "YOUNITE contains nine unique ones," the group throws more light on their mission. The mission above is finding the element that makes a person "the only one of a kind; unlike anything else." YOUNITE are on a journey to discover what makes them uniQue (YOUNI-Q).
Despite bearing a deep meaning, YOUNI-Q also showcases YOUNITE's youthfulness, energy, and versatility. The EP consists of "TRAVELER," "AVIATOR," and "SWISH," which feature different sub-genres of hip-hop and the pop songs "COME AROUND" and "I LIKE YOU." The mini-album, with all songs co-written by member DEY, highlights the members' vocals and rap skills. YOUNIZ, fans of the group, who were particularly mesmerized by the rap and singing, could not hide their excitement.
The UniQue Hip-Hop Trio
In a previous conversation with EnVi, member HYUNSEUNG stated every member is athletic and energetic. The group never misses the chance to display their athleticism through live stages or songs. In this mini-album, the group shows off their energy with "TRAVELER," "AVIATOR," and "SWISH."
The BRANDNEW MUSIC group kicks YOUNI-Q off with the minimal hip-hop song "TRAVELER," which boasts a unique synth sound. Referencing the cosmic universe of YOUNITE, they ask for a signal as they search for someone in the universe. The title track, "AVIATOR," sees the ennead express the desire to fly higher and farther over a newtro hip-hop track with an impressive, heart-pounding beat. YOUNITE recruited BOOMBASTIC, the Korean production team behind "ODYSSEY," for the arrangement, lyrics, and composition of "AVIATOR." Also involved in the composition are British multi-platinum award songwriter Kyler Niko and Dutch songwriter Ronnie Icon, who have both written for TXT, LE SSERAFIM, ENHYPEN, THE BOYZ, and many more. In "SWISH," the group blends oriental sounds with addictive melodies. The hip-hop dance track sees the group sing about the captivating power of love.
The UniQue Pop Set
YOUNITE switch to pop for the songs "COME AROUND" and "I LIKE YOU." The collective is in party mode in the pop dance song with a funky bass line and addictive chorus. "COME AROUND" is a song guaranteed to make one move their bodies as YOUNITE invite listeners to dance with them. YOUNITE end the mini-album cutely confessing their feelings for unrequited love in "I LIKE YOU." The R&B pop song is soothing with a catchy melody.
YOUNI-Q is a fulfillment of YOUNITE's promise to try new concepts with each comeback as they continue their quest for global domination.
Find your Q by listening to YOUNI-Q on Apple Music, Spotify, and other platforms.
Want to discover more music content? Read about XDINARY HEROES' first comeback here.