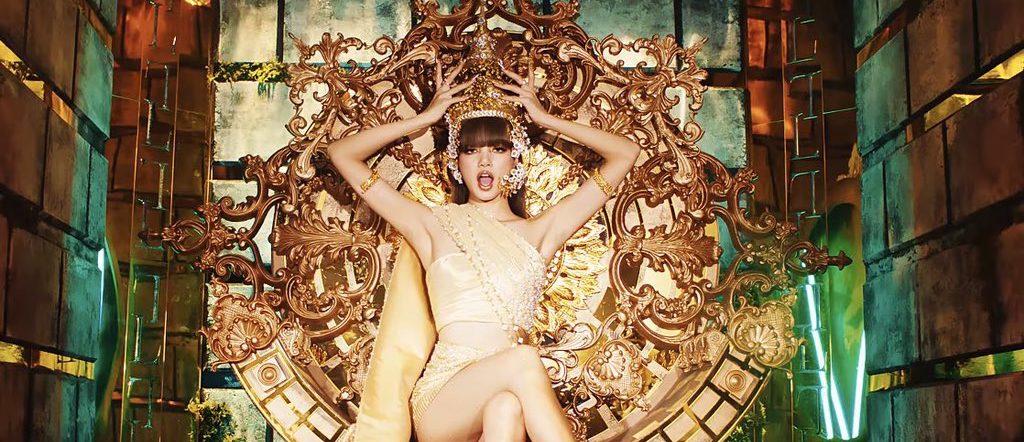 On September 10 at 1 PM KST, BLACKPINK's youngest member Lisa released her solo debut album, LALISA. The album includes four tracks: the title song "LALISA," the track "MONEY,"  and the instrumentals for each of them. 
LISA's first single – LALISA is out now!https://t.co/ZssNfMdkAr pic.twitter.com/zZtQ4m5Wjf

— BLACKPINKOFFICIAL (@BLACKPINK) September 10, 2021
The self-named title track "LALISA" is a hip-hop track with a dynamic rhythm, composed by 24, Bekuh BOOM, TEDDY, and written by Bekuh BOOM and TEDDY. The song opens up with a provocative harmony that complements Lisa's voice. When the beat transitions into the chorus it creates a powerful synergy that follows up to the traditional tempo of the track. 
The lyrics of the song convey a heavy statement as it presents the singer to the world. "Call me Lalisa, love me, Lalisa, love me, (Hey)/You know the attitude/What more do you want?/The loudest in the room," Lisa sings, declaring the power of her name. 
Ring The Alarms For LALISA
The music video opens with Lisa walking as the image switches between a hallway and a city street, each combination of set and styling contrasting with each other. When the beat drops, the set changes again to Lisa singing and dancing through various locations. Each change of scenery comes with great impact and a new look to the artist.
The second verse transitions to Lisa rapping through a megaphone and swiftly changing to her on a pole dance stage, executing everything with confidence. 
A highlight of the music video comes during the last verse, as the beat moves into a traditional tempo and shows Lisa in a gold, modern take on a traditional Thai dress. As the video closes, Lisa offers the audience a strong combination of dance moves that maintain the track's heavy energy. 
Lisa wearing a couture gold outfit meant to be a modern take on the traditional Thai dress. Designed by Thai fashion house Asava exclusively for the Lalisa music video. pic.twitter.com/l9rv8yJORX

— 𓂀 (@girIsonfiIm) September 10, 2021
Thai culture and heritage in Lisa's MV 🤩 #LALISA pic.twitter.com/8ngiZnr6mt

— Jason Paul Laxamana (@jplaxamana) September 10, 2021
"MONEY"
The second track of the album "MONEY," composed by 24, Bekuh BOOM, R.Tee, Vince and written by Bekuh BOOM and Vince is a hip-hop song with a catchy melody and intense piano rhythm. The lyrics deliver a potent statement that shows it's okay to spend money on yourself however you want to. "Everyone silent/Listen to my money talk/Spend how I like it/Yeah, everyone know what I mean, mean," Lisa raps.
"MONEY" matches the title track's energy, showing Lisa's true colors, unique identity, and style. "Money, Oh my goodness. I have to do this. This is my song," Lisa told the press. 
Fan Reactions
Since the announcement of the solo debut, fans have been eagerly waiting for the release. It doesn't come as a surprise that BLINKS took to Twitter to show their love and support for the single. 
What's her name? #LALISA pic.twitter.com/W8pYImoAHm

— ً (@SITTlNGPRETTY) September 10, 2021
bow down to the queen pic.twitter.com/MUseYibsKo

— lisa pics (@lalisarchive) September 10, 2021
asi me encuentro #LALISA pic.twitter.com/4WyWXNAUIq

— Lukas (@lukxsblink) September 10, 2021
momma manoban crying 🥺 she's so proud of her daughter and we are too 🥰 pic.twitter.com/92JFQ0E3pe

— lisa loops (@lsloops) September 10, 2021
the category is face and she won pic.twitter.com/obrwTfYeub

— luisa (@DAlSYJONESS) September 10, 2021
Are we still okay guys? September 10 felt surreal tbh. 24 hours is not yet over for LS1 but I'm so happy I got to enjoy this era with wonderful people in this app and seeing Lisa so happy, you know it's all worth it, she's worth it. 🥺💛 #LALISA

— 𝐭𝐢𝐧 ⁰³²⁷🌈 (@tinxlisa) September 10, 2021
#LALISA My favorite rapper pic.twitter.com/LR0wEpvgQu

— LISA Shots (@ShotsLisa) September 10, 2021
This Video, The Song! She's the moment! #LALISA pic.twitter.com/uPKG7ckEHl

— ♚ (@CertifiedMaraj) September 10, 2021
#LALISA My boss 🛐 pic.twitter.com/GN1vyU2MuA

— Athena♡ LS1 (@archiveforblink) September 10, 2021
Just look at how supportive lisa's thai friends and family are #LALISA pic.twitter.com/qJyNkANn7n

— theDump (@dumpidumdum) September 10, 2021
Lisa's family also shared their heartwarming reaction to the release.
Lisa mom crying I can't 😭😭😭💖 pic.twitter.com/LcSTeFzzdk

— DY. (@Blackpink88xo) September 10, 2021
Breaking Records
With only four days of promotion, the album surpassed 700,000 preorders and on the first day recorded the highest sales from a female artist in Hanteo this year. 
#LALISA has recorded the highest first day sales by a female artist on HT this year with 330,128 copies sold! ❤️‍🔥

#2 -R- by Rosé – 282,674
#3 LILAC by IU – 216,318
#4 Taste of Love by Twice – 180,236
#5 Queendom by Red Velvet – 150,623#LISA  #리사  @BLACKPINK

— LISA CHARTS (@CHARTS_LISA) September 10, 2021
With only 12 hours since its release, the music video garnered over 50 million views and is trending #1 on Youtube Worldwide in 29 countries. "LALISA" has become the most viewed K-pop music video from a soloist. 
.@BLACKPINK #LISA "LALISA"  M/V has now surpassed 50M views on YouTube with over 4.3M likes achieving this in just over 12 hours fastest kpop soloist to do so🎉🎉

— Kpop Charts (@Kchartsofflcial) September 10, 2021
#LISA "LALISA" MV is now trending at #1 on YouTube Worldwide while being #1 in 29 countries and trending in total 85. 🔥🎉

블랙핑크 리사 #블랙핑크 #리사 #BLACKPINK #LALISA #リサ #ลิซ่า @BLACKPINK pic.twitter.com/kbROnK64iX

— LISA CHARTS (@CHARTS_LISA) September 10, 2021
With 5 years since her debut, Lisa has proven her versatility as an artist, not only as a member of BLACKPINK but as a soloist. By taking on various projects of her own as a mentor in the Chinese program  "Youth With You", being an ambassador of Bulgari and CELINE, and with the success of her Youtube channel LILIFILM, Lisa has proven herself once again as an artist. From delivering impressive performances and unique colors with every project she takes on, fans can only wonder what the future holds for the singer.
Lisa's debut stage is scheduled for September 10, on "The Tonight Show" starring Jimmy Fallon. In the meantime, you can listen to LALISA on Spotify and Apple Music.
Thumbnail courtesy of YG Entertainment.