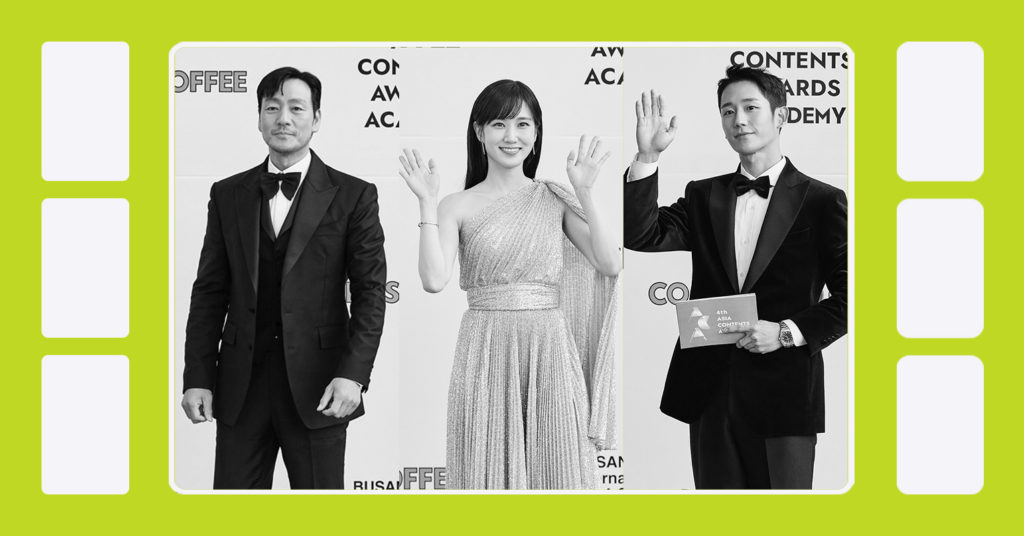 Showcased from South Korea's Busan Cinema Center, the 2022 Asia Contents Awards (ACA) held its fourth ceremony on October 8, 2022. Celebrating and recognizing "outstanding TV, OTT, and online content across Asia," the ACA Academy awarded twelve categories recognizing notable on-screen individuals, creators, and works. Choosing winners from 88 works submitted from 12 countries around the world, familiar and fresh faces were in the spotlight for their collective achievement as excelling creatives and visionaries. In the sea of entertainment, the winners stood as the whales of global waters—making waves in the industry through Asian content.
Star-studded Stages
2019 Miss Korea Kim Sae-yeon and Snowdrop Actor Jung Hae-in took center stage as the hosts of the program. They started off the award show by noting the global expansion of Asian content. In this expansion across borders beyond Asia, the ACA rooted itself in Asian content outreach and naturally, internationalism through a global fanbase. To accommodate, Kim and Jung alternated between English and Korean in their presentations with Kim presenting in English and Jung presenting in Korean. The duo delivered a globally accessible watching experience, opening up segments with a dual introduction. Open to international reception, the ACA embedded itself in representing Asian talent as it took off in presenting musical stages with Asian and Asian-American artists.
Opening Performance
Danny Jung, Korean-American Soul Maestro and saxophonist, opened up the ACA with an incredible saxophone solo. Starting off with a soulful jazz tune, Jung was later joined by a children's choir. In the unexpected collaboration between the maestro and students, the choir supported Jung with their bright singing and gentle swaying. Enhancing the musical experience that eased viewers into the following award proceedings, the performance set the stage to an incredible program of talent.
Celebratory Performances
Golden Child, 3rd generation K-pop boy band, were the first celebration performance artists of the ACA, lighting the stage with "DDARA" and "Replay." Fusing their two latest Korean albums on this special stage, Golden Child made the stage that much more special for Goldenness, their official fandom. Full of charisma, Golden Child lit up the stage in a fiery performance that shined gold—showcasing Asian talent through music. In their commentary speech, Golden Child turned the tables as they reflected on their positions as fans, noting that they were "looking forward to the [future works of the] directors, actors, and seniors who made this place shine."
NiziU, JYP Entertainment's first J-pop girl group, are rookies only in name. They shone on stage with bright energy as the second celebration performance artist of the ACA. Like Golden Child, NiziU took one song from 2021 and one song from 2022 in their dual performances. NiziU combined their 2021 album U's featured song "Take a picture" with the latest comeback song "CLAP CLAP" on stage. With a mixture of Japanese members, Korean background, and bilingual commentary, NiziU presented a multicultural stage. Although their music and outreach is primarily Japanese, their commentary was provided in Korean and English, attributing to the international entertainment sphere in music and the ACA.
Extraordinary Attorney Woo
2022 legal drama Extraordinary Attorney Woo made waves in international waters, reaching a global audience in Attorney Woo's journey into Netflix's Top 10 list for non-English TV programs. Swimming to the top, Extraordinary Attorney Woo made it to the number one spot on the list and became a streaming sensation across the world. Attorney Woo's grip on fans has expanded beyond Asia and consecutively charted on top, unleashing an ocean of fans and traction.
Best Content
In navigating the legal world as an autistic lawyer, Attorney Woo took the ACA by storm. As Attorney Woo and her Hanbada team fought for justice in a world full of injustices, Extraordinary Attorney Woo highlighted fluid world-building that gripped the ACA's content category. "Given in honor of a content that has delivered the most notable achievement among the nominations," the ACA's spotlight category "Best Content" is the most prominent award selection and the highlight of the ACA. As the "Best Content" award winner, Extraordinary Attorney Woo's achievement attested to the well-received popularity and success of an Asian work distributed worldwide. In a captivating speech, Producer Director (PD) Yu In-sik thanked the fans for their love of Extraordinary Attorney Woo but also the love directed towards all of the "Woo Young Woos, the narwhals, of the world." In that, Extraordinary Attorney Woo excelled at providing a warming story that fans couldn't get enough of.
Best Actress
Park Eun-bin played the loveable Attorney Woo in Extraordinary Attorney Woo. With increased attention on Park in recent months, Park has further solidified her presence as an actress after her debut as Attorney Woo. As the selected winner of "Best Actress," Park gave a heartfelt thanks to "Woo Young-woo for [the] wonderful award" with special thanks to the Hanbada team. PD Yu also thanks Park Eun-bin for perfectly delivering the role of Attorney Woo with her ability to "captivate the audience around the world."
Squid Game
Squid Game has made waves in the entertainment industry, creating ripples of interest in Korean content after its release in 2021. As one of the biggest Netflix hits, Squid Game holds the record of around 1.65 billion viewing hours—about 160,000 years worth. With immense popularity and trends following Squid Game's original release and its anticipated release of Season 2, Squid Game also received two awards in the ACA.
Technical Achievement Award
Squid Game received the honor of the "Technical Achievement Award," an award that is given in recognition of "outstanding outcome in technical aspects including cinematography, arts, music, sound effects, costumes, makeup, visual effects, and special effects." With action scenes including the iconic massive doll, eliminator and participant costumes, and incredibly intricate sets designed to instill fear, Squid Game excelled in incorporating technical aspects inside its world. In an interview with Netflix Asia, Jung Ho-yeon notes how the glass stepping stones game had real tempered glass where actors ran across it, translating real fear into on-screen fear. To make everything feel more real, the technical aspects immersed itself into branding a weapon of realism.
Best Supporting Actor
Player 218 in Squid Game, childhood best friend and tragic character Cho Sang-woo is played by Park Hae-soo. As the selected winner of "Best Supporting Actor," Park's excellent performance as Cho presented moral dilemmas, friendship problems, and manipulative tendencies to the forefront of Squid Game's story. In his humble speech, Park committed to trying to become "an actor who can develop into Asian contents through Korean contents," with a subtle promise to viewers to look forward to his upcoming acting performances.
Winners
Extraordinary Attorney Woo and Squid Game have certainly excelled in gaining two award categories, but other winners also held the spotlight in the ACA. For "Best Asian Animation," The Orbital Children was chosen. For "Best Asian Documentary," The Atom Araullo Specials: Young Arms was chosen. For "Best Actor," Suzuki Ryohei of Tokyo Mer: Mobile Emergency Room was chosen as the winner. For "Best Writer" Wang Xiaoshuai and Yang Yishu of The Pavilion were chosen as the winners. For "Best Supporting Actress," Sora Ma in This Land is Mine was chosen as the winner. For "Best New Comer" Bao Shang En in Love Behind the Melody and Yokohama Ryûsei in The Journalist were chosen as the winners.
For "Best Creator," The Pinkfong Company was chosen. For the "Lifetime Achievement Award," Tatsuo Kawamura was chosen as the winner. For the "ACA Excellence Award," Fan Bingbing was chosen as the winner. For "ACA Rising Star," Kim Min-ha in Pachinko and Ling Man-lung in In Geek We Trust were chosen as the winners. Congratulations to all of the nominees and winners!
For more Asia Contents Awards content, check out their Youtube channel.
Interested in more ACT!ON content? Read our guide on Understanding Food in K-dramas here!