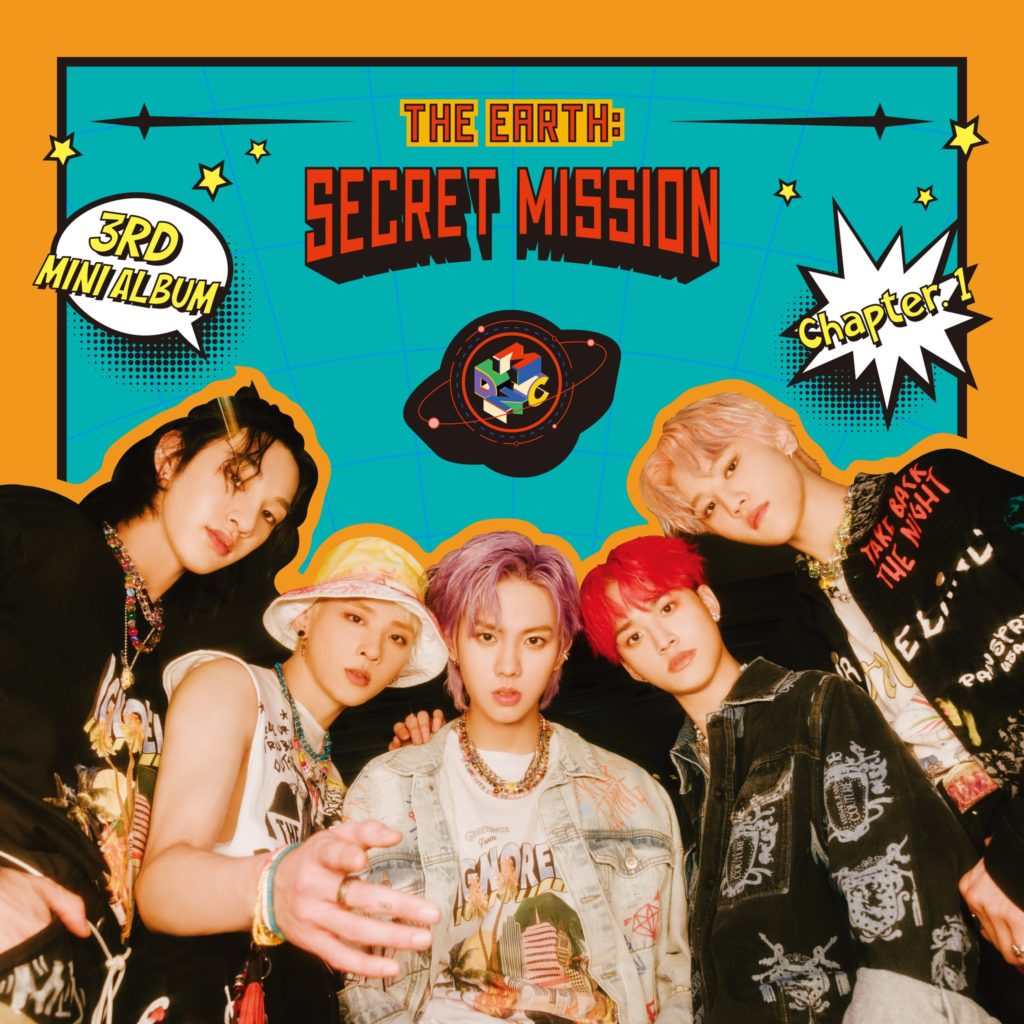 After eight months, following the release of their second mini-album MCND AGE, K-Pop group MCND is back with their third mini-album THE EARTH: SECRET MISSION Chapter. 1. Released on August 31, the five-member group's newest album appears to be the beginning of a new series titled "The Earth." The album contains six tracks, including the title track, Movin', and their first all-English song, Reason.
MCND 'Movin'(너에게로…)' MVhttps://t.co/fetWUnBvCS#MCND #엠씨엔디 #THE_EARTH #SECRET_MISSION #Movin' #무빈 #너에게로 pic.twitter.com/Jn4CwJSkyO

— MCND_official (@McndOfficial_) August 31, 2021
Crash Landing on Earth
In addition to their album, the boys also released the music video to their title track, Movin.' The music video opens with the same teaser video they tweeted on August 28, with four members on a bus greeted by leader, Castle J. The video then pans to Win, their youngest member, who appears to be listening to music when he receives a message that shows the mini album's logo as well as the name of the title track.
The song begins with their catchy chorus sung by leader and main rapper Castle J. Since the group's debut, he has written lyrics for all of their title tracks and B-sides like Galaxy, Player, and pre-debut song Top Gang. The title track is yet another example of the group's playful and energetic hip-hop sound, which they quickly defined at the start of their career back in 2020. Castle J stated he wanted to focus on creating a fun song and that he was "as proud of it as" he thought he would be.
MCND 캐슬제이 "'무빈' 작사 참여, 많이 고민한 만큼 뿌듯하다" (출처 : 뉴스1 | 네이버 TV연예) https://t.co/QXMptq6Ffd#MCND #엠씨엔디 #THE_EARTH #SECRET_MISSION #Movin' #무빈 #너에게로

— MCND_official (@McndOfficial_) August 31, 2021
Fans also appear to share the same sentiment as Castle J, sharing their excitement on Twitter in the days leading up to the comeback.
GEM, ARE YOU READY?!! I AM!#MCNDfanart #MCND #엠씨엔디 #THE_EARTH #SECRET_MISSION #Movin' #무빈 #너에게로 #WIN #윈 pic.twitter.com/5vhITC0yzY

— Iris ?? (@_NeverEnding_I) August 27, 2021
SONG OF THE YEAR IS COMING‼️

MCND COMEBACK 31 AUGUST#엠씨엔디 #MCND
MCND Movin'#SECRET_MISSION
MCND SECRET MISSION@McndOfficial_

— khai ? (@naesarangmisu) August 27, 2021
GEM, You're the Reason!
The group surprised fans with their first, all-English song titled Reason. The song was teased on August 8 and the Official Trailer, which previewed almost the entirety of the song, was released on August 10.
The video calls back to their overarching space concept, a shot of the Earth and moon and a solar eclipse shown at the opening of the video. The song itself claims the listener to be the reason for the group's success as well as their motivation to make it through difficult times, including lyrics like "They'll never bring us down. You're the reason, better speak it." 
Reason could be considered a hidden tribute to their fandom, Gem. Unfortunately, the group has been unable to perform with fans for a majority of their career. Through Reason, the group shares their feelings of wishing to meet again in the same space.  
Fan Reactions
Following the release of the music video and the album, Gems were gushing and sharing their pride for the group on Twitter.
imagine being able to find your own unique sound at an early stage of your career and constantly improving every comeback.
MCND CAN RELATE pic.twitter.com/iTcgMe05gD

— MISSION: BEN ? #StreamMovin' (@gominbic) August 31, 2021
A moment of appreciation for junhyuk's rap right here ? #MCND #movin #THE_EARTH #SECRET_MISSION pic.twitter.com/hS1ENtMrSL

— ✿❀Abby❀✿ (@CurlyChan1997) August 31, 2021
THE BREAK DOWN AT THE END ?? #MCND #THE_EARTH #SECRET_MISSION #Movin pic.twitter.com/EjCsIurhgI

— ✿❀Abby❀✿ (@CurlyChan1997) August 31, 2021
FINE IM ADDICTED #MCND #SECRET_MISSION #THE_EARTH

— Domča₁₂₇✧ seeing ATEEZ ~ MOVIN ? Thunderous1stWin (@joohoneysbaby99) August 31, 2021
The group has since held their comeback showcase, been on 1theK with a performance video, and featured on hello82. Listen to the group's third mini-album on Spotify and Apple Music! For more on MCND, follow them on Twitter, Instagram, and TikTok. 
Interested in more comebacks? Check out EnVi's coverage of CIX's first full-length album!