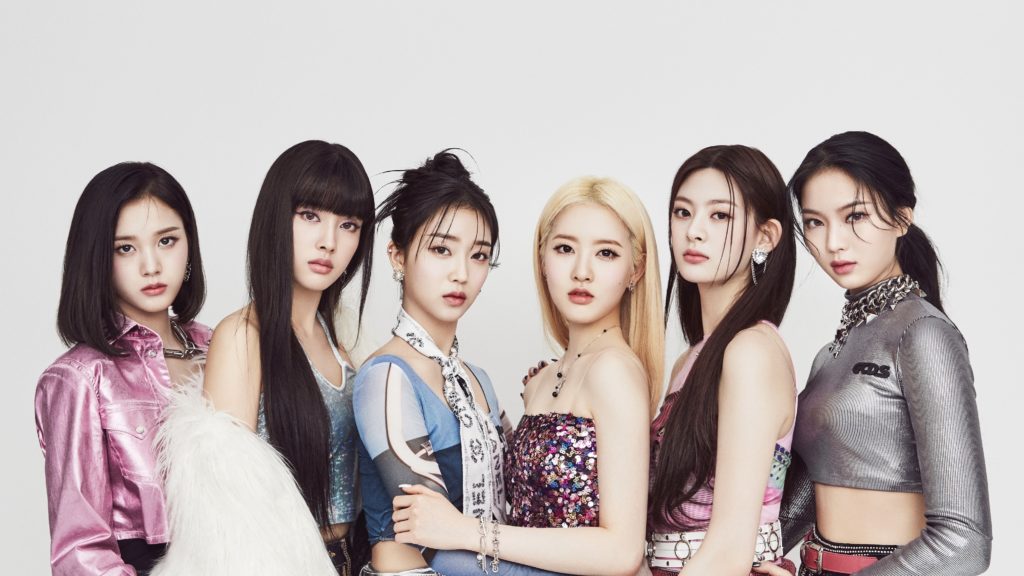 After releasing 2021 hits "ASAP" and "STEREOTYPE," girl group STAYC are finally back. The HIGHUP ENTERTAINMENT sextet just returned with their sophomore mini-album YOUNG-LUV.COM on February 21, 6PM KST. Accompanied by the music video for their lead single "RUN2U," this comeback marks their first in 2022.
I'll RUN2U
"RUN2U" is a hip-hop and R&B-influenced track, shifting between drum-heavy segments and melodic, synth-filled ones. Mirroring its title, the song traverses exciting elements, beginning with J's distinct rap to key changes and powerful vocals.
With the theme of confidently running towards their loved one, STAYC embark on a journey towards breathtaking sceneries. Sets such as a train car interior and a futuristic hallway show the girls' relentless movement. They also dance in various outfits; some seen on the teasers, others a surprise to viewers.
YOUNG-LUV.COM has six tracks that offer STAYC's new flavors. After "RUN2U" comes "SAME SAME," a fresh mid-tempo song that combines trap-pop beats, piano, and synths. Notably, YOUNG-LUV.COM has three R&B-influenced songs. While the groovy "247" is more upbeat, "BUTTERFLY" and "I WANT U BABY" are slower. The former has a lo-fi hip-hop sound, whereas the latter features a muted, explosive bass line. On the other hand, "YOUNG LUV" is a pop-rock track. With smooth guitar riffs, its lyrics recount the ups and downs of love.
Online Secrets
On February 3, SWITH—STAYC's fandom—found something new on STAYC's social media accounts. Replacing the "STEREOTYPE" layout is a monochromatic set, with STAYC written in sleek typography as the profile picture. On their header was a slightly tilted search bar with the website YOUNG-LUV.COM. Entering the website on a real browser gave visitors an animated heart-shaped lock over a dark background.
The mystery continued to unfurl. Three days after the layout change, the accounts posted a spoiler teaser. The 10-second video showed a pink heart-shaped smoke transitioning to a dark red pixel heart. The transition had glitches, signifying the cyber elements from the YOUNG-LUV.COM website. Fans grew more excited over the prospect of a new STAYC era.
Finally, on February 8, the news was out. With a scheduler released, it was official: STAYC would return with a new mini-album on February 21. Over the next 11 days, members Sumin, Sieun, Isa, Seeun, Yoon, and J would reveal their new charms for YOUNG-LUV.COM.
Comeback In Progress…
STAYC boasted three sets of concept pictures, all with different aesthetics. The first set contrasted bright pink lighting with a slightly more muted futuristic monochrome. The girls stood in a room covered with colorful square carpets and in front of a tank-shaped balloon structure. A day later, the members posed elegantly over white and taupe screens. Dressed in glittery party dresses, fringes, and platform boots, STAYC showed their youthful yet elegant side. Finally, true to their EP name, the girls showed love through a unique photoset. A heart-shaped frame complemented their glamorous fits and makeup.
As per tradition, STAYC released a highlight medley video. Compared to their previous highlight medleys—which only previewed a cappella versions of their tracks—this one showed snippets of the songs. From the lead single "RUN2U" to "I WANT U BABY," STAYC offered a new sound to their discography. YOUNG-LOVE.COM would highlight their distinct voices and add a novel element to the mix.
Lastly, to pump up the excitement, two teasers for the "RUN2U" music video were released. Both teasers showed what "RUN2U" is all about: retro synths, hip-hop elements, and energetic drum beats. The music video also featured diverse sets, from a train platform to an indoor garden.
LUV from SWITH
Needless to say, SWITH were ecstatic for the girls' return. They posted their support and excitement on social media.
SWITH also praised the EP's B-sides, with some claiming they were the best off of STAYC's discography.
After their showcase ahead of the EP release, STAYC are set to promote YOUNG-LUV.COM in various shows and events. Check out their debut "RUN2U" live performance here and stream YOUNG-LUV.COM on music platforms!
Want more K-pop news? Read about TXT Huening Kai's sweet interaction with Avril Lavigne and "Sk8er Boi" cover here.