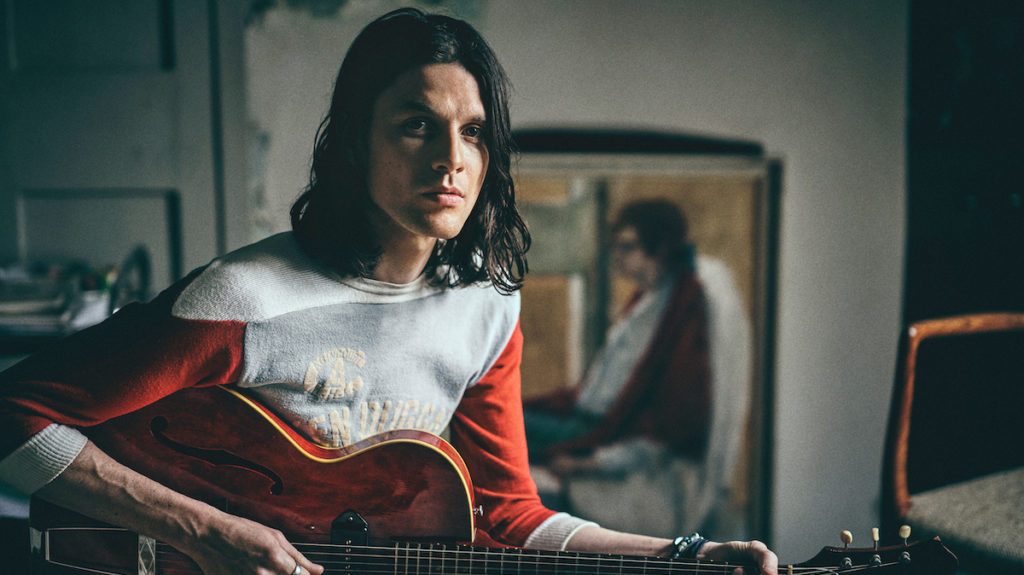 On July 8, British singer, songwriter, and producer James Bay released his third studio album, Leap. With 16 tracks, the album touches on topics such as hope, self-discovery, and mental health. To celebrate the release, he held an exclusive press conference via Zoom to discuss the process behind the album, his songwriting, and his favorite memories.
With a welcoming smile, James Bay greeted the media through the conference call, appearing with his classic long hairstyle and a black jacket. Much can be said about the singer's versatility as a musician and his success over the past eight years. After the release of his first studio album, Chaos and The Calm, in 2014, the record became a massive success in the UK, receiving a series of accolades at the Brit Awards and three Grammy nominations for Best New Album, Best Rock Song, and Best Rock Album.
Three years later, he dropped his second studio album, Electric Light, with more pop and R&B influences and collaborated with the singer and songwriter Julia Michaels on "Peer Pressure." With an enviable list of accolades, James brought a compelling presence to the virtual room. Despite this, the singer's thoughtful answers showed his sense of humility throughout the conference call.
Leap
James's thoughtfulness welcomed the media from the very beginning. The press conference was held almost a month after the album's official release, and as we dived into the meeting, the 31-year-old filled the room with a gentle, fresh, and familiar energy. This energy is evident throughout Leap. The album, which can be considered James's most personal and vulnerable work to date, was heavily inspired by the quote "Leap and the neat will appear" by naturalist John Burroughs. This line worked as a turning point in crafting the theme and lyricism of the record. James recalled struggling with his mental health back in 2019 and recounted how reading those words helped him redefine his senses while influencing the whole process of the album. "It affected all the writing and inspired me to call the album Leap," he said.
Leap balances hope and fear, portraying those emotions with sensitive lyrics. The album, which comes from a dark and sensitive place, takes a turning point, making it sound almost like an anthem for hope. "I intentionally was trying to push that boundary and change that—I wanted to make songs that people could find hope [in]," James admitted. Like walking a tightrope, he challenged himself and eventually produced an album that explores the duality between conflicting feelings and offers a message of hope amidst hardships.
Leap is all about finding an emotional connection with the listener. With a diverse tracklist, the album not only centers itself on the complexity of a relationship but also on past experiences and memories. The lyrics of "Endless Summer Night" mix both concepts, describing a summer you wish would last forever "Throw your arms around the night/ All we are is now or never/ Give me endless summer nights." When asked, the singer-songwriter made it no secret that the track was his favorite song on the album, explaining that the lyrics felt juvenile and brilliant with no limits, making the songwriting process memorable to him.
The Process Behind "Save Your Love"
Part of the journey when creating Leap was working with different songwriters and producers. With this album, James got the chance to work with FINNEAS on the track "Save Your Love," who is best known for co-writing and producing with Billie Eilish. The single, co-written and produced by FINNEAS, conveys the idea of securing your romantic feelings for the right person. With lyrics such as "I wanna do right for you/ Be your shoulder to cry, dry your eyes/ You know that I'd fight for you," the track narrates a love story.
This collaboration between two multi-talented musicians prompted a question about the origins of that partnership. The singer immediately responded that this was the first time he had met FINNEAS, who confessed to being a fan of his work. James continued to explain that he felt flattered, which led him to let FINNEAS take a new direction and complete the track. "I wanted to follow his lead. It was great to get his take and he kind of finished it," James said.
For the music video for "Save Your Love," the artist took a more natural approach, as it showcased a beach scenery. When asked about it, James reminisced about the video's simplicity and the sunrise on the day of filming. However, the press chatroom was filled with laughter when he recalled having two breakfasts as the most memorable aspect of filming. "Any day with a second breakfast is like a really blessed day," he noted.
A Journey of Self-Discovery
For most of the world, two years of the pandemic put different aspects of life into perspective, and James was no exception. Throughout the hour-long video call, he remarked to the press that those two years made him want to continue improving as a musician and person. "I changed, I grew, and I evolved, and that's what I'm trying to do as an artist and human being," he said. "I'm trying to make tomorrow different from yesterday in my work and in my life for the sake of variety." This change is evident in Leap. The album displays James's versatility as a lyric writer, offering a glimpse of his life and an encouraging message behind the introspective lyrics.
Part of being a songwriter is getting inspired by different aspects of life, whether it's a movie, a song, or even your own experiences. For James, inspiration streams from diverse forms of art. Nonetheless, what makes his lyrics unique is the ability to draw inspiration from life experiences. For Leap, the artist took a "straightforward" approach to songwriting. According to James, he explored a vulnerable side of himself as he tried to be more honest and direct than in his two previous records. "With this album, I wanted to face the fear I had [of being vulnerable]. I discovered that it is not as scary and people resonate with that. Music is about connecting."
Favorite Memories
Another part of the journey behind Leap was learning to appreciate the work of a recording artist. James opened up about feeling like he took for granted his job as a musician while discovering how much music meant to him during the last few years. However, when asked about his favorite memories of working on the album, he surprisingly responded that it was creating music during a global pandemic. When quarantine hit, he found himself singing tunes via Zoom. "The moments on Zoom where we are like this–[the video call]–and I got a guitar and there's a producer at the other end saying like 'Okay Go,' and like 'Okay here it comes," he shared.
As James recalled those 2020 memories, he pointed out that although it was a different experience and he does not want to create another album in the middle of a pandemic, he can't help but feel incredibly proud of the record and the breakthrough moments behind writing and producing Leap.
Thoughts for the Future
With the record already out in the world, the press couldn't help but wonder–what are James's goals moving forward? The singer wasted no time in confessing that his ambition is to continue to carry on with music. He pointed out wanting to make music for more than ten years, and lastly, with laughter, he shared that he also wishes to earn more guitars. 
As for a message to his audience, James concluded the video call by telling the press he wanted to remind his fans that even if you have a bad day, there's always tomorrow to start again, to grow, and to learn to 'Keep your chin up.' "If you can lift your head, we live like this– [Glued to the phone]" he said, "Sometimes that's too heavy, I'm trying to 'Keep my chin up' and If people find ways to do that with my music, then I'm really glad because we all need some of that some times."
You can listen to James' album Leap on Spotify and Apple Music. Plus, stay tuned for Tour details on his website, and connect with him on Instagram, Twitter, and Youtube.
Interested in more new releases? Read about TWICE's latest mini album here!