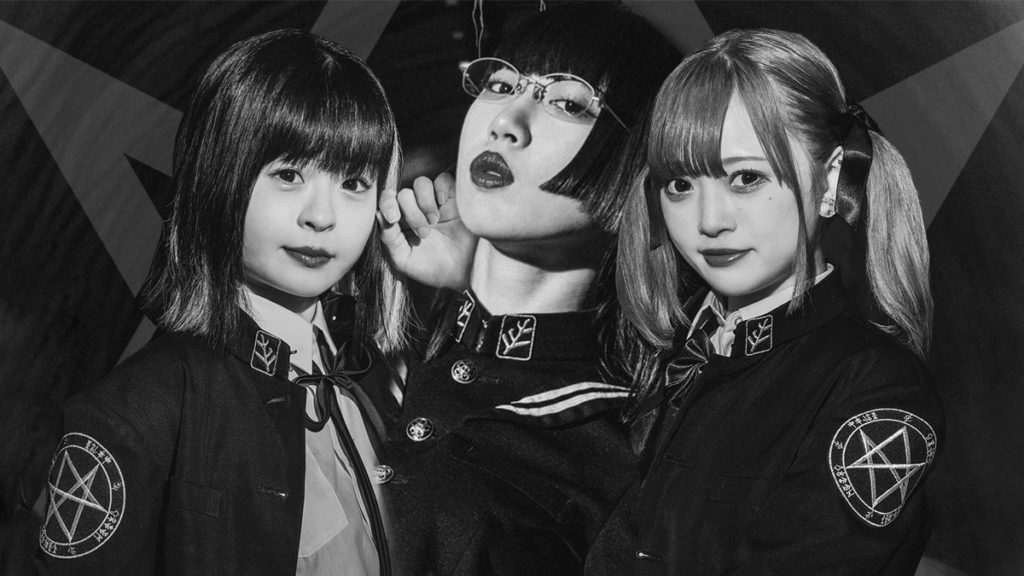 Since their debut in 2014, the Japanese metal idol group NECRONOMIDOL has spread their unique and dynamic sound both in Japan and abroad. After chatting with NECRONOMIDOL producer Ricky Wilson about his career, Tsukishiro Himari, the current longest-standing member of NECRONOMIDOL, joined our conversation. Sharing their perspectives as producer and idol, together the three of us dove into the world of NECRONOMIDOL.
Enter the World of NECRONOMIDOL
Originally consisting of four members, the group debuted in 2014 with the song "あたいの爪痕" ("Atai No Tsumeato / Scars of Value"). While planning the group, producer Ricky was inspired by H. P. Lovecraft and the themes in his works. Early concepts for the group were heavily influenced by traditional Japanese shrine maiden motifs with horror twists. Later concepts involved Cthulhu legends and themes from modern Western horror films. NECRONOMIDOL has released various singles that encapsulate these motifs, including "Children of the Night," "Santa Sangre," and "Strange Aeons." The group now consists of three members–Tsukishiro Himari, Meica Mochinaga, and Malin Kozakura–who together released their most recent single, "End of Days," in September 2021.
When asked what song she thinks best represents the group, Himari pondered before picking two songs. The first was "Skulls in the Stars," which she called NECRONOMIDOL's "killer tune" that anyone could enjoy. However, another NECRONOMIDOL song had a special place in her heart: "Ithaqua."
"It's a song that I have a lot of history with. The music video for "Ithaqua" was the first that I participated in after joining the group, and the song has a strong relationship with NECRONOMIDOL's concept since it has Lovecraftian lyrics. There are also a lot of layers of vocal harmony and group synergy blended beautifully into the song. In the end, if I really could only choose one NECRONOMIDOL song to recommend to people, it'd be 'Ithaqua.'"
Ricky, the producer of NECRONOMIDOL, chimed in with one more song to recommend. "I really like 'Ritual' as well. I think it's got a really strong NECRONOMIDOL feeling. There's no other idol group that has put out music with those sort of lyrical or musical themes, and I don't think it would really work with any group other than NECRONOMIDOL."
A Sound That Has Reached the World
NECRONOMIDOL has not just forged their own musical path within Japan: the group is spreading their sound all across the world. They have a supportive fanbase of international fans, who they've traveled to meet via three international tours prior to the COVID-19 pandemic. Though plans in 2020 and early 2021 were prevented due to COVID-19 travel restrictions, NECRONOMIDOL remained resilient, adapting their many live performances into online events.
"We didn't really do online lives before COVID. When we started doing streamed lives, one of the first things I thought was, 'Why weren't we doing this before?' Now, even though we can tour internationally and even though we can do shows in Japan, I can't imagine losing that aspect. Like Himari said, we've been able to reach out to fans that we can't see normally," Ricky explained.
A Fresh Start Abroad
Luckily, NECRONOMIDOL did not have to stay off of the road for long. Once the COVID-19 pandemic began to subside, NECRONOMIDOL was the first Japanese idol group to hold an international tour through their Cursebreaker Tour 2021. During October of 2021, the group performed several shows across the UK, Sweden, and Germany.
Though it was not Himari's first time performing internationally with NECRONOMIDOL, the tour was a novel experience for members Malin and Meica. Of course, Himari was excited to travel abroad and see international fans for the first time in two years, but she admitted that she was also nervous prior to the tour. "I was very worried about many things, both relating to COVID and the group. It was the first time performing abroad for the new members that were added during the lineup change, and I also wondered if fans would be able to come see us."
When asked about how the experience was for herself and the new members, she recounts, "The members were really excited about going abroad, but they also felt a lot of nerves and uneasiness. Of course, I was nervous too, but as the only member who had gone abroad, I realized that I couldn't let my own uncertainties show. I decided that I would try to be strong and be someone that my members could rely on and come to for support."
Thankfully, Himari's worries went away as soon as the tour began. "Once we actually went abroad, all of those uncertainties disappeared thanks to the fans. A lot of fans came to our shows, and they were so warm and welcoming. It became the best 'restart' for us."
Even More Beginnings: A Solo Debut on the Road
Himari was able to experience another new start in 2021. During the Cursebreaker Tour, she debuted as a soloist by performing a modified solo version of the song "Love is Not a Game." Later in April 2022, she released her first solo single, "生存戦略" ("Seizon Senryaku / Survival Strategy"), under the name Isiliel. The lyrics for the song were written by Himari herself, with the track composed by the musician NARASAKI. The song features Himari's light and delicate voice against a city-pop and rock-influenced instrumental, combining to create an ethereal yet captivating track.
On the topic of her solo debut, Himari commented, "I think I love NECRONOMIDOL's worldview and meaning more than anyone, maybe even more than the members and fans. It was great to be able to write lyrics full of my own thoughts, experiences, and feelings and contribute to NECRONOMIDOL's story in my own way."
Like with NECRONOMIDOL, Himari's approach to her own music and its sound transcends genre boundaries.
"Actually, before being in NECRONOMIDOL, I had never listened to black metal. Now, I've come to like it and listen to it on my own, adopting it as a part of myself. Because of that, NECRONOMIDOL influences a lot of my own tastes and what I do in my solo music. As for the city-pop influence in my song, I don't really think about my music in terms of genres. I just think, 'Oh, I like this song or this sound.' With my music in the future, rather than think about what kind of genre it will be, I focus more on how it can reach more people who don't know of me yet."
It's All About the Fans
For Himari, the feeling of reaching fans and their emotions is the most important to her.
"During concerts, for example, there's a sort of heat and passion present. You can feel each other's feelings and understand each other, even across the stage and audience. For online events, you do lose some of that, but it still lets our fans who can't see us in person stay in touch. It also gives us a chance to reassure those fans that we haven't forgotten about them and keep those connections going."
Both Himari and Ricky also want to reach out to fans through the lyrics of NECRONOMIDOL songs. Ricky explained that many NECRONOMIDOL lyrics are based on H. P. Lovecraft, so they have dark themes and stories. Ricky shared with me that despite the dark content, many fans have confided in him that they were helped by NECRONOMIDOL's music during difficult times. Ricky loves to hear those touching stories and explained that he wants fans to know that they can keep going as it is, regardless of whatever difficulties come their way.
Himari shared the same sentiment. "What I really want fans to take away from NECRONOMIDOL, and what I always try to communicate through my performances, is 'Even amongst all of this, I'll still go on living.'"
"Please Wait for Us"
Himari's main goal in the future is to show off new sides and facets of NECRONOMIDOL with the new lineup. "We've had a lot of member lineup changes these past few years, and that's difficult because no matter how interesting our content is, it makes it tough for fans to come in and stay. It's like a new house. You want to move into a new house that's safe and stable. So first and foremost, I want to see things settle down in this aspect."
She continued, "I also want to continue taking on and challenging new worlds and experiences through NECRONOMIDOL. I want to keep venturing into these new territories."
These new territories may include new countries and regions outside Japan that NECRONOMIDOL has not traveled to yet. When asked where she'd like to travel next, Himari smiled and answered, "Brazil!" She motioned with her hands, representing the countries Japan and Brazil to emphasize the distance between them, before adding in English, "Brazil. I am so curious."
Ricky agreed. "We do get a lot of fans from Central and South America saying that they'd like to see us. Those are a couple of continents that we've never had a chance to go to, so I'd love to do a Mexico or Brazil tour. That'd be really cool."
At the end of the interview, I asked Himari if there was anything else that she wanted to discuss, and she asked where I was from. "America! I went on tour in America!" She exclaimed in English after hearing my reply. "Recently, we haven't been able to go. But, I haven't forgotten America."
She smiled and added, "please wait for us."
Enjoyed our interview with Himari from NECRONOMIDOL and want to learn more about their production behind the scenes? Check out our interview with their producer Ricky Wilson here! Or, if you're interested in more exclusive interviews, read our recent interview with K-pop boy group YOUNITE here!