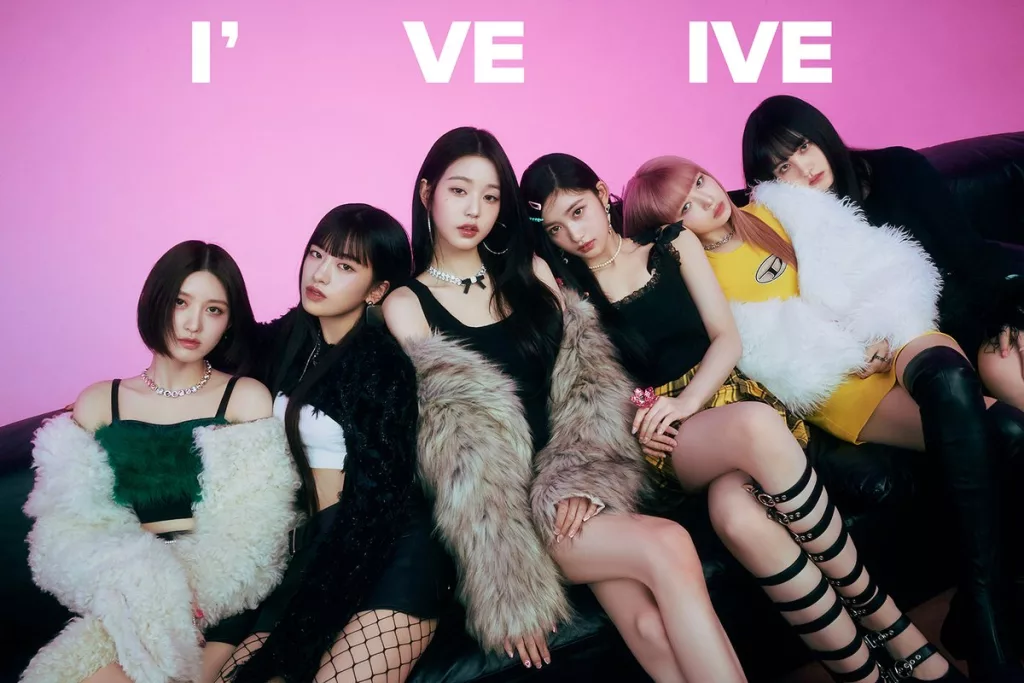 IVE's single, "Kitsch," is the perfectly catchy girl crush anthem to pay attention to right now. Filled with standout looks, the music video is a parade of beauty and fashion trends. EnVi takes a look at seven moments that made us click rewind in IVE's "Kitsch" music video.
Wonyoung's Y2K Outfit and Winged Liner
Opening up the video clip, IVE's vocalist Wonyoung appears in an outfit that seamlessly blurs the lines of cute and fierce. Channeling the early aughts with her high ponytail and oversized hoop earrings, the star looks like the embodiment of Y2K fashion. As one of Miu Miu's newest ambassadors, Wonyoung's ensemble consists of a black mini dress by the Italian brand, an oversized taupe fur jacket, and chunky magenta heels. This mini dress and fur jacket combination is a look taken straight from a 2000s maven's book.
Complementing the Y2K style, Wonyoung's beauty routine includes baby soft skin, cute, glittery eye makeup, and a plump, glossy pout. To emulate the girl crush aesthetic, Wonyoung's traditional beauty staples are changed up with fierce winged liner. The singer effortlessly hops on the blurry eyeliner trend, which accentuates her eyes without overpowering her youthful features.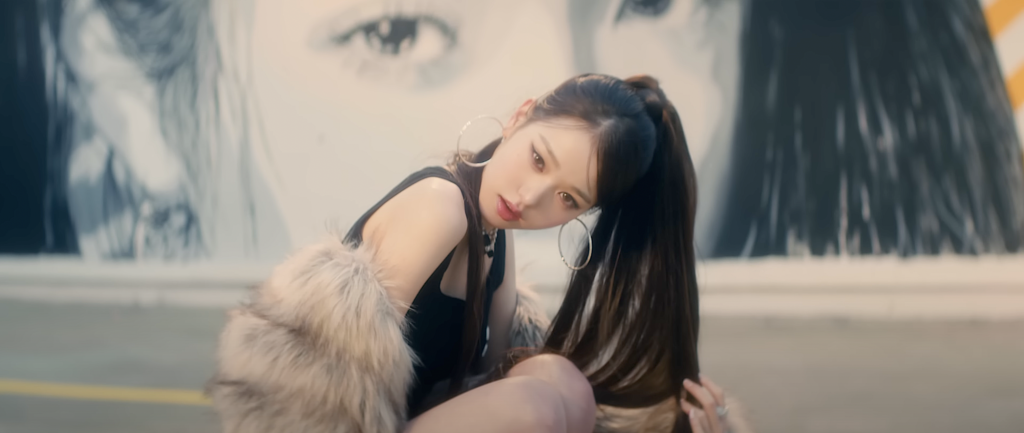 Liz's Masterful Monochromatic Look
While gracefully laying in a field of flowers, IVE's main vocalist, Liz appears in a black cropped jacket and skirt that stands out amongst the sea of red roses. From her leather tennis skirt to the fluffy feathers that rim her cardigan's sleeves, Liz's outfit exemplifies versatility within the monochromatic trend. While doing a few impromptu hair flips, Liz's long pin straight hair and blunt bangs are on full display, as the perfect flirty touch to this edgy attire.
Amidst a swarm of white paper planes, the star's makeup is brought to attention. She sports a warm brown shadow diffused on her upper and lower lid. The soft eyeshadow is paired with winged liner and a glossy coral lip, balancing out her edgy energy.
Yujin's Black Sequin Shrug and Mini Skirt
Considering that IVE's leader, Yujin, sings about her O.O.T.D in the track, it's impossible not to discuss this unforgettable ensemble. This is the perfect combination of eye-catching textures and colors. Yujin struts in fishnets and a leather mini skirt, emulating a mix of the glam and punk aesthetic. The vocalist dons a shrug dripping in lurex feathers over a white cropped tank top. This edgy combination is topped off with a necklace and bold statement earrings that perfectly match the hardware featured on the skirt.
To let the bold fit shine, the makeup and hair are kept simple. Yujin wears soft-matte rose lipstick and natural eyeshadow to accentuate her beauty. The star's face is framed by cropped bangs and long, layered hair that flows perfectly with her dramatic hair flips.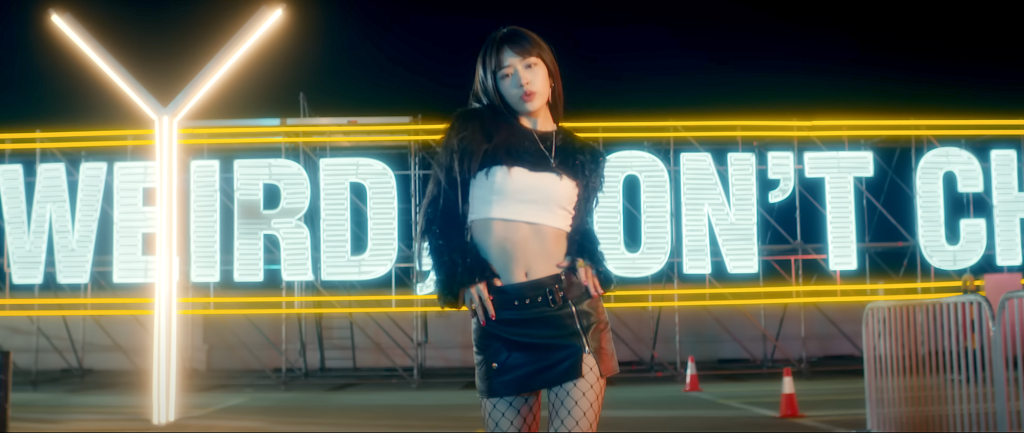 Leeseo's Punkish Skirt and Leather Pumps
In sync with the cute, but rebellious aesthetic, Leeseo rocks garments fit for a Bratz doll. The vocalist's cropped top and skirt are the literal depiction of adorable with an edge. While the black camisole is decked out in lace trim and satin ribbons, the lower half consists of a mustard yellow plaid skirt and platform leather pumps with chrome buckles up to her knees. The icing on the cake is the cutesy jewelry that adds a feminine touch to this slightly punkish ensemble. To top off the look, Leeseo wears an oversized pearl necklace, heart shaped pearl statement earrings, and a chunky crystal bangle that glitters with every dance move.
Enhancing her effortlessly innocent expressions, her pink glittery makeup involves a simple wash of pastel pink over her eyes and artfully placed glitter towards the inner corners and upper lids. The glittery eye makeup is paired with an IVE staple: glossy magenta lip gloss fit for any occasion.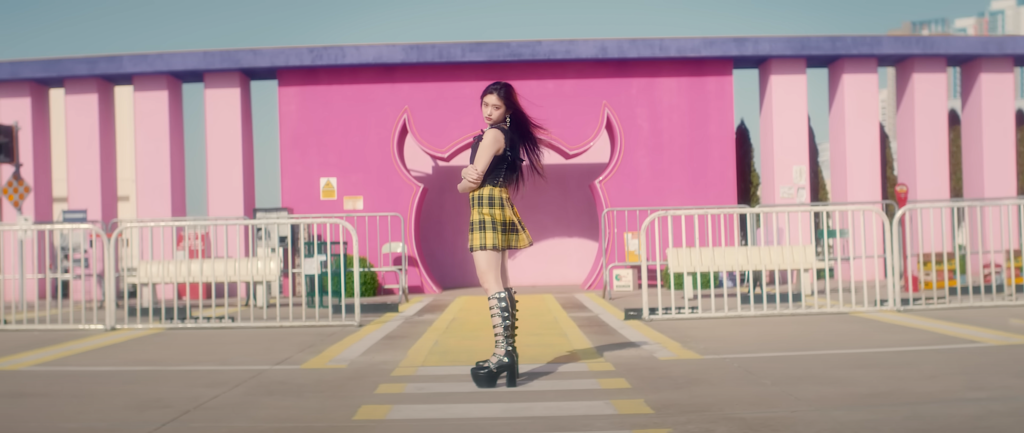 Gaeul's Fit for a Queen
When Gaeul appears on screen, she is captured sitting on a throne, oozing charisma and fierceness. The main dancer wears an oversized, cream faux-fur bolero, a turquoise tube top, and a high waisted leather mini skirt. As an ode to the pop divas of the past, these maximalist pieces are paired with a thick, silver chain necklace and cherry red, knee high stiletto boots.
Meanwhile, the makeup is simple, but glowy, giving Gaeul an ethereal shine. The rapper wears brown eyeshadow and peachy pink blush diffused all around the eye area to enhance her fierce glare. On the other hand, highlighter is thoughtfully placed right above her eyebrows, on the inner corners of her eyes, and the tip of her nose, adding a sweet, angelic touch. A pink glossy lip tops off the makeup, bestowing an edgy contrast.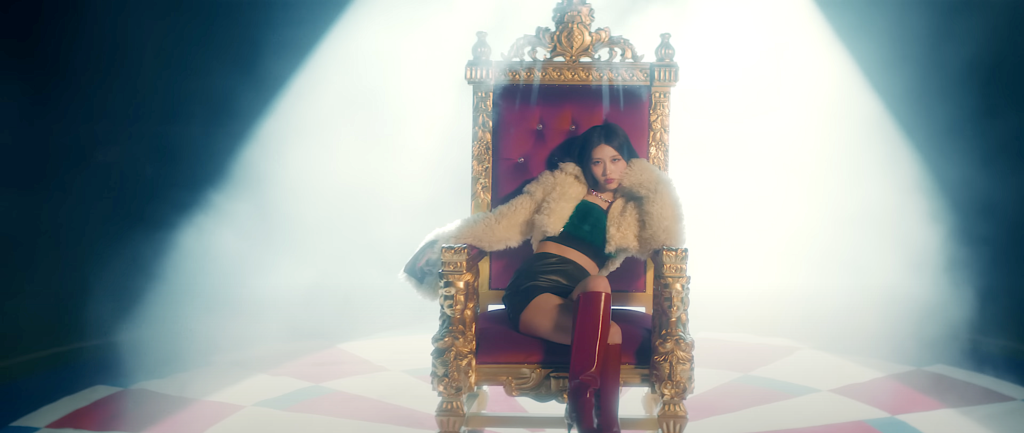 Wonyoung's Effortless Smokey Eyes
On the second verse of the song, Wonyoung appears in the same Miu Miu mini dress and oversized fur jacket. However, her makeup and styling are altered to match the calmer energy in this portion of the video. Wonyoung gracefully sits in the middle of an aqua lit room, sporting hip-length layered hair that drapes over her shoulders and delivers epic hair flips. Her eye makeup changes to a softer smokey winged liner and eyeshadow that accentuates her eye shape. Wonyoung's strawberry-hued pout is swapped out for an equally glossy pink lip. As the camera follows her around the room, the beauty choices prove to be the perfect sultry-meets-cute look that stuns from all angles.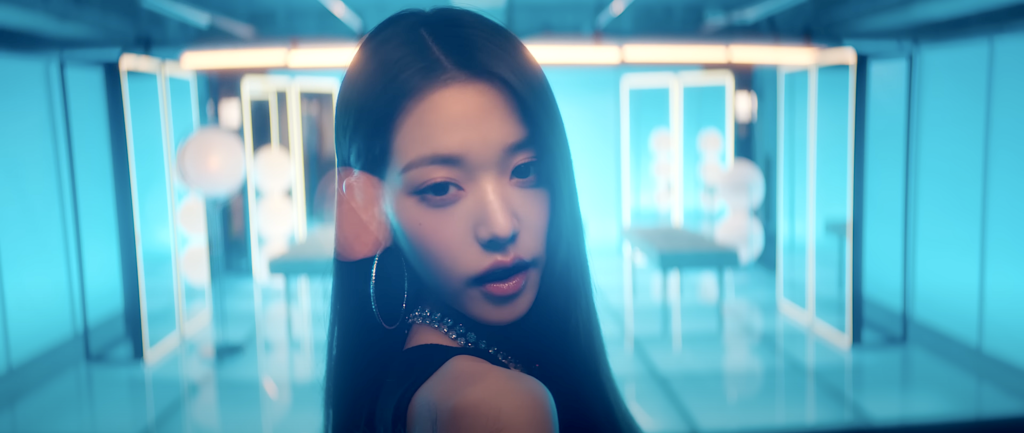 Rei's Perfect Pastel Ensemble
Towards the end of the music video, Rei powerfully takes over the screen with baby pink hair flowing in the wind. She rocks a yellow Diesel top with a white faux-fur jacket that pairs perfectly with her pastel hair. This colorful combination is an ode to K-pop trends of the past, and is made even more retro with Y2K-inspired, heart-shaped hoops and a chunky chain.
Her intense glare towards the camera is accentuated by a baby smokey eye, liner, and warm-toned glitter swiped along her upper and lower eyelids. Magenta lip gloss glistens against the room's peach and yellow lighting.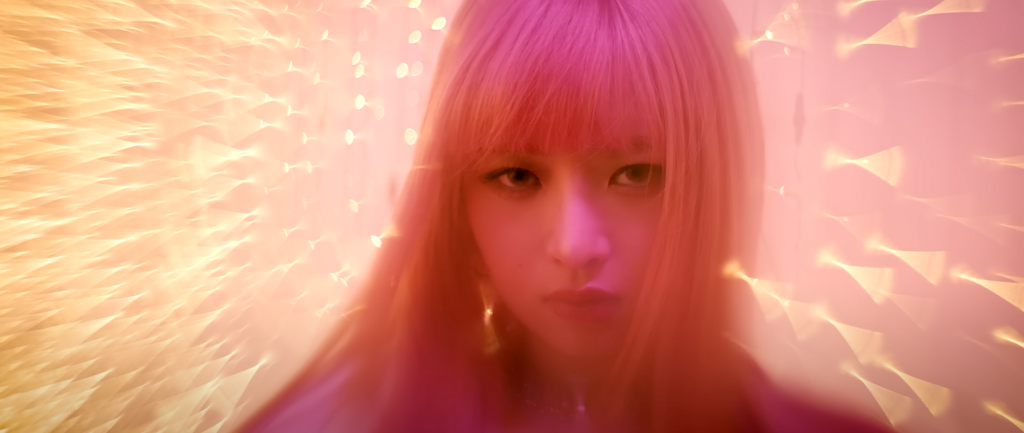 In a charm-filled music video, IVE channel girl crush-meets-Y2K without a flaw. In addition to traditional girl group staples, "Kitsch" features faux-fur jackets, miniskirts, and powerful boots that are perfect for marching to the beat of your own drum.
Following the release of "Kitsch," IVE returned to the stages with their first studio album I've IVE. You can read everything about the successful record here.