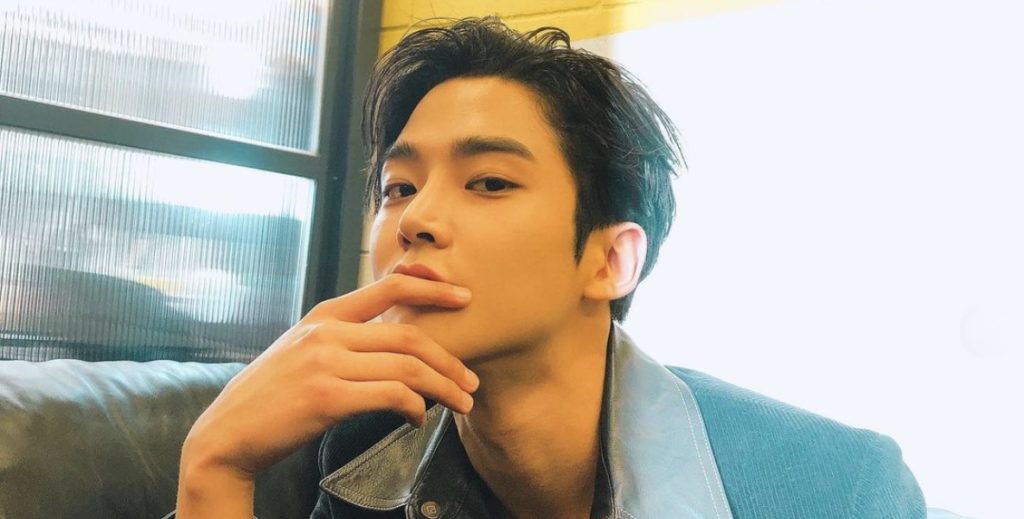 Known for his soft vocals and charming looks, Rowoon has captivated audiences since 2016 as a lead vocalist of the boy group SF9. After debuting as a singer, Rowoon later dove into acting, taking on a series of outstanding roles in Korean dramas. In ACT!ON's next installment of the Stage To Screen series, we explore Rowoon's journey from impressive musician to remarkable actor. 
Introducing: Rowoon
Born in Seoul, South Korea, Kim Seok-woo, stage name Rowoon, became a trainee at FNC Entertainment at the age of 17. After joining the company, he participated in Cheongdam-dong 111, a reality show exhibiting the agency's trainee process, with fellow SF9 member Zuho. In 2015, Rowoon became part of the pre-debut reality survival team show NEOZ School, where he competed as a member of the dance crew "NEOZ Dance." After a series of trials, the group won the show with their track "K.O" and got the chance to debut under the name SF9. In October 2016, the nine-member boy group debuted with the single album Feeling Sensation.
As a member of SF9, Rowoon has showcased his abilities as a vocalist and performer with every new release. His most recent activities with the group include its participation in the survival show Kingdom: Legendary War, as well as the release of the EP album RUMINATION in November 2021, which ranked number one on the Gaon Chart 48th Weekly Retail Album Chart.
Diving Into The Acting World
In addition to showing off his musical abilities with SF9, Rowoon has explored another side of himself in the film industry. He made his acting debut in 2017 with the KBS2 coming-of-age teen drama School 2017. This was the seventh installment of the School Series, a Korean drama anthology series that follows the struggle of different students. In the 2017 version, Rowoon took on the role of Kang Hyun-il, a transfer student and member of the K-pop group Cherry On Top.
After exhibiting a promising career in acting, Rowoon kept diving into acting with supporting roles in K-dramas: he played Choi Wee-Jin, the protagonist's younger brother in tvN's About Time, and on SBS' Where the Stars Land he took the role of Ko Eun-sub, the female lead's best friend who's secretly in love with her.
The latter clinched him his first nomination in the acting industry for Best New Actor at the 2018 SBS Drama Awards. Although he did not win, his performance made a good impression, which paved the way for him to take on bigger roles in the future.
Actor Breakthrough
Following his K-drama appearances in 2018, Rowoon took on his first main role in MBC's fantasy romance drama Extraordinary You in 2019, based on the webtoon series July Found by Chance. The series follows the story of Eun Dan-oh (Kim Hye-yoon), a high school student with a heart condition. When she discovers she is part of a fantasy comic but only as an extra, she decides to draw her own path by setting herself free from the writer's original story. There, she meets Rowoon's character Number 13, another extra in the comic whom she later names Haru. During their time together, they begin to make their own choices and develop romantic feelings for each other. However, they discover that building a new life might come at a price.
In the role of Haru, Rowoon displayed an introspective side of himself. His soft yet strong persona and mystery surrounding the character had viewers on the edge of their seats. The drama's huge success allowed Rowoon the chance to later land multiple lead roles. He also received several accolades, including Best New Actor at the Grimae Awards and the MBC Drama Awards, and Male Idol-Actor Award at the Korea First Brand Awards.
Taking On Diverse Roles
2021 was a busy year for Rowoon. At the beginning of the year, audiences saw him as the male lead in the romantic comedy She Would Never Know (2021). He played Chae Hyun-Seung, a confident marketing intern in a cosmetics company who falls for his senior. She Would Never Know explores the marketing industry and the complex relationships between a senior and a junior.
In early October, Rowoon worked on his first historical drama The King's Affection. Here, he took on the role of Jung Ji-woon, a physician who gets hired by the Crown Prince to join the palace and work as a Royal Tutor. The drama comprises 20 episodes set during the Joseon Dynasty and follows a series of secrets and mysteries that surround the royal twins. The King's Affection also saw Rowoon play the main character's first love and friend.
Rowoon's memorable work in The King's Affection landed him several awards such as Best New Actor, Popularity Award Actor, and Best Couple Award with Park Eun-bin, who played Dam-i, at KBS Drama Awards.
In 2022, Rowoon ventured into a new role that differed from his previous performances with MBC's fantasy series Tomorrow. The series followed Choi Jun-woong (Rowoon) a half-human and half-spirit unemployed college graduate who starts working for an underworld company preventing suicide and guiding those who want to take their life. The show touched on heavy subjects such as mental health, corruption, and inequality. Jung-woong's passion, ambition, and skeptical personality make him Rowoon's most relatable character to date.
Only Up From Here
Rowoon's success as a musician and actor has earned him several partnerships in the fashion industry. In 2020 he became the face of the White Label Fall/Winter Collection of the brand The North Face, and in 2021 he was selected as an ambassador of the luxury cosmetic brand Estée Lauder.
Rowoon continues to prove his versatility and expand his artistry as a musician, actor, and model with every new release. Fans are eager to see what comes next for the artist. On June 29, he and his SF9 bandmates are set to release the Japanese album The Best ~Dear Fantasy~. As for acting, it remains unknown if he will take on new roles in the upcoming months. However, it is safe to say that the future looks very promising for the multi-hyphenate Rowoon.
Looking for the latest ACT!ON news? Check out our coverage of the Stars Wars Celebration 2022 here!