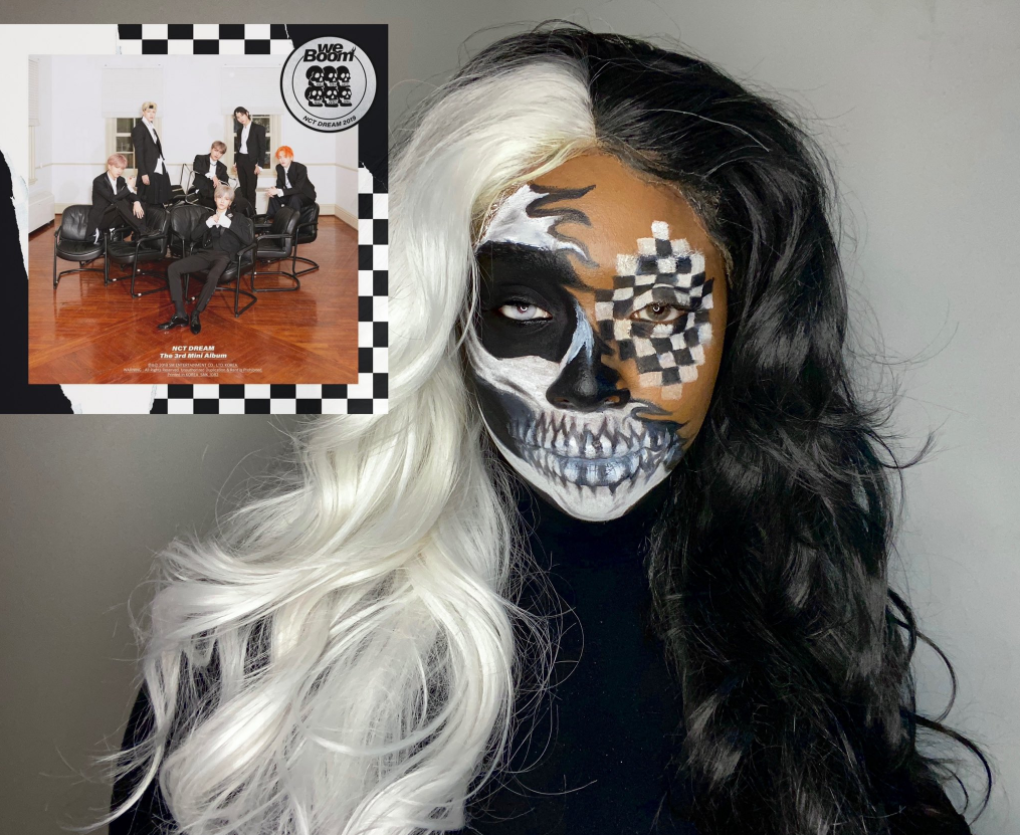 By Annie Bourbonnais | @_whoisannie
Krys, @enseeteajuan27, went viral in Ncity for her NCT Dream We Boom album inspired makeup look. Wearing a black and white wig and with half of her face painted as a skull, she managed to capture the details of the album concept in her own style. EnVi spoke to her about her NCT favorites, her inspirations and makeup must-haves.
@enseeteajuan27
How long have you been a NCTzen?
Around 2017 I watched "The 7th Sense" and thought, "these boys are good."
Who's your bias?
I can't really have a number one between Johnny and Ten, they're both so talented!
What's your favorite song/album?
Because I became a fan around 2017 Cherry Bomb is my favorite, both song and album, also the whole concept and styling is amazing.
How did you get into makeup?
I got more into makeup in college where I had a lot more free time. I think it's really relaxing to me. Watching RuPaul's Drag Race really inspired me to do more flashy makeup. My mom inspired me too.
How do you plan for your makeup looks?
At first I just looked at my NCT albums and thought, "these albums are so pretty, I wonder if I have eyeshadow that color" and tried just matching the colors. Now I try to do these at least once a week and think about what else I can incorporate to match the concept.
I see you like matching your wigs too, what was the inspiration behind that?
I got that idea partially by watching Drag Race, but also I've seen a lot of Black women on Twitter lately using wigs of different colors so I thought I could give it a try too. Now every time I have a little money to spare I try to invest in a new different wig in a color I don't have yet.
Besides what we already talked about before, what else inspires you?
I watch a lot of anime and the art I see of it really inspires me. The way artists can depict the characters in a soft look and the way they use the colors is so beautiful. I also majored in music (research and composition) so music in general is a big inspiration to me.
Any favorite makeup looks that NCT has worn?
Taeyong has had some awesome looks, in one "Boss" stage he was wearing red eyeshadow. The "Make a Wish" teardrop glitter is also really nice. Usually their makeup is more subtle, but sometimes they have things like these, which are still subtle but with an extra touch. The "Punch" makeup was cool too, with the fake tattoos and everything.
What's your look that you're most proud of?
I think it's the "Boom" makeup because it took a lot of time, I was doing it for like two and a half hours, but I also like the NeoCity in Japan album look, with the red and white, it's more simple, but I still used the album colors there.
A makeup product you swear by?
My favorite foundation is the L'Oreal 24 Hour Fresh Wear Foundation, no matter how dewy my skin is, whenever I put that on it makes my skin flawless and it just stays.
Also the BPerfect Carnival XL PRO Palette, I got this from my sister, it's so pretty and it sticks out on my skin tone.
Anything you want to say for people that are getting more into artistic makeup, any advice for beginners?
Do your own thing. Don't worry about what people are going to think about your looks. Take your time, breathe, and have a moment to yourself. There are days where I just don't feel pretty, or nothing seems to work, but that's okay. Even then you can take pictures and see what to work on for the next time, even if you're not gonna do the same thing again. And have fun with it!