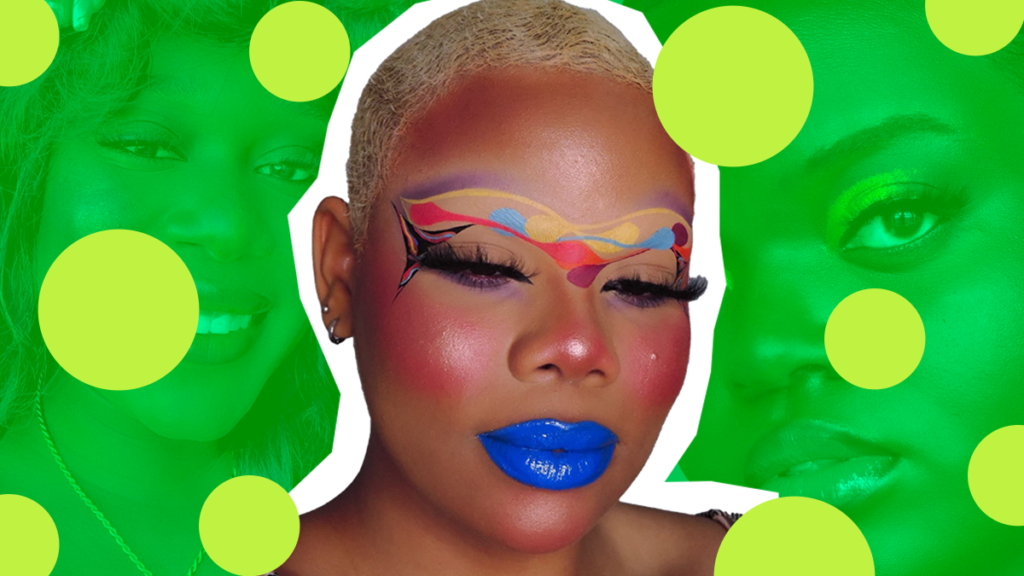 Black women all around the world have had a huge presence and impact in the beauty industry for countless years, but not always granted the recognition they deserve. EnVi spoke to content creators Souzamakeupv from Rio, RavenOnRebel from Philadelphia, and Francisca François, founder of Aeva Beauty. Through the creation of colorful highlighters that complement all skin-tones and using vibrant eyeshadows on dark skin, they have made a space for themselves in the industry—a space that we can all express ourselves in. From influencers to founders, here are three Black women in beauty to keep an eye on.
Vitória de Souza
How long have you been doing makeup? When did you first become interested in makeup?
Since I was a little girl, I've done makeup, but I've never really delved deeply into it for a while. In 2020, at the beginning of the pandemic, I decided to create my makeup Instagram profile and it was from there that I really decided to get involved and really learn about makeup.
What are your biggest inspirations?
I believe I have no fixed inspiration. I really like meeting new artists, seeing different art, and from there I get inspired, but the first person who inspired me to create a makeup profile was Júlia Proença Makeup.
View this post on Instagram
You have a very graphic and editorial style, what inspired you and led you to this style?
The colors! When I started following Júlia I was introduced to a new world, and then I went after several other makeup profiles. Then I started to develop my own style, put my ideas on paper and learn to work and play with colors.
What are your favorite products and brands?
I am completely in love with BT Velvet, Glitter, Blush and BT plump by Bruna Tavares, Beauty Glazed, iMagic and Michelly Palma eyeshadow palettes, Bmbeauty highlighter, RK by Kiss lash glue, and other products.
RavenOnRebel
How did your personal style come to be? Was it something that developed over time based on your life experiences, or did you always know what it was?
It definitely developed over time. With various trends and social influences. I honestly still think I am trying to find what my personal style is. As a plus-size woman, the "trendy" options haven't always been available for us, so with the ever-changing fashion industry, and brands trying to become more inclusive, I am able to experiment with fashion and find what works for me.
How long have you been doing makeup?
I've dabbled with makeup since I was 11, but it was in 2020 during quarantine that I really started taking it seriously and honed my skills, so to speak.
As a Black woman, is there a brand that you enjoy using because of its inclusivity?
I love Sephora Collections for their shade range inclusion, as well as Fenty Beauty and NYX Cosmetics!
What are your biggest inspirations and what keeps you going? What are your aspirations?  Is there anything you wish you could say to your younger self?
Just my love for the craft, I genuinely love creating different makeup looks and making content! I am inspired daily by other creators and the power social media has to change your life. I aspire to be a full-time content creator one day, I would love to be able to spend every day creating something my younger self always dreamed of. I would tell that little girl to never give up, and It is all going to work itself out one day.
Francisca François, the founder of Aeva Beauty. 
What life experiences prompted your interest in makeup?
Having been teased for my complexion and called names, it really got to me. So the first makeup product I used was eyeliner because it emphasized my eyes. It made me feel good. After using eyeliner for some time, I started using glosses and eyeshadow little by little.
You've spent 8-10 years in the beauty industry. Have there been any changes in diversity from your point of view?
The biggest improvement I've seen is women of color taking a stand and not taking 'no' for an answer—not settling for what society says we should and shouldn't be doing, especially when it comes to product ranges. We're saying we need to see the representations for ourselves, or we're letting them see the consequences of leaving us out completely.
What do you think gives Aeva Beauty that special edge to set it apart from other cosmetic brands?
We are a brand that's built in our community, so all the products we create are kept with our communities in mind… they're very outspoken, they tell us what they do or don't like. If I know it won't work for everyone, I won't launch it. Regardless of what you pick out from my brand, it will look good on all complexions, because that was something that I struggled with.
What words of advice would you like to give to women of color interested in makeup and expression?
When it comes to beauty, you should be able to create what you want, how you want without any limitations. We're always seeing people of lighter skin tones wearing crazy colors and thinking, "How would that look on me?" I wanted to change that narrative because why does it matter how it's gonna look on you? If you want to try it, just try it. It's about breaking the stigma of "Black women can't wear purple highlighter." Says who? Just wear it.
View this profile on Instagram
Interested in more EnVi beauty related content? Click here to read our beauty articles!