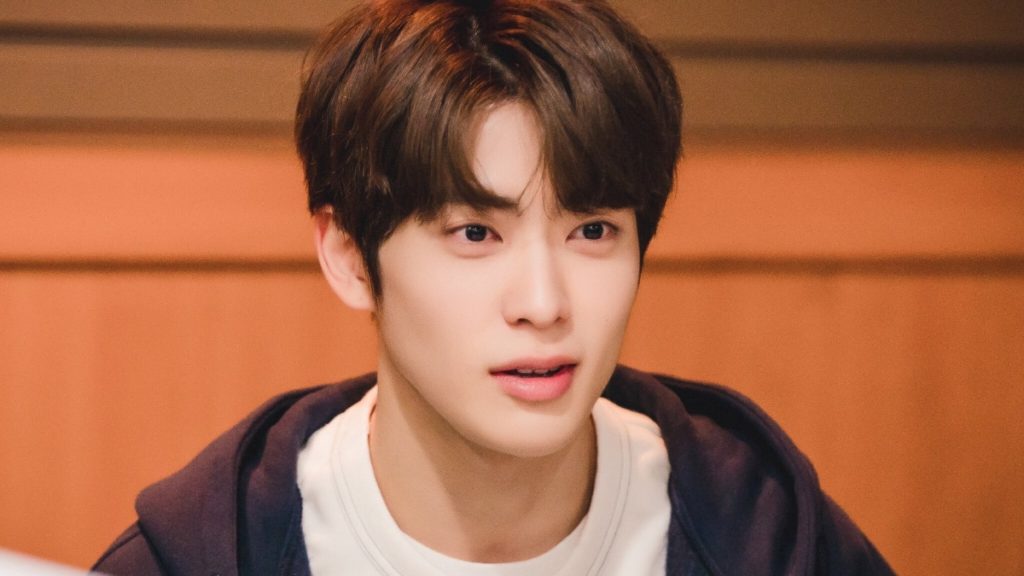 NCT's Jaehyun's acting debut project, Dear.M, is finally seeing the light. Reports broke out on March 23, 2022 that the college romance drama would be set to release in Japan in the near future with KBS still in discussion over the copyright contracts with other countries. The date for the Japanese launch is still up in the air, but has been confirmed by KBS its broadcast will be before Korea's. Previously, the series' initial Korean premiere on February 26, 2021 was postponed due to the main actress's school violence allegations. 
Dear.M centers on Cha Minho (Jaehyun), a genius and diligent Computer Science department student at Soyeon University. It follows Minho and his friends as they take on the everyday struggles of youth from balancing school work, choosing a career path, forming friendships, and falling in love. As if these students didn't already have a lot on their plates, everyone is suddenly intrigued by a romantic confession by the mysterious "M" is posted on the campus' community forum. The rest of the main cast will feature actresses Park Hye-Soo, Roh Jeong-Eui, Woo Da-Vi, actor Bae Hyun-Sung and idol actor Lee Jin-Hyuk. 
High Anticipations 
The show is expected to receive great attention once episodes start rolling out. Despite never hitting the air, more than a year later, the official trailer has reached 900K+ views on YouTube. In addition, ahead of its original release, Dear.M has consistently trended on various platforms, proving many were looking forward to watching the series. On TikTok, the #dearm hashtag has also already garnered 57.6 million views. As a drama that explores first loves and youth, the directors had hoped that through their hard work, viewers would connect with Dear.M. The production in particular sourced stories and feedback from the current generation to be as accurate as possible. With all the thought and time put through in showcasing realistic stories to their audience, it's clear why the drama has been so highly anticipated. 
Good Things Come to Those Who Wait
Understandably, fans were disappointed when the drama was postponed a day before its release. It was especially disheartening for fans of Jaehyun who had been looking forward to his debut as an actor. After more than a year since the indefinite postponement, fans excitedly celebrated all over social media that they finally received confirmation that the hard work the staff has dedicated to this production hadn't gone to waste. 
actor jaehyun, the wait was definitely worth it pic.twitter.com/dMQr1Z9NW2

— 천재현♡̴ (@jaehvunism) March 24, 2022
our actor jaehyun our cha minho is finally coming 🫂🤍🫂🤍🫂🤍🫂

— Z e n.◡̈ (@jaeedimples) March 24, 2022
CRYING BCS WE'RE GONNA SEE CHA MINHO pic.twitter.com/Zslt7qIeKp

— aya (@jeongyunonly) March 24, 2022
dear.m finally airing omgggg jaehyun actor coming to life !! see you soon cha minho ! pic.twitter.com/IlRU4rVdnB

— eri (@peachqin) March 24, 2022
Need more K-drama content? Check out our "recipe" for a perfect K-drama here!