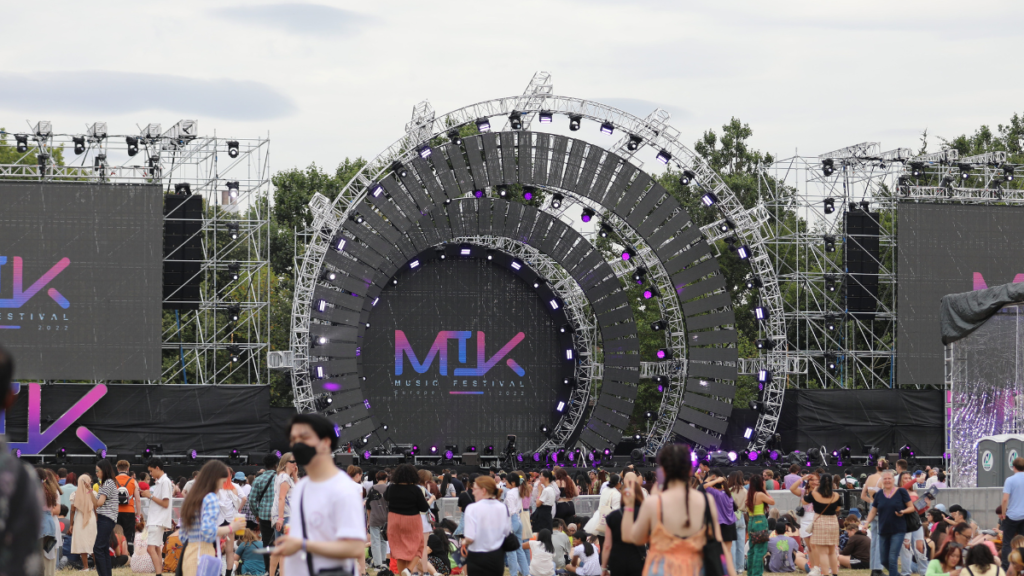 Taking over Southwark Park on 30th and 31st July, Made In Korea (MIK) was the first outdoor Korean music festival in Europe. With the first day focusing on K-pop and the second day featuring Korean rappers and R&B singers, the two-day London event invited some of the best acts in Korean music to the UK's capital city. EnVi looks at the highlights from the first day, with a line-up of popular and upcoming acts, including Cherry Bullet, CHUNG HA, Golden Child, Holland, PENTAGON, Red Velvet, SUHO of EXO, and VIVIZ.
Holland's Neverland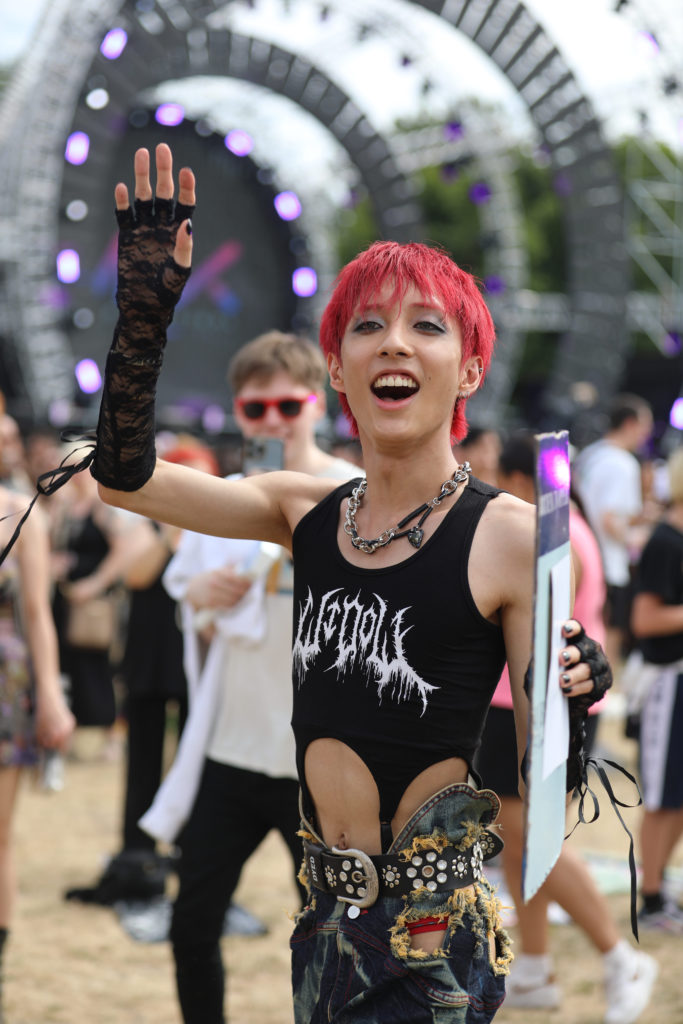 Sporting a black sleeveless cut-out top, leather buckled belt, striped jeans, and a dramatic smokey eye, Holland opened the festival with the dance song "I'm So Afraid." This was followed by "I'm Not Afraid" from the same 2018 double single. Across his performance, Holland filled the venue with his vocals and bold stage presence, dancing across the stage, and even some occasional crawling.
Between songs, he addressed the crowd in English. He confided he was nervous for his first festival. "I think it's because this is my first time performing in front of [people] who may not know about me well," he said, with a laugh. Holland introduced himself, "I am Holland, a Korean artist known as 'first gay K-pop idol.'" After being interrupted by the cheering crowd, he continued, "Yeah, I'm fucking gay!"
Holland returned to the UK following his visit to London in the European leg of his first world tour, Invitation from Neverland in 2019. Speaking to EnVi about the singer's return to the country, a UK fanbase for the singer, Holland UK, said: "I want to say how proud I am to see how far Holland has come since his debut. He's a big inspiration for so many people, myself included." During his closing number, "Neverland," Holland left the stage to interact with the crowd, touching their hands, taking banners, and wrapping himself in a Pride flag.
Cherry Bullet to the Heart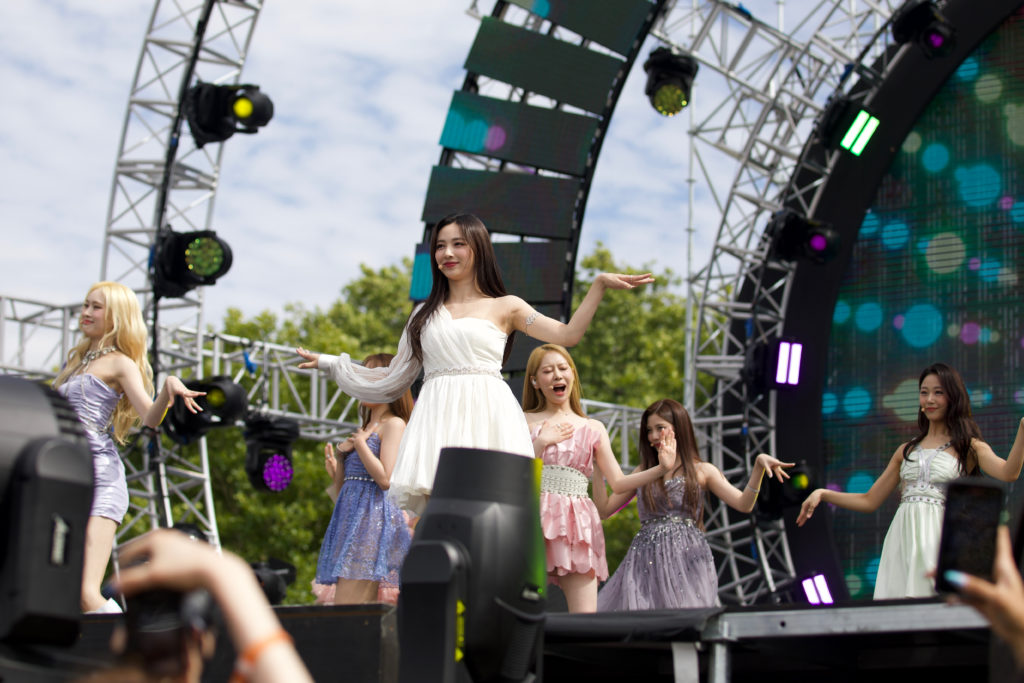 Next on stage was the girl group, Cherry Bullet. Showcasing graceful moves in their sparkly pastel dresses and white boots, the seven members opened with their 2019 debut track, "Q&A." They then continued with tracks like "Really Really" and "Aloha Oe." Like many of the day's acts, this was the group's first time performing in the UK. Revealing their delight to see their fans, they shared, "I'm so happy to meet all the London Lullets and K-pop fans today!"
Cherry Bullet's "sweeter than candy" vocals continued to flow through the air with the catchy "Love So Sweet." "Keep your eyes on me," Cherry Bullet sang to the crowd with an unforgettable performance of "Broken." The group commanded the crowd's attention once again with "Follow Me." Addictively cheerful tracks were accompanied by equally energetic choreography. The septet added a signature twist to their photo with the crowd, who they encouraged to strike a finger pistol pose. As the set drew to a close, Cherry Bullet told the crowd, "I really want to stay here forever." They officially said goodbye to the London crowd with their recent retro title track "Love In Space."
Glistening Golden Child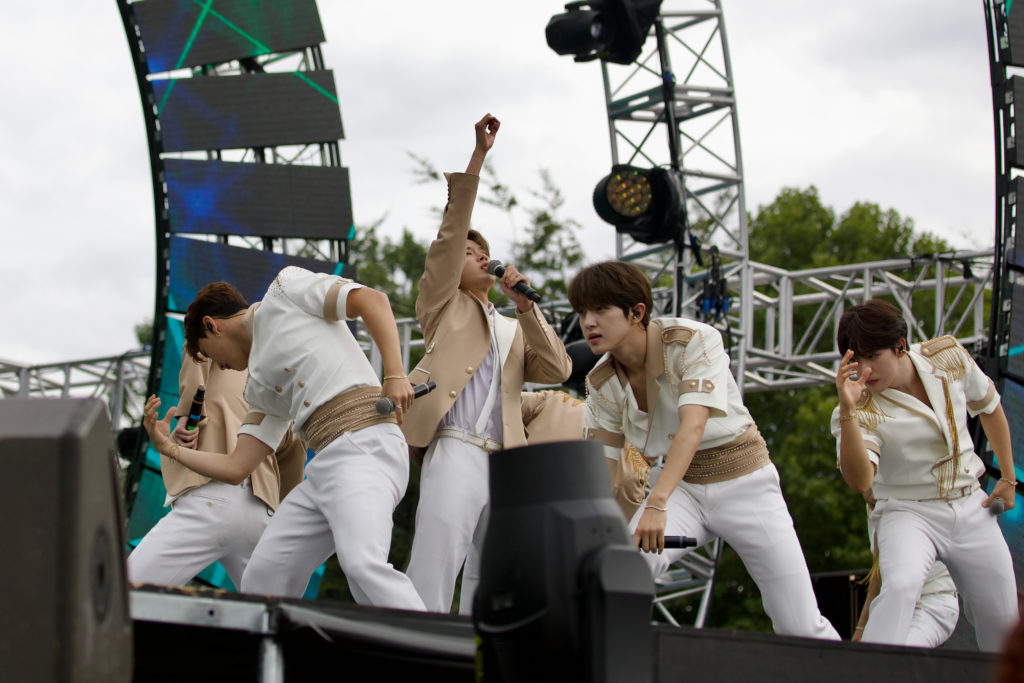 As they took to the stage in their white, gold, and beige military-style jackets, Golden Child looked like princes. ​​Performing tracks like "Burn It" and "Wannabe," they set the stage on fire. Transitions between tracks were seamless, as the group dropped and rose from the ground for the melancholic opening of "Without You."
After the opening numbers, Golden Child introduced themselves to the crowd. "Just for this festival only, we prepared our own setlist," they revealed. Their setlist spanned several genres and showcased their dancing prowess, going from groovy "ONE(Lucid Dream)" to Reggaeton-style "Ra Pam Pam."
Between songs, Golden Child commemorated Y and Joochan's birthdays, both on July 31st, by singing "Happy Birthday." As first-timers to the UK capital, they shared some of their favorite things to do in London, including visiting Big Ben, riding the London Underground, and walking across the famous Abbey Road crossing. They also spoke about their favorite British artists and sang some of Coldplay's "Yellow" before performing their own English track "Bottom of the Ocean," Finishing their set, they sang a small spoiler of their upcoming album, AURA. They teasingly asked, "Will you guys listen to the song when it comes out?" then brought their set to a close with "DamDaDi."
CHUNG HA's Signature Style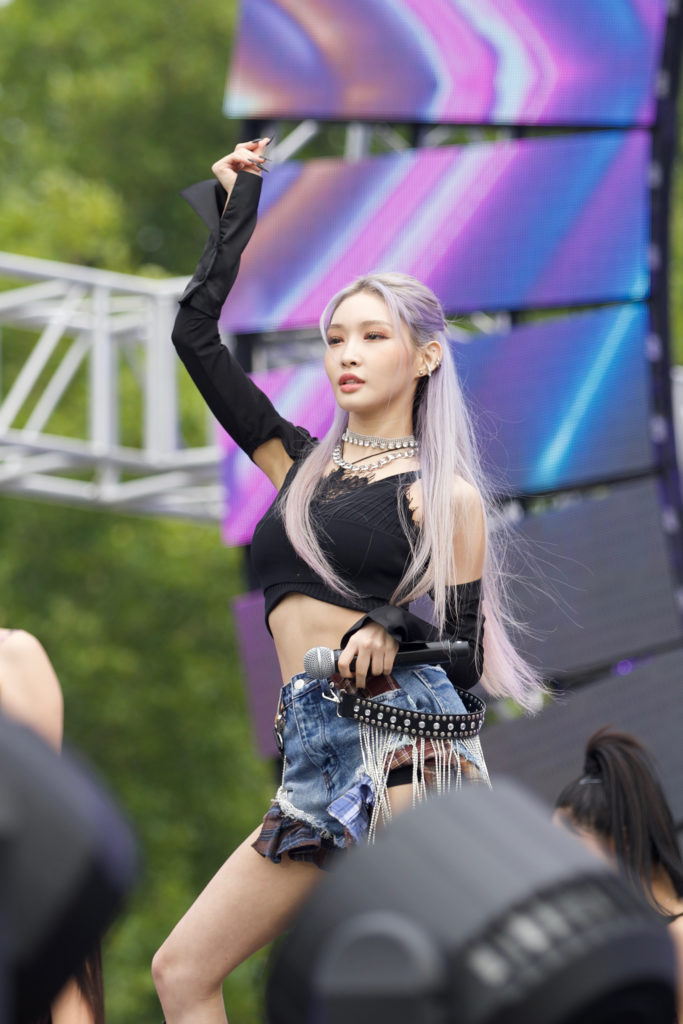 The second soloist of the day, CHUNG HA, graced the crowd with her presence next.
Styled with long lavender hair, a black crop top, and denim shorts, her intricate dance moves were accompanied by a crew of backup dancers. CHUNG HA energized the crowd with pop and dance tracks in both Korean and English, starting with the 2019 track, "Snapping."
CHUNG HA performed tracks from her five-year discography, lighting up the stage with "Flying on Faith" from her first studio album and the title track, "Sparkling," from the more recent Bare&Rare – Pt 1. After asking the crowd, "How many of you guys are from California?" she launched into "California Dreams." Blending some of her catchiest sounds and coolest choreography, CHUNG HA described "Gotta Go" and "Rollercoaster" as songs that capture her "signature" style.
Alluding to restrictions on live performances due to the pandemic, CHUNG HA described the crowd's "good energy" as something she hadn't felt in three years. That wasn't the only special thing about her set. The singer made her first visit to London even more memorable by performing a pre-release of an English song from Bare&Rare – Pt 2, which will be released in a few months. "It's exclusive for you guys," she revealed. "The song is called 'Don't Believe in Love,' and it's fully in English, again." CHUNG HA said goodbye to the crowd with her debut song, "Why Don't You Know."
Time for VIVIZ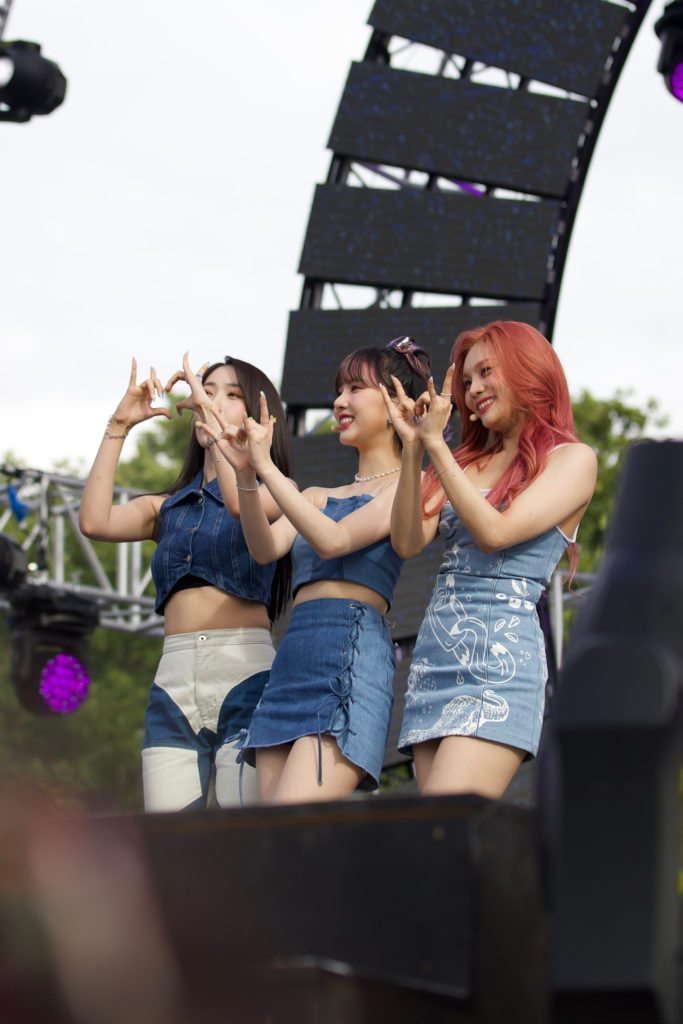 MIK festival marked the first time VIVIZ performed in the UK. Dressed in denim outfits and accompanied by three backup dancers, Eunha, SinB, and Umji impressed the crowd with their vocals and dance moves.
The first part of VIVIZ's performance was all about the "-ade," with renditions of their latest title track, "LOVEADE," and "Lemonade." Introducing themselves to Londoners for the first time, VIVIZ said, "I'm so happy to be able to say 'hello' to you through MIK Festival." They pointed out another pattern in their setlist. "Coming to London, the next song starts with L," the girl group shared before changing up the mood with the ballad, "Love You Like."
As seen in this year's Queendom 2, VIVIZ reprised "Red Sun!" and the GFRIEND song "Time for the Moon Night." Speaking to the crowd between songs, they shared what they would like to experience in the British Capital. Among these favorites were sightseeing, Harry Potter Studios, and to the crowd's surprise, the "fresh London air." The trio bid farewell to the audience with performances of "Love Love Love" and "BOP BOP!"
PENTAGON's "Sparkling Night"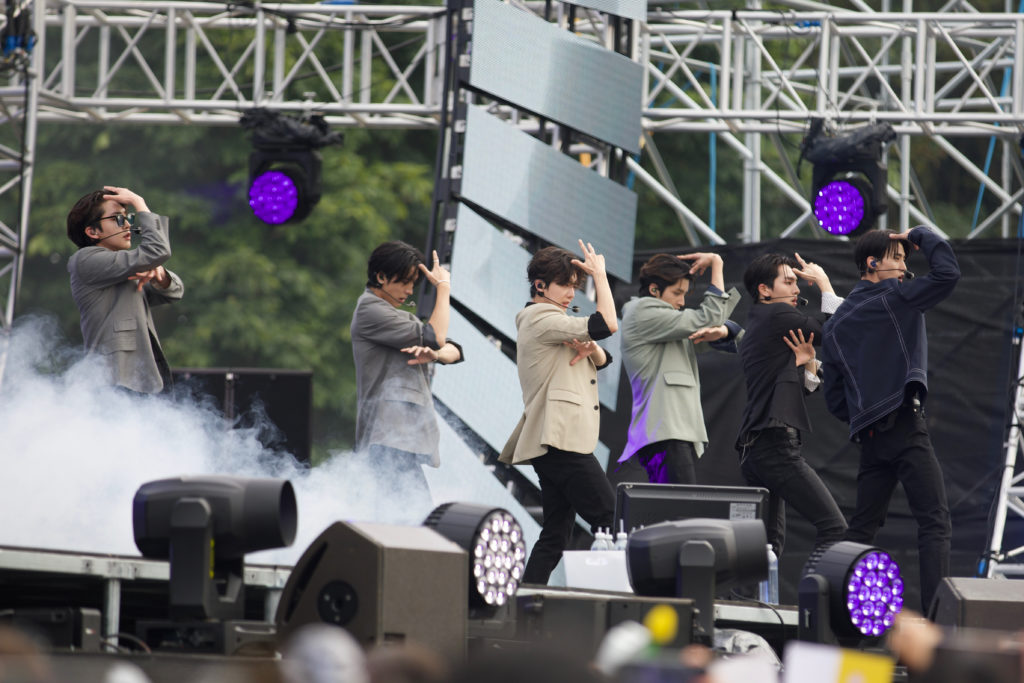 Dressed in blazers and dark pants, PENTAGON entered with the operatic intro of "The Game" and impressed the crowd with the sharp choreography for "Feelin' Like." Introducing themselves to the crowd, they explained their joy to be in the country of some of their favorite musicians such as The 1975.
Despite previously touring in Europe, PENTAGON had not yet performed in London as a team. With vocals, dancing, jokes, and impressions, the group showed off how multi-talented they are. "Okay, this is our first time coming to London as a team. We prepared all of the members something in English to say," they announced before showing off their British accents. With tracks like "Baby I Love You" and "Do or Not," they showcased the variety of their six-year music catalog. Between songs, KINO reminded the crowd of his upcoming special single solo, Pose. "My first solo album will be released August 9th," he announced.
Following performances of "Call My Name" and "Beautiful Goodbye," PENTAGON told the crowd the special rock version was "just for London." Capturing their memorable first visit to the United Kingdom with a photo, they closed their set with "Sparkling Night" and the vibrant choreography for "Shine."
Let's Love, SUHO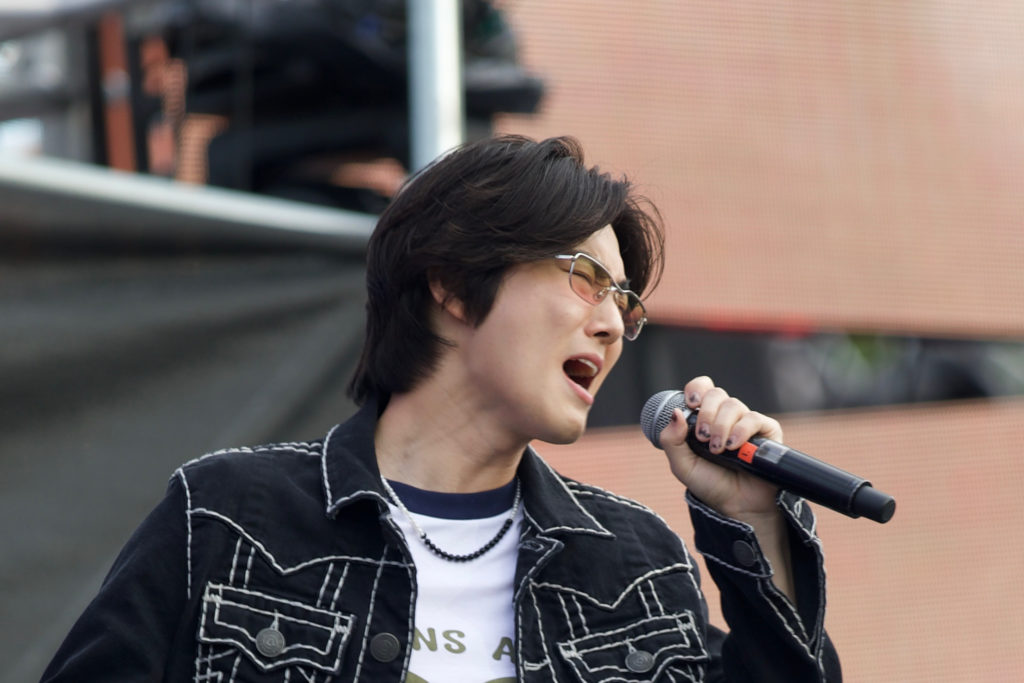 Returning from military service this year, the EXO leader and soloist, SUHO, also made a big return to the UK at MIK Festival. The last time SUHO performed in the country was at MBC Korean Cultural Festival in 2012 as part of the EXO subunit, EXO-K. "Wow! I can't believe it!" he exclaimed. "Actually I was here last month on vacation, you know, but I didn't see any of you," he said pointing towards the crowd.
Coming on stage to a live band, SUHO matched the rock mood with long hair, a stylish stitched black jacket, white boots, and painted nails. He paid tribute to his favorite rock stars, The Beatles, and "the Korean version of The Beatles," Songgolmae, by covering their songs. As he sang "Let It Be," he told the crowd, "It's a huge honor to sing this with you in London. I'm a big Beatles fan."
"This song is a metaphor for my time in the military. It's about adding color to my life," SUHO said, speaking about the meaning behind the title track of his recent mini album, "Grey Suit." Many EXO-Ls could be seen paying homage to his album's cover art by carrying yellow tulips.
SUHO held both EXO and EXO-L in his heart throughout the performance. Introducing "Hurdle," he spoke about the obstacle of not being able to perform for two years. "I really wanted to meet EXO-L like jumping over a hurdle. The singer also asked the crowd to shout out EXO's motto, "Saranghaja" (Let's love), before introducing his single of the same name. As the song filled the venue, some EXO-Ls held up "Let's love" banners. Closing his set, he promised to return with his group members one day and expressed his excitement for the night's closing act, "My favorite girl group: Red Velvet."
Paint the Town Red Velvet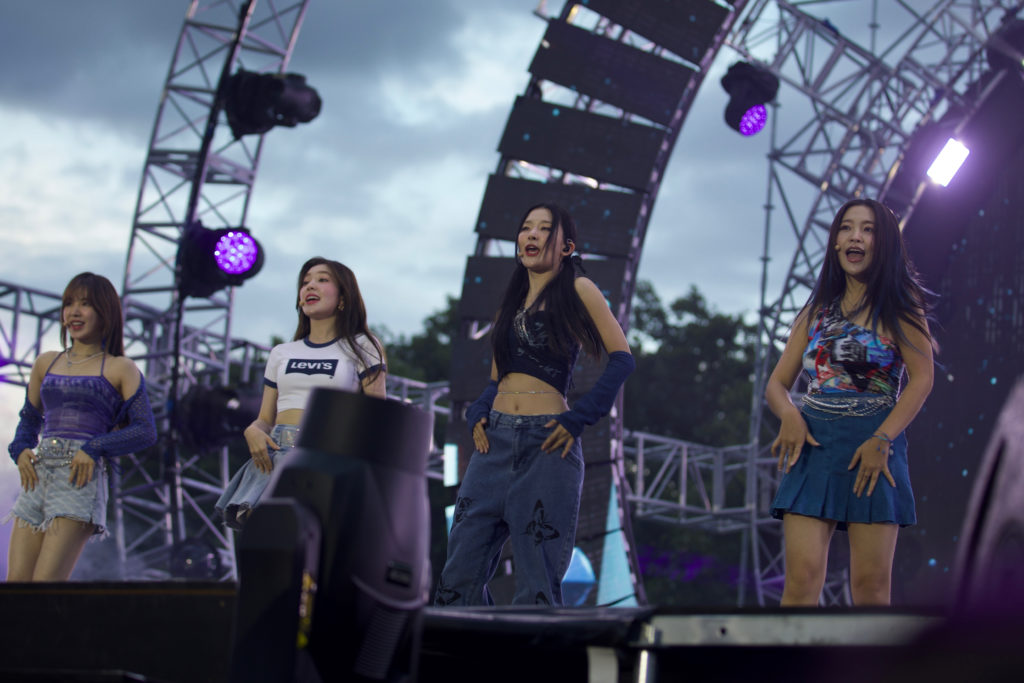 Closing the first day of the festival, Red Velvet members (sans Joy) got Londoners to feel their rhythm with their anticipated first UK performance. Red Velvet and UK Reveluvs had waited a long time to meet each other. "We always wanted to visit London, and we are happy to finally be here," they told the crowd before teaching the audience the signature move of "Feel My Rhythm."
Dressed in blue outfits, Red Velvet showed off their vocals and dance moves with classic tracks like "Psycho," "Bad Boy," and "Peek-A-Boo." With a rare performance of the "Bad Boy" English version, the group gave the crowd an exclusive treat. "It's our second time performing 'Bad Boy' in English, so you guys are very lucky," said Wendy.
The crowd also got to experience the first live performance of "BAMBOLEO" from Red Velvet's latest Korean album, The ReVe Festival 2022 – Feel My Rhythm. This was followed by other B-sides from across the group's career, including "Carpool" and "You Better Know." "Queens and Kings" sang along to the infectious self-love anthem, "Queendom," as Red Velvet reminded them to remain "strong and beautiful." Bringing the night to an end, Red Velvet promised to return, "One day we'll be back in London again to see you." Returning back to their early days, the group ended with a summer classic, performing the vibrant "Red Flavor"  from their album, The Red Summer. 
With first visits, first live renditions, and monumental returns to the UK, the first day of MIK Festival was a day to remember. Interested in more reviews of live music events? Check out EnVi's "Be You" review.