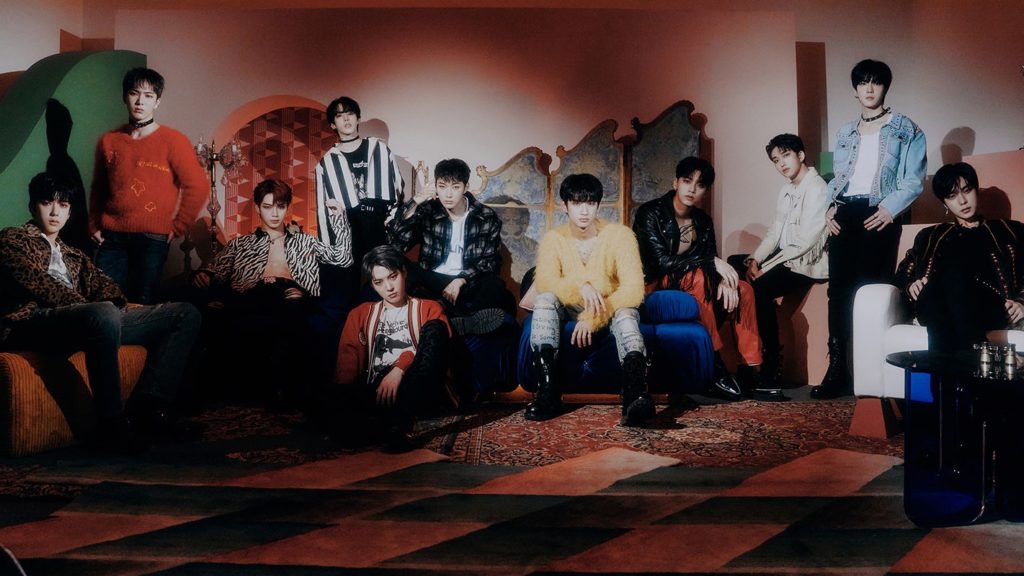 K-pop boy group OMEGA X welcomed the new year with a gift for fans: a five song mini album. On January 5, OMEGA X dropped their second EP, LOVE ME LIKE, leading with a single of the same name. A combination of familiar and unfamiliar genres, their mini album flaunts OMEGA X's versatility and maturity as artists.
"I believe this album really displays our diversity as a group. I hope to show a new charm and side of OMEGA X our fans have yet to see, particularly through our self-composed B-side tracks," JAEHAN shared in his press release. 
"LOVE ME LIKE" – The Main Event
OMEGA X opens their mini album with "LOVE LIKE ME." The track is a hard-hitting EDM style song with an intense horn sound and flirtatious flute sprinkled throughout. The instrumental flows so that each member can showcase sultry vocals and smooth raps. 
"LOVE LIKE ME" keeps listeners on their toes with intense drops and a slowed-down Latin-inspired guitar bridge, making it the perfect dance anthem. The intensity of the bass and electronic sounds in "LOVE LIKE ME" have a distinctly OMEGA X feel, making it the perfect successor of their previous leads, "VAMOS" and "WHAT'S GOIN' ON." However, different from its predecessors, "LOVE ME LIKE" takes on a more seductive yet sophisticated atmosphere.
To reflect the spicy theme of the song, the music video of "LOVE ME LIKE" is a minimalistic video that flaunts each member's visuals and accentuates their body lines as they dance.
Lights, Camera, Ready, ACTION!
Second is "ACTION." An action-packed sequel to "LOVE LIKE ME," this track has a similarly fierce atmosphere. "ACTION' showcases a more mature side of OMEGA X.
"ACTION" is memorable for its fute melody that seamlessly compliments the heavy EDM elements. Interestingly, the flute is a tool that helps build up the track for its drop at the chorus, which unexpectedly reveals another flute section that repeats as OMEGA X sings, "Lights, camera, ready, action."
"12.24" – A Song To Unwind To
First teased in their first fan meeting last year, "12.24" serves as the midpoint of the EP. The track slows down the pace of the album, lulling listeners in with a sweet almost music box-like melody.
Slow and sweet, the track has lyrics that are sentimental. In the chorus, they repeat, "I wanna know you're doing all right." The tender atmosphere eases listeners for the next track.
"LIAR" is Truthfully Heartfelt
Next, OMEGA X continue the emotional vibe with their vocally-centric acoustic song "LIAR." Treading on new territory, OMEGA X show some of their more raw vocals through this track. Members HANGYEOM and YECHAN participated in the composition of the track.
On "LIAR," YECHAN shared, "I pour my sincerity and heart into each and every song I write, and 'LIAR' is no different. It's an affectionate track for me, and I'm so happy and proud it's been included in this album. I hope FOR X finds our LOVE ME LIKE album relatable, and the album also brings us closer to our fans."
An Emotional Plead with "전화해요 (PLEASE)"
Last on the album is "전화해요 (PLEASE)," or "CALL ME (PLEASE)" in English. Similarly slow and nostalgic, the song is a breakup song co-written by HANGYEOM. To suit the title of the song, it starts with slow, static-y singing that makes you feel as though you are on a call.
The vocals become more clear as the instruments pile on. Among the sea of heartwrenching lyrics, "I miss your voice" stands out. Their desperation and emotion is conveyed through their lyricism and vocals.
Onto 2022 with OMEGA X
Tackling the many complicated feelings related to love, OMEGA X deliver an entirely new side of themselves with LOVE ME LIKE. Even so, the six month old group maintain their distinctly OMEGA X sound, reminding listeners that they are new but certainly not rookies. The eclectic lineup is filled with seasoned idols from various groups.
Each member of OMEGA X began their revamped musical journey in 2021. Their effort has been met with much love from fans. Last year, they were nominated for various rookie awards at prestigious shows, including The Seoul Music Awards and The Golden Disk Awards. With a strong start to their career, OMEGA X is establishing their own path in music. 2022 will certainly continue to be a year of growth for OMEGA X.

Want more music news? Read up on Woozi's mixtape here.
Thumbnail courtesy of Spire Entertainment.