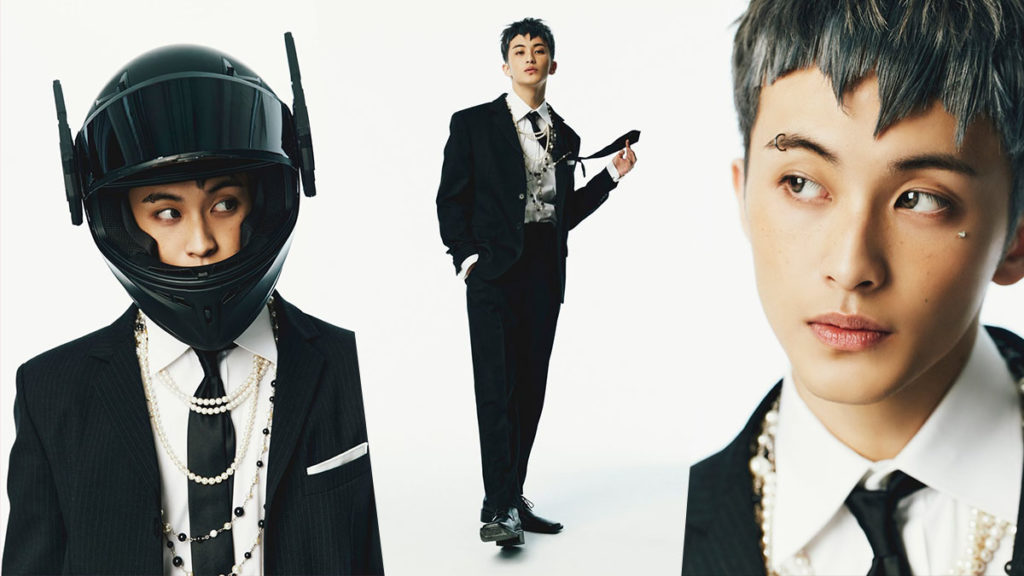 NCT DREAM's second full-length album, Glitch Mode, will be released March 28. After the success of 2021's Hot Sauce and Hello Future, the group is set to show off a new image in the upcoming era. The septet referred to this comeback as an upgraded NCT DREAM.
To celebrate, EnVi is reflecting back on each member's individual growth and evolution. With the comeback just around the corner, here are seven things you need to know about DREAM's leader, Mark Lee.
A Smooth Dancer
Mark's dance style is heavily influenced by hip-hop and breakdance. The choreography for many NCT tracks are mostly influenced by these genres, and that shines through his dance. Whether it's on stage or in a dance room, Mark finds balance between sharp and fluid movements to create perfect shapes with his body. He moves with precision and power, and his dance skills are one of his strongest points.
He has choreographed on freestyle dances such as his video dancing to "TINTS" by Anderson Paak and Kendrick Lamar which is a good example of his hip-hop influenced style. His dancing mixes the footwork characteristic of break dancing, adding groove and flavor to each of his moves.
Poet and Songwriter
Mark's self-written short poems shared through his social media showcase that he can pick up inspiration from the most mundane objects. His poem "Black Socks" gives an ordinary object a story, connecting it to an emotion. "A moment to think twice about what seemed unimportant. Black Socks have been making my day these days and I knew I had to return the favor by acknowledging them," it reads. The poem works as a moment of appreciation for the small things in daily life.
Mark's abilities as a writer are not only visible in the small poems. His participation in several NCT and SuperM tracks credited by Korean Music Copyright Association, KOMCA, exhibit his skills and creativity as a songwriter. For lyrics, his solo work on songs like "Talk About" for SuperM, "QTAH," a song that he worked on with bandmate Johnny, and his solo "Vibration" for NCT 127 concert "Neo City: THE LINK" are filled with confidence as he shows an irreverent vibe with his raps.
First NCT LAB: "CHILD"
"Child" is Mark's official solo debut and the first release under the NCT LAB project. The song, a self-composed track, tested Mark's versatility as an artist. Taking a considerable turn from his past work, "Child" showed a more vulnerable side of him with a more alternative style. The creativity behind the track also showed his perfectionism, nitpicking at every detail. In the behind the scenes video of the studio recording, he can be vocal producing himself on even the smallest details and adlibs. The alternative rock single displayed Mark's ability as a songwriter and musician to resonate with wider audiences.
As one of the main rappers of NCT, Mark surprised fans with the rock-influenced track. During his interview for NCT: MUSIC SPACE, Mark mentioned not being sure the song sounded like him. However, he took it upon himself to show that this is a genre he can master. With the intention of showcasing his voice, Mark took the listener on a journey of a troubled kid going through adolescence. It talked about periods of stress, loneliness, and rebellion that comes with life and wanting to be free of that.
The Eldest Brother
Debuting in 2016 at 17 years old, Mark took his role as the "oldest brother" and leader of NCT DREAM seriously. Although he's the younger brother in his family (and with NCT 127), Mark's nature as the oldest member shone through. He's made sure to encourage each member and hype up their skills with small actions and kind words. At 19, he was separated from the group due to their graduation system, but not being able to promote and perform with them didn't break the brotherly bond. With his return in 2021, Mark became a key piece on the DREAM puzzle. Fellow member, Renjun, commented in their 7llin' in the DREAM reality series, "he helps the seven of us to unite."
The Performer
If there is something that can be attributed to Mark, it is his stage presence and the ability to control and attract the audience's attention by just taking a step on stage. With seven years of experience and having debuted side-by-side with outstanding performers like SHINee's Taemin and EXO's Kai on SuperM, Mark doesn't fall short in the performance department. His stage presence demands attention.
The confidence that Mark exudes while performing is a key piece of his stage presence. Mark is aware of his audience and what said audience wants from him. This allows him to develop more as an artist while he is not scared of trying more than one style of performance. In addition to that, each stage he prepares is meant to leave a memorable impression on the eyes of NCTzens, and Mark has mastered that. As an artist he takes the lead on the planning of his solo stages, that way, he has more control over what he wants to convey to fans. Mark makes sure to bring something special to his performances, as a result, every stage leaves an impact on fans.
Fashion Chameleon
Fashion is just another way of expressing one self and for Mark, he is unique in the way he presents himself. Staying true to his aesthetic Mark experiments within his streetwear style mixing textures and following patterns of color, he knows what suits him and makes the most out of it.
When it comes to fashion, he keeps certain accessories to his day to day wear. Examples include the ring that he shares with DREAM members, his Jansport backpack, and a wallet his brother gifted him. Mark holds dear everyday items that add sentimental value to his usual styling.
Although his fashion style is more laid back and filled with more casual streetwear like hoodies, denim jackets and flannel shirts, Mark fitted right in with the luxury brand, Dior. After sporting the brand on the teaser pictures of NCT DREAM's repackaged album, Hello Future, Mark showcased his versatility as he joined Dior for their Summer 2022 collection.
Spider-Mark and Other Acting Activities
Mark has often been compared to Spider-Man. His personality resemblance to fellow Queens native, Peter Parker, and fast reflexes made fans want to see him become Spider-Mark. This wish came true in NCT 127 YouTube show, NCIT HOUSE. The request reached the MARK and with the improv help of members Johnny and Jaehyun, during the YouTube show. In the video skit, one plot point centered around student Mark, who gained powers from a radioactive spider-bite.
In the spirit of pleasing his fans, Mark even suited up for Halloween. Not his first dive into improvisation, back in 2020 he also worked with Johnny for the short-movie "Freaky Handshake." It is also worth mentioning his short drama for SuperM where he surprised with his natural characterization of a romantic businessman.
If there is someone to point to as a good representative of NCT, it's Mark. His talent and commitment make him a pillar in the ever-growing group. Known for his several debuts and collaborations, Mark has conquered each milestone through his hard work. Even though his first audition in SM Entertainment might have been accidental, Mark trained hard to become the artist he is today.

Want more on Mark? Read all about his solos and collaborations over the years, here!