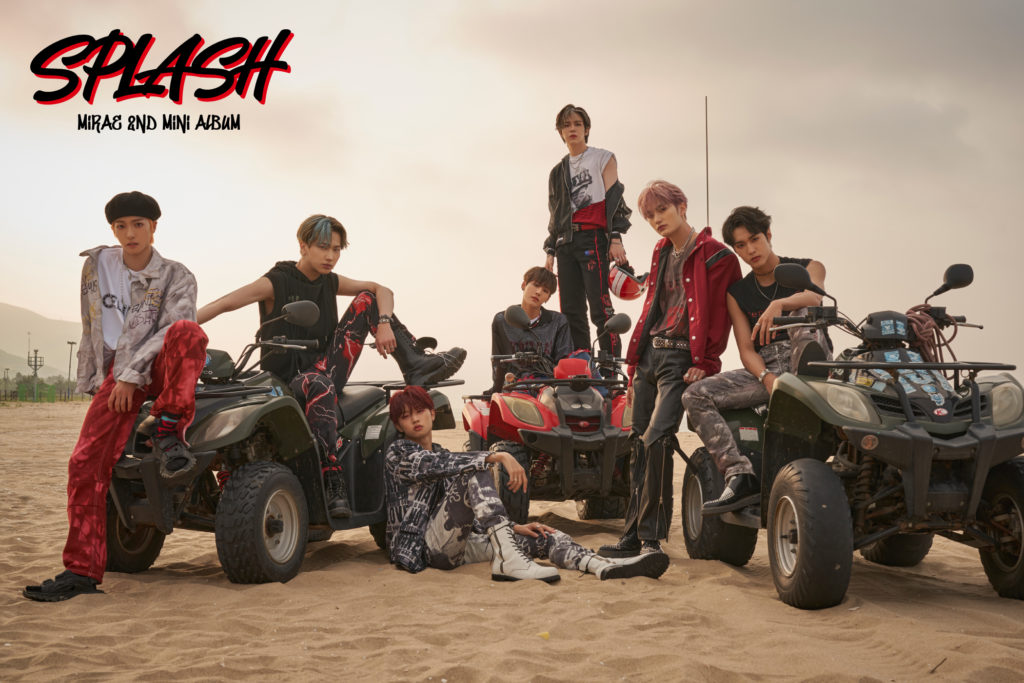 Debuting only five months ago, seven-piece group MIRAE delivers a bang-up first comeback in its second EP, Splash. According to their label, DSP Media, the album is split into two distinct parts. The "HOT" version expresses the members' wild and sexy sides, while the "COOL" version serves as more of a pure and refreshing take on the boys' performances. With six new tracks under their belt, how well do the rookies balance the contrasting sides?
미래소년 (MIRAE)
Splash – MIRAE 2nd Mini Album

CONCEPT PHOTO#미래소년 #MIRAE#MIRAE_Splash pic.twitter.com/pq3TuSNxKd

— 미래소년 (MIRAE) OFFICIAL (@official_MIRAE) August 19, 2021
Diving Down With A Splash
From first listen, the lead single, "Splash," unabashedly leans on the 'hot' side of the spectrum and packs quite the punch. Co-written by members Khael, Junhyuk, and KARD's BM, the track provides another blend of K-pop's favorite genres: hip-hop, trap, and R&B. While the vocal melodies are catchy and harmoniously pleasing, it's Khael and Junhyuk's rap sections that truly bring this number to life. Although, that dynamic dance break is a very close second.
In terms of the lyrical content, "Splash" contains the story of MIRAE welcoming this new era with excitement. Despite exploring uncharted territories of the sea, the members sing of persistence and promise to move forward without fear. In English, the word "mirae" means future, and it's clear the boys have a laser-focused determination to make their future count.
Heat Up and Cool Down With MIRAE
As epic as "Splash" is on its own, the real highlights lie in the B-sides of this EP. "Bang-Up" is a fiery follow-up to the title track in which the boys' wild side truly shows. With a myriad of ear-pumping EDM synths and collective shouting, "Bang-Up" could easily flaunt MIRAE's intense dance training with flare. Contrarily, "New Days" takes a turn into the cooler side of the group's strong persona. With a few breezy whistles and bouncy tempo, the boys paint the story of a new tomorrow with their fans. 
But, what makes this last half of the album so great, is that they're all worthy of a summer road trip playlist. Particularly, "Don't Stop" is an instant standout with the opening of an electric guitar and foot-tapping drum snares. Actually, it almost sounds like MIRAE's answer to NCT U's "Misfit" from 2020, and it absolutely delivers. This recent trend of incorporating more pop-rock elements has taken the K-pop scene by storm, in which fans are wholeheartedly embracing every moment.
If you like Misfit by NCT U, please listen to Don't Stop – Mirae, same Vibe but with additional vocals. https://t.co/5AUuHOmJxL

— juli ✨⁷⁷₁₂₇ (@yayayuchan) August 25, 2021
anyways, the beat of don't stop is so add!cting anyone can sing along with it even after hearing it once <333#SPLASH_MVisOUT #미래소년 #MIRAE @official_MIRAE @members_MIRAE

— mel. (@etherealsungbu) August 25, 2021
i think.. my fave bsides on mirae album is secret and don't stop- BUT A SOLID ALBUM AGH

— star? | 더보이즈 THRILL RIDE 5? | CIX WAVE? (@luvgyekyu) August 25, 2021
Lastly, "#Secret" and "SUGAR" exude the refreshing energy needed on a hot summer day. Both tracks are light, lovely, and contain the most beautiful melodies heard throughout this EP. Ending on a high note, MIRAE boasts the message of a fun love story, leaving the listener on a sugar high of happiness.
Future Boys Making Waves
With another solid EP stored away in their budding discography, MIRAE is already poised to exceed their debut records. As of today, Splash has surpassed the group's previous album, KILLA, becoming their new best-selling album at Hanteo. Additionally, MIRAE debuted at #7 on Billboard's 'Next Big Sound' chart, making them the first and only rookie group to enter this list.
As the seven members continue to make waves and exceed expectations, you can count on seeing much more of MIRAE in the future.
Check out the Splash – The 2nd Mini Album now on Spotify and Apple Music.
For more news on the latest comebacks, check out our article on CL's "Spicy" single here!
Thumbnail Courtesy of DSP Media.