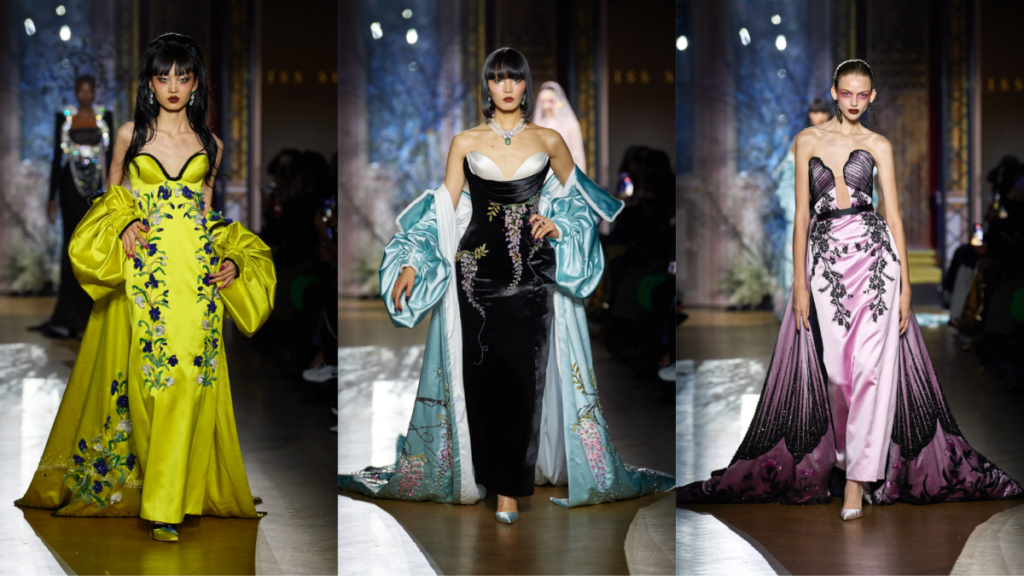 It's not easy to make a name as a designer in the fashion industry, let alone as a couturier. Yet the 2020 Central Saint Martins graduate, Miss Sohee, has become a trailblazer in her own right as the couturier of a new generation. This season, Miss Sohee made her debut in Paris Couture Week, showcasing her latest masterpieces.
About Miss Sohee
Korean-born Park Sohee, also known as Miss Sohee, has always been an imaginative dreamer. Her first love was illustration, where she found a form of escapism to express her fantasies and vision. As she seeks to take it a step further to turn her fantasies into realities, she starts looking into fashion. She began learning traditional techniques from YouTube and paying attention to her grandma's embroidery and beading skills. After getting a grasp of turning her 2D visions into physical creations, she then enrolled on the prestigious Central Saint Martins.
The Couturier of a New Generation
Once she completed her studies and debuted her graduate collection titled "The Girl in Full Bloom," Miss Sohee quickly captured the attention of the industry. Months later, her gowns made it to the cover of LOVE Magazine. A-listers like Miley Cyrus, Cardi B, Bella Hadid, Gemma Chan, and many more wore her creations. Recently, the couturier has dressed BLACKPINK's Jisoo for the music video of "Pink Venom" and Taylor Hill for the Met Gala. She also made a collaborative couture piece with the Victoria and Albert Museum.
Although Sohee is a fairly new name in the industry, her work is recognized for her unique choices of iridescent and reflective fabrics that make her pieces look surreal and animated. From the get-go, you can tell that the designer is a dreamer from how fantastical her creations are. With a love for intricate detailing and the courage to explore whimsical silhouettes, her pieces are always embodiments of flight of fancies.
The Debut Paris Collection
The show started with a stark black gown featuring a pair of Sohee's signature shell-shaped details, which is seemingly made of the same abaca tree fabric she has previously used. The show then progressed to reveal majestic pieces emblazoned in hues of lilac, fuchsias, and bright lime green. A head-turner from the first few looks was the shimmering black gown with a shell-shaped top. It was dripping in shimmer with intricate beading at the top of the neckline. The dress fell down to the floor in a piece of matching black velour fabric and had floral embroideries on its train.
After a parade of looks in purples and greens, shades of icy blues, sunny yellows, and baby pinks started to appear. The presentation brought in that sense of fantasy and whim that Sohee typically delivers. Sohee also brought a touch of drama to the presentation as veils and trains are a consistent element throughout her looks, giving a nod to classic glamour. A play in volume was also present, with models walking through with puffed sleeves and voluminous capes on their sleeves. Bustiers and corset-inspired elements were also seen throughout the collection as the models walked down in strong silhouettes that accentuated their figures perfectly. Despite referencing elements of glamour from the past, Sohee was able to reinterpret and reshape these forms to fit a contemporary context.
The Looks to Look Out For
One notable look from the show is the black hourglass gown from black velvet, layered with a baby blue coat with ruched detailing on the sleeves. Both the gown and the cape had matching floral details, making the overall look reminiscent of traditional Asian glamour. Another look that brought old-school chinoiserie nostalgia was the bright yellow gown with touches of black outlining its edges. A symmetrical set of dark sapphire flowers glided down the satin all the way to its train.
The collection was divine, to say the least, with Miss Sohee integrating fantasy, tradition, and modernity into her Paris Couture Week debut. A key point of the collection was Sohee's ability to choose fabrics that grant a sense of surrealism to her pieces when models were in motion. Sohee's strength also lies in her sensibility of adding the right amount of decorative details that enhance her pieces. Whether it's floral detailing that flows down the gowns, the linear embezzlement that add dimension to her fabrics, or glimmering touches of crystals and sequins, the couturier definitely knows the perfect way to add extra magic to her pieces. It's feminine, it's poised, and perfectly made for a woman of class of today's times.
What's Next for Miss Sohee
As the 26-year-old couturier successfully makes an ethereal debut in Couture Week, this solidifies that it is not just celebrities that acclaim her craftsmanship and vision, but also critics and insiders. Her love for tradition and culture, supported by her understanding of what a woman of the current time wants, is what continuously makes her collection appealing to fashion enthusiasts and It-Girls of the now. Above all, her undoubted technical skills and craftsmanship are what continuously awe her predecessors in the industry.
The hype for her Paris Couture Week debut is a clear indicator that Miss Sohee is a talent everyone is rooting for, and it seems like the collection has exceeded everyone's expectations. With so many accolades already under her belt, we can only anticipate that this young couturier is going to be a go-to dresser for powerhouses across the globe. We can't wait to see what other wonders Miss Sohee has up her sleeve.
Want to read more about the latest runway reviews? Click here to read about WOOYOUNGMI's Hwarang-inspired collection.