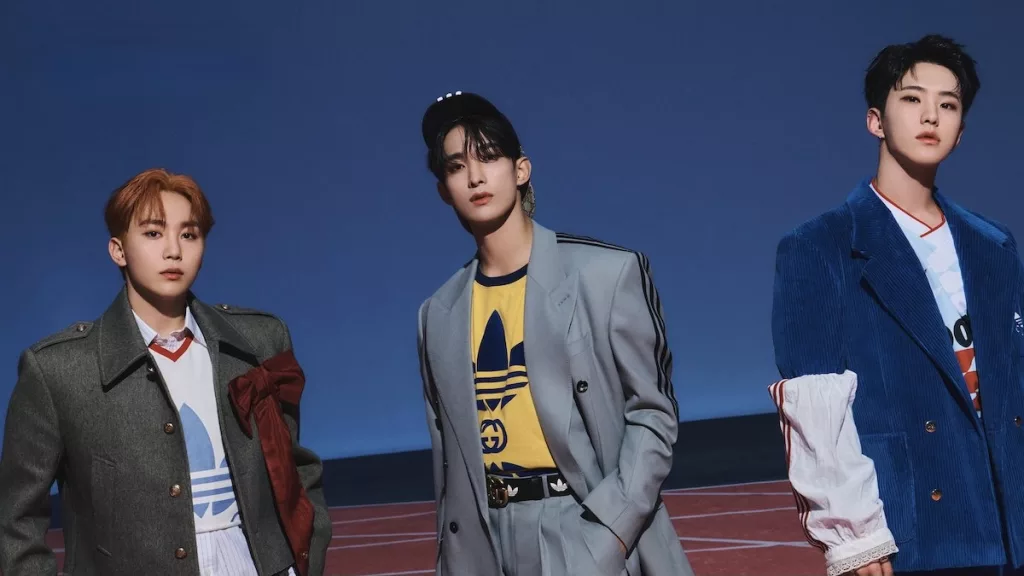 At last! SEVENTEEN's BSS subunit is back with their newest album, Second Wind. BSS, an acronym for BooSeokSoon, is a subunit consisting of (Boo) Seungkwan, DK (Seokmin), and Hoshi (Soonyoung). 2022 was a major year for the group, with their albums Face the Sun and Sector 17 taking over the charts on top of their massive world tour, "Be The Sun." Not just as a group, SEVENTEEN's members have explored new sides to themselves with unit tracks like their leader line's "Cheers," as well as solo ventures like Jun's "Limbo" and Vernon's "Black Eye." To set the tone for 2023, the group's fun-filled subunit made a comeback on 6 February after 5 years.
Long-Awaited Return
BSS was originally formed back when SEVENTEEN were just trainees. The trio would perform comedy skits and covers in live streams, but was only formally introduced to the world in 2018. The unit debuted with the funky pop-rock track "Just Do It." While promoting their first single, BSS made it clear that they weren't taking themselves so seriously with their skit-like dance practice video and music stage adlibs. Their signature comedic quality keeps Carats (their fans) on their toes for what's next up their sleeves.
Going for the Wind
The highly anticipated comeback was announced with refreshing concept photos that mainly feature the trio as they prepare to run on the track. In their individual concept photos, each member showed off his quirky side. The trio posed with objects people would often slip on such as marbles, legos, and banana peels. In contrast, another set shows them dynamically running on a track.
This sporty concept symbolizes the meaning behind the phrase "second wind," which is defined as a renewed energy or strength to continue running after feeling worn out. The use of objects that often cause slip-and-fall accidents and running tracks encourages listeners to keep moving forward despite facing obstacles along the way. Overall, the group continues to spread an uplifting message of encouragement in a fun lighthearted manner.
Of course, it wouldn't be BSS without a bit of comedy. The trio recently released a sitcom-style miniseries titled "Going BSS," which was inspired by their group's iconic variety show, "Going SEVENTEEN" as a part of their comeback promotions. The two-part video tells the story behind their comeback preparations in a comical way, ranging from the trio presenting pitches for potential comeback concepts to drama-filled feuds taking place in their practice rooms.
BSS Are Here To Sing for You
For the long-awaited comeback, the group returned with the upbeat retro pop-rock track "Fighting." It's energetic, it's fun, and it's an earworm — just what you'd expect from BSS. The track starts on a relatable foot with opening lyrics that mention the common struggles a working adult faces (skipping breakfast for extra minutes of sleep, feeling like you're behind all your friends after looking through their stories, questioning why life still feels like a struggle, to name a few.) "Just like the way stocks go up and down, feels like you know life but you don't know, it's crummy," Hoshi sings in the bridge, continuing BSS' concept of recognizing the struggles of adulting.
Despite the struggles we all face day-to-day, the group emphasizes that they'll be rooting for listeners through our earphones. "We're your BooSeokSoon! On a day like any other day, you hear this song start to play, we'll be there to sing it for you," the trio sings proudly in the chorus, emphasizing how the unit aims to be the moodbooster you need throughout your gloomy days.
In the music video, the members are catalysts of fun as they remain carefree and smiley in situations where everyone else in the room is in distress. One set shows a room full of corporate workers monitoring stocks, another a dormitory being evacuated, and yet another a tense, crowded coffee shop. The dance, just like the song, is fun and witty – definitely a choreo fans would love to dance along to. As the trio dances and parties through the different sets, they spread the message that it's possible to remain optimistic and cheerful even in the most stressful of scenarios.
Visually, the video is a sight for sore eyes, as BSS take nostalgic cues from the 70s with a funky saturated color palette and mixture of streetwear with formalwear. The same palette and concept can be seen throughout the entire promotional material, as the distinguishable visual tone is implemented and adapted onto their album design all the way to the innovative highlight reel. This cohesiveness and distinctiveness in creative direction is also a notable part of what makes this comeback one to remember.
Funky Familiar Faces
To add to the hype, BSS invited a few friends to help make this comeback extra special. In their title track, the trio invites the one and only, Lee Youngji to fill in a verse. This collaboration marks a full circle moment for the rapper, since Youngji herself admitted to being a carat since her middle school days. Prior to this collaboration, the rapper-on-the-rise released a cover of Lizzo's "Juice" with Seungkwan and invited Hoshi to guest on her YouTube talk show.
Also featured on the album is Peder Elias, a rising singer-songwriter from Norway. During his trip to Korea in 2022, the musician graced the stage of Slow Life Slow Live and Love in Seoul where he wowed the Korean crowd for the first time. He also made a stop at HYBE, where he teamed up with producer Bumzu and Woozi to create his track with BSS, "7pm." The track was written to comfort and cheer fans up after a long day of daily activities, with BSS' cheerful energy melding together with Peder's smooth and sweet vocals.
Aside from the two features, the B-side "Lunch" is worth noting. A retro pop track filled with heavy synths and techno beats, "Lunch" is reminiscent of old-school techno pop music. The song is written with the concept of an alternate universe where the group are delivering lunch for Carats and finding them no matter what universe they are in. "Lunch" is a sweet love song that's perfect company for any time of day.
What's Next?
With the highly-awaited comeback being a phenomenal hit, 2023 is off to an amazing start for BSS and SEVENTEEN. The other members have recently been seen globetrotting to fashion shows and events, marking a new chapter for the 8-year-old group as they start to conquer the fashion industry. Although there's no official news of any group comebacks yet, SEVENTEEN continue to tease fans about how they have plenty of surprises up their sleeve.
Interested in more SEVENTEEN content? Read about Vernon's pop-punk mixtape "Black Eye" here!