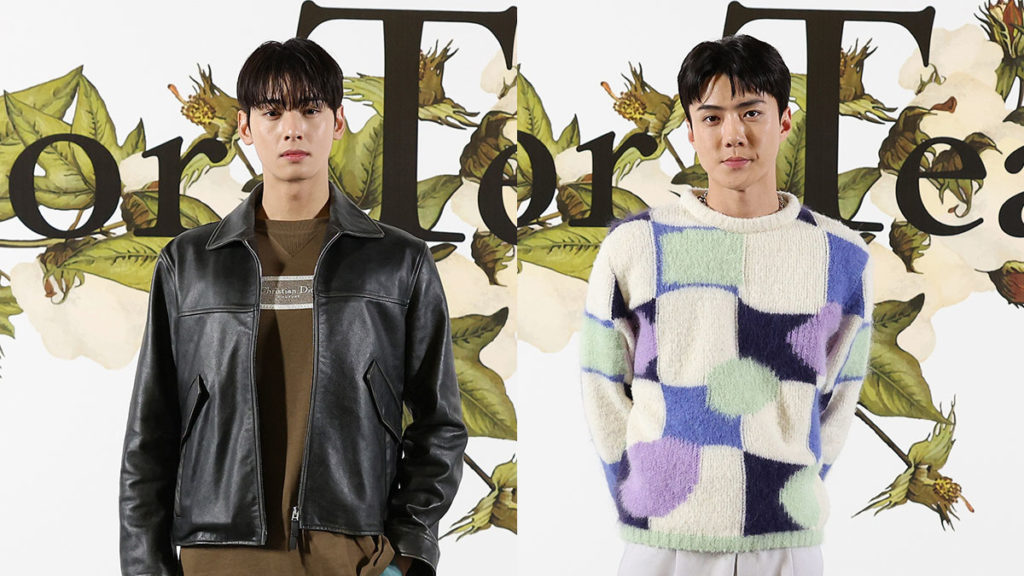 Luxury brand Dior presented its Fall 2023 Menswear show on December 3. Titled "Guided By The Stars" Creative Director Kim Jones' latest effort celebrated the "lifelong passion for travel." The unprecedented event took place in the presence of high-fashion elites with the Pyramids of Giza as the backdrop. As is Dior's tradition, the unveiling reunited some of fashion's resident cool kids, including Gossip Girl star Thomas Doherty, and K-pop icons — and Dior brand ambassadors — Sehun and Cha Eunwoo. 
Guided By The Stars 
Showstopping and historic. Those are the words that best describe Dior Men's Fall 2023 runway in Egypt. Before becoming a designer, Dior Men's Artistic Director, Kim Jones spent his childhood in countries like Ecuador, Tanzania, and Ethiopia with his hydrogeologist father. It is perhaps this chapter of his life that has instilled in Jones a passion for traveling and merging cultures — a passion that was at its most evident in Dior's latest collection.
Titled "Guided By The Stars," the show also paid tribute to an essential element of Dior's history: the star. "The star was and is part of Dior lore — for both the man and the brand. It was Mr. Dior's tripping over his 'lucky star' — a literal object found on the Rue du Faubourg Saint-Honoré — that convinced him his destiny was to start his own haute couture house, a house frequently guided by his belief in astrology," the brand explained.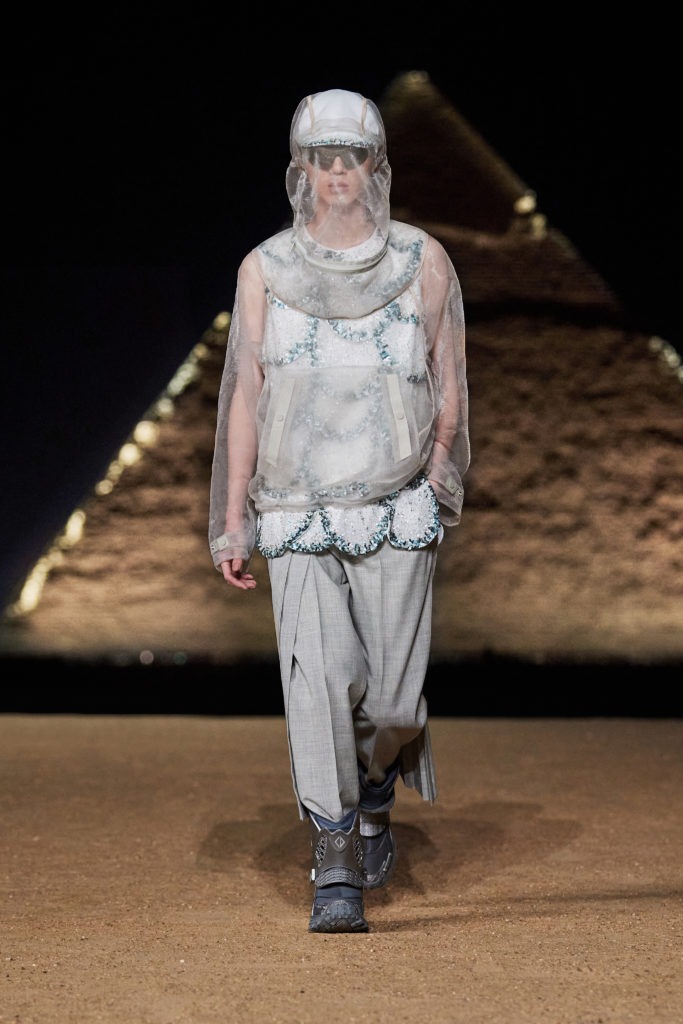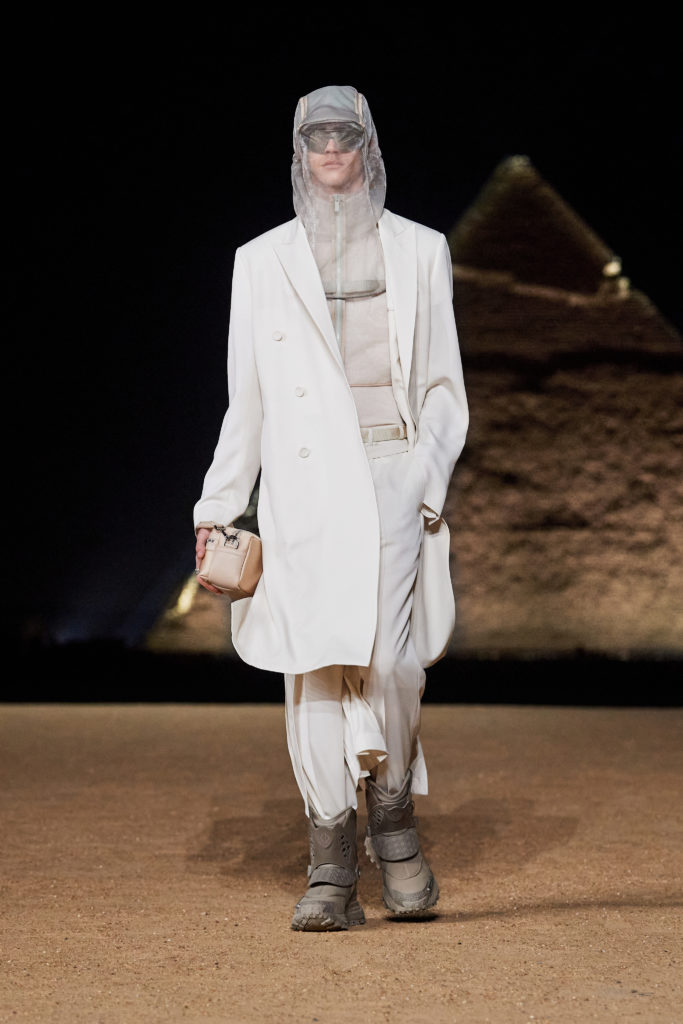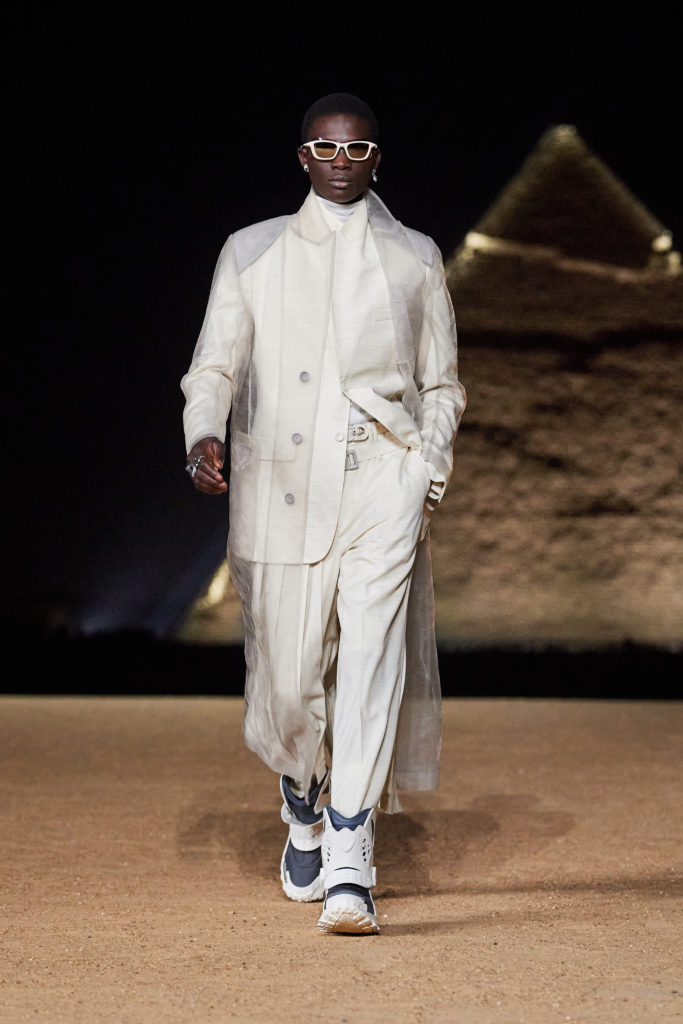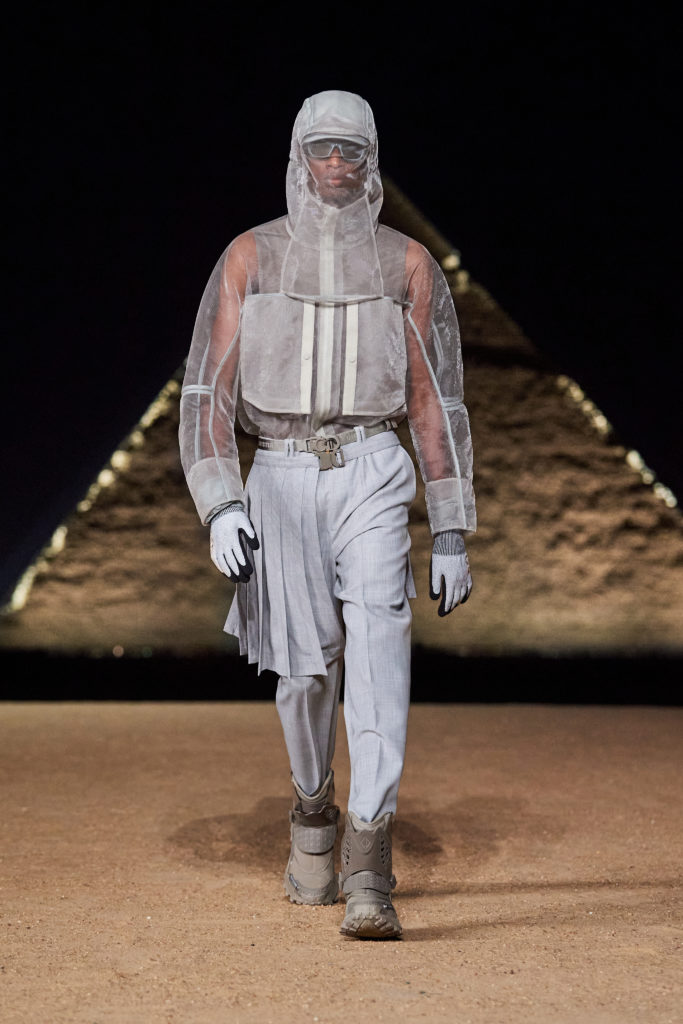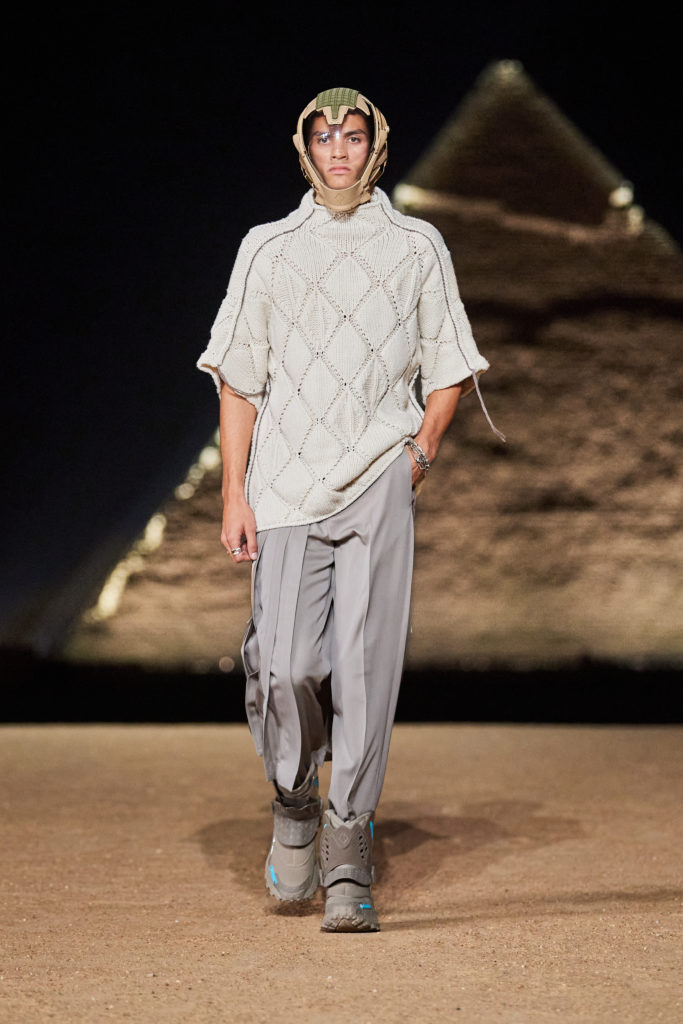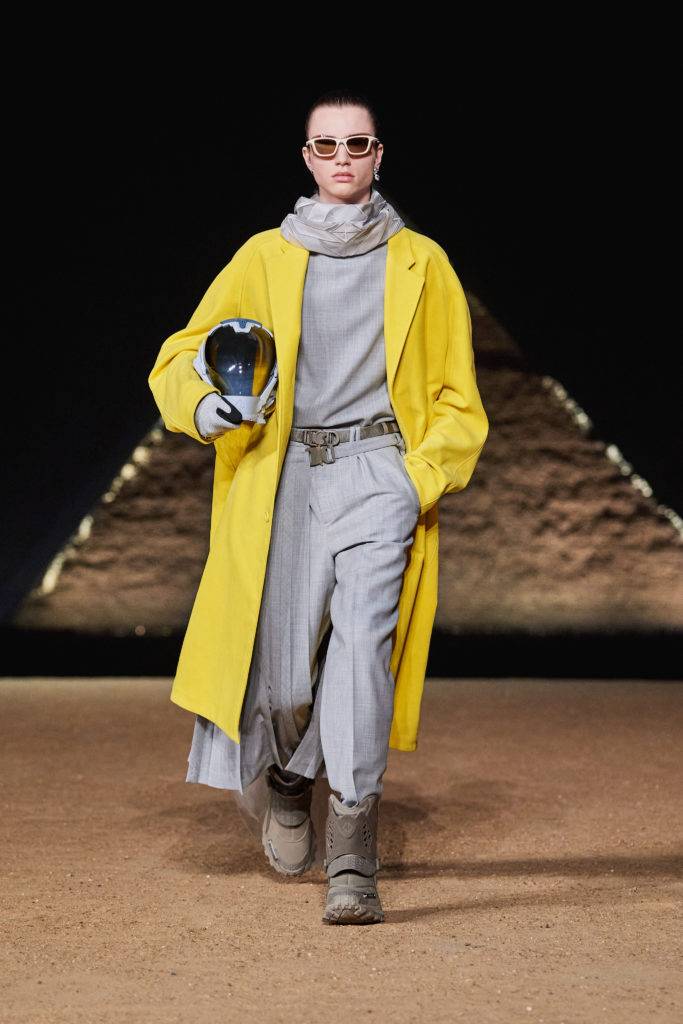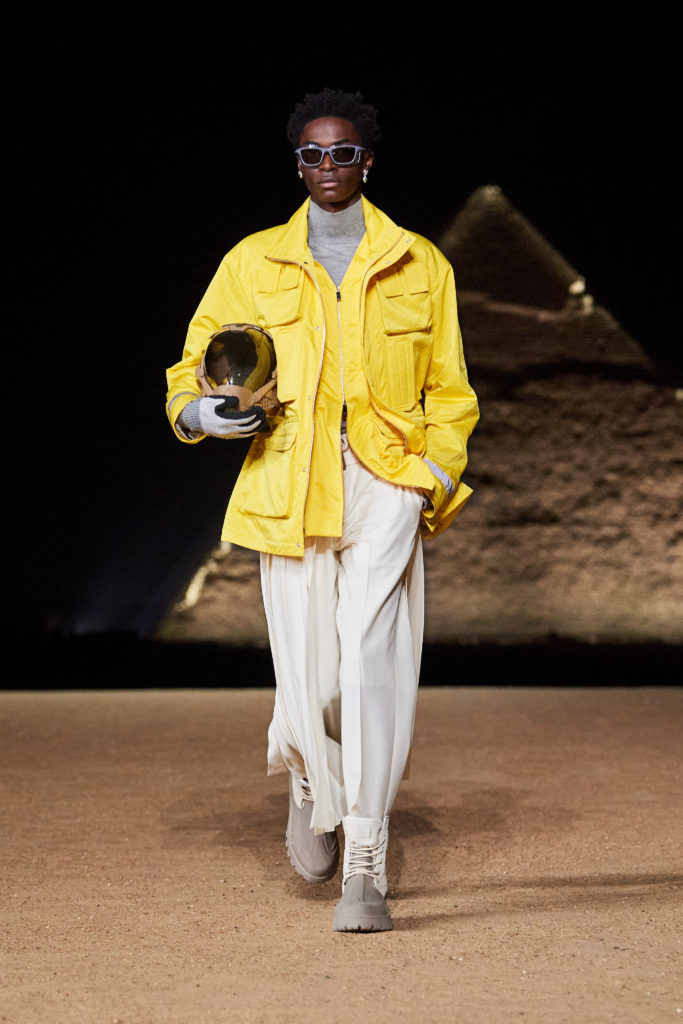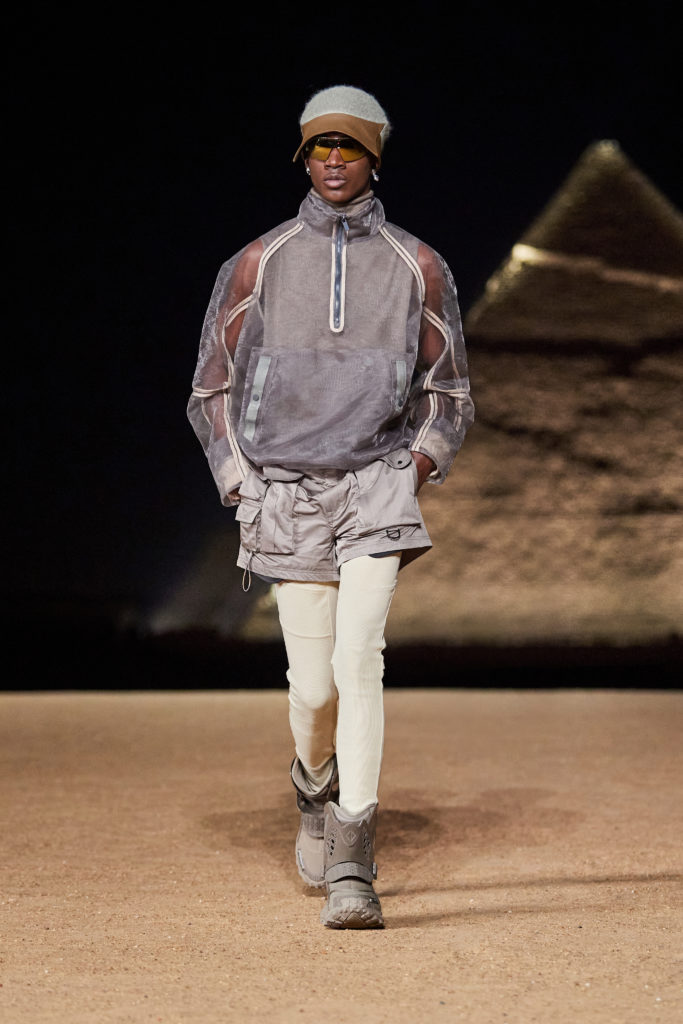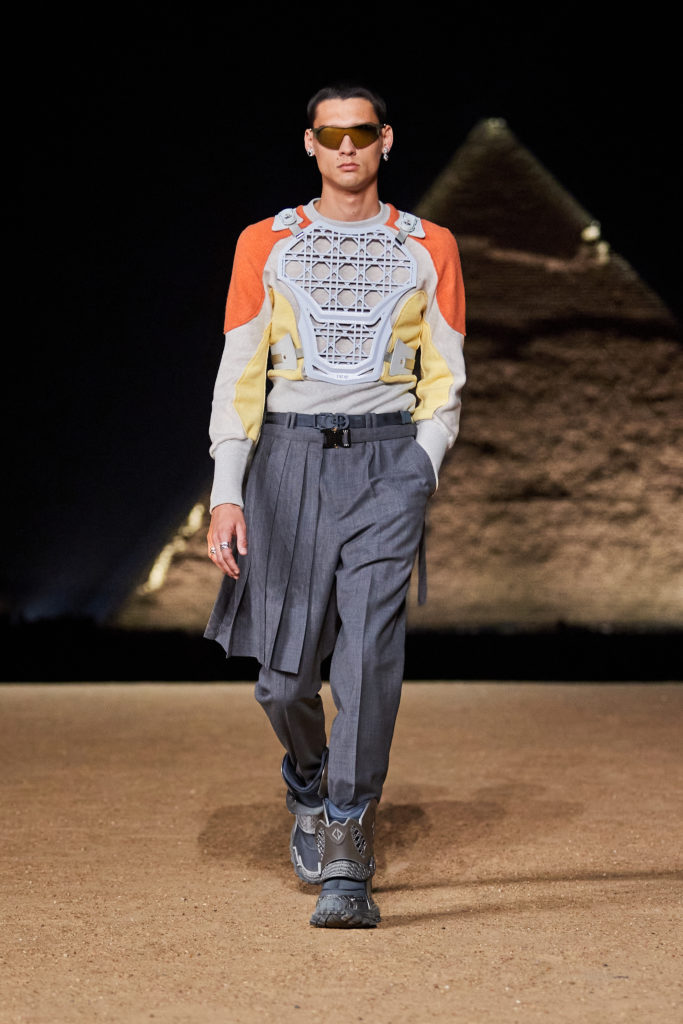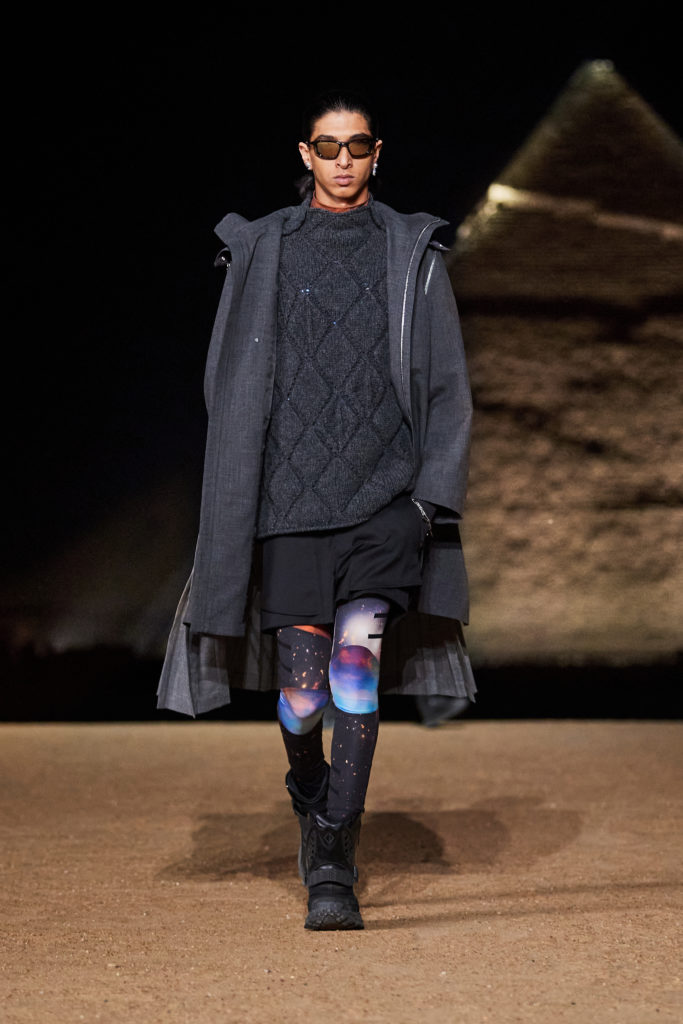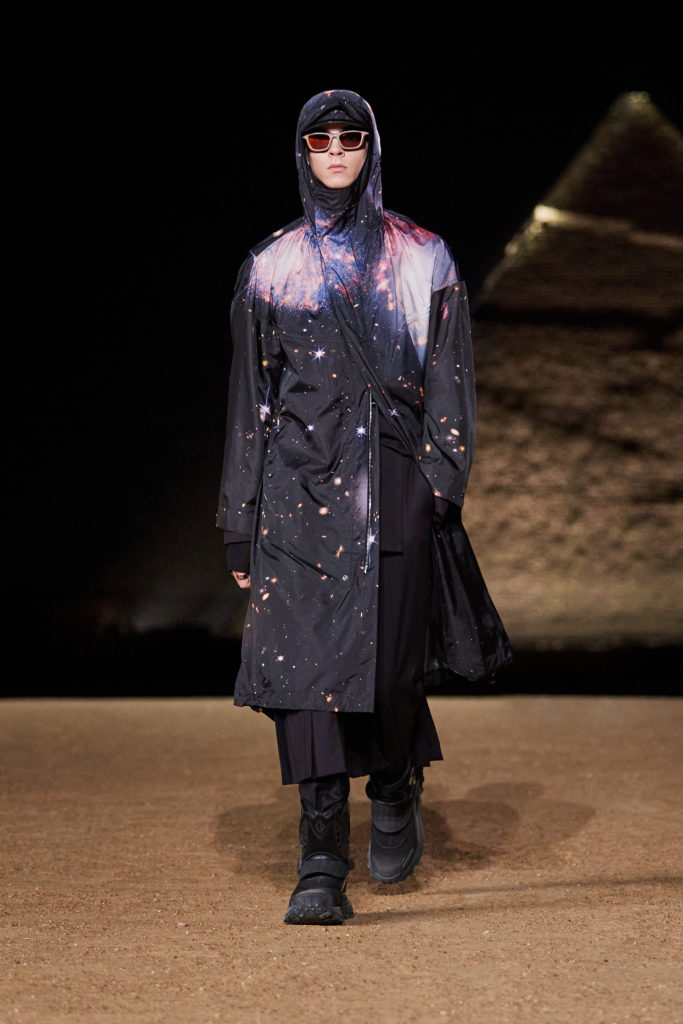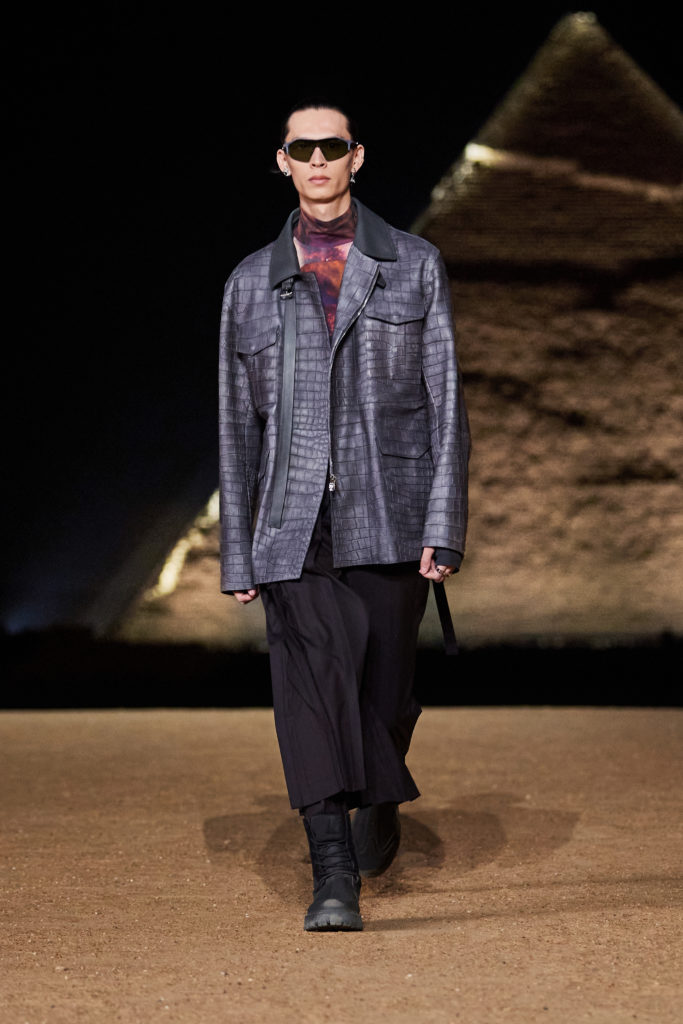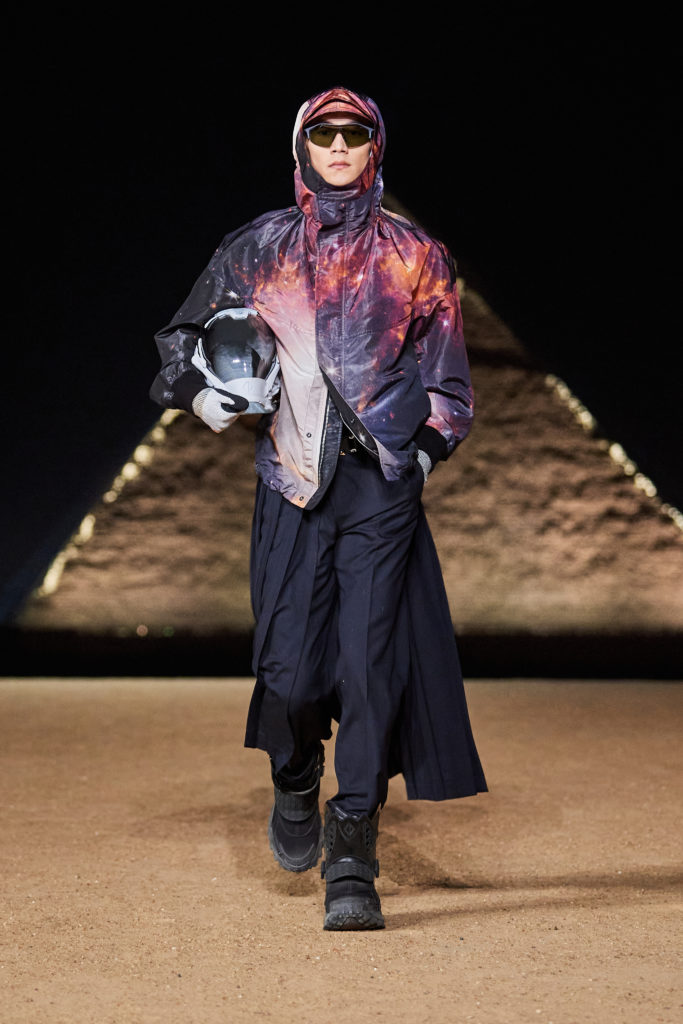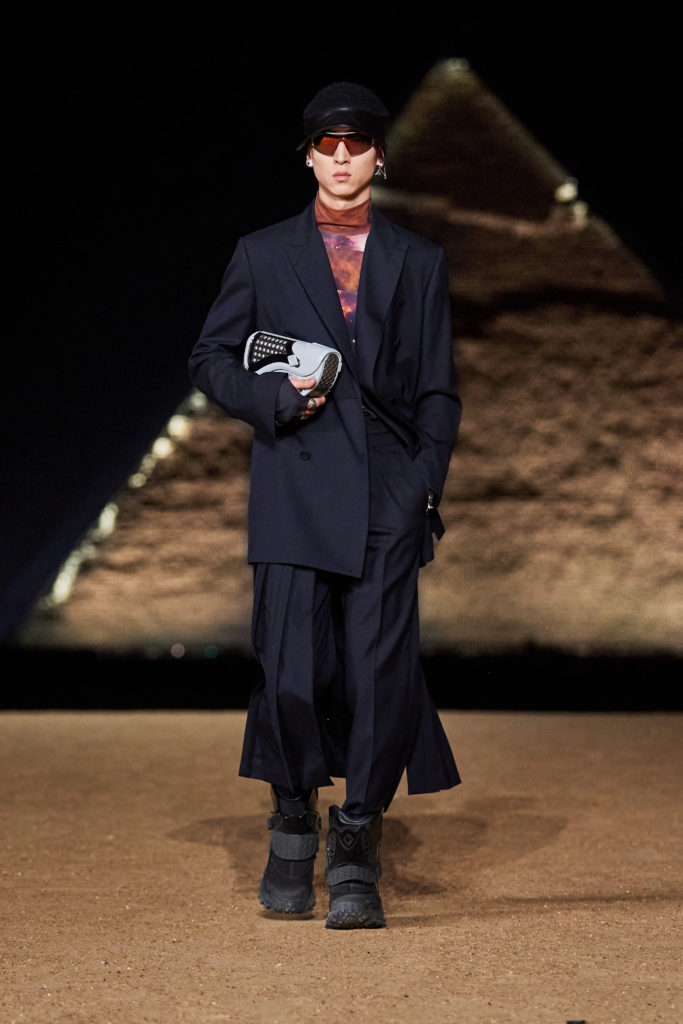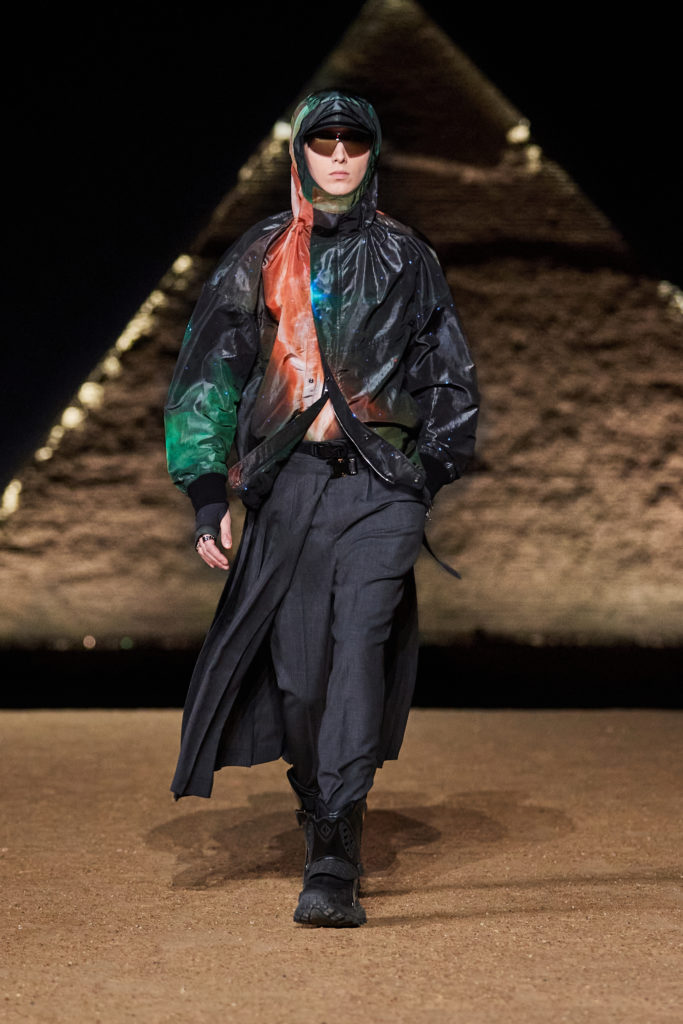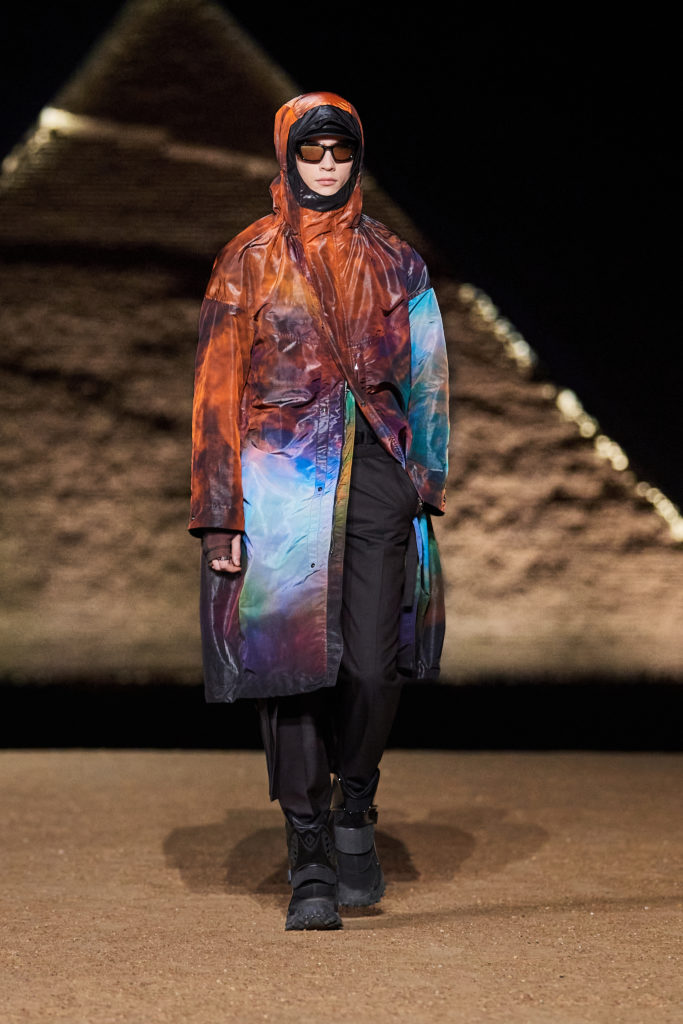 Photos courtesy of Dior
The collection also wrapped up a chapter that started with Dior Men's Fall Winter 2022 collection, "La Conversation" — where Jones engaged in an imaginary creative dialogue with the late Christian Dior — and continued with the Summer 2023 Men's show. "It is a culmination of this year's shows that began at dawn in winter on the Pont Alexandre III, traveled via Granville and Charleston during a balmy summer's day, to be in Egypt this evening at the great pyramid, where an idea of the future from the past emerges. here, Kim Jones, the Artistic Director of Dior Men, presents his autumn collection, part of the continuum of past, present, and future at Dior — with very much the future in mind," read the collection notes.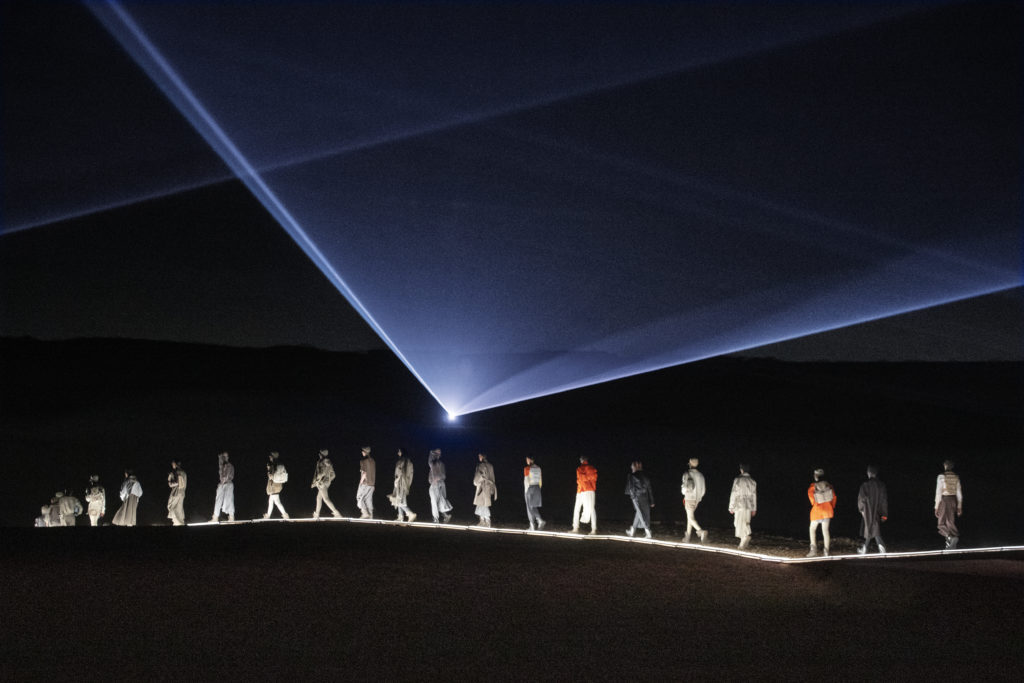 In addition to the show's location, hints at the globetrotting experience were present throughout the show. From the techwear-heavy looks that opened up the show to footwear and accessories, Dior played with the idea of creating an elevated wardrobe for an adventurer, a traveler. Mixing functionality and couture, the outfits included pieces such as hoods, rainjackets, and hiking boots reimagined as high-fashion items.
Unlike previous seasons, the color palette favored neutrals: white, gray, black, and brown with minimal pops of yellow, and orange — colors associated with the desert. Kim Jones also toyed with the juxtaposition of fabrics, fluidity, and practicality.
Dior Tears
Dior Men's Creative Director, Kim Jones has accustomed fashion lovers to successful collaboration after successful collaboration. Ahead of the big show at the Giza Pyramids, on December 2 Dior also revealed a capsule collection titled "Dior Tears," in collaboration with the African-American sportswear brand Denim Tears. Guest-designed by Denim Tear's founder Tremaine Emory, the capsule celebrated Dior's inventiveness in its creative dialogues with contemporary tastemakers.
The capsule collection was also conceived as an homage to Black jazz artists such as Miles Davis and James Baldwin, who found success in the European scene despite facing racial segregation in the United States. "It wasn't perfect but it was just a moment, a beautiful moment for Blacks to have the privilege and opportunity to escape from the terror, the horrors of America, a segregated Jim Crow America," Emory told WWD in a statement.
During his tenure at Louis Vuitton, Kim Jones had already collaborated with Tremaine Emory — who is best known for leading the streetwear cult brand Supreme. The conversation between both brands landed at the intersection of contemporary fashion and the craftsmanship of legacy fashion houses.
The Power of K-pop
In recent seasons, the fashion industry has tapped into the power of Asian celebrities, turning them into front-row fixtures. In sync with the trend — and perhaps pioneering it — Dior's shows have seen K-pop stars absolutely stealing the spotlight. From Dior's global ambassadors Jisoo and Sehun to the newly appointed Dior Beauty ambassador Cha Eunwoo, Korean stars have made their attendance at fashion shows an event on its own. The tradition continued at the unveiling of Dior Men's Fall 2023 collection.
Dior's Dearest, Sehun
Flaunting his long-time association with LVMH — Dior's parent conglomerate — and designer Kim Jones, Dior's Dearest, Sehun finally made his physical debut on the front row of a Dior show. For the occasion, the superstar favored elegance and donned a classic gray suit with a Dior Oblique turtleneck underneath. The star topped the look with a chic must-have accessory for men in recent seasons — a pearl necklace.
The day prior, Sehun attended the presentation of "Dior Tears" at the Grand Egyptian Museum in Cairo. The EXO member wore a multicolored sweater from Dior's Spring 2023 collection — a collaboration with ERL — and ivory trousers, paired with B27 gray sneakers. The ensemble made for a casual, understated look that made online waves. Sehun was also spotted visiting the Giza Pyramids with ERL's designer Eli Russell Linnetz — who didn't miss on the chance to snap a picture with the pop star.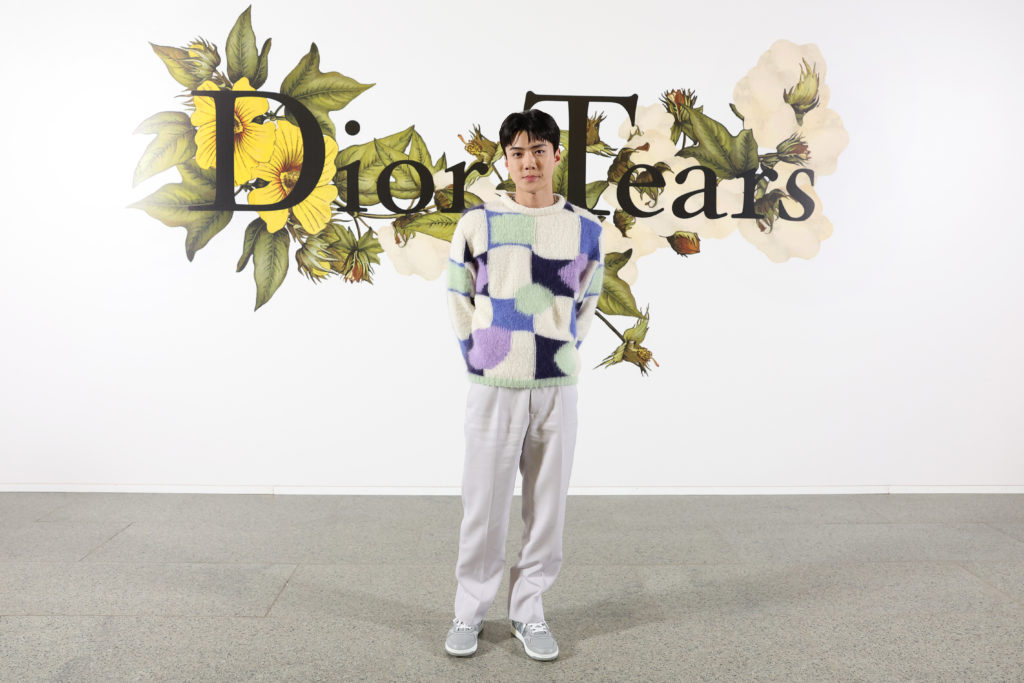 Although Sehun's trip to Cairo marks his first time attending a Dior collection unveiling in person, he has made digital appearances at previous shows — totally dominating the online conversation. For instance, according to the influencer marketing platform Lefty, during Spring-Summer 2023 Men's Fashion Week, Sehun landed among the top three influencers of Paris Fashion Week. Although he couldn't grace the front row in the flesh, a sole Instagram post of his invitation to Dior's show generated $3.1 million of Earned Media Value (EMV).
Similarly, during Menswear Spring Summer 2022, Sehun landed the second spot of top celebrity placements during Paris Fashion Week. According to information from the software and data company Launchmetrics, a single post from Sehun's Instagram account tallied $1.43 million in Media Impact Value™ (MIV®).
Dior's Beauty Ambassador, Cha Eunwoo
As the most recent addition to Dior's VIP ranks, actor and K-pop star Cha Eunwoo also traveled to Egypt to support Kim Jones' latest creative effort. The popular celebrity has been making big moves in the world of fashion and beauty and recently landed an ambassadorship for Dior Beauty. Since the appointment, Cha Eunwoo has graced several Dior events in his home country and joined the brand's Spring Summer 2023 women's fashion show in Paris.
As per Lefty, Cha Eunwoo's first stint at Paris Fashion Week landed him a spot among the top influencers of the Spring Summer 2023 season, alongside the likes of BLACKPINK's Jisoo, Rosé and Jennie, Kylie Jenner, and Bella Hadid.
No stranger to Dior's front row, Cha Eunwoo also graced Dior's fashion shows in Egypt. On December 2, the star joined other VIP guests at the Grand Egyptian Museum for the preview of the "Dior Tears" capsule collection. Eunwoo wore a look from Dior's Spring 2023 collection consisting of a leather jacket, turquoise pants, and a brown T-shirt.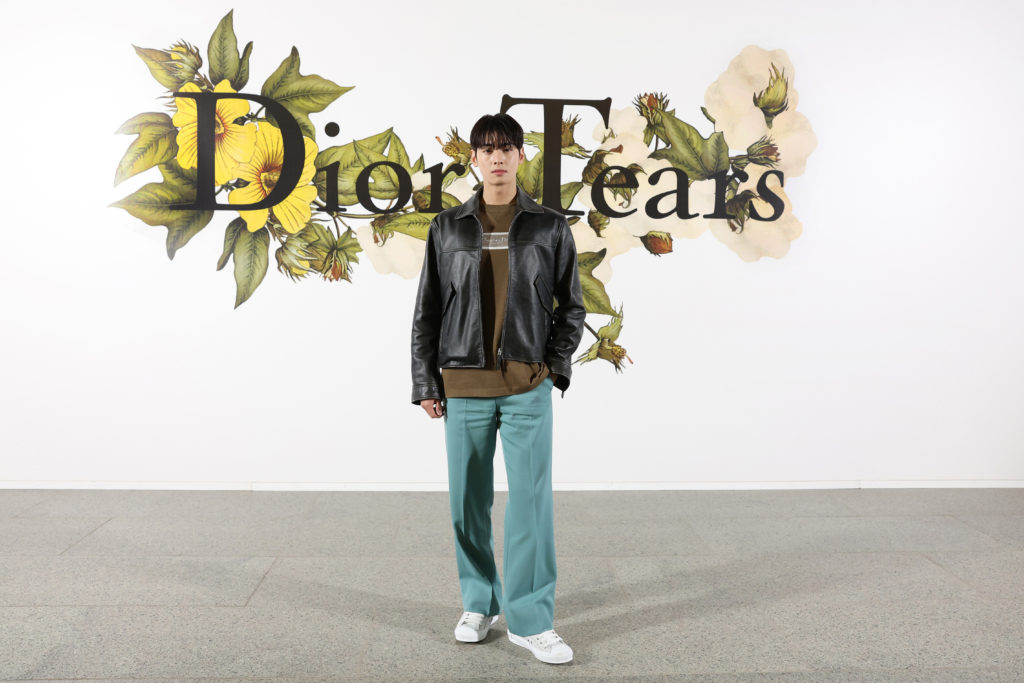 Meanwhile, for the main event at the Giza Pyramids, the Korean idol went for a sartorial statement. The 25-year-old attracted attention dressed in a look from Dior's collaboration with ERL that included a lurex sweater, wasted denim pants, and the iconic Saddle bag, reimagined by Eli Russell Linnetz with a chunky gold chain.
Dior Around the World
Dior's Fall 2023 show in the Egyptian landmark follows the brand's shows in Seville, Los Angeles, and Seoul. Last year, the French fashion house took their Men's Spring 2023 collection to Venice Beach (Los Angeles) to critic's acclaim. Then, the brand headed abroad to present their women's Fall and Cruise shows in Seoul and Seville, respectively. Now, the luxury brand continues its tour around the world with a spectacular stop in Egypt that has left many anticipating Dior's next destinations.
Enjoy reading about Dior? Recap the brand's Way To South Koreans' Hearts here.