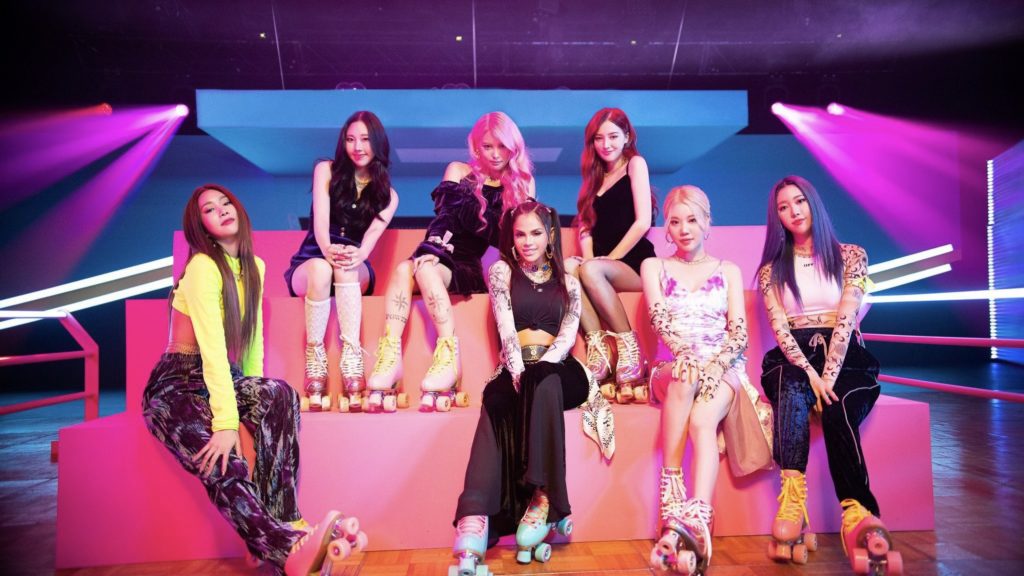 K-pop is welcoming 2022 with a "BAAM" with the announcement of MOMOLAND's impending comeback. Set to drop in January, the group's upcoming album contains a collaboration with none other than the Latin superstar, Natti Natasha.
MOMOLAND X Natti
After announcing a forthcoming music release, the Korean girl group MOMOLAND recently revealed that a huge crossover is on the way. Featuring one of the frontrunners of Latin music, Natti Natasha, the track will be unveiled on January 14th. According to the group's representatives, Natti Natasha participated in the entire album production process, "including the sound source and music video."
Titled "Yummy Yummy Love," the collaboration will follow not only MOMOLAND's 2021 release "Wrap Me In Plastic," but also Natti Natasha's successful list of collaborations. Just to name a few, the Dominican singer and songwriter has teamed up with Ozuna for the 2017 hit "Criminal," and Becky G for "Sin Pijama" and "Ram Pam Pam."
Meanwhile, MOMOLAND is recognized for going viral with singles like "BBoom BBoom" and "BAAM." Their catchy tunes and irresistible choreographies have turned the six-member act into a beloved group for K-pop fans.
Fans Can't Wait
Considering Natti Natasha's strong following—the star has amassed nearly 14 billion views across videos on YouTube—and MOMOLAND's international popularity, fans quickly took to social media to share their thoughts on the collaboration. Although the team-up is not entirely unexpected as MOMOLAND was previously spotted at a party in Miami with the Latin singer, the announcement of the two acts joining forces has sent fans into a celebratory mood.
A Genre Crossover To Look Forward To
Latin American and Korean artists across genres are taking over the world with their music. With this rise in popularity, global music crossovers are becoming increasingly common. Last year, the French-Algerian hitmaker, DJ Snake tapped Ozuna, Megan Thee Stallion, and the Thai trailblazer Lisa Manoban for a collaboration that set the internet ablaze. Needless to say, expectations are high for MOMOLAND's collaborative track with Natti Natasha.

As we wait for this exciting music release, check out EnVi's exclusive interview with the girls of MOMOLAND here.