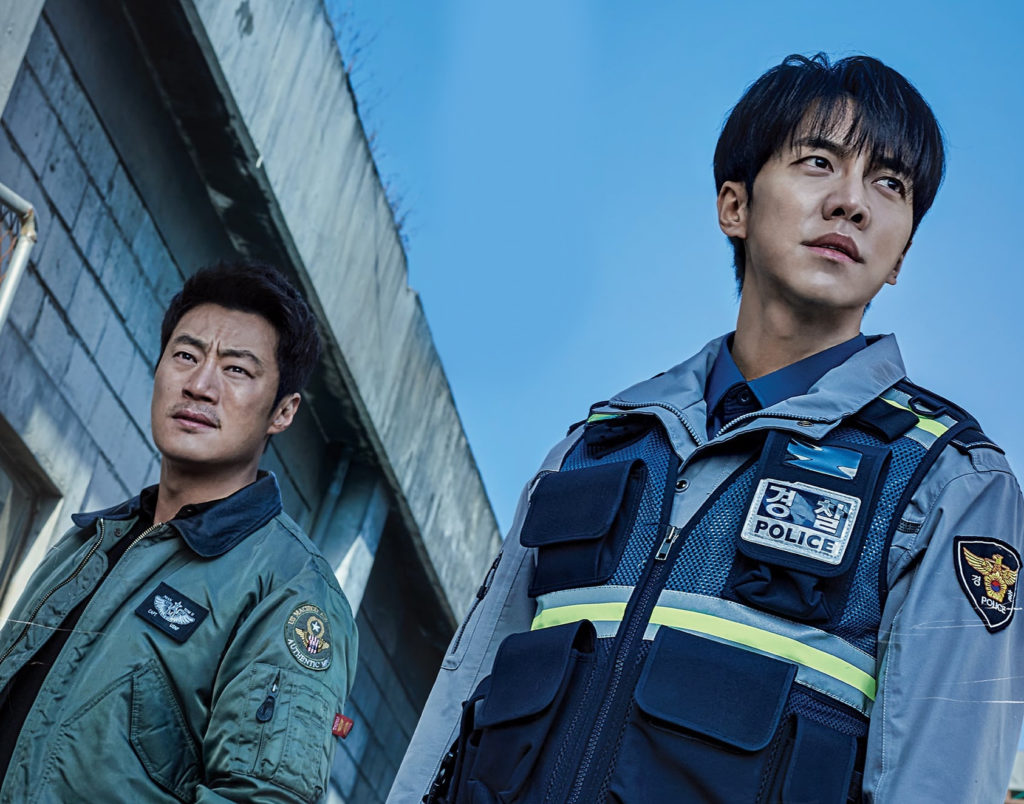 Warning: this coverage of Mouse and its screening at Series Mania 2021 includes spoilers for the drama.
Since the first episode aired on March 3, tvN's Mouse had been the talk of the town. With its unusual pilot episode and dark plot, the drama had viewers hooked from the get-go. 
Announced through Twitter on July 1,  Mouse was invited to screen at the Series Mania Festival 2021. The drama solidified its place in the "International Panorama" category at Series Mania 2021. It was the only K-drama amongst the 15 nominations in the category. 
On est en manque de voyages, alors direction le #PanoramaInternational#seriesmania #seriesmania2021 pic.twitter.com/hDNLXPOVLK

— SERIES MANIA (@FestSeriesMania) July 1, 2021
[ H-1 ] ⚠🕑
Mouse – Thriller – Crime | Corée du sud | 2021
PANORAMA INTERNATIONALE
Première française
Rendez-vous à l'@UGCcinemas ciné cité de #Lille et gratuitement en ligne sur https://t.co/MeIeTNq29H pic.twitter.com/uKUxsUdxNV

— SERIES MANIA (@FestSeriesMania) August 29, 2021
A Festival Celebrating Television
First held in 2011, Series Mania is the biggest annual festival in Europe solely dedicated to television series. This year, the festival took place in the city of Lille, France. Due to the pandemic, the 2020 event was online. In 2021, the festival returns with a physical event, running from August 26 to September 2, instead of the usual scheduling in March. Keeping up with the current times, the festival launched a digital platform called "Series Mania Digital." It established a 24-hour catch-up period so the festival could reach a wider audience. The physical and virtual audience experienced the live screenings of the nominated TV series from more than 20 countries and ranging in genres. 
Fifteen shows were nominated for the category "International Panorama," including Mouse. It is the third K-drama nominated in said category, following OCN's The Guest in 2019 and tvN's The Cursed in 2020.
Mouse: The Psycho-Gene
Written by Choi Ran and directed by Choi Joon Bae and Kang Cheol Woo, Mouse is a sci-fi, psychological thriller series starring actors Lee Seung Gi and Lee Hee Joon. 
The K-drama centers around a question: "what if psychopaths could be identified in advance?" The story toys around the concept of the presence of a "Psychopath-Gene" that builds an interesting connection between psychopathy and serial killers. Said gene can be detected through a genetic test while the child is in the mother's womb. Bearers of this gene have a 99% tendency to be a psychopath and a 1% off-chance to be a genius. While not all psychopaths are criminals, in this drama, many criminals, serial killers, and predators were said to have this "Psycho-Gene." 
The lead character, Jung Ba Reum (Lee Seung Gi), is a justice-seeking, rookie police officer known to be kind and caring. However, circumstances pair him up with Ko Moo Chi (Lee Hee Joon), a brash, lawless detective with a deep-running hatred towards psychopathic criminals. Together, they hunt for a psychopathic serial killer on the loose.
Behind The Script
Writer Choi Ran, known for her works Iljimae, God's Gift: 14 Days, and Black, took the stage on August 29 for an interview along with the screening of the first two episodes of Mouse at Series Mania 2021.
View this post on Instagram
While speaking with the interviewer and audience, Choi Ran explained how she made documentaries before writing for TV shows and even took criminology lessons. That experience taught her about crimes and psychopaths. She isn't much into dark genres—although one might think so, judging by the storylines of Mouse and Black. Choi Ran shared how writing the camper van scene, especially, gave her nightmares. "I've never been a fanatic of serial killers or murder as a genre, but I thought psychopaths were natural-born. […] I researched further and realized it wasn't so." Her research planted the seeds of the story's base: the "Psycho-Gene."
When discussing the show's casting, she shared how she wrote the characters without considering any actors. Only after Choi completed the script did she have a few actors in mind. Lee Seung Gi has always been Choi's first choice for the lead role, and she was surprised and grateful that he accepted immediately. Lee Seung Gi then wanted Lee Hee Joon to play Ko Moo Chi, and thus, things began to fall into place.
View this post on Instagram
View this post on Instagram
A New Side To Lee Seung Gi
Lee Seung Gi has garnered many nicknames throughout his career. To name a few: "Triple Threat," "Ballad Prince," and "Nation's Little Brother," which, with time, then turned to "Nation's UmChinAh," or "mother's friend's brilliant son." It's evident what kind of image he has maintained for the past 17 years. Such a role like Jung Ba Reum shocked fans and viewers as it was so different from his friendly image and the roles he has played in the past.
View this post on Instagram
On August 29, Choi Ran told the French audience that one of the reasons why she wanted Lee Seung Gi to star as Jung Ba Reum was because of the angelic aura he has always had. Mouse allowed him to show a darker side to his acting. 
As expected, Lee Seung Gi did a phenomenal job expressing his character's good and bad sides. The way he portrayed the changes Jung Ba Reum was facing was an impressive sight. Fans, as well as publications, couldn't help but sing praises.
#LeeSeungGi #Mousehttps://t.co/NjmJfqIpxQ pic.twitter.com/s8WlF70bHT

— B (@bAnd_LSG) September 2, 2021
Lee Seung-gi just KILLED the role of a lifetime in #Mouse. I came into the series spoiled, but I still can't get over how great his performance is in the series. The series wouldn't have been as excellent if he didn't anchor the series with such brilliant acting. I mean, wow. pic.twitter.com/bN4GwKGB3L

— Michael David Sy (@mdsynic) August 26, 2021
one of the reasons why mouse is popular, amazinggg acting skills periodt #Mouse #LeeSeungGi pic.twitter.com/ejiwZlWh7m

— iris (@seunggibae) August 31, 2021
Lee Seung gi's acting is the reason Mouse managed to deliver and keep viewers attention. 👏👏 He's an incredible actor. https://t.co/D6kkVnMKPI pic.twitter.com/jmgzACXsn9

— Just ۰۪۫A۪۫۰۰۪۫M۪۫۰۰۪۫E۰۰۪۫L۪۫۰ (@AirenSG) August 29, 2021
"No doubt that he is really a good actor and deserves more recognition and praises in the industry." 👏👏👏#LeeSeungGi https://t.co/564cllYA70 pic.twitter.com/AWwHrf85Dt

— Li ♡ (@lsg__87) August 27, 2021
During a Q&A session, Lee Seung Gi expressed his thanks for all the good reviews he has received for his acting in Mouse. Furthermore, he shared his plans to take some time off to recuperate physically and mentally. "As I did serious and heavy works, I also thought that I wanted to do a sweet romantic comedy, but nothing has been decided yet," he said. "I'm trying to find a drama that can reach out to many people and create an interesting story. Also, I want to take some time to review what kind of story the character wants to share."
Worth A Watch?
Mouse is a psychological thriller in every sense, with a very intricate storyline. Viewers of the show on Twitter took the hashtag #MouseTheory to share their theories and discussions as they keep up with the episodes. 
I know someone who is usually good at making deductions and findling the culprit in dramas because it really is his favorite genre.

So he is so confindent in catching the culprit in #Mouse
After 9 episodes, I asked again what his #MouseTheory is and he said he gives up. 😂

— Airen_Dani (@_AirenD) April 1, 2021
me whenever i thought of a mouse theory but cant link shit together pic.twitter.com/2iqOFxuyKE

— ai (@1301sg) April 11, 2021
In all this the most fishy character for me is Doctor Lee🤣 He has too many secrets, he made up his own death, hides in a basement, arranges things outside and plays with BaReum's mind and conscience. I bet he has some kind of personal gain. #Mouse #MouseEp13 #마우스 #MouseTheory

— Fedora (@HeySiriStop) April 16, 2021
i need another drama like mouse so bad where everyone is making theories and betting on which characters will die and then celebrating when the theories come true as well as cry like world is ending–

— ##KYLE (@kdr_kyle) August 26, 2021
Mouse is a unique K-drama. It's dark, gritty, and barely focuses on a romantic plotline. If you are a fan of psychological thrillers or appreciate a clever screenplay and stellar acting, it is definitely worth watching. Despite its flaws, Mouse can keep you at the edge of your seat throughout the entire series. 
Un spectateur a par ailleurs dit à la scénariste qu'il a été impressionné par la qualité d'écriture de ces 2 premiers épisodes.#Mouse #LeeSeungGi #ChoiRan pic.twitter.com/RWqzhZz1X6

— StellarSisters (@StellarSisters) August 30, 2021
#Mouse is like dining in the dark. You dnt know what to expect Bt it excites your every sense. A masterpiece that serves astounding talent in every level. To know is to love. Watch #마우스 and your drama life will never be the same#LeeSeungGi https://t.co/9aPIDrY2sa

— B (@bAnd_LSG) August 30, 2021
The amount of research for the drama, the truth represented behind it bringing forth awareness of horrid crimes & Choi Ran's dedication is once again making me respect her in higher heights 🤧 #Mouse #SeriesMania https://t.co/0RMcPaC5y0

— R. (@seunggiway) August 30, 2021
oh boy A FREAKING MASTERPIECE, one of the best series I've watched this year. it's so clever, intriguing, mind-blowing and incredibly well-written and acted. you should watch it if you love psychological thrillers and detective stories. also the ost lives in my head rent free https://t.co/vKfXoe8MDp

— kiara 🦋 (@msbluetardis) August 31, 2021
I'm sad that Mouse didn't win any awards at séries mania😢. 2 ep is not enough to appreciate this masterpiece.
But I had the greatest experience to watch it on big screen 😊#Mouse from small to big screen:#LeeSeungGi #마우스 pic.twitter.com/MraMqGDdOT

— Vi (@Yelendyle) September 2, 2021
You can watch Mouse on Viki.
Looking for more ACT!ON content? Check out our breakdown of Shang-Chi and the Legend of the Ten Rings: The Album.
Thumbnail courtesy of tvN.