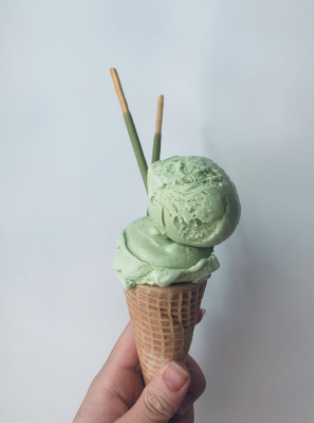 @azaxdeh
NEO GREEN SMOOTHIE
Behind the Dish: I shared this recipe on my IGTV and a fellow NCTzen commented "Neo Green Smoothie" so since then the name has stuck! The color is very NCT so I like it.
Tips:
I add 1-2 teaspoons of chia seeds for a boost of Omega-3 fatty acids and the same amount of goji berries for antioxidants. I also like to add in a scoop of collagen powder—so good for your skin!
Editor's Comment:
Composed of various fruits and vegetables, this drink provides vital nutrients such as Vitamin A. It's a neo healthy, yet yummy, energy drink! Milk, fruits, and vegetables can easily be exchanged with others to fit your diet.
Ingredients:
1 bunch of spinach
4-5 chunks of pineapple
1 small banana
½ cup almond milk, approximately
2 tsp chia seeds (optional)
2 tsp goji berries (optional)
1 tbsp collagen powder (optional)
Instructions:
In a blender, combine all the ingredients.
Blend everything till smooth. Serve and enjoy!
@_diorhyuck
BUBU ARROZ
Behind the Dish:
Every time I cook I listen to NCT's music, it puts me in a happier mood and they inspire me to always do my best. I recommend listening to Kick It while cooking. It's a hype mood!
Ingredients:
1 tbsp olive oil
1/3 cup country ham or bacon, diced (optional)
1/3 cup sofrito
3 cups water or low sodium chicken broth
1 packet sazón con achiote y cilantro
1 cube chicken bouillon
2 tbsp tomato paste
1 teaspoon dried Italian seasoning
1/4 cup fresh cilantro, chopped (optional)
2-3 bay leaves
2 tbsp pimento-stuffed olives (optional)
15 ounce can Pigeon Peas/Gandules, drained and rinsed
2 cups parboiled rice
Instructions
Heat a Dutch oven or pot on medium heat.
Add olive oil, bacon/ham (optional), and sofrito into the pot. Stir constantly until fragrant and tender, but not browned, about 4 minutes.
Next, add in the packet of sazón con achiote y cilantro, tomato paste, and chicken bouillon into the same pot. Stir to combine.
In the same pot, add in the drained pigeon peas, Italian seasoning, bay leaves, and water/chicken broth. Add the cilantro and/or olives, if using.
Allow the liquid mixture to come to a boil, taste for salt, and adjust as needed.
After the mixture comes to a boil, add the rice. Stir and distribute evenly.
Cover the pot and allow the rice to absorb the liquid. Once all of the visible liquid is absorbed, stir the rice, and cover it again. Lower the heat to low and allow it to steam for 20-25 minutes.
When all of the liquid is absorbed, the rice should be fluffy and delicious! Enjoy!
@touchmeafter
NCITEA CHILLIN'
Behind the Dish:
Homemade ice cream is the best. Creamy, sweet, smooth. Flavored with matcha and vanilla, I genuinely think this is one of the best treats! Whenever in need of energy, I often seek out ice cream or watch NCT MVs. This is a thank you to them, for being there as a source of energy and happiness.
Ingredients:
2 cups heavy cream (cold)
14 oz sweetened condensed milk (cold)
½ tsp vanilla extract
2 tbsp matcha powder
⅛ tsp salt
Green food coloring (optional)
Pocky, waffle cones (optional)
Instructions:
Place a freezable tray/container for the ice cream in the freezer.
On high speed using a stand mixer or hand mixer, whip the heavy cream until stiff peaks form.
In a separate, small bowl, whisk together the condensed milk, matcha powder, vanilla extract, and salt until homogenous.
Slowly pour the condensed milk mixture into the whipped cream while mixing at low speed.
Increase the speed of the machine until the mixture is thick and stiff.
If desired, add the green food coloring and fold it in with a silicone spatula till the mixture is even.
Transfer the ice cream mixture into the container that was in the freezer. Freeze the entire mixture for at least 8 hours.
Scoop and serve into a bowl, cone, or anything you'd like! Add toppings and enjoy!
@koalabear127
"SEXY LIPS" CHICKEN & RICE
Behind the Dish:
I love watching the members cook using a variety of different ingredients so I wanted to include new things into the rice. I am also a fan of food that has a little heat to it, so I wanted to incorporate some ingredients to give it some kick as well. I didn't come up with the name until after eating it. I remember during Ten and Lucas's interview when they were explaining that they like spicy food because it makes their lips look sexier. Haha
Ingredients:
A cup of white rice
Chicken breast
Garlic salt (can be substituted with garlic powder)
Basil
Oregano
Seasoned salt
A quarter of a cup of mushrooms
Half of a bell pepper
Black pepper
Green onion
Instructions
Preheat the oven to 350 degrees (F)
Put a small pot on to boil the chopped bell peppers, green onions, and the mushrooms
Once the rice is measured, pour it into the pot with the vegetables and let boil for 5-7 minutes
While the rice is slightly cooking, season the chicken with black pepper and garlic salt
Pour the rice and vegetables into a pan and place the chicken on top of the rice. For better cooking consistency, push the chicken down until it touches the bottom of the pan and move the rice around as necessary
Continue seasoning the contents of the pan with basil, oregano, and seasoning salt
Place pan into the oven and cook for 20 minutes
After 20 minutes, turn the chicken over so that it can cook evenly and then continue cooking for 15-20 minutes
Once finished, add your choice of toppings to perfect the dish and enjoy!
@jaehyuniepot
VCT (VIET CULTURE TREAT) WAFFLES
Behind the Dish:
Pandan Coconut Waffles (Bánh Kẹp Lá Dứa) are a traditional Vietnamese treat but it certainly reminds me of NCT when I'm eating it! The chewy center fills me with warmth the way NCT 127 does when they're performing Once Again. I'm reminded of the hot summers in my childhood I spent in Vietnam from the lyrics:
"오랫동안 기억 되기를
Again and again and again
너와 함께 once again
Ha ha ha
이 여름을 once again"
making me wish I could go back and eat street food like this again and again 😉 There's no need to add anything extra as the sweet waffles can be eaten as is. Not to mention the bright green color that comes from the Pandan leaves extract is reminiscent of the classic NeoCity green.
Ingredients:
2 cups All-Purpose Flour
¾ cup Tapioca Starch
14 oz (1 can) Coconut Cream
¾ cup Whole Milk
2 Eggs
1 cup Sugar
½ teaspoon Sea Salt
2 teaspoon Baking powder
¼-½ teaspoon Pandan flavoring extract
Equipment:
Mesh Colander
Waffle Maker
Instructions:
In a mixing bowl beat the 2 eggs then add 1 cup sugar, 1 can (14 oz) of coconut cream and ½ teaspoon sea salt
In a separate bowl sift 2 cups of all-purpose flour, ¾ cup of tapioca starch and 2 teaspoons of baking powder thoroughly
Whisk the wet ingredients well (If using a stand mixer, mix for 15 seconds)
Pause and carefully add your dry ingredients to the wet mixture bowl
Mix the batter until the consistency is slightly thick
Add in ¼-½ teaspoon of Pandan extract. Adjust the color to your liking and taste. (Note that the batter may taste bitter if you add too much)
Mix well so that there are no lumps
Strain the batter with a mesh colander. The remaining batter should be smooth/silky
Cover mixture and let it rest for 30 minutes
Stir the batter with a ladle and heat up your waffle iron (Note that the batter will separate and settle in between cooking so must stir before making each waffle)
Spoon the batter onto the waffle iron (amount will vary by equipment) and cook until the outside becomes a nice crispy golden brown with some green peeking through
Remove the waffle from the waffle maker and enjoy!