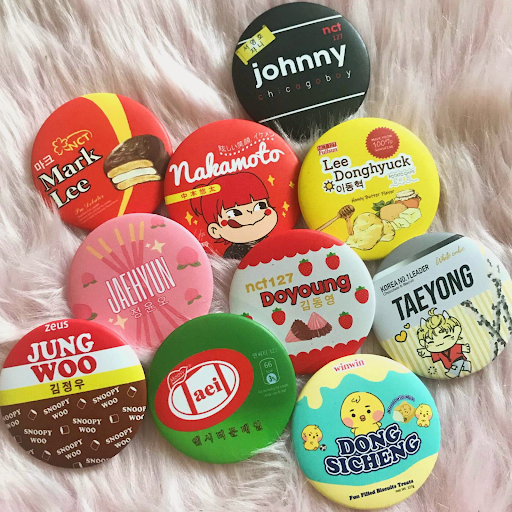 Describe your business :
I am selling button pins and stickers from time to time. I also tried selling key straps for OT21 in the past and took a shot with phone cases. But mostly, my main products are pins.
Picture of your product(s) :
Inspiration and Background Story of the Shop :
I sold customized pillows back when I was an EXO-L and after my college graduation I started thinking of a way to make some time so I opened one. I started selling on my fan account and decided to make a shop account. 
Usage of Advertisement :
I only use Twitter and I ask my mutuals for retweets, but I feel bad because they retweet and I don't have anything to give back to them.
Unsatisfied Customers Encounters:
Once, I got an order that got mixed up with another, and I told the customer I would give them a new one with free shipping since it was my fault.
Struggles of owning a small business :
Scheduling pickups since pickups for shipping sometimes takes days. There are also unexpected delays with production, which some buyers cannot understand, but constant updates and a little explanation will hopefully ease their worry. Since I'm a small business, it's quite hard to gather orders sometimes because makers require quota. The most important is joy reservers/bogus. It's so difficult to be ghosted, so I hope buyers will think before submitting orders to lessen the hassle on both parties.
Business Insights :
The lesson I learned from doing this is to be innovative and resourceful. Be nice, understanding, and patient.
Unexpected Benefits :
The first, is the small income but it has a big impact, it helped me since the pandemic. The extra income helps me to at least help my mum with bills. As a teacher, I also applied my experiences through this shop.
Go-to advisors :
My mum and some friends of mine studied business and finance. And my best friend- Gladys is also a go-to.
Tips and Encouragements for aspiring sellers :
Risk isn't scary, it depends on our main motive. Risking something doesn't mean it's always a failure. Take risks because we will never know what outcome it may bring. Take risks, be patient, be understanding, be resourceful, be nice, have courage, and let your artistic side flow.
Check out another NCity small business here!