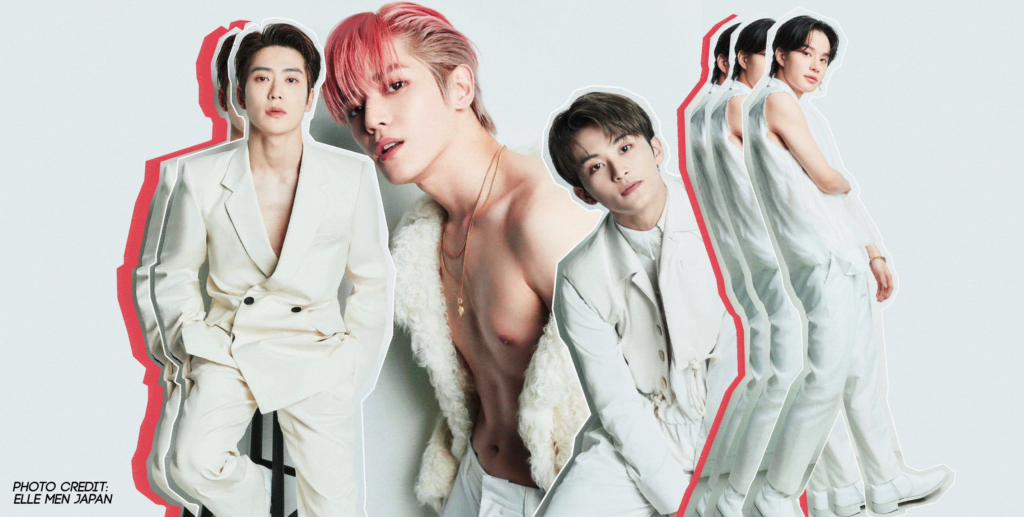 By Mafe Morales | @brekkerxuxi
After the release of NCT 127's third Japanese comeback LOVEHOLIC, ELLE MEN Japan featured the group on their May 2021 cover. The pictures and interviews of the members have reached Twitter and Nctzens are collectively losing it—especially over a certain someone. We've rounded up 21 of the funniest, most creative tweets that we could find. 
I'm going to break my monitor I swear pic.twitter.com/uP0fCZEt7U

— krys🐈‍⬛ (@enseeteajuan27) March 25, 2021
bubu you might get cold pic.twitter.com/VYDWIUpAv5

— for jungwoo (@jwoopyyyy) March 25, 2021
— ًra (@zhengfantin) March 25, 2021
CZENNIES AFTER SAW NCT 127 ELLE JAPAN PHOTOSHOOT https://t.co/etcfRdBCXW

— pilooo (@najaeuz) March 25, 2021
MY HOLY TRINITY. THE 95Z OF NCT. pic.twitter.com/tWtSy29Hxz

— × (@nytves) March 25, 2021
jungwoo elle photoshoot pic.twitter.com/ldSn3llw6J

— jay (@evilfidelity) March 18, 2021
mark lee for elle japan, he looks so pretty he's just so perfect😭 #MARK #마크 #NCT마크 pic.twitter.com/coj2e9mpF9

— jaraliòn (@m99lion) March 25, 2021
https://twitter.com/KingTaeyongLee/status/1375121194706370560?s=20
IS BEING THE MOST BEAUTIFUL PERSON ALIVE UR JOB? CAUSE BABY YOU SHOULD GET A RAISE pic.twitter.com/EYZKylgKXM

— mafe⁷ (@outrofilmout) March 25, 2021
— T Æ Y0-NG (@GTroubleArtist) March 25, 2021
https://twitter.com/99MISFlTS/status/1374947061171298304?s=20
Me to Taeyong's picture: pic.twitter.com/UA7Ux13ASu

— b 👻 (@tydybear) March 25, 2021
tyongfs at taeyong rn pic.twitter.com/4xAJaq1xot

— anya (.◜◡◝🌶) (@jenoGOs) March 25, 2021
me, after reading taeil's elle interview : pic.twitter.com/chNIY4j0LS

— ana of 문단세 | ia (@moonuoyie) March 25, 2021
https://twitter.com/_DY0NGXI/status/1374960150952308740?s=20
https://twitter.com/xisions/status/1374945446288760833?s=20
WHOLE NCTZENS RN: pic.twitter.com/qdNfyXP6mj

— ed (@JAEDRV) March 25, 2021
AMONG THOSE THIRST TRAPS THERE'S AN ANGEL pic.twitter.com/K1bQgkaIfU

— . (@ohahpotato) March 25, 2021
[210325] #YUTA for ELLE Japan – May Issue Special Edition.

©️ YutaInArabic#YUTA #유타 #悠太 #中本悠太 #ユウタ #ゆうた #엔시티 #NCT @NCTsmtown pic.twitter.com/TXkl7zxOMw

— NCT YUTA SQUAD (@SQUADNYT) March 25, 2021
https://twitter.com/capslockyungsoo/status/1372584572311937027?s=20
https://twitter.com/mklraps/status/1374949400896630789?s=20
jungwoo for jungwoo for
star 1 magazine elle japan magazine
2020: 2021: pic.twitter.com/kKlhVhvlVr

— tricia♡ is seeing svt (@jwooshiluvr) March 25, 2021
We know, we know, deep breaths everyone. There is still a lot of content coming from the members from the magazine feature so stay tuned!
Since it's suddenly hot in here, let's cool it down with an article about NCT 127's feature on the Daily Show here!
Thumbnail Courtesy of Elle Men Japan, edited by @xisions