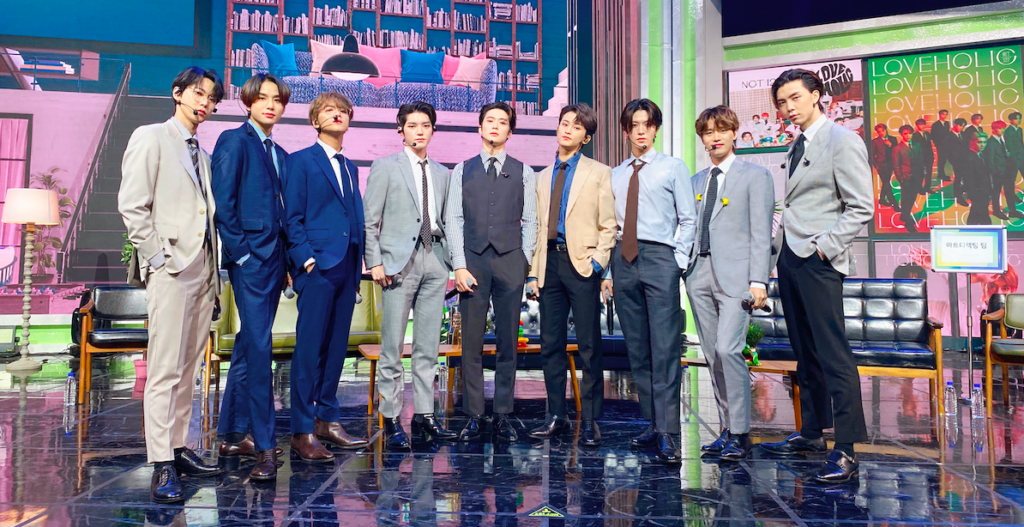 In just five years, international K-pop group NCT 127 has made history, broken records, and gained millions of adoring fans around the world. Despite spending the last 16 months since their last full studio album on hiatus at their home-base in Seoul, those numbers have only multiplied with no signs of slowing down. On July 7, 2021—their fifth anniversary—that fact could not have been more clear as the group held a celebratory virtual fan meeting.
Team Meeting
OFFICE: Foundation Day, as the fan meeting was titled, was in many ways a homecoming for NCT 127 and their fans. Although the group has performed together multiple times since their latest studio album releases in mid 2020 (including the Global Citizen #VaxLive benefit concert) and even released a digital single just a month ago, the fan meeting brought them back to their roots. Nine men—Taeyong, Taeil, Johnny, Yuta, Doyoung, Jaehyun, Jungwoo, Mark and Haechan—an open stage, and their fans. 
The grand opening of the show began with "Kick It," NCT 127's lead single from their 2020 million-selling album, Neo Zone. As the performance faded to black, a short intro video was played, and the members returned to the stage, which was transformed into a cozy office space, dressed in classic tailored suits. 
The fan meeting's theme was based around a recurring concept for the group. They acted as executive staff members of the fictional WOORICHIL Ent. (a play on the Korean pronunciation of their name) company with 127's anniversary date acting as the company's commemorative day. 
Throughout the week following the announcement of the fan meeting, the group released short videos teasing the events concept. The members were split into three separate teams: A&R, Performance, and Art Direction.
After each member took turns introducing themselves, they moved into a talk show-style section with the host, Korean entertainer JaeJae. The group discussed their roles within WOORICHIL Ent. and state that their fans, NCTzens, are the CEO of the company. 
The A&R team (Doyoung, Jungwoo and Haechan) put together a list of fan-favorite B-side tracks out of the group's extensive discography. The Performance team (Taeyong, Jaehyun and Mark) picked their top five choreography performances, while the Art Direction team (Taeil, Johnny and Yuta) picked the best album photos of each member. 
Working Hard or Hardly Working? 
The fan meeting zigzagged between funny game segments and intense performances. In true employee bonding style, the event did not pass by without a few petty comments and a lot of laughs that echoed through speakers as they rushed across the stage in fierce competition. 
During one particular game, the members were challenged to dance the correct choreography to songs released by their SM Entertainment colleagues. Haechan danced to EXO's "Growl," while they all stepped up to challenge æspa's viral "Next Level" choreography.
The next few segments featured the members bringing in a few of their treasured items for an eventual fan giveaway. They included their beanies, headphones, and Jungwoo even brought in his well-loved track jacket. 
While the group went to change into new outfits, a video of them in the WOORICHIL Ent. headquarters was shown. Each member was given a secret mission to complete undetected by the rest, which threw the room into chaos. Known for goofing around with each other on the clock, the sight was familiar and welcomed by their fans.
As the office day came to an end, the three teams came together again to perform "Welcome to my Playground," "Highway to Heaven," "Loveholic," and "Music, Dance." The latter was previously released on the record-breaking Resonance album from the whole NCT collective, and had never been performed, much to fans' dismay. But as NCT 127 does when faced with a new assignment on their desks, they exceeded NCTzens' expectations. 
Teamwork Makes the Dream Work
When the time came for the event to close, the group stood tall together on stage to give their final thoughts. Out of breath from dancing so intensely just seconds before, the members gave their heartfelt thanks to NCTzens for waiting for and supporting them. 
NCT 127 expressed their love for the fans and their desire to see them again as soon as COVID-19 restrictions are lifted and large-scale concerts are deemed safe. Their final song was R&B ballad "Dreams Come True," a song they gifted to fans at the beginning of 2020. Signifying their new start going into a new album, the song stands as a message to anyone listening to believe in yourself and follow your dreams.
A beacon of joy for their fans during a rather bleak time, NCT 127 used this opportunity to assure them that they weren't going anywhere. The group officially announced that they have a full studio album, along with its deluxe version, in the works for a September release. They teased more information, implying the album name was a three-letter English word ending in 'R'. The speculation should be enough to keep the fans buzzing until official details are unveiled. 
NCT 127 conveys their fans are truly part of their team instead of only consumers, and the success over the years could only have been achieved by working together. With the rest of the year ahead looking packed for the group, CEO NCTzens can expect the neo offices of WOORICHIL Ent. to be in full production. 
Want to learn more about NCT 127? Check out 127 reasons why we love them here!