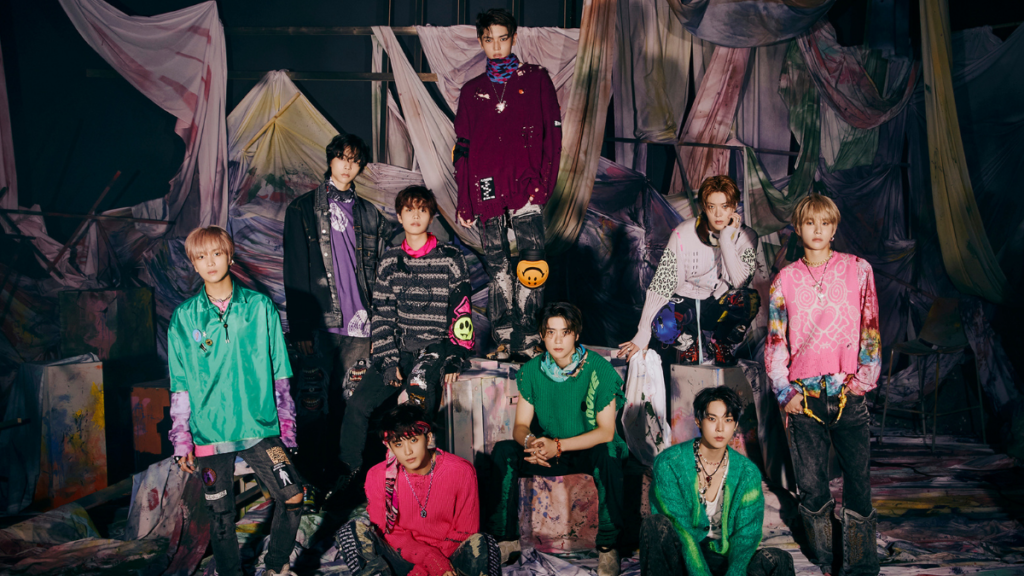 International K-pop stars NCT 127 are back on American television! NCT 127 will perform their latest single "Favorite (Vampire)" on the hit talk show, The Kelly Clarkson Show. The episode will air on Wednesday, November 17 at 3 PM locally on NBC. 
WEDNESDAY! 🚨 @NCTsmtown_127 perform on the #KellyClarksonShow! pic.twitter.com/j3c982g4os

— The Kelly Clarkson Show (@KellyClarksonTV) November 15, 2021
On the Show-stopping Single
Fresh off their success with their record-breaking third full-length album Sticker, NCT 127 released a repackage in late October, leading with the track,  "Favorite (Vampire)." Their lead track has since garnered 32 million views and 1.5 million likes on YouTube. The video for "Favorite (Vampire)" has a sultry vampire theme that compliments the track's emotional and nostalgic sound.
Since its release, the Favorite album has sold over 1 million copies. Combining Sticker's sales, NCT 127's third album now has over 3.5 million copies sold. Sticker sold over 2 million copies in its first week, earning a spot on multiple global charts, including the Billboard 200 Chart, where it peaked at number 3. This week, NCT 127's third album remains on the top of BIllboard's best-selling album charts with a number 4 spot.  
This week's top-selling albums:

1. @ABBA Voyage
2. @radiohead Kid A Mnesia
3. @edsheeran =
4. @NCTsmtown_127 Sticker: The 3rd Album
5. @IAMSUMMERWALKER Still Over It

— billboard charts (@billboardcharts) November 15, 2021
NCTzen's Favorite Vampires
NCT 127's vampire-themed track has not only been a hit on the charts, but it has also been the object of inspiration for the nine-member group. Members Haechan and Jaehyun dressed up as classic Dracula-inspired vampires for Halloween. The two were bested by their bandmates Jungwoo and Taeyong, who dressed up as Twilight leads Bella and Edward respectively.
NCT 127's "Edward and Bella" received recognition for their couple costume. The duo received attention from numerous brands, including Twilight, Lionsgate, and Teen Vogue. 
and he nailed it 😌 https://t.co/byOTRs6PDh

— THE TWILIGHT SAGA 🍎 (@Twilight) November 1, 2021
NCT 127's Upcoming Projects
While NCT 127's "Favorite (Vampire)" promotions are beginning to wind down, NCT 127 has more in store for fans this year. The group announced the opening concert, "NEO CITY: SEOUL THE LINK," the first shows in their second world tour. The concerts will be held from December 17 to 19. 
NCT 127 2ND TOUR 'NEO CITY : SEOUL – THE LINK'

〖 GOCHEOK SKY DOME 〗
➫2021.12.17(FRI) – 7PM(KST)
➫2021.12.18(SAT) – 6PM(KST)
➫2021.12.19(SUN) – 5PM(KST) +ONLINE#NCT127 #NEOCITY#NEOCITY_THE_LINK#NCT127_NEOCITY_THE_LINK pic.twitter.com/h4Lka2Ts26

— NCT 127 (@NCTsmtown_127) November 15, 2021
Before that, fans can expect more neo music. On December 14, NCT's third album Universe will be released. NCT 127 will be joining forces with NCT DREAM, WayV, and NCT's newest members, Shotaro and Sungchan, for this album. 
NCT The 3rd Album 'Universe'

〖 NCT The 3rd Album 'Universe'
➫ 2021.12.14 〗#NCT #Universe #NCT_Universe#NCT127 #NCTDREAM #WayV pic.twitter.com/XumBIAkZYp

— NCT 127 (@NCTsmtown_127) November 15, 2021
With less than two months left, there is a lot more fun content coming from NCTzen's favorite vampires. 
Want more on NCT 127? Check out our piece on their performance on the Late Late Show here.
Thumbnail courtesy of SM Entertainment