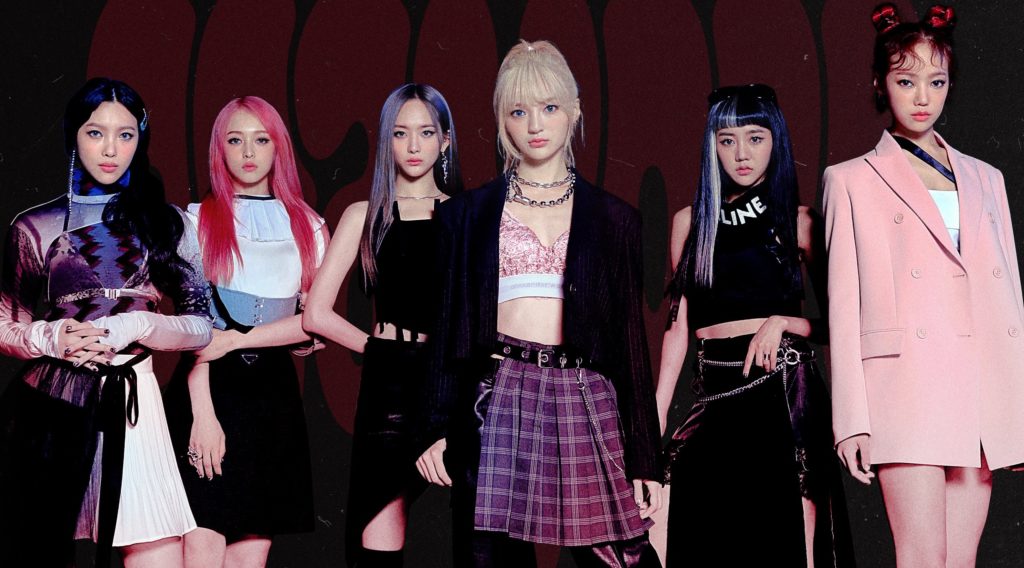 On October 25, K-pop girl group bugAboo debuted with their self-titled single album, bugAboo. The album contains two tracks, including the title track, "bugAboo," and b-side, "All Night Play." bugAboo's album shows off the group's groovy and upbeat new sound.
bugAboo 1st Single Album [bugAboo]
✨ Now Released

Melon https://t.co/smbooECFFp
Genie https://t.co/YqnYVEjZua
BUGS https://t.co/H59v0LlIEH
Spotify https://t.co/b87AUtFgU4
VIBE https://t.co/G4Jrz42VMA
FLO https://t.co/6iGLvn2ytZ#bugAboo #버가부 pic.twitter.com/YhCxrb53xT

— bugAboo (@bugAboo_offcl) October 25, 2021
Who is bugAboo?
bugAboo is a six-member girl group, their name coming from the phrase "peek-a-boo" and the word "wow." The combination is meant to embody the idea of being a surprise to the world while overcoming the fear of surprises. The oldest member, Eunchae, and leader, Choyeon, are known for their time on survival competition show Produce 48 in 2018. In addition, vocalist Cyan, was seen in their senior's, VAV's, music video for the track "MADE FOR TWO." The group comprises Japanese vocalist and visual Yoona, Taiwanese lead vocalist Rainie, and main vocalist Zin. They featured on season seven of the music game show I Can See Your Voice.
The multi-national girl group is sure to turn heads with this eye-catching lineup.
Surprise!
The confirmation of the group's upcoming debut came on October 3, when the group's debut trailer was released. 
bugAboo 1st Single Album [bugAboo]ㅣDebut Trailer

📢 https://t.co/b9HLlIY3wL
📢 https://t.co/Zo8ZNc5F5o#bugAboo #버가부#DEBUT pic.twitter.com/fIqrgueT4W

— bugAboo (@bugAboo_offcl) October 3, 2021
Two days later, the comeback schedule was released, with the date of their debut showcase set for October 22 and the online release of the single album for October 25.
bugAboo 1st Single Album [bugAboo]ㅣDebut Trailer

📢 https://t.co/b9HLlIY3wL
📢 https://t.co/Zo8ZNc5F5o#bugAboo #버가부#DEBUT pic.twitter.com/fIqrgueT4W

— bugAboo (@bugAboo_offcl) October 3, 2021
During their debut showcase, the girls played games, discussed who they were as a group, and performed their two songs, "All Night Play" and "bugAboo."
"All Night Play" is an electronic pop track featuring an addictive percussive beat and a catchy chorus. As the girls sing about partying, the song maintains the high energy of the lyrics. Although the song's verses are more of a melodic rap, the group shows off their seamless harmonies on the funky beat in the chorus. 
A Statement Title Track
The title track is named after the group's name and it is a complete 180 from the sound they showed in their b-side.
"bugAboo" opens with a strong trumpet followed by the powerful vocals of members Yoona and Cyan. As the track progresses, it sounds more like a modern take on 70s disco with a groovy guitar heard in the pre-chorus. The chorus kicks off with a brass-heavy beat as the group sings about who they are, showing off their dreamy vocals.
In addition to the release of their album, the music video for the title track was released as well.
The story of the video appears to explain more about the group while being inspired by the GhostBusters movie. It shows the girls being haunted by jellyfish-like creatures and ghosts and strange events like a bike randomly dropping right in front of them. The girls fight against these creatures throughout the video before they defeat a large ghost at a drive-in theatre.
As their name suggests, the girls are fighting these ghosts and creatures to overcome the things they once feared. The video echoes the meaning behind the lyrics effortlessly, all while showcasing stunning visuals and outfits.
Fan Reactions 
Once the album and music video dropped, the girl group's fandom took to Twitter to share their excitement for the debut!
Amazing song and amazing video! Congratulations for finally debuting bugAboo, nothing but success from today on for all of you 👻❤️

— DeboDebbieDebs (@debo_kpts) October 25, 2021
her voice is GORGEOUS#kimchoyeon #김초연 #choyeon #초연 #ateam #bugAboo #버가부 #bugaboo_DEBUT pic.twitter.com/CO9oOtuxN1

— kim choyeon pics (@choyeonarchive) October 25, 2021
OMG I CAN'T BELIEVE IT! FINALLY…my baby eunchae looks so gorgeous🥺

— Vitinnnnn 💛 || Swiftie Carente (@RoboCongelad0) October 25, 2021
ITS HERE AND OMG ITS SO GOOD!!! #bugAboo #bugAboo_DEBUT pic.twitter.com/aUbbvJcMCy

— Cherry🍒 ||bugAboo|| ✨ (@bug_A_bootique) October 25, 2021
Keep up with bugAboo and their upcoming schedules by following them on Twitter, Instagram, and Youtube! 
Are you interested in more girl groups? Check out our coverage of ITZY's EP, Guess Who.
Thumbnail courtesy of Ateam Entertainment.