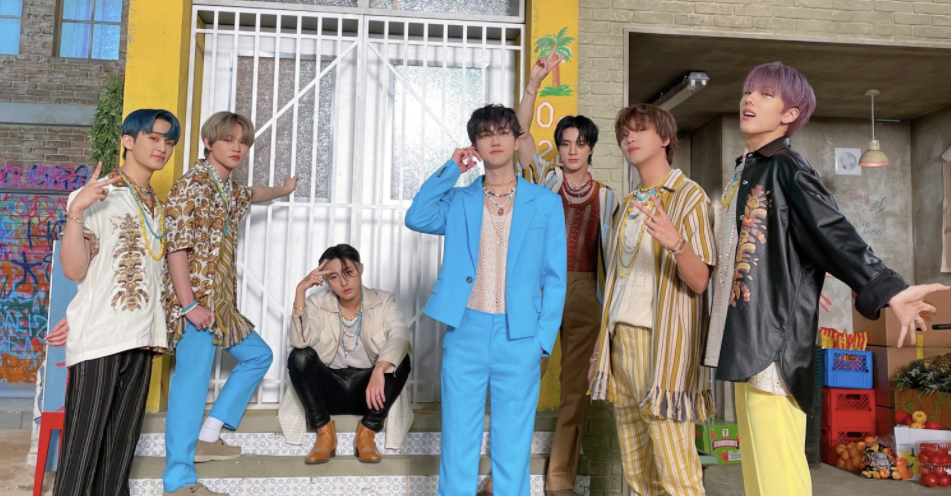 "Growing just never stops for us, I can see us growing continuously, endlessly," Mark, leader of the NCT Dream subunit of NCT, said in an interview with Teen Vogue earlier this year.
And Mark was right!
The 맛(Hot Sauce) era has proven to be a time for immense growth and success for NCT Dream. Two days following the announcement of Hello Future—a repackaged album of their double-million selling album 맛(Hot Sauce)—NCT Dream hit another milestone with their hot May comeback. On June 10, the music video for "맛(Hot Sauce)," initially released on May 10 at 6 PM KST, hit 100 million views in 30 days and 8 hours— another personal record for the seven-member boy group. 
"맛(Hot Sauce)" is their second music video to exceed 100 million views, following "Boom," which was released in July of 2019. This is the second-fastest NCT track to hit this milestone, second to the 2020 NCT U hit "Make A Wish (Birthday Song)."
A Collaborative Fandom Effort 
Since the release of NCT Dream's first full-length album, NCTzens, fans of NCT, have been showing their support for 맛(Hot Sauce) in various ways. Not only have fans been buying albums, expressing their love on social media, and streaming on music platforms, but NCTzens have been hosting "streaming parties"—a fandom phenomenon where fans organize and encourage other fans to stream a particular song or video together. 
Our 'Hot Sauce' Daily Streaming Party has started! We have less than 2 days to get 100M before first month! Please keep streaming!https://t.co/40rk1FQgoW

QRT (Quote) your proof of streaming the MV to encourage each other! #NCTDREAM_맛_HotSauce #NCTDREAM @NCTsmtown_DREAM pic.twitter.com/GtGqg0LWOJ

— NCT DREAM CENTER (@NCTDREAMCENTER) June 8, 2021
NCT Dream have been able to surpass the 100 million view mark thanks to fans' efforts streaming the music video.
A Special Time for NCT Dream
NCT Dream's Hot Sauce era is significant for more than being a record-breaking and chart-topping album. 맛(Hot Sauce) is NCT Dream's first album since their 2018 mini album We Go Up to feature their original seven-member lineup, consisting of Mark, Renjun, Jeno, Haechan, Jaemin, Chenle, and Jisung. After We Go Up, Mark "graduated" from the group as part of the subunit's original concept of maintaining adolescent members. 
However, the group rebranded last year prior to the release of their fourth mini-album Reload. In a statement to the public, SM Entertainment announced that the age-based switching lineup would no longer exist and Mark would return to the group following Reload promotions. NCT Dream debuted as a seven-member group again in NCT's second full-length album and 23-member project, Resonance Pt. 1, where NCT Dream performed "Deja Vu," the first track since 2018 to feature the original lineup of NCT Dream.
This year, for the first time in the group's history, NCT Dream dropped a full-length album 맛(Hot Sauce). This era is significant for being a rebirth for the subunit—a new start from their turbulent history.
Leading Up to a Hot Repackaged Album
On June 8, NCT Dream surprised fans by announcing a repackaged album for 맛(Hot Sauce). It will have all ten songs from Hot Sauce along with three entirely new tracks. Pre-orders for this album opened for stores on-line and off-line on June 8. While it is uncertain what numbers the new album will pull, there is at least one certainty. NCT Dream will boast new tunes that are absolutely neo.
100 million views, or 5— the numbers do not matter. Fans of NCT Dream will continue to show support for the NCT subunit for their top-quality performances and will continue to grow with the members.
Follow the evolution of NCT Dream's career from sweet to saucy, and for more NCT music news, check out our latest on Taeil's tribute song here!
Thumbnail Courtesy of SM Entertainment