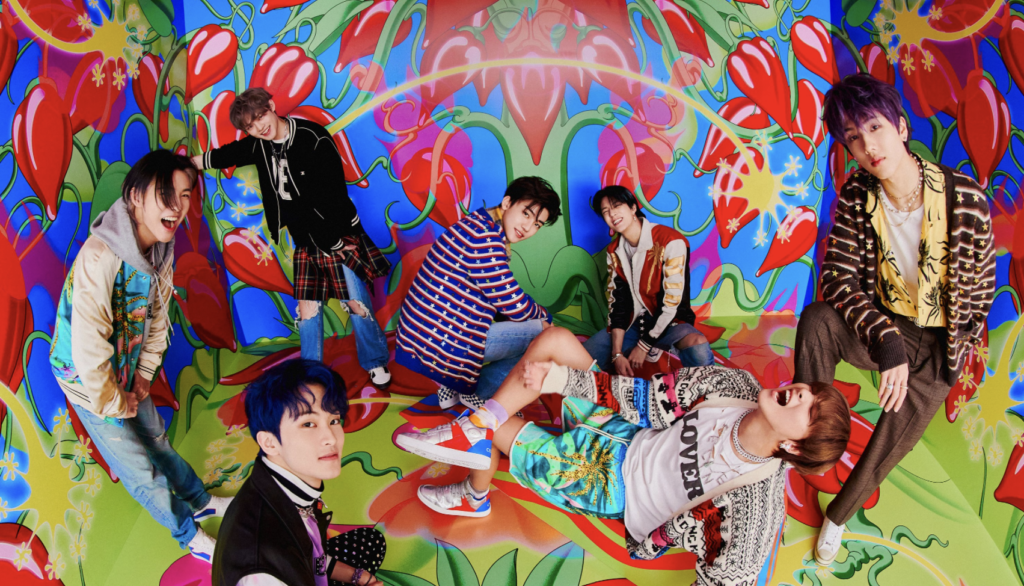 By Valerie Lopez | @valchwarie
On Wednesday, April 21 at 12 AM KST, NCT Dream began dropping their "Crazy Jalapeño" teasers for their upcoming album 맛 (Hot Sauce). The "Crazy Jalapeño" teasers ended on Saturday, April 24, after the release of Mark and Jeno teasers on Wednesday, Haechan, Jaemin, and Chenle on Thursday, Jisung and Renjun on Friday, and finished up with group photos on Saturday. 
NCT Dream first announced the teaser images would drop earlier this week on Monday, April 19 at 12 AM KST, when they released a timetable graphic and Hot Sauce Shower animation on their social media accounts. 
Fans had a hot response with the influx of new content.
Reflecting on the Past
Many fans got sentimental from the teasers and compared them to NCT Dream's past teaser images.
-a thread of NCT Dream but they get older every time you scroll down pic.twitter.com/rcvKB5E2YV

— ًJO²³ | hot sauce (@SolastaJaem_) April 23, 2021
does it ever just how fast
drive you crazy the night changes? pic.twitter.com/uiaSOAZxMi

— preeti (.◜◡◝) (@jenhoegem) April 23, 2021
2017 2021
Cherry Bomb Hot Sauce pic.twitter.com/3IUmf0nukH

— NCT 127 TURKEY ?? (@Nct127Tr) April 21, 2021
6 years ago jaemin was formally introduced as an smrookies member and today his 1st full album teasers were released! we cant wait to see even more from him?? pic.twitter.com/pa74Hfpmkv

— jaemin pics #맛_HotSauce (@najaeminpics) April 21, 2021
ITS MY FIRST AND LAST 2.0 GUYS I KNEW IT I KNEW IT#CrazyJalapeño_Day1 #NCTDREAM_맛_HotSauce#NCTDREAM@NCTsmtown_DREAM pic.twitter.com/uUSiJzTdpk

— Hot?Sauce? (@yodreamri2) April 20, 2021
A Humorous Response
Others expressed their excitement for the content with humor and memes.
rosé is right, everything i need is on the ground nga pic.twitter.com/vGXI6rSQOn

— gayle (@xuxithangs) April 20, 2021
SA 7 ELEVEN PALA KUHA YUNG PICTURE NG NCT DREAM ??? pic.twitter.com/dZeYfw7Dg4

— aelle (@jaemnzone) April 23, 2021
your doorbell rings at 2 in the morning and you see this outside, what are u gonna do? pic.twitter.com/4tXNlpk6Ry

— eunice (@sunjsuh) April 23, 2021
Our king Mark Lee ?❤️#CrazyJalapeño_Day1 pic.twitter.com/yOcsnqShON

— mark pics⁰² (@nctmarkarchive) April 20, 2021
no thoughts head empty, only crazy jalapeño renjun pic.twitter.com/J0gkGvmk5o

— ?. (@daily_renjun) April 22, 2021
Wholesome Reactions
Some NCTzens shared wholesome responses to the teasers.
i love crazy jalapeño concept sm…the noisy styling, colorful background also…the manspread pose too?#CrazyJalapeño_Day2#NCTDREAM_맛_HotSauce@NCTsmtown_DREAM pic.twitter.com/Mao22h6vEJ

— mute?? (@twinklejunhun) April 21, 2021
the pics that were dropped today is so goodd omg all the members look so good and they just like look so amazing in their respective elements urghh #CrazyJalapeño_Day2 pic.twitter.com/ftWZ5PpqTs

— gwen | (• ◡•) ? (@gmkmelon) April 21, 2021
RENJUN KICK MY HEART ??

Crazy Jalapeño Day3#CrazyJalapeno_Day3 #NCTDREAM_맛_HotSauce@NCTsmtown_DREAM pic.twitter.com/iatrKWWyhb

— ayuna lee✨? (@itshaechani) April 22, 2021
okay but the signature details they put into jeno's teaser are ON POINT pic.twitter.com/svab651WcR

— ً (@OXYJENEO) April 20, 2021
my favourite as of crazy jalapeno gp teaser bECAUSE LOOK AT THOSE GORGEOUS SMILES IM SHAKING pic.twitter.com/sJcFlbLD7X

— らら (@halfcaramel) April 23, 2021
Overwhelming Love for the Maknaes
Fans expressed their love and support for the youngest members Chenle and Jisung.
we're so proud of you jisung!! ? your hair looks so pretty, your outfit is superb & your visuals.. no words can describe how you look good in these teasers ? you did a great job jisung!! ???✨#CrazyJalapeño_Day3#NCTDREAM #맛_HotSauce#NCTDREAM_맛_HotSauce@NCTsmtown_DREAM pic.twitter.com/yPoEBAqDso

— ︎#1 jisung enthusiast (@JlSUNGlE) April 22, 2021
jisung's hot sauce crazy jalapeño teasers exceeded the likes and retweets of his ridin' and rollin' teasers, in less than 30 mins ? pic.twitter.com/eiuEyBWWDs

— rae (@eunoicjisung) April 22, 2021
JISUNG'S TEASERS GOT RELEASED TODAY AND WE'RE SEEING HIM DANCE AS WELL AFTER 9 MONTHS I AM BAWLING MY EYES OUT ?? pic.twitter.com/wsBYBeVY5C

— jisung's gf miah ? (@jisungkiyowoo) April 22, 2021
zhong chenle INVENTED skirts pic.twitter.com/aTxuyXR39K

— ً (@XUXlVISXI0NS) April 21, 2021
kids see chenle museum in 2075 pic.twitter.com/5wUPL10Lkc

— ?️ tasya 러러샤가 (@LELECIAGA) April 23, 2021
Dominating the Twitter Trends
For the first three days of teasers, NCT Dream dominated the trending topics on Twitter.
210421 #NCTDREAM_맛_HotSauce has ONCE AGAIN surpassed 1M tweets today!#CrazyJalapeño_Day1#NCTDREAM @NCTsmtown_DREAM https://t.co/Z3Uj89RJWG pic.twitter.com/TJBDIcsNOi

— NCT DREAM CENTER (@NCTDREAMCENTER) April 20, 2021
.@NCTsmtown_DREAM is currently trending Worldwide:

#2 Chenle
#3 #CrazyJalapeño_Day2
#5 Jaemin
#7 Haechan
#8 #NCTDREAM_맛_HotSauce
#17 Renjun pic.twitter.com/aT19RKeRT3

— SMTownEngSub (@SMTownEngSub) April 21, 2021
210423 Worldwide Trends !

1. #푸른봄_피어날_제노의_스물둘
2. #EyeSmilePrinceJenoDay
7. #RENJUN
11. #JISUNG
20. 제노 생일 (#JENO Birthday)
40. #CrazyJalapeños_Day3#NCTDREAM @NCTsmtown_DREAM pic.twitter.com/6jaFbSznlw

— NCT DREAM CENTER (@NCTDREAMCENTER) April 22, 2021
Next week NCT Dream will release their "Boring Jalapeño" teaser images starting on Monday, April 26. With so much more content still to come, anticipation for the album and music video for 맛 (Hot Sauce) is sure to increase. 
Still need to order your album? Check out theQoos for a discount!
Want more NCT Dream news? Check out our piece on Chenle's cover song here!
Thumbnail Courtesy of SM Entertainment