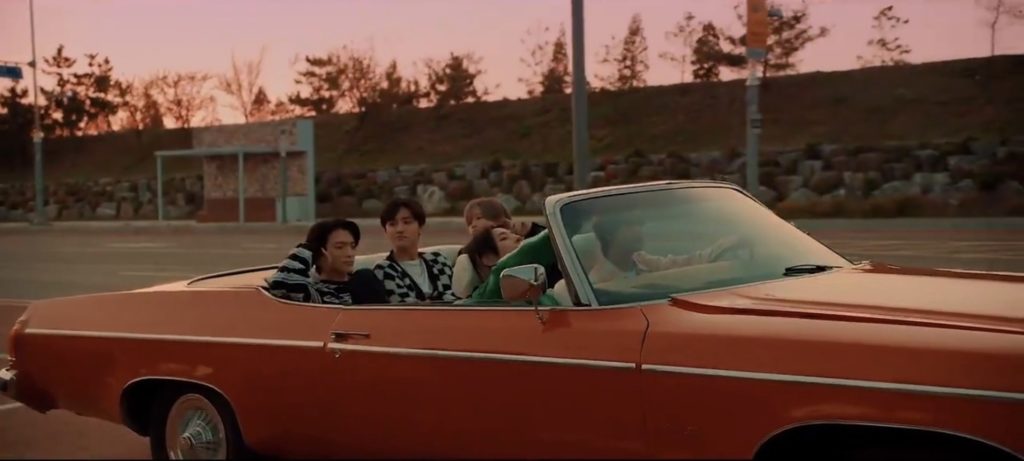 By Valerie Lopez | @valschwarie
On May 5 at 12 AM KST, NCT Dream dropped "DREAMVERSE: Chapter 1," a short music video for the R&B song, "Dive Into You,"  from their upcoming 맛 (Hot Sauce) album. 
The track video for "DREAMVERSE: Chapter 1" began with a short scene with Mark heading out of the cafe towards Jisung, who waited for him in the hallway. The two discussed a candle Mark received as a gift. After Jisung asked "Who gave it to you," the scene closed, and the music for "Dive Into You" began. The scene switched to focus on Haechan, Renjun, Jaemin, Jisung, and Jeno, who were driving in a red car. The video ended how it started: with Jisung and Mark, and the others pulled up to the cafe in their car. 
With the release of new content, fans were filled with joy and excitement.
NCT Dream on the Worldwide Trends
After the music video was released, "Haechan," "NCT DREAM DREAMVERSE," and "Dive Into You" emerged on the worldwide trends on Twitter.
[!!!] Worldwide Trends – 12:30AM KST

9. HAECHAN
13. NCT DREAM DREAMVERSE
24. Dive Into You

Keep tweeting and don't forget to include #DREAMVERSE_Chapter1 in your tweets! 💚 pic.twitter.com/GLjYUsPXdd

— SM_NCT (@SM_NCT_BACKUP) May 4, 2021
Love for the Music Video
Fans expressed love for the track and video. 
SM delivered for this teaser roll-out WOW took 5 years but we made it😭 pic.twitter.com/7GPDPPw5TJ

— 1.645.555 MILLION FOR A MINI?! (@INFINITYSOTY) May 4, 2021
NoRenMin have my heart and my eyes and my full focus in this vid and I really appreciate them for it pic.twitter.com/v7J2moMpNz

— ♡Wanziᵛ∞₁₂₇ 🔟🌹💐🌻🍒💚 (@Wanzi_G) May 4, 2021
https://twitter.com/nctmarkarchive/status/1389605827879653377?s=20
haechan's voice 😭 pic.twitter.com/UaKnZ1UR8Z

— ً (@LHCFEED) May 4, 2021
not jeno shouting out "there's no space!" to mark and jisung 🤣🤪pic.twitter.com/A7KlyvEZhP

— 제노리 (@jenoxious) May 4, 2021
The Glow Up
Some fans expressed nostalgia and compared the images to past Dream concepts after seeing the video.
MARKSUNG MARKSUNG
CHEWING GUM DIVE INTO YOU pic.twitter.com/UJZPoYms77

— ella. | jaemin birthday bash ?! (@scarletmark) May 4, 2021
https://twitter.com/njmcats/status/1389600894618980359?s=20
Dive Into You. We go up pic.twitter.com/MdoJEb95Kj

— ลีจอนอน REST (@jexxno_) May 4, 2021
does it ever just how fast
drive you crazy the night changes pic.twitter.com/ORcvpnxBxv

— JAEMIN HOLIDAY 🐱🤍 (@jaemtaro) May 4, 2021
Mark Removing His Tie
Other fans really enjoyed seeing Mark remove his tie.
mark aku otw tenang sj pic.twitter.com/3YhGZkPVOX

— . (@aisz0ne) May 4, 2021
wait pls ASDFGJKWWHFWGSGE#MARK #DREAMVERSE_Chapter1#NCTDREAM #맛_HotSauce#NCTDREAM_맛_HotSauce pic.twitter.com/yxj9Rdgi2c

— ② (@aboutkingz) May 4, 2021
Haechan Driving
Haechan shocked fans by being the one behind the wheel.
HAECHAN DRIVING?? MORE LIKE DRIVING ME CRAZY pic.twitter.com/b2veu6hYwu

— jae. (@leemarker916) May 4, 2021
HAECHAN DRIVING THE WHOLE
A CAR NCTZENS pic.twitter.com/wonDv0NjfG

— ed (@JAEDRV) May 4, 2021
https://twitter.com/jaeminlannister/status/1389602986335170560?s=20
Possible Storylines
Fans explored possible storylines behind the track music video.
https://twitter.com/nonoctilucent/status/1389603489991380996?s=20
https://twitter.com/Hugz4Mark/status/1389603945534955526?s=20
Maybe that's also why Jisung was making a love potion on Cafe7Dream? https://t.co/sPGX2c6K0F

— marinn 💚🐰 | JAEMIN DAY 🎉 (@an_nimeaj) May 4, 2021
A Love Triangle
Some fans began theorizing who is behind the possible love triangle.
https://twitter.com/LMKFILE/status/1389603681012621313?s=20
mark saying that renjun is jisung's first love and SO what if here renjun is actually jisung's first love but mark is renjun's first love… in this essay i will…. pic.twitter.com/FrtVArO6NT

— That friend (23) … 💗 (@koushiren) May 4, 2021
someone gave mark a scented candle, renjun loves scented candles and we all know renjun and jisung adore each other, therefore i conclude renjun completes the love triangle pic.twitter.com/KAmIGeD8bk

— momo 👻 HAPPY JAEMIN DAY (@dear723_) May 4, 2021
https://twitter.com/XUXlVISXI0NS/status/1389600523431464960?s=20
but if renjun is mark love interest, why were mark and haechan acting like a couple during the cafe 7 dream ??

— camélia 💗 IN SEOUL 🇰🇷 (@sugar2runes) May 4, 2021
The next installment of the "DREAMVERSE" content releases tomorrow, May 6 at 12 AM KST. This video will surely continue the storyline from "DREAMVERSE: Chapter 1."
Still need to order your album? Check out theQoos for a discount!
If you want more NCT Dream content, read up on the "Boring Jalapeño" teasers here!
Thumbnail Courtesy of SM Entertainment