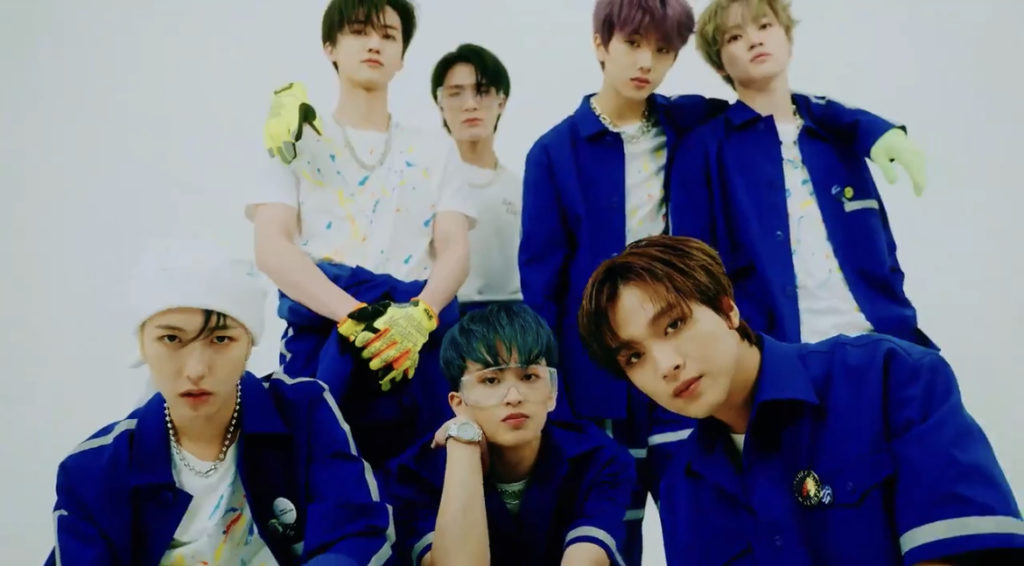 By Valerie Lopez | @valschwarie
On May 7 at 12 AM KST, NCT Dream released the third and last installment of their "DREAMVERSE" track music videos. The chapter was titled "The Taste of Pain" and introduced the new song, "Diggity," from their upcoming full length album 맛 (Hot Sauce). 
Continuing the storyline set by the "DREAMVERSE: Chapter 1 The Love Triangle" and "DREAMVERSE: Chapter 2 The Thing I Cherish,"  the third chapter focused on the NCT Dream members during their leisure time. The video opened with Mark, watching television, when he called the others over after thinking the music stars on his screen resembled his friends. "Diggity" then played and the scene switched to the music video that Mark was watching. With tons of strong dancing and the use of power tools, NCT Dream showed off their powerful performance and construction abilities in their matching blue uniforms. Once the snippet of the song ended, the scene returned to Mark, Jeno, Jaemin, and Renjun, who loved the video but suddenly realized that Chenle, Jisung, and Haechan were missing. The missing trio in question then popped up on the screen, sitting in the playground from "DREAMVERSE: Chapter 2." They discussed their jobs at the cafe before going on a tangent about how spicy food makes the tongue experience pain. After the mention of pain, the video ended with the camera focused on Jisung, who held up the candle Mark gave him in the first chapter as he said, "I didn't know you can taste pain."
NCT Dream initially teased the cafe storyline on April Fool's Day when they changed their Instagram layout from their Resonance era image to Cafe 7 Dream content. On that same day, NCT Dream also dropped a video introducing fans to their barista personas. Since then, NCT Dream has released two vlogs showing off their hard work at the cafe, behind the scenes clips, and photos of their unique cafe goods and the group on the clock on Instagram.
Loving the Music
NCTzens shared their love for the music and vocals. 
diggity literal construction music but it definitely sounds like soty material

— nads (@haeshyucks) May 6, 2021
You can clearly hear chenle's voice leading the whole chorus of diggity with his high tone note register ? his voice stands out so much ? WHOLE CHORUS ??? pic.twitter.com/dND2JbpB8p

— 루씨 (@chenleours) May 6, 2021
i live for renjun's part in diggity pic.twitter.com/qBesdHXbno

— ًdaily renjun 仁俊 ? (@rjarchives) May 6, 2021
Admiration for the Members
As always, fans also expressed their love for their favorite members.
diggity: ??????
chenle: ??⭐️??? pic.twitter.com/2CKTFMpR2N

— tinasaurus (@melodichenle) May 6, 2021
"kpop men can't hurt you"

the kpop man: pic.twitter.com/OyB9b3uZfT

— huong ?? (@jentokki) May 6, 2021
JAEMIN CENTER I KNOW THAT'S RIGHT pic.twitter.com/3KfOGcUYuN

— ㄴㅈㅁ (@nctleos) May 6, 2021
lee haechan you are everything pic.twitter.com/kuAGnNSeJs

— baby duckie (@heyhaechan) May 6, 2021
New Memes
Some NCTzens used the new content as an opportunity to joke.
nct dream diggity pic.twitter.com/bowWXyf8Fo

— ro (@bbyshinki) May 6, 2021
unmute ?‼️? pic.twitter.com/8vEtCIx8vZ

— nina! cramming era (@jwisaurus) May 6, 2021
— afifasaurus (@jaems_ng) May 6, 2021
marknomin: someone's gonna die
chenle: of fun!! https://t.co/bid39TNGAA

— n a n a ? (@soyjaeminist) May 6, 2021
this video is destroying feminism https://t.co/viDFMhkgiL

— the joker (real) (@roboticwaves) May 6, 2021
https://t.co/tDSifBnZaW pic.twitter.com/vVtOaGkRmd

— ahleesun (@zhongs) May 6, 2021
The final set of teasers will be NCT Dream's "Jalapeño! (Scoville 274)" on May 8 and the "Hot Sauce" music video teaser on May 9. The full album and music video for the title track "Hot Sauce" will be released on May 10. 
맛 (Hot Sauce) is not out yet, but NCT Dream have already started feeding fans in the previous months through YouTube content, appearances on Super Junior's Idol vs Idol, and a new collaboration song with the children's entertainment company, Pinkfong. With so much content out and more to be released, NCTzens will certainly enjoy digesting the content in the coming days.
Still need to order your album? Check out theQoos!
Need to get up to speed on the previous track music video? Check out our piece on "Rainbow" here!
Thumbnail Courtesy of SM Entertianment