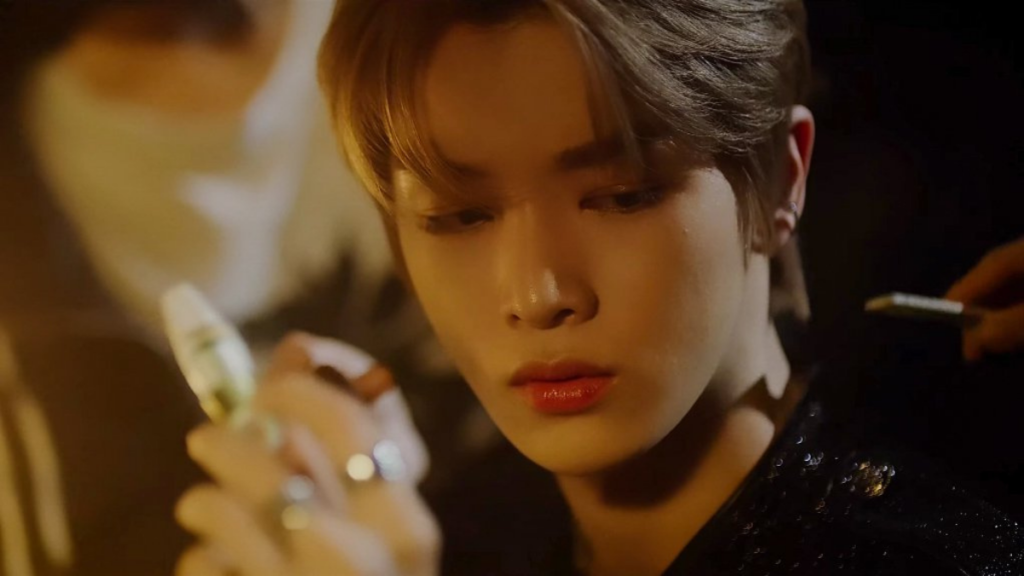 The limits of reality are tested in a new NCT concept video for the upcoming release of Universe, set to drop on December 14. With new elements of this dream being explored, NCT dropped the teaser entitled "NCT 2021 YearDream : Stage 3 – Synchronization of Dreams" on November 23. The trailer features members Hendery, Jaemin, Johnny, Shotaro, and Sungchan. 
Reality vs. Dream
The 6-minute teaser starts with Hendery sitting in a lime green egg chair in an empty pasture. Then, he picks up a whistle hanging from his neck, similar to what Taeyong and Sungchan held in the first trailer. The camera encircles him as he blows the whistle, and we see Jaemin sitting across from Hendery, mirroring his actions. The two members alternate playing tones on their whistles until Jaemin hits a specific frequency and thrashes backward into his chair. He is then seen in a bedroom, waking up from a dream. 
Sungchan Taeyong Hendery and Jaemin all have the flute that they use to connect/communicate to each other when they're within the dream

NCT 2021 YearDream :
Stage 3 – Synchronization of Dreams #NCT_Universe pic.twitter.com/cudaVifYO8

— ☼ (@aintkwing) November 23, 2021
HENDERY AND JAEMIN. pic.twitter.com/WAKES8tIqX

— jo ; Jaemin daily (@SolastaJaem_) November 23, 2021
Jaemin grabs for the whistle that is tied around his neck and sees that it is not there. Soon after this, the doorbell rings, and Jaemin goes to answer it. Hendery is on the other side of it with the whistle and hands it over.  When they part ways, Jaemin starts to make his way back to his bedroom, and the doorbell rings again. He opens the door and at his doorstep is a railroad track. His house seems to now be a train, with Jaemin standing in front of it. The train seems to be going through a cartoon-like environment, with red, green, and purple hints encompassing Jaemin's new reality. As the train rides through the unknown world, we are then pulled through to Johnny's reality. It seems as though we were in Johnny's dream the entire time, which could be a Dream in a Dream. 
on this scene jaemin looks confused about something, but it might be because he's confused if he's in reality or in his dream and that confusion was answered when he opened the door again, when he was in a train with full of doodle-like scene and neon lights. pic.twitter.com/qTJC75ejpj

— 쇼민영🤍 student era📚 (@jaemshodoie) November 23, 2021
Johnny is to be on a train. He grabs his phone and types "what's wrong," sending it to an unknown recipient. He then reaches for a book entitled "A Dream within a Dream" by Edgar Allen Poe. In an NCTmentary, Johnny is the "experimenter," so fans expect his role in the universe to be significant to the story. Could he be experimenting with the other members' dreams? 
The book that's Johnny holding on Stage 3 is the same book that Jaehyun was reading on NCTmentary Ep. 4

"I wished that this dream would never end"

and the poem expresses doubt & uncertainty about the nature of reality, questioning whether life itself is just an illusion pic.twitter.com/xHR87wbll4

— aya (@EXONCTDOTCOM) November 23, 2021
johnny is one of the members who are concious and id like to believe it was johnny all along pic.twitter.com/r76l5axZ6S

— 💗 (@decafsuh) November 23, 2021
Johnny falls into a deep slumber, and we are pulled into his dream and see Shotaro fixing his clothes. Then, he walks over to the mirror, puts on a bucket hat, and starts to show off his impressive dance skills to NCT 2020's Interlude: Past to Present. 
SHOTARO INTRO DANCE BREAK ON UNIVERSE TEASER!!!!!! pic.twitter.com/8yzklzq4GF

— shotaro bot 🦦 (@tarocakey) November 23, 2021
He returns to the mirror and sees a shape start to form on it. As he looks closely at this shape, he sees a group of boys appear and is shocked. Many fans speculate that he could be looking at his fixed unit, as Sungchan and Shotaro are the only ones that do not have one. On the other hand, others theorize that it could be a new NCT U combination for NCT 2021. 
NOOOO DOES THIS MEAN SHOTARO CAN NOW VISUALIZE HIS OWN UNIT 😭😭 pic.twitter.com/Fl17mkC2b5

— ً (@nctymisfit) November 23, 2021
Y'ALL WHAT IF IT'S DOYOUNG, SUNGCHAN, MARK, CHENLE, JENO, JAEHYUN AND JUNGWOO?!?!?! 🤡🤡 pic.twitter.com/RTN7ef3hW6

— anne is studying ! (@97JJHOLIC) November 23, 2021
With the boys' identities being unclear, fans try to take their best guesses for who they think it may be! 
November 23, 2021
After Shotaro's shock, we are then pulled into Sungchan's reality. Stylists surround him as they fix his hair and makeup. Confused, Sungchan looks around and spots the necklace with the whistle on it from the first scene. He examines it and looks around. The video ends with colors reminiscent of Jaemin's train scene. 
sungchan isnt real, he is ethereal pic.twitter.com/PUAf2EUTZV

— 🦌 (@jscposts) November 23, 2021
What's Next? 
As the anticipation for NCT 2021 increases, fans can expect to see much more content surrounding the world of NCT. The full-length album, Universe, is set to release on December 14. Be sure to follow NCT on Twitter and Instagram for more updates!
Check out our recap of NCT's latest teasers here!