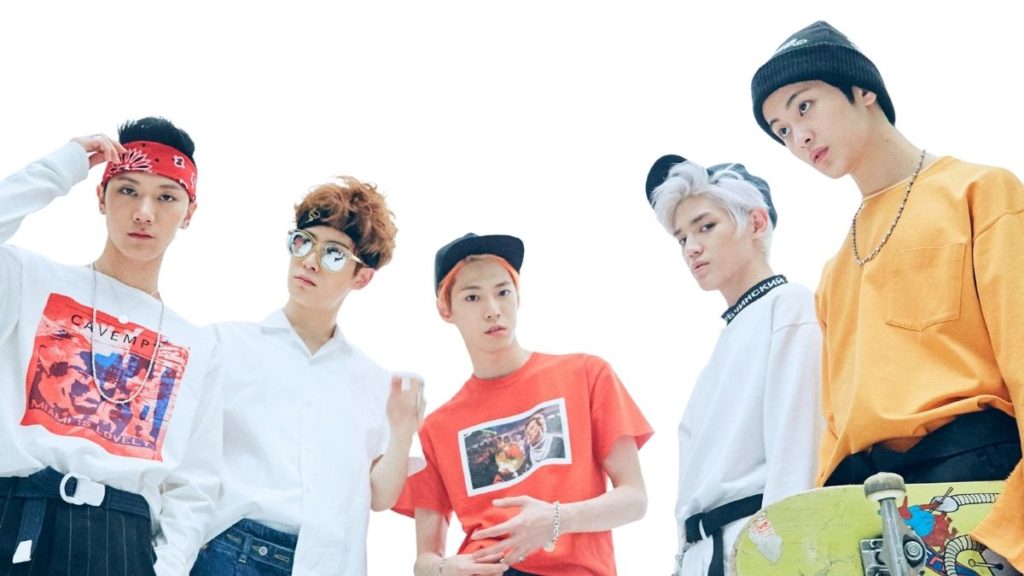 In January 2016, SM Entertainment founder Lee Soo-man introduced NCT, the agency's newest boy group since 2012. Boasted as a multinational group with limitless members, NCT debuted with the mesmerizing "The 7th Sense" on April 9. From its lineup to reception, we take a deep dive into NCT's very first release.
Before Neo Culture Technology
"The 7th Sense" is a track by NCT U, the NCT unit with rotational members. Taeyong, Doyoung, Ten, Jaehyun, and Mark form the "The 7th Sense" lineup. Previously, the pentet has been known as part of SM Entertainment's trainee project SMROOKIES. It saw them and other trainees demonstrate their dancing, singing, rapping, and variety skills.
After Lee Soo-man's announcement of NCT, SM Entertainment released three concept videos. "SM_NCT #1. The origin" offered how NCT's fictional world came to be from the lens of a stranded child. The next part, dubbed "Synchronization of your dreams," was more straightforward, featuring a dance performance by some of the members. Lastly, sharing its name with what would be NCT's debut single is "The 7th Sense." In the video, trainee WinWin performed a traditional Chinese dance routine before being teleported to a modern skyscraper. These videos led up to the big announcement a few months later: NCT U is coming.
Open Your Eyes
A hip-hop track with future bass and R&B elements, "The 7th Sense" is the work of Tay Jasper, Timothy "Bos" Bullock, Jam Factory, Kim Dong-hyun, and Cho Jin-joo. The titular "7th sense" refers to the ability to connect and interact in dreams. With its dreamy lyrics, the song has a mysterious yet enchanting vibe, inviting its listeners to unveil a new world. Doyoung, Ten, and Jaehyun provide their vocals to the track, smooth and alluring. Meanwhile, Taeyong and Mark boast their rapping skills with their self-written parts.
The music video for "The 7th Sense"—released on April 8, 2016—starts with a shot of a large hall, lit in bright red. Under the same red filter, the five members dance in a white space, combining their voices and rap. The phrase "Open your eyes!" is repeated throughout the chorus, encouraging one to explore beyond their reality. The music video also utilizes other colors, such as blue, yellow, and black-and-white, giving it a simple but effective look.
Ncity's Classic
As NCT's establishing track, fans have come to social media to express their thoughts on the song. NCTzens love "The 7th Sense" for its innovative sound, powerful rap, and captivating vocals. The catchy chorus is also a favorite of many. On April 30, 2016, the track peaked at #2 in Billboard's World Digital Song Sales chart. Five years later, "The 7th Sense" became the sixth NCT music video to reach 100 million views on YouTube, proving it one of NCT's well-loved tracks.
Beyond the fandom space, "The 7th Sense" has received praise in the media. Korean music streaming platform MelOn ranked the track 50th on its list of Top 100 K-pop Songs of All Time. The list was based on 35 music critics and industry experts across the country. Other international publications, such as Dazed Digital,SBS Pop Asia, and Billboard, have commented on the song's quality and impact. "'The 7th Sense' is a seductive alt-R&B track fueled by trap percussion, dramatic raps, and slinking verses," wrote staff T.H. in Billboard's The 100 Greatest K-pop Songs of the 2010s. "It was a promising 'long-ass ride' that introduced several members of NCT and hinted at what was to come."
"The 7th Sense" may be six years old, but the song retains its charm. As NCT continues to grow, the song will remain celebrated by K-pop listeners all over the world.
Check out our favorite NCT x EXO interactions here!