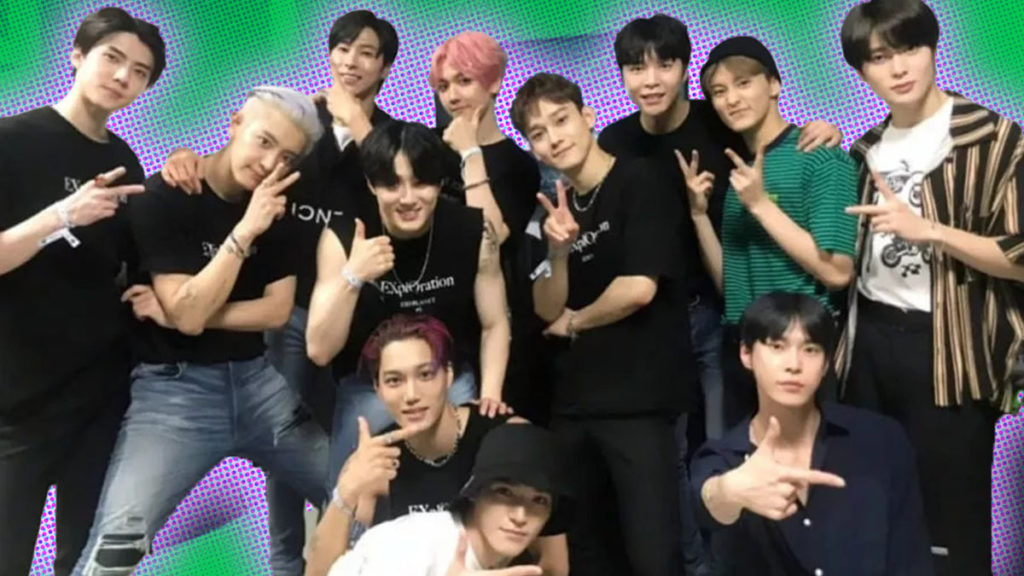 April is a month of celebration for both EXO-Ls and NCTzens. On April 8th, EXO celebrates their 10th debut anniversary, and on April 9th NCT celebrates their 6th anniversary. Being from the same company, both groups have always shown a close relationship with each other. While NCT constantly expresses their admiration for EXO, EXO always protects and guides NCT as older brothers. In honor of both groups, EnVi put together some of our favorite EXO and NCT interactions.
"Monster" Collab Stage
For the KBS Song Festival 2018, members from NCT DREAM and NCT U joined EXO in a collab performance of the song "Monster." With only two years of debuting, NCT perfectly matched the energy of their seniors to deliver this powerful dance break. Even since before their debut, NCT has been covering EXO's choreograpy like "Love Me Right" and "Growl," and this time they got to share a stage with EXO themselves.
NCT 127 Supporting BAEKHYUN's Music Bank Win
In June 2020, BAEKHYUN was promoting his second solo album Delight at the same time NCT 127 was promoting their second album repackage Punch. When BAEKHYUN won a trophy on Music Bank, all of NCT 127 stayed with BAEKHYUN on stage to hype him up and dance with him. With his EXO members being absent, BAEKHYUN happily enjoyed this supportive company. Through the years, it has become almost a tradition for NCT to join EXO on stage whenever they promote together, like the ceremony stages of 2016 for "Lotto" and of 2017 for "Power."
Chanyeol and Jaehyun's Bowling Final at the ISAC 2019
During the Idol Star Athletics Championship 2019, NCT's JAEHYUN and EXO's CHANYEOL battled each other for the Bowling final event. After many grueling rounds, CHANYEOL beat JAEHYUN 217 points to 195. With just 3 weeks of training, JAEHYUN previously broke the all-time bowling record score with 237 points. Nonetheless, CHANYEOL remained the undefeated champion of the ISAC bowling event. Still, both idols got to hang out with each other outside of the performing environment and bond over this friendly competition.
Mark and Haechan's Cover of EXO's "First Snow"
MARK and HAECHAN have to be two of the biggest EXO-Ls in NCT. Both have sung various EXO songs including "XOXO," "Wait," "My Lady," "Angel," and more. But for Christmas 2019, the two paired up to record an acoustic cover of "First Snow," and uploaded it to the NCT MUSIC YouTube Channel. This song is traditionally played during Korea's first snow at the end of the year, and this dynamic duo joined in by putting themselves onto their own version of the song. With MARK on the guitar and HAECHAN's vocals, this heartwarming cover pays a perfect tribute to an EXO winter classic.
BAEKHYUN and TAEYONG's Friendship
BAEKHYUN and TAEYONG debuted together in SuperM in 2019. Since then, they've shared a heartwarming friendship full of memorable moments: TAEYONG fanboying to BAEKHYUN's songs, them doing Instagram lives together, BAEKHYUN making TAEYONG laugh every MTopia episode. But the most memorable has to be their duo song "Monroe," released on Taeyong's SoundCloud account in May 2021. BAEKHYUN's sweet vocals and TAEYONG's talent for writing music combined, made them into an unmatched team.
EXO and NCT Attending Each Other's Concerts
EXO and NCT are always supporting each other. In 2019, EXO member XIUMIN attended NCT 127's first tour concert NEO CITY: SEOUL The Origin. In response, NCT 127 members JOHNNY, MARK, JAEHYUN, TAEYONG and DOYOUNG attended EXO's EXplOration[dot] concert at the KSPO Dome in Seoul. Both NCT and EXO members showed to have a great time, singing, dancing, fan-chanting and shaking their lightsticks. Each warmly welcomed their special guests in the audience and even visited each other backstage.
XIAOJUN's Cover of EXO's "For Life"
For New Year 2020, XIAOJUN gifted his fans with a cover of the English version of EXO's "For Life." "This song should give expression to how much I miss you guys," said XIAOJUN on his Instagram, dedicating to WayZenNi these lyrics of lifetime promise of love. The video was part of WayV's "Play V" YouTube series where the members show their singing, rapping and producing skills, and XIAOJUN 's cover is the most watched video from the series next to his cover of Sam Kim's "Who Are You." His melodic voice flawlessly hit every note and every passionate word, worthy of an EXO ballad.
JISUNG and KAI's Collab Stage
Before JISUNG's debut in NCT Dream, he made a special appearance on EXO's 902014 program with his fellow trainees MARK and JENO, and together they danced to "Growl" in front of their seniors. A few years later, JISUNG was sharing a dance break with EXO's main dancer KAI as a main dancer himself for the KBS Song Festival 2018. A few moments later, KAI and JISUNG had a wholesome interaction on Instagram, where KAI posted their rehearsal congratulating his partner, hoping for another collaboration in the future. In response, JISUNG called himself a successful fan, expressing the honor he felt when dancing with KAI.
BAEKHYUN's "UN Village" Featuring MARK
During SMTOWN Live in Tokyo 2019, NCT's main rapper MARK made a surprise appearance during BAEKHYUN's performance of "UN Village." Earlier that year, both members had debuted together in SuperM, so they easily developed a dynamic that was delightful to watch. They even performed this song together for a second time at the SMTOWN Live online concert in 2021. 
JOHNNY's Pre-Debut Pictures with EXO
K-pop urban legend has it that JOHNNY was supposed to debut with EXO. Although, a couple of years later, he reintegrated to SM and was now part of NCT's debut lineup. Nonetheless, the memories he shared while training with EXO are still immortalized in various photos floating around the internet. Even though they debuted in different groups, both Johnny and the EXO members are still close. There are numerous times they've showed their friendship, like when SEHUN posted JOHNNY's Limitless teaser photo on Instagram, or when JOHNNY visited EXO-SC on the "What a Life" music video set along other NCT members.
Happy anniversary to EXO and NCT! Let us know your favorite EXO and NCT interactions on Twitter and Instagram.
Want more heartwarming idol interactions? Check out some of our favorites here!