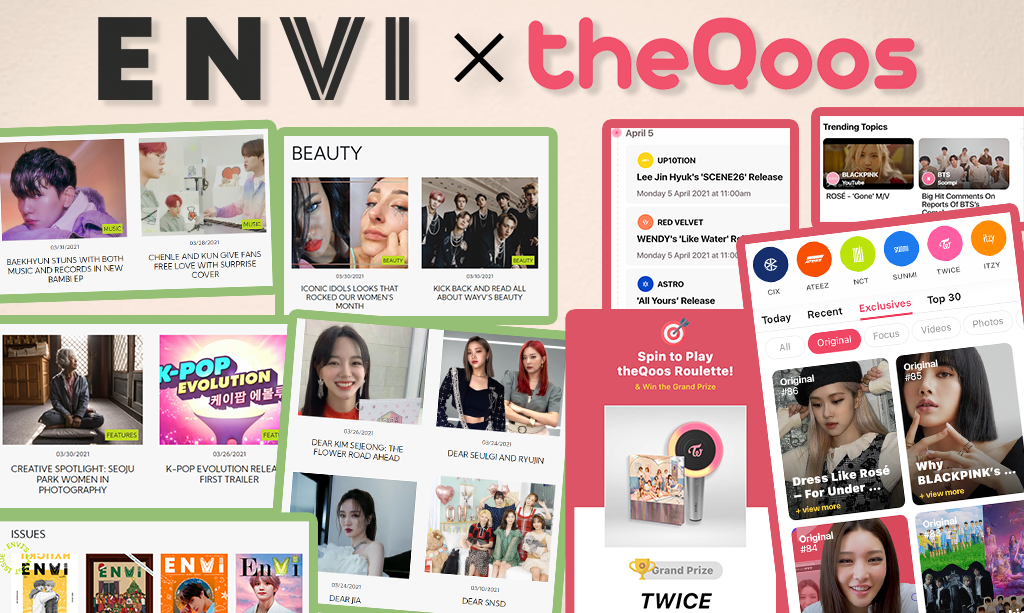 You watch your first K-pop music video. Next thing you know, it's 2 a.m. and you keep clicking through recommended videos. Maybe you just wanted to know who the one with the red hair is, but now you're in deep and you need to know everything. Whether you are at that stage or wishing you could relive it, the K-pop veterans at theQoos created a space for fans to enjoy the experience to the fullest. With pages for fan-favorite artists, complete with a detailed about page, updated feed, and fan forum, the app is a one-stop destination for everything K-pop. 
Peter Chun, Head of Marketing at theQoos, knows the sensation well. Over his 10 years in the industry, he opened YG Entertainment's U.S. office and organized over 30 meet-and-greets. In the process, he met hundreds of K-pop fans. He got to see their connection to the music, admiration for the artists, and friendships with each other first hand. As part of theQoos, he and his team are working to share that joy with everyone.
State of the Fandom
As K-pop gains more fans worldwide, the demand for more content, updates, and media grows. Fans seek to deepen the connection they have made with their favorite artists and their music, whether that be through art, charity, or fan pages. Consequently, they have found themselves scattered across the internet, hopping between apps. Between who to follow and where to find the latest updates on all your favorite artists, getting to your niche on social media can be tricky. 
"We needed a dedicated place for K-pop fans, catered to them for the fans, by the fans. For them to be able to express their love for K-pop, get to know each other, create networks of fandoms, and be able to have a safe and fun environment to develop friendships and talk about their love for K-pop," Chun told EnVi. 
Additionally, safety has been a matter of concern for many K-pop fans. Users on these apps have faced bullying, doxing, sexism, and racism, often targeting Black and Asian people. At times, the artists are also subjected to negative comments and gossip as well. 
"It's such a big topic to the point that it's reported on in global media that there's online bullying, there's malicious comments, and there's K-pop labels and K-pop artists who are looking for netizens to file cases against them and bring them to court because of malicious commenting and rumors—and that exists between fandoms or fan-wars," Chun said.
However, online fandoms can allow people to find some of their closest friends and a community. Some fans may not know anyone else who shares their interests. Others may find it hard to make friends in traditional settings or have other struggles. For these people, engaging with other K-pop enthusiasts on the internet becomes their solace. Yet, with the looming threat of negativity towards minorities, these places cannot truly be enjoyed by all.
Changing the Tide
This is a challenge that theQoos team has taken on with their app. Having had their own experiences with and as K-pop fans, they grasp the importance of community and the support to be found in it. 
In fact, their "Why I Love K-pop" campaign was inspired by the story of one of their own team members who got through personal issues with their love for K-pop and the friendships they formed with fellow fans. The program gave app users a place to share what makes K-pop feel special to them and connect with others.
"We hear so many amazing stories, just like this person who works at theQoos about how, you know, K-pop helped them go through difficult times in their lives," Chun shared. 
Moreover, the team wants users to feel comfortable using theQoos in a meaningful way. In order to make that happen, they work on two fronts. Firstly, they take the time to reach out to fans on a personal level. Chun explained, "We encourage fans. We actually send an automated message to each fan after they sign-up over the first couple days. We encourage them to be themselves. We encourage them to express themselves in a fun and safe environment."
While many K-pop fan accounts tend to use profile pictures of their favorite idols rather than their own for anonymity, many on theQoos felt comfortable sharing their own photos on the app. Organically, this became a trend.
"So, because fans started feeling very safe, they were actually saying, 'Hey guys, if I get X number of likes or comments, I will reveal my face.' Or, they just outright took a picture of themselves with the hashtag 'face reveal' and were like, 'This is who I am,'" Chun said. "And all the feedback from all the fans was so encouraging and so positive that they encouraged other people to partake and do the same." 
On the other end, theQoos team monitors the app diligently, ensuring that negativity will not be tolerated. Thus far, Chun ensured that there have not been any major issues, "Nobody wants to spoil the party at theQoos right now." He credits the team's marketing, reminders to act respectfully, and moderators who remove those engaging in harmful activities. However, there seemed to only have been a few repeat offenders who failed to comply with the standards. Otherwise, Chun observed a positive atmosphere among most fans, "We set that foundation and it's working."
Connecting Fans and Artists
By creating this space, theQoos opened a means for fans and artists to connect in a respectful, safe way. All the more important during a pandemic, the app allows space for healthy communication. Chun shared, "We have a Q and A in our community section where our fans are able to upload questions for artists that they want to speak to. And then the artists are able to go in there, see the video that the fans uploaded, see which ones are the most popular as voted on by the fans. Then, the artists actually pick and respond to these questions. We want to develop that further and make it even more either interactive or more fun."
This comes from an understanding that it means a lot for fans to feel recognized. That can be so strong that sometimes boundaries may, unfortunately, be crossed. 
"We did some research and insight into K-pop fandoms and some of these fans would say outrageous things because they want to be noticed by the artist. So, if they want to be noticed by the artist, why don't we provide a safe and fun way for them to get a positive reaction instead of a negative reaction," Chun detailed. "By them being able to upload a video of themselves asking a question, if that question is a great question and it's fun, and people like it, it's going to get votes. And the reward for that is they're going to get a positive response from the K-pop artists that they like."
Likewise, it allows the artists to see their fans on a personal level while restrictions for public health remain in place. However, Chun also explained that it lets them interact with several fans at once by answering their top-voted questions at their leisure. "They get to do it at the convenience of their own time. They don't feel the pressure of what might happen in a live situation," he said. 
So far, fans have gotten a chance to talk to singer Chung Ha. The idol answered questions like "What song will you never get tired of performing?" and "What's a food you would like to try?" Boy group A.C.E. also did a session on the app for their fans, Choice. The members got to tell fans their favorite memories made together since debut and what animal they would like as a pet. 
However, the team's vision is not confined to the digital screen. In the future, theQoos would like to expand their impact by organizing in-person events that bring that online environment to life. 
"There's everything that we're doing right now; the artist to fan interaction and these community events with the roulette, with the weekly contests," Chun said.  "We want to expand on that more. We want to create clusters of communities that are heavily involved with each other, [and] hopefully plan actual offline fan events. Once COVID calms down, we want to do fan events. We want to really do some virtual live meetup event too. Something like the Q and A, but maybe in a different setting or maybe it's a live event."
As K-pop gains momentum throughout the world, Chun explained its power, "It's the way it makes you feel." On theQoos, fans can express that through conversation, art, and even memes. In the process, the hope is that people can connect through the shared feelings. 
Be sure to download theQoos app today and come hang out with Team EnVi on there!
Looking for more fun? Check out the K-pop April Fool's recap that had fans pumped up!
Thumbnail by @yangsbff