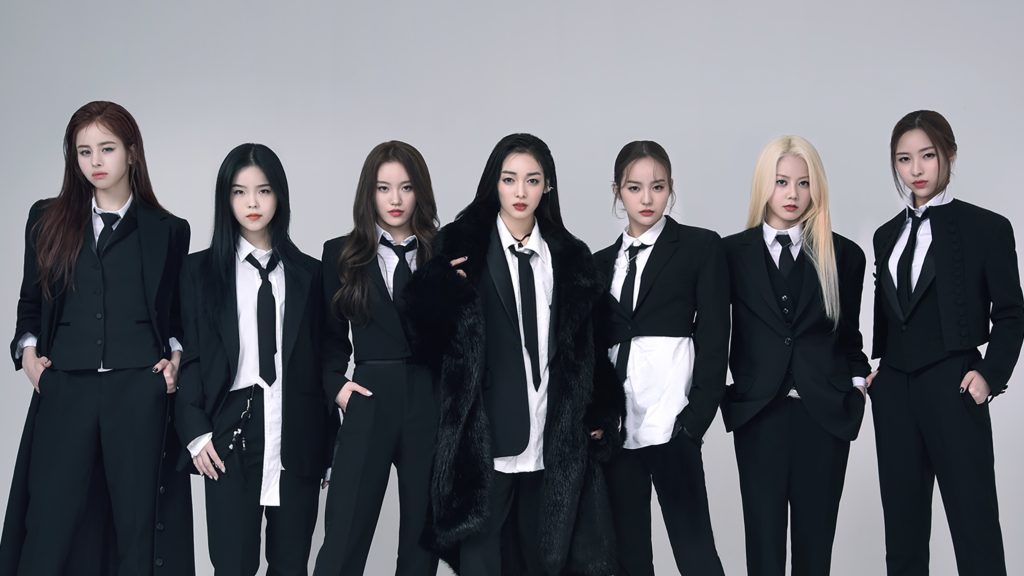 A new international girl group is on the rise. XG, short for Xtraordinary Girls, is the latest project set to debut under international production company XGALX. With seven members total, XG—consisting of JURIN, CHISA, HARVEY, HINATA, JURIA, MAYA, and COCONA—will debut with the single "Tippy Toes" on March 18. Ahead of their debut, the hip-hop and R&B group teased their debut with multiple covers showcasing their dance, rap, and singing abilities. 
Through XG, XGALX wants to fulfill its mission of producing "artists with a defined world view, creating a culture of 'bold' creativity." The company hopes to inspire people to pursue their dreams and make them a reality.
Beginning the XG Brand
XG opened its official YouTube channel on January 25. XG's first video was a compilation of clips of the members dancing. Not only did the girls flaunt their skills, but the various clips served to show the girls' hard work and motivation to debut.
On January 25, XG also released their official Twitter and Instagram accounts. Since then, the mysterious girl group has garnered over 17,000 followers on Twitter, 92,000 on Instagram, and 114,000 subscribers on YouTube.
Pristine Dancing
After releasing their first teaser, XG dropped a brief dance cover on January 26. Sporting all-black outfits and face coverings, XG performed to a rock remix of O.T. Genasis's "Everybody Mad." They matched the intensity of the song with powerful and synchronized movements.
XG later posted a second cover of the same song on a rooftop with plenty of perfectly timed flashing lights.
The next flaunt of their dance performance abilities was through a series of individual dance covers. Each member performed a different song and choreography to reflect their own style and strengths.
Punchy Raps
On February 7, rappers of the group, JURIN and HARVEY, released a rap cover. They gave a unique performance of "Chill Bill" by Rob $tone featuring J. Davis and Spooks.
JURIN starts the song strong with a steady rhythm before seamlessly switching languages. When it is HARVEY's turn, she matches JURIN's energy and surprises the audience with a brief moment of singing. Both rappers complement each other well and tease their chemistry as a unit.
Serene Vocals
The next cover was dropped by singers CHISA and JURIA. The duo released a performance video for "Peaches" by Justin Bieber featuring Giveon and Daniel Caesar.
Starting off in front of the city in the sunset, the duo begin the song slow. Both JURIA and CHISA flaunt their heavenly singing and vocal control as they perform together. The song steadily builds as the two stand and harmonize.
What's Next?
The septet officially announced their debut on February 18. XG released a video called "XG – The Journey (2017-2022)" visualizing their years of training into a 37-second clip. Thanks to their pre-debut teasers, music lovers and pop group fans can see what the new group is made of. Onlookers certainly have high expectations for the artists with their debut with "Tippy Toes" on March 18. It be available on online streaming platforms as well as a CD and vinyl record.
Want more music news? Check out our piece on Red Velvet's comeback announcement here.